Today it is my pleasure to Welcome author
Patience Griffin
to HJ!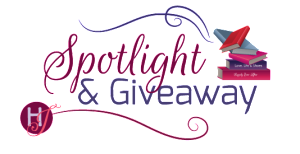 Hi Patience and welcome to HJ! We're so excited to chat with you about your new release, It Happened in Scotland!

Hi, Readers!

Tell us about the book with this fun little challenge using the title of the book:
It Happened in Scotland is a
New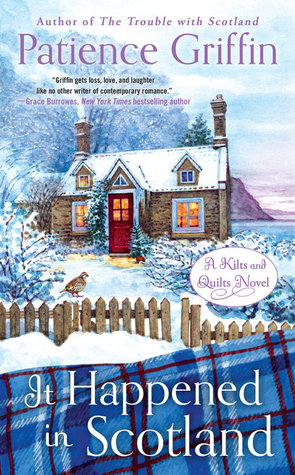 Heartfelt
Adventure in the Kilts and Quilts series which includes a
Partridge and a
Precocious little girl named Hannah. Also in this yarn is an
Endearing cast of quilters, who have big hearts but are meddlesome and
Nosy.
Eager for a second chance with Brodie, Rachel's hopes are
Dashed when the man of her dreams isn't
Interested in renewing his previous feelings for her that he tamped down long ago. But
Now that she's back, he can't stop thinking about what had happened on the
Snowy
Cliffs
Overlooking
The village where they shared their first kiss six years ago.
Love has
A way of resurfacing and growing in Gandiegow because
Nothing is more important than two soulmates
Defying the odds and having their happily ever after.
What's your favorite line(s) from the book?:
But immediately, Brodie hated himself for this weird feeling of standing over Joe's grave while coveting his wife. Emotions battered him—anger, guilt—because he'd given himself to her when she'd belonged to Joe.
Please tell us a little about the characters in your book. What first attracts your Hero to the Heroine and vice versa?
When they first met six years ago, Brodie's soul recognized Rachel's. He knew she wasn't right for his cousin, Joe, but what was he supposed to do about it since Rachel was already engaged?
Rachel was instantly attracted to Brodie because he was so much like Joe, her fiance. But then she saw that Brodie was so much more than the man she'd chosen to marry. Brodie had a quiet confidence that Joe didn't have. And being near Brodie made Rachel feel complete.
When you sat down to start this book, what was the biggest challenge you faced? What were you most excited about?
I wanted to make this a believable story. I wanted to show that love had never died between Brodie and Rachel, though so much time had passed.
I couldn't wait to get started on this novel as I came up with the story idea many years ago. Sometimes that happens with books. I write down a few words and then the book has to incubate until the right time comes along for the words to hit the page.
What, in your mind, makes this book stand out?
I've really enjoyed exploring some hard hit issues with the Kilts and Quilts series. It Happened in Scotland takes a look at how "not forgiving" can paralyze our lives. Rachel also has the added problem that she hasn't been truthful with her mother about her marriage and who she is at her essence. I love working out these issues in my stories and giving our friends in Gandiegow a brighter future by the end than when each book started.
The First Kiss…
To prove to himself he could, Brodie went to the exact spot he and Rachel had kissed . . . under the archway. From that vantage point, he could see the North Sea rolling and the waves crashing. Only a crazy idiot like himself would be up here sightseeing on a nasty day like today. He turned and looked the other direction through the archway to where the partridge had been. He'd been ridiculously happy with Rachel in his arms . . . and delusional to think she was his. He was thoroughly disgusted with himself for being so naïve when it came to women. Abraham had warned both him and Joe about how duplicitous they could be.

Brodie turned back to the sea, which as a fisherman was his past, his present, and his future. He stopped short. He stopped breathing. Everything stopped, except his heart, which was beating too fast. His eyes lied.

Rachel stood five feet away, her hood pushed down, and looking so vulnerable that she had to be some awful mirage come to haunt him. They both stared at each other, and then suddenly, she was rushing into his arms, kissing him. She'd knocked the breath from his lungs on impact, and it took a second for his body to respond, but then he made up for lost time, kissing her back.

The message started deep inside, a muffled warning—you can't do this, not again—and at first he ignored it. All that mattered was Rachel was here, they were together, and she was kissing him again. But the voice grew louder in his head, Stop this! His hands moved to her arms, gripping them, but still he kissed her. The pounding in his head and in his chest became dual war cries, the battle turning full-blown, yet he couldn't let her go. Finally reason tipped the scales, and without his heart's consent, he set her away.
If your book was optioned for a movie, what scene would you use for the audition of the main characters and why?
I'd use this scene because we get to see Brodie's struggle to not be in love with Rachel. And we get to Rachel's need to protect her daughter.
The front door opened and slammed shut. Brodie was to the parlor before Rachel could grab Hannah's hand and make a run for it.

"What did he want?" Brodie said quietly. It would've been better if he yelled.

"He was selling Girl Scout cookies," Rachel said sweetly. "Want some?"

"What?" Brodie raised his voice then.

Rachel walked over, laid a hand on his chest, and drove him backward into the hallway. He was all steel. If he'd want to stay put, no man on earth could've moved him.

"It was nothing," she said, almost in a whisper, so as not to upset her daughter or Abraham.

As if on cue, Abraham started coughing. Rachel wondered if the old man wasn't covering so she and Brodie could argue without bothering Hannah.

"Get in the kitchen." She grabbed his hand and pulled Brodie in that direction.

When they got there, Brodie stood in the doorway, blocking her from leaving. "Tell me the truth. What did he say?"

"He introduced himself," she said honestly.

"And what else?"

"Nothing else," she lied. But then she inserted nothing else that mattered, just to ease her conscience.

Brodie raised an eyebrow. "Ye have to watch out for him. Tuck," he said, as if he needed to qualify the him.

"He seems harmless," she said. "He's just a good-looking flirt." She shouldn't have added that last bit, but part of her wanted to push the boundaries to see if Brodie might feel something toward her.
Brodie grabbed her arm and got very close to her face. She didn't need binoculars now. She had a front row seat to his irises, every emotion playing out in his eyes. He wanted to kiss her. As God as her witness, she wanted to kiss him, too.

She'd always been impatient. Some might call her impulsive. She grabbed his other arm and pulled him in until his lips met hers.

He growled against her mouth, "Dammit, Rachel."

She didn't know if it was because he was mad about Tuck or because she hadn't kissed him sooner. But she didn't care, because Brodie kissed her back.

She felt like they were all alone in the world, but they weren't. Her daughter was in the other room and Rachel didn't want to confuse her. She, herself, was baffled about what the future would hold, though the two of them kissing was a great place to start. But she couldn't allow Hannah to see them together until she had a commitment from Brodie. She pulled away, but held on to him, breathing hard.

"Mommy?"

Rachel spun around, horrified.

"Why are ye kissing cousin Brodie?"
If your hero had a sexy-times play list, what song(s) would have to be on it?
"How am I Supposed to Live without You"–Michael Bolton
"Hate That I Love You"–Rihanna and Neyo
Second chance – Shinedown
What do you want people to take away from reading this book?
Don't get stuck in your 'unforgiveness'. Let go of old hurts to make room for more love.
What are you currently working on? What other releases do you have planned for 2017?
I'm working on several projects right now. I plan to have out a new book, Unraveling Jane Austen, the first book in the Nerdy Girls Quilting Club in April. Tuesday Woodhouse, the heroine of the book, is a quirky neuroscientist who is on a quest to get to truth about love and romance.
I'm also working on book 7 in the Kilts and Quilts series, which will feature Tuck, Father Andrew's brother.

Thanks for blogging at HJ!
Giveaway:

A copy of It Happened in Scotland. Winner will received a signed copy if in the U.S. and unsigned if international.
Make sure to go to www.PatienceGriffin.com and click on the plaid Contest button to enter for a chance to Win a Quilt! More giveaways are coming shortly, so make sure to sign up for my newsletter while you are there.
To enter Giveaway: Please complete the Rafflecopter form and Post a comment to this Q:

Everybody loves a second chance story. Why do you think that is? Do we all have some secret regrets or is it the allure of the 'what if' that makes the second chance story so captivating?
Excerpt from It Happened in Scotland:
Six years ago, when Rachel had arrived in Gandiegow, Brodie wasn't the only one toppled by the instant attraction between them. He knew she had felt it, too.

His cousin Joe had brought her home to Gandiegow two weeks before their scheduled wedding. Brodie was taken with Rachel from the start, which was no surprise. He and Joe had always gone for the same type of lass. Funny, smart. Even as lads, they'd competed, and Joe had always won. Whenever Brodie found a girl, Joe would swoop in and steal her away. Brodie understood. Joe was a charmer with the gift of gab, and women couldn't help falling under his spell.

Day in and out, Brodie tried to keep his distance from Joe's future bride, but they had been constantly thrown together at Abraham's house. In spite of this, they successfully danced around and avoided their feelings. But on the day of the wedding, he'd climbed up the bluff to hide out in the ruins of Monadail Castle while he cleared his head. When he arrived, though, Rachel was there, as if it was meant to be. She turned at his approach but didn't budge from the stone ledge under the archway. He noted her tearstained cheeks and knew she'd been crying.

Cautiously, he'd gone to her and carefully lifted her chin so she would look at him. "What's wrong?" But the question would prove fatal.

"Why didn't I meet you first?" she cried, and threw herself into his arms, kissing him, and knocking him from his moorings. A tidal wave picked up his heart and slammed it against the rocks, changing his life forever.

That kiss and the way she'd looked at him had meant everything! For an hour they held on to each other, Brodie confessing to her that he'd never felt that way before. He knew it was love, but couldn't voice it aloud until she called off the wedding. Which he was certain she would do. More certain of it than the snow on the ground, the tide in the ocean, and the blood in his veins. Rachel loved him as he loved her. But an hour later, she walked down the aisle, repeated her vows, and effectively tossed Brodie away as if he were nothing more than spoiled bait.

Grandda's incessant warning coursed through Brodie again—Women can't be trusted. Every man in their family had firsthand knowledge of the unfaithfulness of women—whether she was a wife, a mother, or a grandmother. Their male lineage could lay testament to the coldhearted dealings of the opposite sex.

Ross nudged him, pulling him back to reality.

"What?" Brodie's voice sounded harsh to his own ears. He stared down at the luggage dangling from his arms.

Cait eyed him curiously as if he'd cast his line into a crosswind. "You and Rachel know each other?"

"Aye." Brodie's eyes fell on the little girl holding Rachel's hand. The child gaped up at him. God, the girl has Joe's eyes. Brown. Rich as the soil on Here Again Farm. It was the place Brodie had run off to when Rachel had betrayed him so he could suffer alone. He snapped his gaze away from hers.

"Brodie was best man," Rachel said quietly, her voice cracking, "at my wedding." She paused for a second, then added, "To Joe." As if she was clarifying which wedding.

Had she married again? Brodie's gaze dropped to her hand, and he hated himself for looking, because he sure as hell didn't care. He didn't care if she was married. He didn't care if she was in town. He didn't care if she disappeared altogether.

But there was no ring, and idiotic relief spread through his chest. He shouldn't give a shit if she was taken or not.

When he glanced back at her face, her frown was matching his.

Good. Let her frown. He didn't give a damn. She was nothing to him. Nothing. Just another heartless female.
Excerpts. © Reprinted by permission. All rights reserved.
Book Info:
Christmas in the sleepy Scottish fishing village of Gandiegow this year is a time for quilting, patching up broken hearts, and rekindling an old flame…
After pulling herself out of a three-year fog of grief over the loss of her husband, Joe, Rachel is bringing their five-year-old daughter to see his hometown of Gandiegow and visit with his grandfather. But Rachel wasn't planning on running into Joe's cousin, the man who made her have second thoughts at the altar…
Brodie has come home to help his grandfather's fishing business, but he'd prefer not to see Rachel. Although she did break his heart six years ago, the grip she has on him hasn't faltered. If they can stop butting heads long enough and learn to overcome the past, they may find new love in the new year…
Book Links:

Meet the Author: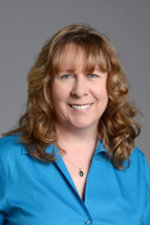 Award-winning author Patience Griffin has been writing and sewing her whole life but didn't discover her love of quilting until her late thirties. She decided the best way to acquire her first quilt was to make one for herself. At nearly the same time, she started commuting three and half hours a day for her dream engineering job. To pass the time on the long drive, she got hooked on audiobooks-especially books with love stories. Within a couple of years, she was writing stories of her own. It was no surprise to her family and friends when she combined her love of quilting, her small town roots, and her obsession with Scottish romances into novels. She has gained some recognition with her September 11th Story Quilt which has toured the country as the property of the Pentagon. She has a master's degree in nuclear engineering but spends her days writing stories about hearth and home, and dreaming about the fictional small town of Gandiegow, Scotland.
Website | Facebook | Twitter |