Today, HJ is pleased to share with you

Lia Riley's

new release: 

It Happened on Love Street

The most romantic place she never wanted to be . . .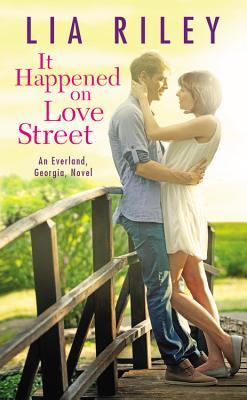 Pepper Knight moved to Everland, Georgia, as step one in her plan for a successful legal career. But after this big-city gal's plans go awry, going home with her tail between her legs isn't an option. So when the town vet-and her sexy new neighbor-offers Pepper a temporary dog-walking job, she jumps at the chance.

No one needs to know that man's best friend is her worst nightmare . . . or that Everland's hot animal whisperer leaves her panting.

The last thing Rhett Valentine wants is to be the center of small-town gossip. After his first love left him at the altar, he's been there, done that. These days, life is simple, just the way he likes it. But sultry southern nights get complicated once sparks fly between him and the knockout next door.

When she proposes a sexy, secret fling-all the deliciousness and none of the prying neighbors-it seems too good to be true. And it is. Because Pepper's determined to leave Love Street, and when she goes, she just might take his heart with her . . .

Enjoy an exclusive excerpt from It Happened on Love Street:
The hum from the fluorescent lights cut through the examination room's silence. Rhett removed his stethoscope eartips with an inward groan.
"Well? Is he gonna pull through, Doctor?" The redhead in the sunflower sundress hitched her breath. No one gave a performance like Kennedy Day. No wonder she'd done well in all those pageants back in high school.
But the real kudos had to go to Muffin, the Bichon Frise valiantly playing dead on the stainless steel surgical table. Still, not even expert training could override a strong, healthy heartbeat.
Proper Southern manners dictated a few words of comfort, but his growing migraine crowded out any chivalrous impulses. "He's going to live to lick another day."
Kennedy clapped her hands without a hint of embarrassment. "Aren't you a regular miracle worker?"
And aren't you one hell of a dog trainer?
He reached into his white lab coat pocket and removed a treat. In an instant, Muffin bounded to his feet with a short but definitive yip. "Seems Lazarus here has worked up a healthy appetite."
"Praise the Lord and pass the mashed potatoes. Come to Mama, Muffin Wuffin." Kennedy scooped up the dog and smacked wet kisses on the top of its head.
Muffin stared at him darkly, telecommunicating, See what I'm dealing with? Be a bro and hand over a Barkie Bite.
Rhett passed the treat in solidarity.
"Silly me!" Kennedy's shoulders shook with her tinkling laugh. "Before I forget, I brought you something special." She reached into the bedazzled insulated bag beside her chair and removed a cake, as if bearing a fake dead dog and baked goods were normal occurrences.
Everland, his hometown, could be described many different ways, but normal wasn't the first adjective that sprang to mine.
The real miracle to this appointment would be shuffling Kennedy out before getting asked around for dinner. She sported that exact same determined look while wielding a pump-action shotgun on the opening day of turkey season. She might primp into the textbook definition of a Southern belle but had crack shot aim when a tom was in her sights.
"This right here is the praline Bundt that's won the Everland Fair's Golden Fork five years running." She positioned the cake to make it impossible to miss the caramel glaze or her cleavage. "You do like a nice Bundt, don't you, Dr. Valentine?" She dropped her voice to a purr. "Or are you more of a sour cream pound cake man?
Dessert had never sounded so dirty.
"Rhett," he snapped automatically. "Plain Rhett suits me fine." The words Dr. Valentine made him want to check over his shoulder for his father and make a sign to ward off the evil eye. "We graduated a year apart. My dad coached Sailing Club. Your brother Kingston was on my team."
"Of course." She leaned forward with a suggestive wink. "And might I say you've gone from a dingy to a yacht."
Shit. Time to hustle her out before things turned dangerous. He didn't want to lead her on. Not when her megawatt smile gave him flash blindness, even as shadows haunted beneath her eyes. Everyone knew last year's divorce had hit her hard. Breakups sucked. He understood. He even sympathized. But at the end of the day, her failed marriage wasn't his circus.
He had his hands full with his own damn monkeys.
"Listen. About the cake." He handed it back and led her toward the door. "My office policy is never to accept gifts from—"
"Gift?" She halted so fast her heels scuffed the linoleum. "Why it's nothing but a harmless little nut cake!"
"Did Lou Ellen put you up to this?" His sister acted like her fourth term as second vice president of the Everland Ladies Quilt Guild was a mandate to nominate him as the town's most eligible bachelor, as if his single status was due to circumstance rather than choice.
Online dating profiles kept popping into his inbox, as well as invitations to donate a dinner and movie date to the upcoming Village Pillage silent auction, or meet so-and-so's third cousin, niece, dental hygienist, or damn belly-dance instructor. If he dared to smile at a woman at the post office, the local gossip blog, the Back Fence, posted a poll about wedding cake flavors by sundown.
He'd rather lick one of his waiting room chairs than date under that kind of scrutiny. Besides, bachelorhood came with undeniable perks:
He never woke without the covers.
Never got an arm ache from spooning.
Never had to fake laugh at a chick flick.
And when blue balls struck, well, his right hand had him covered.
Yep, all a man needed was a cold beer, a boat, and a couple of dogs.
And if he ever hit his head hard enough to climb back on the relationship horse, it would be to a low-maintenance country girl who made up for a lack of drama with a love of big bird dogs. Labs would work. Or Chesapeake Bay Retrievers.
"Weeeeell, I did run into Lou Ellen last week at the club." Kennedy's cheeks tinged pink as he opened the exam room door. "And she may have let slip that you were in need of a little female companionship. After all, it has been a long time since…well…"
Ah. And there it was. His own personal elephant in its own personal corner.
He reached for the knob, careful not to grind his molars, at least not audibly. If there were a better way to deal with references to that one time he was left at the altar…he hadn't found it.
Once, just once, it would be nice to make it a goddamn week without some reference to Birdie.
"Remember this, Rhett Valentine." Kennedy squeezed his bicep, her thick gardenia perfume exacerbating his headache. "There's no I in happiness."
"Come again?"
She screwed her nose like he'd come up a few Bradys short of a bunch. "H-a-p-p-y-n-e-s-s?"
He took a deep breath. She had to go. Now. Before he said something he regretted.
He ushered her and Muffin into the foyer. "Don't forget to grab a Milk-Bone in the bowl by the magazine rack." He shut the door, the loud snick cutting her off mid-protest.
He scrubbed his jaw, eying the locked cabinet that stored the horse tranquilizers. Lou Ellen was going to raise hell once she caught wind of this snub.
Tempting, but nah. "Suck it up, Buttercup," he muttered. If the biggest problem in his life was a bossy big sister determined to sail him off into a happy-ever-after sunset, he should be grateful that things were looking up.
Or at least not facedown in the gutter.
Was he happy? Well-meaning busybodies pestered him with the question, but no one ever quit talking long enough to hear his answer.
Yeah. He was. Happy enough anyway.
Excerpt. ©Lia Riley. Posted by arrangement with the publisher. All rights reserved.
Giveaway:

Print copy of IT HAPPENED ON LOVE STREET (Everland, Georgia) by Lia Riley
To enter Giveaway: Please complete the Rafflecopter form and post a comment to this Q:

What did you think of the excerpt spotlighted here? Leave a comment with your thoughts on the book…
Meet the Author: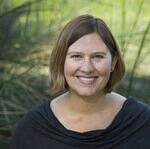 Lia Riley is a contemporary romance author. USA Today describes her as "refreshing" and RT Book Reviews calls her books "sizzling and heartfelt." She loves her husband, three kids, wandering redwood forests and a perfect pour over coffee. She is 25% sarcastic, 54% optimistic, and 122% bad at math (good thing she writes happy endings for a living). She and her family live mostly in Northern California. Visit her at: http://LiaRiley.com