Today it is my pleasure to Welcome romance author
Kate Hardy
to HJ!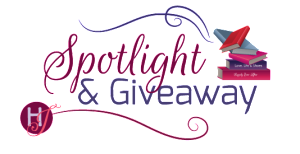 Thank you so much for having me here today to talk about my sixtieth book for Harlequin Mills & Boon!
Please summarize the book for the readers here: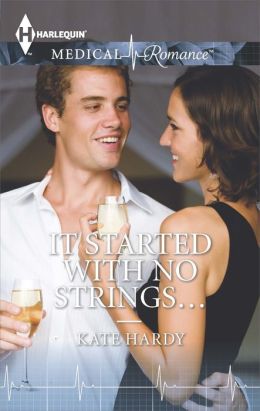 Shy, quiet tropical diseases specialist meets the most beautiful woman in the world in a London salsa club, has a mad fling with her, wakes up to find her gone… and then discovers on his first day in his new job that she's his colleague! On a team-building exercise, they're trapped in a tunnel and have to confront their pasts. And through a series of dates and from having to work together, they learn to take a chance on each other. But Aaron panics and backs away… When Joni collapses and he nearly loses her, he realises just what she means to him and tells her how he feels about her.
Please share the opening line of this book:
'Welcome to London.'
Please share a few Random facts about this book…
1. My working title for the book was Plague Squirrels (and I was very much encouraged in that particular medical case by author Scarlett Wilson and HQ hostie Penn!).
2. The hero isn't too keen on dark, enclosed spaced after being caught in a bomb blast as a child.
3. The book's set in a Tropical and Infectious Diseases department in a London hospital.
4. The heroine's mother was a Navajo jeweller and her grandfather was a Navajo shaman.
5. And Aaron learns a wee bit of Navajo in order to tell Joni that he loves her…
Please tell us a little about the characters in your book. As you wrote your protagonist was there anything about them that surprised you?
My hero, Aaron, is the youngest child of an army family and feels he's disappointed his family by going into medicine and staying in one place. He blames himself for the death of his brother (it wasn't his fault) and has kept aloof from relationships. But Joni manages to get past every single one of his barriers, and she makes him want to learn to love and trust.
My heroine, Nizhoni (= Navajo for 'beautiful' – and she's Joni for short), is the much-loved oldest child, has been wrapped in cotton wool since she collapsed with undiagnosed diabetes as a teen, and ended up engaged to a total control freak – luckily she was brave enough to know she was doing the wrong thing and called it off. Her mum died from complications after her birth (but she gets on brilliantly with her stepmother) but she's still proud of her half-Navajo heritage.
What kind of research did you do for this book?
Because it's a Medical romance, I needed to research tropical and infectious diseases. I'd wanted to write a book involving the plague for a very long time. My editor sensibly realised that my history nerd self was getting overexcited and nixed my original idea. But then I discovered the plague squirrel… 😉 I also did a lot of research into Navajo customs and medicine, plus the language (I really, REALLY enjoyed that).
The First kiss…
Somehow, they muddled through the first half of the next track together; then the awkwardness between them seemed to vanish and the panic seeped away. And Aaron found himself really enjoying the throbbing Latin beat of the music.

Especially when the next song came on and everything slowed down. And then she was in his arms, right where he wanted her to be, all warm and soft and sweet. They swayed together, moving in time to the music; his arms were wrapped round her waist and her arms were wrapped round his neck.

He smiled down at her. Her dark eyes were gorgeous; up close, he could see that she wasn't wearing much make-up. She didn't need it. Just the tiniest bit of mascara to emphasise those long, long lashes, and soft red lipstick that made him want to kiss it all off. Even as the thought went through his head, he found himself dipping his head down towards hers. When his mouth brushed against hers, it felt like electricity prickling through every nerve end. Then she kissed him back, and the rest of the room seemed to vanish; there was only the two of them and the music.

But the next track was one with a much faster beat, and they were forced to pull apart. They stood there, just looking at each other, and Aaron wondered if Joni felt as dazed as he did.
Did any scene have you crying or laughing while writing it?
When Aaron starts to tell Joni about his brother:
Maybe he should make something up. Say he'd had a mad crush on the tropical medicine lecturer at university, something like that. But the words just wouldn't come. The silence stretched longer and longer and longer, and he still couldn't think of a decent reason. Finally, he mumbled the truth. 'My brother had malaria.'

'So you wanted to work in the specialty that saved him – like a kind of payback?' she asked.

Far, far worse than that. And it felt as if he were choking as the words forced their way out. 'It didn't save him.'

He heard her shocked gasp. Soft. Guilty.

Though no amount of guilt could ever match the amount that had built up on his soul over the years.

He felt her hand fumbling for his, squeezing his fingers. 'I'm sorry. That must have been so hard for you. For all your family.'

Yeah. His parents had never been the same, after. Third-generation armed forces, they'd always had a fairly stiff upper lip – but after Ned's death it had been permafrosted at well. And they'd sent Aaron away. So he'd be safe – but he knew that it was also so his presence wouldn't remind them of what they'd lost.

'It was my fault.'

Oh, hell. He hadn't meant to tell her that. But the words had slipped out when he wasn't paying attention.

Her fingers were still wrapped round his How? How could she bear to be anywhere near him, now she knew the ugly truth about him?
If your book was optioned for a movie, what scene would be absolutely crucial to include and why? 
When Aaron declares himself! (This is a spoiler…)
View Spoiler »'My timing's rubbish. And you already know I'm totally slow on the uptake,' he said. 'But seeing you unconscious like that really brought it home to me – it made me think of what life would be without you. And it… it's unbearable.'

'But – we agreed we'd just be colleagues.'

'That's not enough for me,' he said. 'I made the biggest mistake of my life, pushing you away like that. And there's something I really need to say to you, Joni. As well as sorry for hurting you.' He took a deep breath. 'Ay-oo – oh, hell.'

'Ay-oo – oh, hell?' she repeated, looking totally confused. 'Have I lost the plot or are you talking gibberish at me?'

'I'm trying… I practised this and I was so sure I'd got it. And now I can't think straight. I can't remember the words. Seeing you there, not moving – it's scrambled my brain. Wait.' He grabbed his phone and sifted through the notes he'd made earlier. 'Right. Nizhoni Parker, ah-yoh ah-nee-nish-neh,' he said slowly.

She looked at him, stunned. 'Did you just say what I think you did?' « Hide Spoiler
If you could have given your characters one piece of advice before the opening pages of the book, what would it be and why?
Learn to trust your heart. Because that's what both of them need to do!
What are you currently working on? What other releases so you have planned for 2014?
I'm currently working on my 64th book, a Medical Romance set in a maternity ward, and I've just agreed the outline of my 65th, a Cherish/Harlequin Romance.
Also coming up I have:
* November 2014, 'A New Year Marriage Proposal' (my working title for that was 'Project Sparkle' and it involves a hero who's cleverer than Sherlock (and I mean as in Benedict Cumberbatch) and a hero who'd do exactly what I would if I had the chance, i.e. be a real life fairy godmother)
* February 2014, 'A Baby to Heal their Hearts' (this is the story of Joni's best friend, so you'll get to see Joni and Aaron's wedding and the best wedding cake ever)
* April 2014, 'It Started At a Wedding' (this is my toffee magnate and my wedding dress designer, and it's partly set in super-romantic Capri… starting at her best friend's wedding. The HQ Romance I'm working at the moment is her other best friend's story)
Thanks for blogging at HJ!
Giveaway:

A signed copy of 'It Started With No Strings', a Kate Hardy pen and some chocolate 🙂 – giveaway is open internationally as I'm in the UK 🙂
To enter Giveaway: Please complete the Rafflecopter form and Post a comment to this Q:

If you could learn any kind of dance you like – which one would you choose and Why?
Excerpt
'Welcome to London.' Aaron lifted his pint in a wry toast to himself.

It was his own fault that he was sitting here on his own at the bar in a salsa club. When Tim had suggested going out to celebrate Aaron's first weekend in London and catch up, of course he hadn't meant just going out for a quiet pint. Aaron should've remembered their student days: Tim had always been the life and soul of the party, and always ended up surrounded by a crowd of pretty girls. He was still the same in his thirties as he'd been in his late teens; right now, Aaron couldn't even see him in the crowded club.

So when he'd finished his pint, Aaron decided, he'd try and find Tim, say a quiet goodbye, and go back to the impersonal flat he'd rented near the hospital.

Or maybe he wouldn't even bother with the rest of the pint. He set the still half-full glass back on the bar and turned away, looking for Tim.

And that was when he saw her.

The woman with the most amazing hair: dark as midnight, flowing down almost to her waist, perfectly straight and shiny. She was wearing a short scarlet dress that set her hair off to perfection and showcased long, beautifully shaped legs. And somehow she was managing to salsa in a pair of seriously high heels.

Aaron blew out a breath. This wasn't why he was here. He wasn't looking for any kind of relationship right now, even a temporary one. Not when he was about to start a new job and all his time was going to be taken up with work.

Yet there was something about the woman that drew him.

As he watched her dance, she turned slightly and he could see her face properly for the first time. She was stunning, with a heart-shaped face, dark eyes and the most beautiful mouth he'd ever seen.

Her friend said something to her and she tipped her head back and laughed, revealing even white teeth.

Aaron forgot all about Tim. Forgot why he was here. Forgot about everything except the woman in the red dress. Instead of being the staid, sensible workaholic he'd always been, he found himself walking across the dance floor towards her. Moth to a flame.

And, right at that moment, he didn't care if he got burned.
Book Info:
Dancing and champagne are registrar Joni Parker's remedy for her what-would-have-been-her-wedding-night blues. Until she discovers an even better cure – her first ever fling! It started with no strings, but when oh-so-handsome Aaron Hughes walks into the hospital on Monday – as the new consultant! – things get a lot more complicated!
Book Links:
Meet the Author: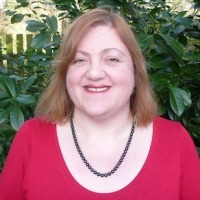 Kate Hardy is an award-winning author of more than 50 books for Harlequin Mills & Boon. Her novel 'Breakfast at Giovanni's' won the RNA Romance Prize in 2008 and her novel 'Bound by a Baby' won the RoNA Rose Prize (formerly Romance Prize) in 2014; she's been shortlisted three more times for the award, as well as for two Romantic Times awards.
She lives in Norwich in the east of England with her husband, two children, a springer spaniel called Byron, and too many books to count. She's a bit of a nerd who loves cinema, the theatre, history and cooking (which is why she has to go to the gym five times a week – oh, and to ballroom dancing lessons), and adores anything Italian. She loves doing research, particularly if it's hands-on and means experimenting with cooking (on her website, most of her books have a recipe connected to them). Reviewers say that her books are full of warmth, heart and charm – and also that you'll learn something new and interesting from them!
Website | Facebook | Twitter |