Today it is my pleasure to spotlight the release of 

JINGLE SPELLS

by Vicki Lewis Thompson, Rhonda Nelson, Kira Sinclair, Andrea Laurence

Authors Vicki Lewis Thompson, Rhonda Nelson, Kira Sinclair and Andrea Laurence are here today to share a few fun facts and a teaser from their stories:
"Naughty or Nice" by Vicki Lewis Thompson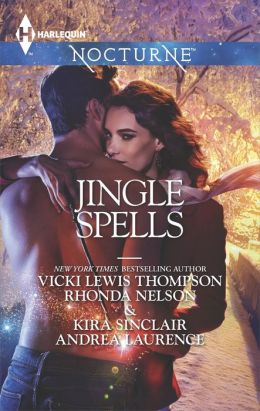 My wizard hero Cole is very proud of his database. I, however, have never created one in my life, so I had to count on Andrea to keep my story authentic. She's so familiar with databases that she created one for JINGLE SPELLS and proceeded to nudge (nag is such an unpleasant word) us to enter our character and setting info so we'd all be on the same page. We did, and speaking for myself, it was my salvation. Thanks, Andrea!
Excerpt:

INTERNAL MEMO: Christmas countdown, minus 20 days
FROM: Cole Evergreen, CEO, Evergreen Industries
TO: All staff
Thanks to centuries of intel monitoring, the North Pole is widely accepted as the home of Santa Claus. That misinformation has allowed the Winter Clan, under the guise of Evergreen Industries, to operate undetected in Gingerbread, Colorado, as we employ our magick in the service of Christmas.
But magick has its limits, and computer technology is more efficient for information storage and retrieval. Because of the sensitive nature of our database, specifically the "Naughty or Nice" list, our security system is constantly being updated.
However, I regret to inform you that despite our best efforts, we've been hacked. While I investigate the source of this breach, be advised that your current usernames and passwords are invalid. When you create new ones, use the strongest possible codes. Failure to maintain secrecy is not an option.
"She's A Mean One" by Rhonda Nelson
You know how we all have that one something that we're simply not good at no matter how hard we try? That's me when it comes to titling a book. I don't know if it's because I'm too close to the story or what, but when it comes to titling a book that either I've written, or I'm involved in, you can bet your sweet behind that either my plotting partners or my editor has come up with it. Not me.
Except this book.
Me, Vicki, Kira and Andrea were at one of our plotting retreats and we were trying to come up with a title for the collection that would incorporate both the magical and Christmas elements into the stories. We'd been tossing ideas around, then I dusted the cracker crumbs off my t-shirt and I blurted out "How About JINGLE SPELLS?" and we knew we had a winner.
Excerpt:
Ethan chuckled. "What am I supposed to be afraid of, Chickadee? You?" he goaded, purposely baiting her.
Predictably, those pretty violet eyes sparked with irritation. "Yes, actually, but I can see where you'd underestimate me." She tapped a thoughtful finger against her chin. "I wonder if you'll still feel that way after my special guest spot on Ophelia airs this Friday."
Ethan stilled and the dread that had been collecting in his middle hardened into a sickening lump. Ophelia?
The cat-in-the-cream-pot smile again. "Ah," she breathed. "Scared now, aren't you?"
Yes, actually, his mind whirling with the potentially catastrophic implications of her little bombshell revelation. With a platform like the Ophelia Winslow Show, she could quite literally ruin Christmas. She could squash the Christmas Spirit to the point that the magic wouldn't work and the millions of children around the world who anxiously waited on Santa to arrive with their presents would be so disappointed that it could take years to overcome. A hit like that…
It could be the end of Christmas.
End of life as he knew it, as his entire family knew it.
And it was Ethan's job to keep that from happening.
His gaze slid to her once more, his frantic mind flipping through the various ways he could thwart her plan. Ultimately, it was the most drastic solution that he settled on, but there could be nothing for it.
He saw no other way.
Because the only way he would be able to keep her off that show would be to make it physically impossible for her to be there.
All-righty then, Ethan thought, resolved. He'd just have to kidnap her.
"His First Noelle" by Kira Sinclair
My hero, Dash Evergreen, is in charge of Christmas transportation magick – the sleigh and reindeer. However, his true passion lies in the art of glassblowing, something I've always been intrigued with. Dash broke tradition, asking one of the elves to teach him when he was younger, and established his own hot shop where he goes to de-stress from the job he inherited by virtue of his last name. His passion for the art is one of the things Noelle Frost, his ex-wife, always loved about Dash. His hot shop is a place she avoids because she knows that's where her need for him will leave her the weakest. While I was working on His First Noelle I was fortunate enough to get to visit a working hot shop. It was truly amazing to watch the artists create…and very hot!
Excerpt:
So far, she and Dash had managed to avoid each other. Mostly. Unfortunately, thanks to this latest snag, it was going to be difficult to continue to do so.
Noelle knew just how much Dash hated to be disturbed when he was in his hot shop, and frankly, if she'd had any other choice she would have waited until he was through.
Dash all hot and sweaty, his muscles all slick and gleaming, had always been her weakness.
Pushing farther into the room, Noelle glanced around. Nothing much had changed. She could see the orange-red glow the fire emitted through the square opening in the furnace. Huge metal implements that looked more like they belonged in a medieval torture chamber rather than Dash's private lair had been placed on the tables scattered around the room.
He didn't glance at her as she moved closer to get a better look. One wide palm rolled the hollow metal rod back and forth across the raised platform of the workbench. A glowing ball of molten glass twirled in front of him as he worked it, poking, prodding and coaxing it into the shape he wanted.
Color had already been added, a breathtaking swirl of blues that reminded her of a cloudless summer sky. With quick movements, he pulled a long finger of glass from the spinning globe. A flick of his wrist here, a quick snip there. The ornament would be gorgeous—as every piece Dash produced was. For the briefest moment, Noelle fought the desire to have the ball hanging on her own Christmas tree.
But it wasn't for her.
"Silver Belle" by Andrea Laurence
The scene in Santa's office was inspired, in part, by a show I'd seen about presidents and how they handle gifts received while in office. Presidents accept and keep all gifts given to them, with a few caveats. They can only personally keep items given to them with a value under about $335 dollars. Anything over that is turned over to the national archives when their term as president ends. Many of these items end up on display years later in their presidential libraries. It occurred to me while watching the show that although Santa mostly gets cookies and milk, there have to be children that leave him gifts as well. Santa would love and treasure every item, but what would he do with all of it? He'd display it in his office.
Excerpt:
She made her way down the hallway to Santa's office. Belle rarely came into this room at Evergreen. If all went well, there wasn't any reason to. It was normally Santa's retreat, the place where he could work and think without constant interruption.
With a swipe of her security card, the heavy golden doors swung open, allowing her inside. The large space was filled with wondrous antiques and magickal artifacts from years of Christmases past. Large shelves along one wall housed a massive collection of leather-bound books. Some were first editions of beloved Christmas tales like A Christmas Carol and A Visit from St. Nicholas, but most were the naughty and nice archives from back before they went digital. Another wall was lined with all the gifts children had left him over the years. Milk and cookies were the American standard, but on the occasion that a child left Santa a drawing or a coffee mug, it was always brought back and kept here.
Santas, as a general rule, were very sentimental. They couldn't throw away anything a child gave them, be it a popsicle stick reindeer they made in school or a flashlight to help him see in the dark.
Giveaway:

2 commenters will win a 2-in-1 print copy of JINGLE SPELLS & SIREN'S TREASURE (US Only) and 2 comments will win a digital copy of JINGLE SPELLS (worldwide)
To enter Giveaway: Please complete the Rafflecopter form and Post a comment to this Q: 

When the holidays roll around, are you filled with cheer or are you more of a Grinch?
About the book:
To protect Christmas, this family of wizards will have to use a whole different kind of magic…
Part of the Winter clan, the Evergreen family is considered magical nobility. While Evergreen Industries in picturesque Gingerbread, Colorado, might look like an ordinary office building, this is where the magic of Christmas unfolds. Above Santa's workshop, the Evergreens hold court, manage Christmas and, sometimes against their will and better judgment, fall in love. When it comes to love, the Evergreens know that sometimes you have to play a little naughty to get exactly what—or who—you want from Santa. Celebrate the holidays with Evergreen siblings Cole, Ethan, Dash and Belle in this enchanting collection from New York Times bestselling authors Vicki Lewis Thompson and Rhonda Nelson, Kira Sinclair and Andrea Laurence.
Buy Links:
You can order now for Nook, Kindle, etc. If you'd prefer a print copy, you'll have to wait a little bit longer. It will be released in a 2-in-1 edition in stores and online in print at Amazon, Barnes & Noble and Books A Million on November 18!
Meet the Authors:
Vicki
A romance writing career has brought Vicki Lewis Thompson many wonderful things –New York Times bestseller status, an appearance on LIVE with Regis and Kelly, the Nora Roberts Lifetime Achievement Award from Romance Writers of America, thousands of readers, many dear friends, and the cutest little yellow convertible in the world. Her career has also given her work she loves.
Although she's written more than 100 books, she continues to be fascinated by the many ways that a man and woman fall in love. The age-old story remains a challenging puzzle to be solved anew with each book. That makes her a very lucky person, indeed.
Rhonda
A New York Times best-selling author, two-time RITA nominee, Romantic Times Reviewers Choice nominee, and National Readers' Choice Award Winner Rhonda Nelson writes hot romantic comedy for Harlequin Blaze and other Harlequin imprints. With more than forty-five published books to her credit and many more coming down the pike, she's thrilled with her career and enjoys dreaming up her characters and manipulating the worlds they live in. Rhonda makes her home in a small town in northern Alabama near the banks of the Tennessee River and, despite the humidity, can't imagine living anywhere else.
Kira
Kira Sinclair is an award-winning author who writes powerful, passionate and sinfully seductive romances. Double winner of the National Readers' Choice Award, her first foray into writing fiction was for a high school English assignment. Nothing could dampen her enthusiasm…not even being forced to read the love story aloud to the class. Although it definitely made her blush. Writing about striking, sexy men and passionate, determined women has always excited her.
Andrea
Andrea Laurence is an award-winning author of contemporary and paranormal romance. She has been a lover of reading and writing stories since she learned to read at a young age. She always dreamed of seeing her work in print and is thrilled to share her special blend of sensuality and dry, sarcastic humor with the world. A dedicated West Coast girl transplanted into the Deep South, she's working on her own "happily ever after" with her boyfriend and their collection of animals including a Siberian Husky that sheds like nobody's business.