Today it is my pleasure to Welcome romance author 

Kim Boykin
 to HJ!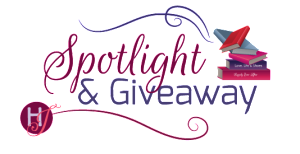 Hi Kim and welcome to HJ! We're so excited to chat with you about your new release, Just in Time for Christmas!
What was your favorite thing about writing a love story that began in the teenaged years in Just in Time for Christmas?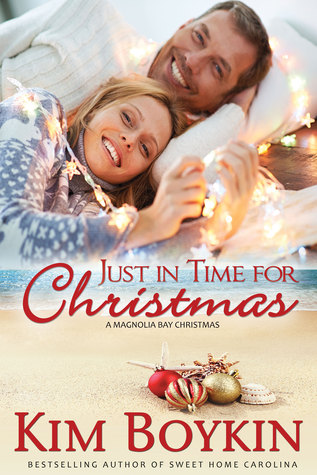 Miranda is a steel magnolia who came into her own in the sixth grade, after she, in her words, "grew a little backbone and some boobs, which shouldn't have but did improve her social status. " Her friends think she knows everything about boy-girl stuff, and she let's them. 
Miranda and Logan have been verbally sparring since they could speak. It isn't until a hybrid game of Spin the Bottle and Seven Minutes in Heaven that Logan discovers she's terrified and embarrassed because she's never been kissed. Logan offers two choices: they can leave the dark potter's shed, walk back to the group hand in hand and no one will know or she can let him be her first kiss. It's such an adorable moment; every first kiss should be so special.
Do you get writer's block? If so, how do you deal with it?
I'll be honest with you, I've never gotten blocked, and I'm not really sure I am now. But it's been extremely hard to write lately. My dad has Alzheimer's, and he fell several weeks ago, which set off a chain of surgeries; he's now in rehab and won't be returning to live with my mom who he's been married to for 64 years. He'll go to assisted living. It's been hard to write much. What keeps me going is popping into Facebook or one of the online review sites and reading where my work has touched a reader or has made them laugh. That makes my day and puts a little gas in my tank so that I can continue on. Honestly, I love my family, but I don't know what I'd do without my readers. Especially lately.
Do you have a FAVORITE SCENE from Just in Time for Christmas?
I love this scene because Miranda is a perfectionist, particularly when it comes to Christmas. She's caught off guard by Logan's sudden presence on the Holiday Festival committee she chairs, rattled to the core that he bought his way on as co-chair. Throw in Pammy, Miranda's arch nemesis for entire life, and it make things even more interesting.
"Everyone. Wonderful to see y'all. Logan." Miranda should have slapped herself silly for gawking at him.

"You can't imagine my surprise when Logan here, nabbed me Saturday night at Crusoe's," the mayor said, like the man was the second coming. The sexy smirk on his face wasn't helping Miranda at all. "Put a great big donation to your mother's foundation in my hand and said he had some fabulous ideas for our little Christmas events. Even asked if he could co-chair. Of course, knowing you wouldn't mind, I said yes."

Miranda nodded. She'd been at Crusoe's Saturday night and had seen the mayor and her husband. Miranda had been on a date with John Jackson, a yummy attorney from Charleston whom she recently met at one of the gallery crawls there. He had talked her into taking a break from decorating the house, and she was glad she had. The food and the wine had been as good as his company.

Although there hadn't been any real sparks at dinner, they were just getting to know each other and the night was young. After a lovely dinner, John had asked Miranda if she wanted to take a walk on the docks the restaurant overlooked.

When she'd stood to leave, she'd noticed Logan coming into the restaurant with a friend. Miranda had rushed past him but then suddenly remembered she'd forgotten her wrap. When she'd turned around to retrieve it, she'd run smack into a wall of hard muscle. Logan. Adrenaline shot through her and her heart beat faster than it had at any point during the evening.

"I'm sorry," she said. He'd been smiling down at her, holding her in place. Until she came to her senses. "Excuse me." She'd tried to pull away, but couldn't budge.

"No Problem," he said leaning in close enough to whisper. "But I believe you owe me a kiss."

"What?" she'd hissed. "I do not owe you anything, Logan, not to mention that I'm on a date."

Logan had glanced at the door where John looked extremely curious as to what was going on. "He looks like a nice guy, I'm sure he wouldn't mind."

"You're nuts," she'd snapped. But maybe she was nuts because her body was humming with anticipation, and it wasn't for John.

"And you're standing under the mistletoe; it's tradition."

"Good. Night. Logan." She threw on her wrap and rejoined her date, but she'd felt the loss of the connection long after she pulled away from Logan.

And now he was here at her committee meeting, trying to upend things in the ninth hour. Usual sexy smirk. A big fat donation with strings attached. What did that mean? That he was definitely nuts? They were oil and water. This wouldnever work.

"Miranda." He extended his hand. "Always a pleasure."

She sat in the only available seat beside him, determined to get down to business. When she gave his hand a firm shake, her heat fluttered.

Damn heart.
Thanks for blogging at HJ!
Giveaway: 

$5 Starbucks gift card + E-copy of Kim's She's the One + Tule reader swag
To enter Giveaway: Please complete the Rafflecopter form and Post a comment to this Q: 

What's your favorite holiday dish? 
I don't like turkey, unless it's my Thanksgiving or Christmas turkey. It always turns out brown and beautiful and the drippings make fabulous dressing. I've included the instructions below.
TURKEY HATERS TURKEY :
* A turkey is always better when it has been brined. My favorite turkey brine is The Spice Hunter's Turkey Brine with fruit, herbs, and savory spices. http://amzn.com/B00EQD4LFM
1. Mix together 1/2 C sugar, 1/4 c. salt, 2 T. black pepper (Preferably fresh ground), 2t. ground thyme.
2. Rub turkey with olive oil. You may use an herb or a butter flavored oil if you like. Sprinkle the topside of the turkey with the above mixture.
3. (Optional) Bacon lovers, crisscross 4-6 slices of bacon on top of the bird and cook as directed and enjoy!
About the book:
Nobody does Christmas like Miranda Hamilton, and now that she finally has her chance to chair Magnolia Bay's tree lighting and the cotillion, which benefits her late mother's breast cancer foundation, this Christmas is shaping up to be the best ever. That is until her childhood nemesis Logan Mauldin buys his way on her committee and starts making plans of his own.
Logan Mauldin loves to get under Miranda's very sexy skin, and it's only fair. She's been getting under his since long before their first kiss at 13. Logan's the last man interested in co-chairing a Christmas committee or participating in a sexy bachelor auction, but since that night he interrupted Miranda on a date and cornered her under the mistletoe, he can't stop thinking about her. Or vying for her attention and bugging the hell out of her.
Christmas cheer isn't the only thing that heats up between the Miranda and Logan, but, thanks to a lie that is as much her fault as it is his, he loses the woman he's loved since forever. Logan will need a Christmas miracle for Miranda to forgive him. A grand gesture to melt her heart and win her back just in time for Christmas.
Buy Link:  Just in Time for Christmas – http://amzn.to/1EREijm
About the author: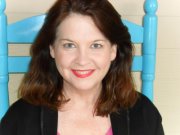 Kim Boykin was raised in her South Carolina home with two girly sisters and great parents. She had a happy, boring childhood, which sucks if you're a writer because you have to create your own crazy. PLUS after you're published and you're being interviewed, it's very appealing when the author actually lived in Crazy Town or somewhere in the general vicinity.
Almost everything she learned about writing, she learned from her grandpa, an oral storyteller, who was a master teacher of pacing and sensory detail. He held court under an old mimosa tree on the family farm, and people used to come from all around to hear him tell stories about growing up in rural Georgia and share his unique take on the world.
As a stay-at-home mom, Kim started writing, grabbing snip-its of time in the car rider line or on the bleachers at swim practice. After her kids left the nest, she started submitting her work, sold her first novel at 53, and has been writing like crazy ever since.
Thanks to the lessons she learned under that mimosa tree, her books are well reviewed and, according to RT Book Reviews, feel like they're being told across a kitchen table. She is the author of The Wisdom of Hair from Berkley, Steal Me, Cowboy and Sweet Home Carolina from Tule, and Palmetto Moon, also from Berkley 8/5/14. While her heart is always in the Lowcountry of South Carolina, she lives in Charlotte and has a heart for hairstylist, librarians, and book junkies like herself.
Website | Facebook | Twitter |