Today it is my pleasure to Welcome romance author
Kimberly Kincaid
to HJ!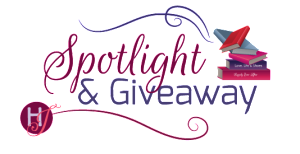 Hi Kimberly and welcome to HJ! We're so excited to chat with you about your new release, Just One Taste!

Hi everyone! *waves*

Tell us about the book with this fun little challenge using the title of the book: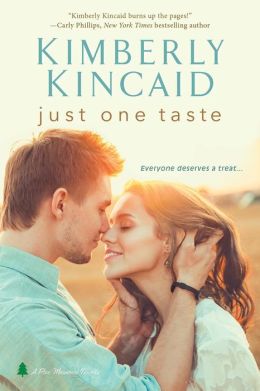 I used Kat's name for something a little fun and different! These are all about her.
K is for Kindhearted (totally, totally Kat!)
A is for Adventurous
T is for Tenacious
Please share the opening lines of this book:
Jesse Oliver hadn't even opened his eyes to greet the morning before he realized with one -hundred percent certainty that something was very, very wrong. Although the extensive training he'd received courtesy of the United States Army dictated that he remain perfectly still as he gathered intel, every one of his senses went from zero to wide-freaking-awake from his spot beneath the covers.

Someone was in his bathroom.
Please tell us a little about the characters in your book.
Kat is a physical therapist, also an Army brat and the daughter of a colonel. She's very headstrong, and very much wants a place to call home. Jesse is an Army medic turned sous chef, struggling with adjusting to life back at home.
Please share a few Fun facts about this book…
When I first started the book, Kat was a very different character than she turned out on the page. I had her as very cynical about love. But then I realized that in order to convince Jesse that he was a good guy, she needed to believe in him *and* being able to love him, so I changed her up!
I love all the scenes in this book, but the one that is my favorite is the one where Brennan and Teagan tease Jesse at the Double Shot. I love writing past and future characters into a book! It's like a family reunion 🙂 (and yes, Brennan is getting a book in October!)
What first attracts your Hero to the Heroine and vice versa?
Kat loves Jesse's sense of honor (also, his biceps!)– he's helped their elderly neighbors in an emergency and that goes a long way with her. For Jesse, it's Kat's fiery temperament all the way!
The First Kiss…
Oh, the first kiss. Let's see. It gives new meaning to the phrase "the great outdoors" 🙂 Also, I love the first kiss in this book because I think it's the moment where Jesse realizes, "Oh hell. I'm in over my head here and I really like this woman!" Of course he thinks he can't have her…
If your book was optioned for a movie, what scene would you use for the audition of the main characters and why?
I'd use the scene where Kat frees the spider (who knows this scene?! Kat finds a spider in the lake house and takes it outside instead of killing it)
"Karma," Jesse repeated, and Kat lifted a single hand as if she could sense the argument brewing in his mouth.

"Yes. Karma. Listen, I know the spider can probably get back inside if he wants to, and no, I don't want a whole kitchen teeming with them. But this is a lake house in the middle of the woods. There's going to be wildlife. And if I only see a spider inside every once in a while, putting him back outside just feels like the right thing to do. Not that I expect you to understand, but…it just does."

Her fierce posture coalesced into a much softer shrug, and Jesse couldn't decide which troubled him more. The fact that he actually did get the rationale behind Kat's spider-saving philosophy, or that he was turned on to his steel toes as she explained it to him in the moonlight.

Damn it, this was Gabe's sister. The only daughter of a colonel who'd served in the Army for as many years as Jesse had been alive. A woman with a vacation house and a career in a medical field that likely required more than one advanced degree.

He needed to redirect. Now.
If your hero had a sexy-times play list, what song(s) would have to be on it?
Oooo! For these two, I like Beyoncé's "XO" and The Goo Goo Dolls "Come To Me"
If you could have given your characters one piece of advice before the opening pages of the book, what – would it be and why?
I'd have probably told Kat that she wouldn't end up using that lock on her door too much 😉 hehe!
What are you currently working on? What other releases do you have planned for 2015?
I'm currently finishing the second book in my Rescue Squad series, FEARLESS. I've got three really exciting Indie projects coming in the second half of this year, as well as Brennan's book (the last of the Pine Mountain series!) ALL WRAPPED UP, in October.

Thanks for blogging at HJ!
Giveaway:

2 digital copies of Turn Up The Heat, book 1 in the Pine Mountain series
To enter Giveaway: Please complete the Rafflecopter form and Post a comment to this Q:

In Just One Taste, Kat and Jesse fix up her family's lake house. Do you love DIY projects? Have one you can brag about? Tell all!
Excerpt from Just One Taste:
A bit more of the spider scene for you!

"You really didn't have to do that tonight," Kat said, and her words yanked him back into place on her threshold. "I was speaking kind of figuratively when I told Gabe I wanted a lock as soon as possible."

Jesse shook his head, blanking his thoughts and his expression as he passed the keys over. "I promised your brother I'd do some work around here to earn my keep. Plus, it's smart to have an extra lock on your door, and the hardware store on Main Street had everything we needed. It was easy."

"Well, thank you. I appreciate it."

"Yes ma'am."

She winced, although it was slight enough that most people might not have noticed. "I know the whole ma'am thing is reflexive, but really. I'm just Kat."

"You're also Gabe's sister," he said, while his inner voice tacked on and the daughter of a colonel. Really, he couldn't come up with anyone more out of bounds if he'd made it mission critical. "I'm pretty sure you outrank me."

A burst of laughter popped from her lips, sizzling a direct path to his gut. "I know you're the expert, but I'm pretty sure civilians don't outrank anybody. Really. Just Kat."

Although he was tempted to argue with her, he got the feeling it would be a losing battle. "Okay, Just Kat. You got a broom in your kitchen closet?"

"I suppose I asked for that," she mumbled, her sandals clicking over the linoleum as she crossed to the narrow door next to the white enamel beast of a refrigerator. Propping the closet open, she scrunched up her brow and peered inside. "Oh, hell."

"Everything okay?" Jesse asked, concern percolating through his veins.

But Kat just shrugged and turned toward the nearest kitchen cupboard. "There's a spider."

His head whipped back in total shock. Shouldn't she be screaming her face off or something? "In the closet?"

"On the broom handle, specifically. A-ha!" She snapped a plastic cup from the cupboard shelf and shut the door with nothing but purpose in her pretty blue stare.

What, was she going to offer the creepy little thing a beverage and a snack before its flight to its final destination? "Don't you want me to kill it?"

"Of course not!" Her cheeks flushed, and Jesse added one more entry to the list of things about her he found wildly sexy. "I'm going to put him outside."

He almost laughed, until he realized she was serious as a sledgehammer. "You know if you do that, the spider's only going to come back in, right?"

"Maybe. But he's not really hurting anything. I just need him off my broom." Kat reached back into the storage closet, her stack of gold bracelets climbing up her forearm with a jingle as she maneuvered both hands past the door. "See?" She extracted the cup, victorious. "Brown wolf spider. No great shakes."

Jesse took an involuntary step back, his heartbeat kicking to Defcon Four at the sight of the insect clinging to the top edge of the red plastic. "Jesus Christ. That's not a spider. It's a rhinoceros."
Excerpts. © Reprinted by permission. All rights reserved.

Book Info:
A little home improvement can go a long way…
Jesse Oliver was a medic in Afghanistan, but back home in Pine Mountain he's happy to switch gears as the Double Shot bar's new sous chef. When his apartment floods and his old Army buddy offers the family's dilapidated lake house as temporary quarters, Jesse thinks a little remodeling on the creaky duplex sounds like a fair return favor. That's before he sets eyes on the gorgeous woman moving into the other side of the cabin—and discovers she's his buddy's kid sister, a.k.a totally off limits.
Kat McMarrin has fought hard for her space, and she's not too interested in sharing it. Of course, her job as a physical therapist means she won't see much of Jesse, even if he's a few thin floorboards away—unless she seeks him out. And with his sculpted body and slow-burn gaze, she might be tempted. Maybe the fixer-upper projects she has planned for the cabin will keep her mind off him. Or maybe her instincts to strip the place down will get out of hand…
Book Links:


Meet the Author: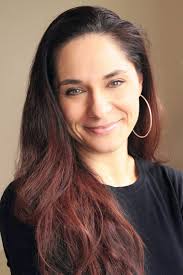 Kimberly Kincaid writes contemporary romance that splits the difference between sexy and sweet. When she's not sitting cross-legged in an ancient desk chair known as "The Pleather Bomber", she can be found practicing obscene amounts of yoga, whipping up anything from enchiladas to éclairs in her kitchen, or curled up with her nose in a book. Kimberly is a 2015 RWA RITA® finalist who lives (and writes!) by the mantra that food is love. Her digital Line series is all about the hot cops and sexy chefs of Brentsville, New York. She is also the author of the Pine Mountain series, which follows small town singles as they find big-time love. Kimberly resides in Virginia with her wildly patient husband and their three daughters. Visit her any time at www.kimberlykincaid.com or come check her out on Facebook (www.facebook.com/kimberly.kincaid1) and Twitter (@kimberlykincaid).
Website | Facebook | Twitter |