Today it is my pleasure to welcome Harlequin Presents author Anna Cleary to HJ!
Anna, welcome to HJ, I'm a big fan of your writing and it is such a pleasure to host you here today.!

Hi Sara! Thank you. It's lovely to be here! So nice of you to invite me.
For my readers who may not be familiar with your work, could you tell us a bit about yourself and your books?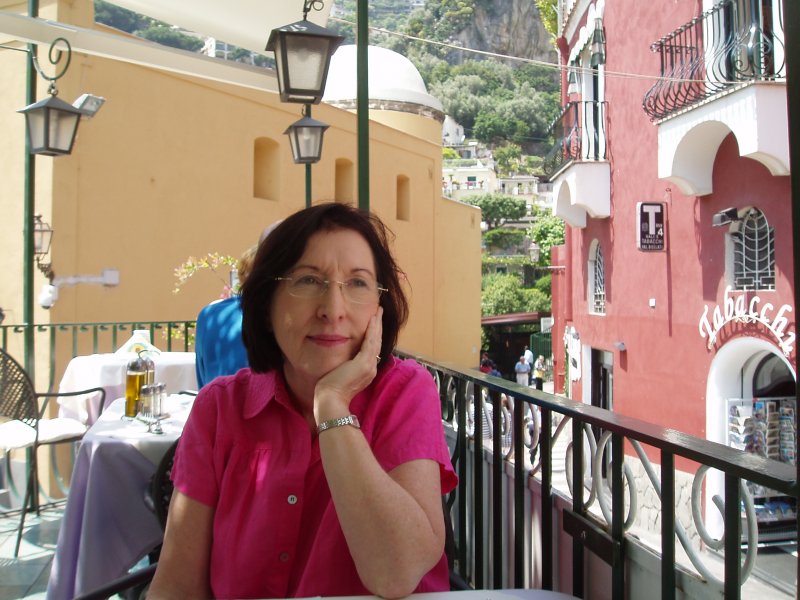 I've been writing frothy, sexy tales for Harlequin Mills&Boon for several years now. Currently I write for the Riva/Presents Extra line, which your UK readers might remember as having once been called Modern Heat. In North America the line is morphing again even as we speak into Harlequin's gorgeous new Kiss imprint.
I guess what I could say about my books, apart from their being emotional, sexy reads, is that they're all quite different from each other. The Italian Next Door, for example, while passionate, is so light the book might float from your hand if you don't take care, while The Night That Started It All, my current UK/Aus/NZ release, has a darker intensity. Keeping her Up All Night, on the other hand, has an intense, dramatic and emotional Presentsy flavour.
My heroines reflect my values, I guess. They're strong, but tender -hearted. They fiercely uphold the honour and dignity of femininity, and are true to themselves.
In your opinion, what ingredients are needed to make up a good love story?
To me a great love story is one that takes me out of my world. I've always been a girl who needed to escape. I loooove reading about foreign places, and adore the fantasy elements of romance—my own stories are dripping with the stuff.
Occasionally though, while escaping, you find a story that hits the truth spot in your soul. And that's another thing I believe a romance needs. A resolution that is true and right for the characters, and at the same time intensely satisfying.
Recently I had the pleasure of reading Kelly Hunter's With This Fling. At first reading I thought this story is really quite cerebral. At next reading—because I simply had to backtrack through my Kindle and read the beautifully written tale again—I saw so much more. Depth of emotion, fun, passion and true romance. Not to mention the confidence with which Kelly created that academic world her heroine inhabited.
Pure fantasy, but it had an authenticity. She made me believe in Charlotte's world.
What are you currently working on? What can we expect from you in 2013?
I'm currently engaged in a story for I'm aiming for the Kiss line. It's still early on, so I can't hazard a guess as to when it might appear. Fantasy? Yep. Hot, flirty and funny? Hopefully. Authentic? Definitely. I'm an avid researcher.
I believe my next release will be a truly delightful anthology of novellas that I collaborated on with three of my brilliant Kiss/Riva sisters for Entangled Publishing's Flirt imprint. We think it will be called When Honey Got Married. The book is still in production, so while I can tell you it's slated for digital release in April, that's about all I can say for sure.
Except that the stories are short, powerfully sweet and sexy, and linked to each other to make one whole fabulous book. They're set in Louisiana at a big society wedding, and are all absolutely delicious! There are so many fabulous payoffs in this book it's guaranteed to enchant, over and over!
Let's talk about your newest release, If you had to sum up 'Keeping Her Up All Night' for the reader here…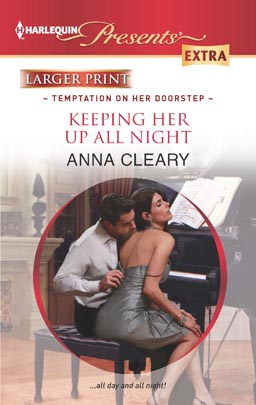 An emotional tale about a man learning to love and trust again after a devastating betrayal.
What was your inspiration behind this story?
Ah…
Well, it occurred to me how nerve-racking it must be for a groom standing at the altar waiting for his bride if she's very late to arrive. Sometimes the thought might creep in—What if she doesn't show?
And what if she doesn't? At all? What would that do to a person?
Then there was Botticelli's La Primavera. I'd just seen that divine painting in the Uffizi in Florence, and was pretty overwhelmed by it. It haunted me, and may have been why I dreamed up a heroine who could be ethereal. A dancer. A ballerina, no less.
And then I needed an excuse to dress her up as La Primavera, so I turned Guy into an advertising man, and Amber into a woman who needed to advertise something…
Hey presto! Nothing to it!
If you had to pick your favorite scene from 'Keeping Her Up All Night'…
I quite like this little scene where Guy tries to explain something to Amber about why he behaved so badly on a certain occasion, without losing face or opening up. At this stage he only has enough trust in her to let her in the teensiest bit.
(excerpt)
Who would play Amber and Guy in the movie version of your book? And why?
Is there to be a movie version? Do you know something Sara?
(Getting very excited here.)
O-kay. Just in case Hollywood does have me on their list, for the record maybe I'll have Rachel McAdams play Amber. Love her dimples and her infectious grin.
Although should I really go for her? Can she dance? Do you see her doing the splits on a Steinway piano lid? Dark hair, yes, blue eyes, not sure…(though there's always contacts) So… ? Oh, I dunno.
Who do you think, readers?
For Guy now…
Hmm…
Oh, this is so hard. Any help for me here? We need someone tall, dark and brooding. A tortured soul, rock songwriter and creative genius, who is, by the way, lean, hard and smokin' hot and can burn a woman down with a glance. Anyone spring to mind?
Giveaway: In fact, it would give me the greatest pleasure to give away

2 copies

of Keeping her Up all Night.
To Enter giveaway: Please complete the Rafflecopter form below and Post a Comment to this:
To any brilliant casting directors reading this who can come up with the most likely suggestions for Amber and Guy! I want to be ready when Hollywood comes a-knockin'.
Suggestions please…?
Here's a teaser from Keeping Her Up All Night
'I…' He lifted his arms from his sides and let them fall again. 'I –haven't…taken a woman out in a while.' Unwilling at the start, the words finished in a rush.

Her ears pricked up, her heart tensing with thrilled anticipation. 'Really?'

'No.'

She waited for more, but he didn't add anything. Just stood looking like a rock that had reluctantly squeezed out a precious drop of its life blood.

She lifted her brows. 'Is that it?'

He drew an exasperated breath. 'It's…Look, I don't talk about all that relationship palaver. I just…You might as well know, I had a…' He swung away to evade her eyes.  '…a – break up, I s'pose you'd call it, with a woman a while back and I've probably been avoiding—all the—stuff.'

'The stuff,' she mused aloud, though inside her spirit was doing cartwheels to have commanded such a grand achievement. 'And what would that be, I wonder? The stuff ?'

His eyes glinted and he took her arms in a firm grip. 'You're just loving this, aren't you? You think you've got the power.'

She gave one of those tinkling little laughs. But it was filled with excitement,  fuelled by the thrilling sensation of electricity tingling where his skin collided with hers. 'Don't be silly. As if women ever think about power.'
Copyright ©Anna Cleary 2012
Courtesy Harlequin Books S.A.