Today, HJ is pleased to share with you

Sydney Landon's

new release: 

Keeping It Hot

The New York Times bestselling author Sydney Landon delivers a new novel about finding love and adventure with the sexy businessman next door….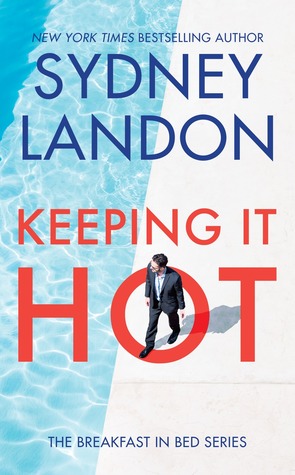 Zoe Hart owns the coffee shop in one of the hottest upscale resorts in Florida, run by her childhood best friend, Dylan Jackson. Even though Dylan is a workaholic, he still finds time to enjoy the beautiful women who pass through his hotel—all of them except Zoe. She has been in love with Dylan for years without him noticing.

But with her thirtieth birthday fast approaching, she realizes she can't keep pining away for a man who doesn't show the merest sign of romantic interest in her.

When Zoe launches her plan to shed her tomboy image in Dylan's eyes, she's thrilled once he starts to notice her in a whole new way. But she'll have to face the risk that seducing her best friend might come with lasting changes to their longtime friendship…

Enjoy an exclusive excerpt from Keeping It Hot: 
It had been a hell of a long week and Dylan Jackson was looking forward to kicking back and relaxing. He usually had dinner with Zoe at least one evening a week, but thanks to a business trip to one of the other Oceanix Resorts, it had been closer to two since he'd seen her last and he missed her. He'd even missed her birthday, which he tried never to do. He'd texted her earlier and she'd suggested they meet in one of the resort restaurants since neither of them had felt like cooking. Dylan lived in the penthouse so it was a simple matter for him to take the elevator back downstairs at seven. He'd figured Zoe was working late at the coffee shop as she usually did, but when she responded to his text she'd already been at her condominium a few miles away from the hotel.
He walked into the restaurant and automatically headed for his usual reserved table in the corner. It was both private and had an amazing view of the gulf. He'd been so busy looking around that he was abruptly brought up short when he realized that his table was occupied. A woman with long, dark hair cascading down her back sat in one of the chairs sipping a glass of wine. Dylan stifled a surge of irritation. Even though the woman looked stunning from behind, now he'd have to deal with the aggravation of either asking her to move or finding somewhere else to sit himself, which would be no small feat as the restaurant was packed.
As he stood uncertainly pondering his options, the woman turned, seemingly sensing him behind her and he froze. He blinked a few times thinking he was imagining things. Then she smiled and it hit him with the force of a sledgehammer. "What are you waiting for, an engraved invitation?" She laughed as she motioned him closer.
Dear God, what was going on here? The woman with the short, clingy dress, amazing legs, and plump breasts sounded like his best friend. If he looked closely, her features were the same. But everything else was wrong—very wrong. Zoe wore her hair in a ponytail and dressed in sensible clothing. Half the time she had a coffee stain on her white polo. She didn't make his mouth go dry—or his cock go hard. She was his buddy, the one constant in his life that never changed.
"Did someone die?" He finally asked, thinking maybe she'd been to a funeral or something. Why else would she be wearing a dress?
She wrinkled her nose, as she was prone to do when she was thinking before shaking her head. "Er . . . no." Giving him a look of concern, she reached out and put a hand on his arm. "Are you alright? You look rather pale. Would you rather we just go upstairs to your place and order in? I'm fine with that if you're tired."
"NO!" He protested loudly, causing people at nearby tables to look over at him. Great, he was making an ass out of himself. But there was no way he was going somewhere more private with Zoe looking like . . . that. He needed to get to the bottom of this, preferably in public with lots of people around. So, he took a breath and made an effort to collect himself. He stepped forward and took his seat. He was saved from making conversation while they placed their orders, but after the waiter had gone, an unusually awkward silence settled between them.
This type of thing never happened between them and he found he wasn't sure how to handle it. Should he go ahead and ask her why she looked the way she did? Or ignore it and hope it never happened again?
She moved closer to him, putting her new and improved breasts only inches from his hand. "You seem a little stressed out," she said softly. "Are you sure you're okay?"
To his utter horror, he heard himself blurting out, "What's happened to you?" He pointed to her outfit, and then quickly gulped down a drink of his water. Maybe he was getting sick. His throat was so parched.
"What are you talking about?" She asked, looking at him as if he'd lost his mind. Hell, he was beginning to think she was right. He needed to look into his family's health history a little closer.
He knew he sounded nuts, but he couldn't stop himself from saying, "The dress, and the hair. You're even wearing high heels. You know those make your feet hurt."
"Oh, I've got a date later," Zoe shrugged. She gave him a bright smile, and then began filling him in on what he'd missed at the resort while he was away. She appeared to have no clue that he wasn't an active participant in the conversation. Making small talk seemed impossible for him right now; because all he wanted to do was demand to know who she was going out with. He'd figured they'd watch a movie after dinner as they normally did, but apparently that wasn't going to happen. Dylan had never been one for change and this transformation was almost more than he could wrap his head around. He knew Zoe though. This was just a one-time thing. She'd go back to looking the way she usually did tomorrow and then his world would be back in balance once again. Otherwise, he was going to have to face the fact that somewhere along the way his best friend had turned into a very desirable woman. And that he was afraid could only spell disaster for the relationship that he'd always valued above all others in his life.
Excerpt. ©Sydney Landon. Posted by arrangement with the publisher. All rights reserved.
Giveaway:

Print copy of KEEPING IT HOT (The Breakfast in Bed Series) by Sydney Landon
To enter Giveaway: Please complete the Rafflecopter form and post a comment to this Q:

What did you think of the excerpt spotlighted here? Leave a comment with your thoughts on the book…
Meet the Author:
Sydney Landon is the New York Times and USA Today bestselling author of the Danvers Novels, including Watch Over Me and The One for Me. She lives in South Carolina with her husband and two children, who keep her life interesting and borderline insane but never boring. When she isn't writing, Sydney enjoys reading, swimming, and being a minivan-driving soccer mom.