Today it is my pleasure to Welcome author
Taryn Leigh Taylor
to HJ!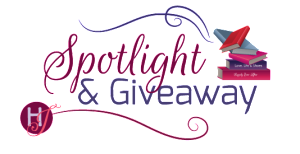 Hi Taryn and welcome to HJ! We're so excited to chat with you about your new release, Kiss and Makeup!

Thanks so much for inviting me! Hi everyone.

Please summarize the book for the readers here: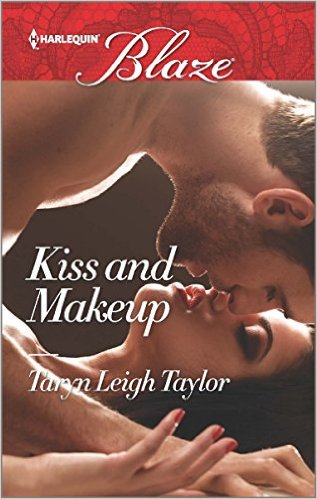 KISS AND MAKEUP is a romantic comedy about an uptight ad exec and a sardonic YouTube makekup artist who end up sitting beside each other on a plane bound for Buffalo. When their flight is grounded due to a blizzard, their identical last names (no relation…I promise!) land them in the same hotel room for the night, and thus begins a sexy case of mistaken identity that keeps throwing the fake Mr. and Mrs. Masterson together…no matter how hard they try to escape one another.

Please share the opening lines of this book:
"DO YOU WANT me to kick the crap out of that seat back and tray table for you?"

Chloe Masterson looked over at Window Guy, the man that the Goddess of Economy Airline Seating had seen fit to plaster against her right side. The upper-arm contact had started in Seattle and lasted until Chicago.
Please share a few Fun facts about this book…
I have wanted to be an author since the second grade, and part of my childhood dream of writing books was getting to name the chapters…because I always thought that was the coolest. So I will admit that when I sent my manuscript into Harlequin, all the chapters had a name. Although they ultimately got cut, (my editor was sweet enough to apologize when she did it, even though I knew they'd never make the final version of the book!) here's a peek at a few of them:
Chapter One: The Curse of the Diamond
This is probably my favourite chapter name of them all, because it's in reference to the fact that Chloe feels that her hatred of a certain Neil Diamond song is the reason she's trapped on a broken plane in a blizzard in the first place. Her Neil Diamond rage becomes a running gag throughout the book.
Chapter Three: What Happens in Chicago…
Obviously a riff on the Vegas tagline, this is the chapter where Ben and Chloe find out they'll be staying in the same hotel for the evening…and sexy hilarity ensues.
Chapter Eight: All the Makeup Stores in All the World…
Hey, I never said I was inventive, okay? But if you're gonna rip something off, why not go for the gold and make it Casablanca? At this point in the story, Ben and Chloe have returned to their regular lives, expecting never to see one another again. That is, until Ben finds out Chloe might be the key to landing a coveted promotion, and takes it upon himself to hunt her down at work and convince her to help him out one last time.
Because Taylor is such a common name, I found myself wondering one day how often I'm sitting beside someone who shares my last name in a restaurant, or on a bus, or in a waiting room. This story is the result of that wondering. (If I'm being honest, it was also a chance to fantasize about how awesome it would be if the hot guy I was eyeing in the terminal ever ended up sitting next to me when we boarded the plane. Alas, in real life, he's never sitting anywhere in my vicinity.)
I had my first energy drink while writing KISS AND MAKEUP. It was the worst experience of my life! Even my eyeballs were vibrating. NEVER again.
If your book was optioned for a movie, what scene would you use for the audition of the main characters and why?
Wow. If KISS AND MAKEUP was going to be on the silver screen (or more realistically, the Lifetime Network) I guess I'd have to go with a scene that really put the actors through their paces. I'm going to need proof they can handle the drama, as well as the lighter stuff, so I'd throw them this moment, when the stress of a long day of travel snafus finally catches up with Chloe and Ben tries his best to comfort her:
"Honestly, Ben. How is it possible for one person to mess up her life so monumentally?"

"Hey, I'm sure it's not as bad as it seems right now." He rubbed her back, his big hand hot against her T-shirt. "You'll figure it out. You'll fix it."

Tears brimmed in her eyes with a vengeance. They burned like acid. "No. I won't. And do you know why?"

Ben shook his head.

"Me, neither! I mean, do you see this? Do you see my hair?" She grabbed a handful and held it in his direction.

"Yeah…"

"I did this for them!" she exclaimed, dropping the strands back into place. "I colored it boring old brown so they wouldn't be embarrassed by me, but it didn't work! I'm not even at the wedding yet, and I've already disappointed them. Nothing I try ever works, Ben. I don't know what to do." She'd never said that to anyone before and admitting the truth hurt so badly she thought her ribs might crack.

Chloe dropped her face into her hands. Ben's arms came around her, pulling her close, tucking her cheek to his chest. She gave in and greedily took what he was offering. Wrapping her arms around his waist, she leaned into him and let herself cry.

She wasn't sure if it was minutes or hours, but he held her until she had no more tears.

"You know what, Chloe?" His voice was soft and deep, breaking the silence she'd been measuring with the rise and fall of his chest beneath her cheek. "Maybe there's nothing to do. I mean, I realize I just met you, but you seem okay to me."

That tiny reassurance allowed Chloe to muster enough gumption to reach up and wipe the wet tracks from her face. She couldn't quite bring herself to lift her head off his shoulder, though.

"And they'll see it. One day, they'll see it. You just gotta give them some time."

Her lip trembled, and she bit it, fighting the sadness. "They've had twenty-six years, Ben."

She felt him exhale. "It's a really hard thing, you know, not taking the people we love for granted." She looked up at him then and he smiled, a sad-but-reassuring little half smile that made her believe there was a chance that the despair she felt in that moment might not be insurmountable.

Chloe pulled away with a final sniff. She was trying desperately to hold onto that moment of comfort even as the embarrassment of her epic cry-fest in front of a virtual stranger began seeping in at the edges.

She exhaled shakily. "Sorry I got mascara and snot on your fancy shirt."

"It's just a T-shirt," he averred as he pulled the black-smeared wet patch away from his chest. He even managed not to look horrified.

"Yeah, but I bet it cost, like, fifty bucks."

"Seventy-five," he corrected. "But I'll accept it as punishment for being douchebaggy enough to have spent that much money on a plain white T-shirt in the first place."
What do you want people to take away from reading this book?
Honestly? I just want people to laugh…and maybe swoon a little. If only for the abs. *wink*
What are you currently working on? What other releases do you have planned for 2015?
My next Blaze, Playing to Win, will hit store shelves mid-December, with a digital release in January 2016.
Here's the back blurb:
Playing to win means playing dirty…
Holly Evans is intelligent, educated and crazy about sports—so how did she end up prancing about in a miniskirt and teasing her hair like some broadcasting bimbo? Of course, since she's already iced her journalistic integrity, Holly might as well indulge in a little fangirl lust for the ripped captain of Portland's hockey team.
Luke Maguire sees right through Holly's bunny disguise, and he's ready to pull her into the locker room and strip it all off. Then Holly discovers someone on the team is profiting from a little over/under
betting. Suddenly her lusting for Luke is going head-to-head with her reporting instincts. And if she's caught offside, there's no telling what the penalty will be…
And where there's a team full of hot, single hockey players, there's the opportunity for even more romantic hijinx! Right now I'm working on giving a couple of Luke's teammates some happily-ever-afters of their own.

Thanks for blogging at HJ!
Giveaway: 1 grand prize – A signed print copy of KISS AND MAKEUP, as well as some makeup samples and candy mentioned in the book.
3 runners up – A digital copy of KISS AND MAKEUP (.mobi or .pdf)
Giveaways are open internationally.
To enter Giveaway: Please complete the Rafflecopter form and Post a comment to this Q: In KISS AND MAKEUP, Ben ends up having to cobble together dinner for himself and Chloe from the meager offereings in the vending machine down the hall.
If you were stuck in a crappy hotel room for the night, what three junkfood items would your vending machine dinner consist of?
(I'd probably go for Cherry Coke, Twix, and…Hot Tamales)
Excerpt from Kiss and Makeup:
SHE WAS IN BIG, big trouble.

Chloe tipped her head back and let the warm spray of the shower wash the remnants of the day and the smell of chemically-approximated flowers—courtesy of the Value Inn's complimentary two-in-one shampoo—from her hair.

This wedding stuff had been stressing her out since the day she'd received the meticulously calligraphed invitation requesting her presence at her little sister's nuptials. Throw in a couple of icy phone calls with her mother and a return-airfare-from-Seattle-to-Buffalo-shaped dent in her savings, and, well, Chloe was on the edge.

And people on the edge did stupid things, such as blubber in front of a complete stranger, and then think dirty, filthy thoughts about him. And while she'd found Ben handsome from the start, something warm and wicked was bubbling up to the surface now, waking parts of her that had been dormant for…well, quite a while.

If not for the ring of the phone, she'd be letting Ben indulge a few of those parts right now. Suddenly the water sluicing over her body felt hotter. She ran her soapy hands over her breasts and across her stomach, the utilitarian washing of her body growing sensual. She would love to explore Ben's abs, to see if her brain had Photoshopped them in hindsight, or if they were truly as spectacular as she remembered. Her mind drifted lower and so did her hands.

Oh, God.

She knew how long it had been since a man had touched her—going on five months now—but how long had it been since she'd touched herself? She couldn't remember the last time she'd indulged in the best stress relief available to womankind.

Sure, nothing beat a willing partner, but there was something to be said for being the one in control…of getting exactly what you wanted…right when you needed it.

Yes. Oh, yes.

Chloe reached out to brace her hand on the wall but overshot and knocked the entire line of Value Inn mini bath products off the built-in shelf. They rained down to the tub with a series of bangs that jerked her out of the moment. Her heartbeat, already revving from her sexy daydreams, revved even higher with a shot of adrenaline.

Seriously? First the phone, and now this?

Chloe knew when she was beat. With a sigh, she turned off the shower. She reached past the curtain to pull one of the white hotel towels off the metal rack above the toilet. Like all mass-laundered hotel towels, it was scratchy and barely reached the tops of her thighs when she wrapped it around herself.

The TV went silent as she stepped out of the tub. There were some muffled noises she couldn't quite place, and then the squeaky floor betrayed Ben's presence.

Chloe froze.

He was walking toward the bathroom.

Her hand flew to her chest, gripping the tiny towel in a tight fist. Her skin buzzed. Her heartbeat picked up. The light seeping under the bathroom door was interrupted by his shadow. There were only two inches of ramshackle door and a threadbare towel separating them. He was right…there…

"Chloe? You okay?"

Oh, man. His deep voice hit her right in the estrogen and her body picked up where it had left off in the shower. All that delicious heat flared back up. "Fine. Dropped something." The ability to form full sentences had deserted her.
"Okay. Well, good news. According to the weather forecast, the storm's moving quicker than they thought. It's already stopped snowing out there. We should get out of here on time tomorrow."

"Great." She hoped the word didn't come out as breathy as it had sounded to her own ears.

"I'm going to head downstairs and see a man about a cot. Or a woman. I'm not picky. Judging by the ominous 'no one's available to take your call' message I just got when I phoned the front desk, it might take a while. Wish me luck."

"Good luck." Yep, pretty breathy. Now she felt guilty for forming such a dark opinion of Stewardess Barbie. Maybe the poor girl couldn't help it. Maybe it had been Ben's fault the whole time.

Then the hotel room door shrieked open and banged shut.

Chloe exhaled a shaky, disappointed breath.

What had she expected him to do? Bust open the door, profess their chemistry was undeniable, and ravish her like the hero in some old romance novel her grandma kept hidden at the back of her bookshelf? Well, kind of. But dudes got arrested for that kind of stuff nowadays.

With a sigh, Chloe wiped the steam from the mirror and stared at her blurry image.

Barefaced. Plain brown hair.

Maybe it was for the best that Ben hadn't broken down the door after all.

She barely recognized herself. She wasn't even in Buffalo yet and she was already reverting to the old Chloe. The one who'd been so desperate to escape. It was as if the closer she got to home, the more of her identity she was losing.

Her mother always said she wore too much makeup. It didn't matter how many strangers complimented her, or how many friends asked for a quick lesson. Her mother wouldn't be impressed that she'd worked her way from sales associate to manager of her local Titanium Beauty store in less than two years. Or that customers loved her makeup recommendations, and that the job afforded her a decent apartment and a means to pay her bills. To Fiona Masterson, it would never be more than a menial labor job at a makeup store in the mall.

And sure, her life wasn't as posh as her childhood had been, but she had a position in an industry she loved, and it was a great learning experience that was going to help her when she finally launched her own business and became a full-fledged makeup artist. She'd even started a YouTube channel where dozens of people thanked her for her tips and tricks on a weekly basis. It wasn't netting her much money yet, but she'd broken the five-hundred-dollar mark two months in a row. Not bad for a fledgling channel that relied on word of mouth.

Besides, making money wasn't the reason she had a YouTube channel. Mostly, it was a place for her to indulge her passion for makeup, for teaching women how to apply it, for investigating and reviewing products. Makeup wasn't just about vanity, it was about confidence, and she loved reading the comments of her subscribers as they discovered their best selves.

She grabbed the tiny blow-dryer that hung on the bathroom wall and attacked her wet hair with the renewed resolve of a woman with a plan. She was done feeling crappy about herself. She had a video to make for her regular Sunday night upload, anyway, so why not kill two birds with one stone?

First she was going to do her makeup.

Then she was going to do Ben.
Excerpt. © Reprinted by permission. All rights reserved.

Book Info:
A hot shade of lipstick calls for a hot, sexy guy…
Makeup artist Chloe Masterson has a look for every occasion. Flying home for your sister's wedding and family torture? Easy. Bring out the sarcastic wit and black eyeliner. Bonus—the look catches the eye of the corporate hottie sitting beside her on the plane. Turns out Ben has the exact same last name, and everyone assumes they're married.
When they get stuck in a hotel room together, Chloe decides to accept the gift the Fates have bestowed upon her. (Tip: a bold lip color does wonders for seduction.) But as their lies begin to snowball, Chloe and Ben find it harder and harder to distinguish between what's real and what's all just smoky eyes and mirrors.
Book Links:

Meet the Author: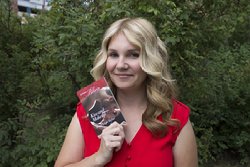 Taryn Leigh Taylor likes dinosaurs, bridges, and space, both personal and of the final frontier variety. She shamelessly indulges in cliches, most notably her Starbucks addiction (grande-six-pump-whole-milk-no-water chai tea latte, aka: the usual), her shoe hoard (I can stop anytime I…ooh! These are pretty!), and her penchant for falling in lust with fictional men with great abs (yum!)
She also really loves books, which is what sent her down the crazy path of writing one in the first place.
Website | Facebook | Twitter |