Today it is my pleasure to welcome romance author 

Robin Bielman

to HJ!
Hi Sara! Thank you so much for having me! I'm super excited to be here today!
Lets get started, 5 things readers should know about you?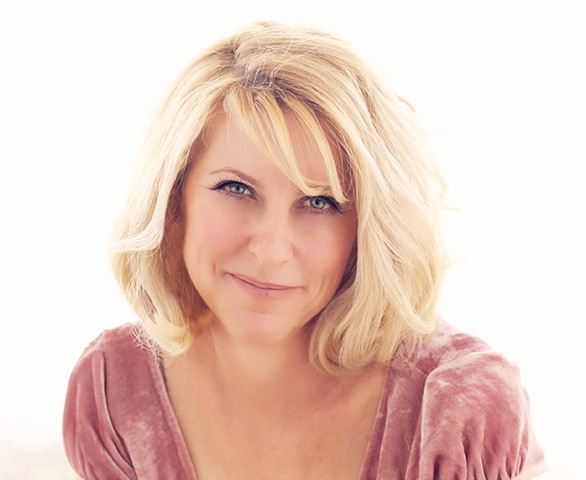 Hmm… Let's see. I'm a night owl, which doesn't bode well for my early morning alarm to get my son ready for school. I love to read. Love, love, love the beach. I can't sing to save my life, but really wish I could. And… okay I have a really hard time talking about myself and so I just asked my son what he thought readers should know about me and he said, "You're super cool," so can I go with that? I mean it's not often I get such an awesome quote from my fourteen-year-old. ☺
What would you say are the defining characteristics of your Novels?
I try to write "real" people, characters that we can identify with and who want what we all do: to find the one person who makes our life complete.
Do you find writing love scenes giggle-worthy or cringe-worthy?
Neither. Although, I love when characters can laugh while in the middle of, uh, getting busy. So sometimes when I'm writing a love scene, I'll throw something funny in. A scene in my first book, Worth the Risk, comes to mind here. My hero and heroine are about to get naked and she sits on an umbrella that's on the bed and cracks (no pun intended) a joke about it. I know that's not exactly what you meant by giggle-worthy, but breaking up the intimacy with something silly makes the scene easier to write sometimes – at least for me. In my current release, though, I had a blast writing sexual tension filled with glances, teasing, touches, kisses, and then getting to close the door when my characters took it further since Kissing the Maid of Honor is a sweeter romance from Entangled's Bliss line.
Which hero, among your books has given you the biggest run for your money?
I've got to say Luke from Kissing the Maid of Honor. I absolutely loved writing him, but he has a really strong personality so sometimes he wanted to do things that I couldn't put in a sweet romance, and I had to rein him in!
What are you currently reading?
I'm currently reading Down To You, by M. Leighton. It's really great so far.
If you had to summarize  Kissing the Maid of Honor for the readers here ….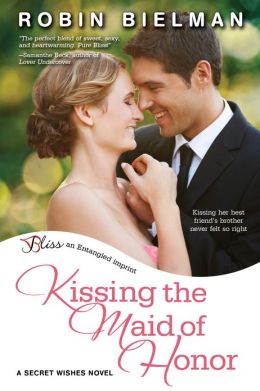 Sela Sullivan wants to be the best maid of honor ever and keep her distance from the best man, Luke Watters. He's her older brother's best friend and the boy who broke her heart back in high school. But Luke has other ideas where Sela's concerned, and he plans to make up for his past mistakes.
Please tell us about the characters in your book.
Sela Sullivan is a nurse and the anonymous woman "Jane" behind her small town newspaper's women life & love column. She's always doing things for others, has dreams to travel and be more reckless, and loves to banter with Luke. He gets under her skin.
Luke Watters is a world famous extreme sports photographer and lives and breathes adventure. He's a hero in his small town, the town he couldn't wait to leave when he graduated from high school. But despite his long absences from home, he's very family oriented and dotes on his three younger sisters.
What scene did you have most fun writing? Why? 
I loved writing the dance lesson scene. The last thing Luke wants to do is take dance lessons. And the last thing Sela wants to do is be in such close proximity to Luke. So I loved writing the banter between them while also showing the attraction blooming.
Who would who cast in the role of hero and heroine if your book was optioned for a movie?
I would cast Josh Duhamel as Luke, (love him!) and Rachel Bilson as Sela.
What are you currently working on? What other releases so you have planned for 2013?
I'm working on the second book in my Secret Wishes series. It's titled One Week Boyfriend and is Shane's story. Shane is Sela's brother and I'm having a blast writing his story. It will be released this fall. I'm also editing a follow-up to Worth the Risk. This one is McCall's story and I'm really excited about it.
Where can readers get in touch with you?
I love chatting with readers! There are a few places to find me:
My blog: http://robinbielman.com/blog
Twitter: http://twitter.com/RobinBielman
Facebook: http://facebook.com/RobinBielman or http://facebook.com/RobinBielmanWriter
Goodreads: http://goodreads.com/RobinBielman
Thank you for stopping by HJ!
Thanks again for having me Sara! I really enjoyed answering your questions!
Giveaway: e-copy of Kissing the Maid of Honor by Robin Bielman
To enter Giveaway: Please complete the Rafflecopter form and post a comment to this Q:
Since I was on the hot seat, I thought I'd ask your readers a question. 😉 Who's the one celebrity you'd like to share a kiss with? Why?
Excerpt:
Luke didn't see the point of learning choreographed dance steps, but it made his sister happy, her smile and laugh contagious, and he found himself enjoying even his missteps.

His partner didn't hurt matters, either. Paired with the beautiful maid of honor, he gave silent thanks for his new role as best man. If he'd had to watch Sela dance with someone else, he might have gone insane.

A disconcerting thought he decided not to examine too closely.

"Remember, the basic step is one of the most beautiful of the rumba. So if nothing else, stick to it, and the dance floor will be yours," the instructor said.

Luke peeked at Sela out of the corner of his eye. The slight imperfections in her profile made it the most fascinating he'd seen. With his photographer's eye he imagined shooting her face from different angles and in different lighting and had a feeling every single one would spark beauty to a thousand different beholders. She might be a girl from his hometown, but there was something about her that was worldly.

She turned her head, catching him in the act of staring. He darted his attention away.

"Now let's step into the closed position once again and begin," the teacher said.

At first they moved rigidly, fighting the natural rhythm of their bodies like they still needed to battle to keep things normal. But as the music continued, their moves melted into a fluid sway of hips and torsos and Luke couldn't think of anywhere else he'd rather be.

"Close your eyes and feel the movement. Let the music guide you," the teacher said softly as she wove around the dance floor.

Luke waited for Sela to shut her eyes. Christ, she was pretty. The woman made scrubs look sexy. But it was what she had on the inside that suddenly made his mouth drier than the Sahara Desert.

Her eyes fluttered open. "You can wipe that smug look off your face. You're not that good of a dancer."

"No?" Without missing a beat, he spun them around, their steps in perfect tandem. An invisible string kept them in harmony. The flush of Sela's cheeks kept energy humming through his veins.

Her eyes narrowed and her lips pursed, and Luke imagined she'd much rather have a sword in her hand so they could fence instead of move with each other.

"You know what they say about show-offs, don't you?" she said.

"Tell me." He twirled them away from the others, his fingertips increasing the pressure on her shoulder blade.

"They're compensating for something else. Usually something small." Her gaze dipped below his waist as they both stepped back.

He laughed. For the second time in the last hour she'd done what few women could—raise his hackles in the most engaging way.

"Sweetheart, there's nothing small about me," he whispered when they came together. "And if you need proof, I'd be happy to show you."
A bit about Kissing the Maid of Honor:
Kissing her best friend's brother never felt so right…
Sela Sullivan is resolved to be the best maid of honor ever, even if it means tolerating the best man. Insufferable, too-handsome Luke Watters is not only the guy who humiliated her at a kissing booth in high school, but he also happens to be her best friend's older brother. Positive he's the same arrogant jock, Sela vows to focus on her duties and steer clear of the frustrating—and frustratingly tempting—Luke.
As a world-renowned extreme-sports photographer, Luke is used to undertaking life-risking adventures. But risking his heart for the beautiful Sela Sullivan, who clearly still hates him for his rejection all those years ago? He didn't see that coming. Sela inspires a passion he's never known, and the more time they spend together, the more he craves her. But can he prove to the maid of honor he's become a man of honor?
A bit about Robin:
Robin Bielman lives in Southern California with her high school sweetheart husband, two sons, and crazy-cute mini Labradoodle, Harry Dresden. When not attached to her laptop, she can almost always be found with her nose in a book. She also loves to run, hike, and dip her toes in the ocean. Writing is a dream come true, and she still pinches herself to be sure it's real.
She is also the author of Worth the Risk and Yours At Midnight from Entangled's Ever After line. She loves to connect with readers.
Visit her online:
Website: http://www.robinbielman.com
Facebook: http://www.facebook.com/RobinBielmanWriter
Twitter: http://www.twitter.com/#!/RobinBielman
Goodreads: http://www.goodreads.com/robinbielman