Today it is my pleasure to welcome New York Times bestselling author

Mary Kay Andrews

to HJ!
Mary Kay welcome, If you gave one of your characters an opportunity to speak for themselves, what would they say about you?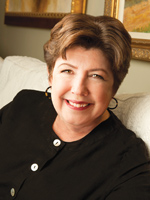 Grace Stanton, the protagonist of Ladies' Night, might question my credentials to write this book—especially since I've never been divorced and never been in therapy.
What inspired you to write your first book?
I was a frustrated newspaper reporter, fed up with office politics and anxious to spend more time with my two young children. I figured writing fiction might be my ticket out of daily journalism. And after I interviewed a bestselling author on tour—a woman who had the intellect of a houseplant, I thought—(famous last words) "If she can do it, why can't I?"
If you had a free day and your only mission was to enjoy yourself, what would you do?
Read for an hour in the morning, take a drive to the country, do some antiquing, have lunch with an old friend, cook a fabulous dinner with my husband, then lounge on the sofa and watch an old movie on television.
What are you currently reading?
Stephen King's JOYLAND.
Let's talk about your newest release: LADIES' NIGHT
If you had to summarize LADIES' NIGHT for the readers here….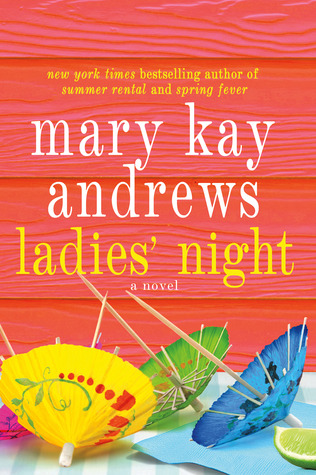 Ladies' Night is the story of lifestyle blogger Grace Stanton who, after catching her husband cheating, drives his convertible into the family swimming pool. Once her glamorous lifestyle goes up in flames, Grace, penniless and homeless, is forced to reinvent her life—while attending court-mandated divorce recovery therapy with a group of oddballs with whom she has nothing in common—except betrayal and revenge.
Please tell us about the characters in your book.
My protagonist, Grace, is a lifestyle blogger. As a lifelong junker, house restorer and decorator in denial, I read a lot of lifestyle and decorating blogs. I'm fascinated with the reach and range of these every-day people, who write about and document their own passions for these topics.
I thought it would make for great drama, and conflict, for Grace to start out having this seemingly very glamorous, Martha Stewart life, in a fabulous house—and then to have it all snatched away when her marriage fails. One minute she's shooting a tabletop story with an imported Belgian linen runner, the next, she's mopping floors at her mother's run-down beach bar on the Florida gulf coast.
And then there's Wyatt. Wyatt is faced with a divorce he didn't seek, and having to fight for custody of his six-year-old son Bo. He's conflicted—admitting he's drawn to Grace, but wondering if he doesn't owe it to Bo to save his marriage. He's the polar opposite of Grace's ex, Ben, who really is the alpha type. Plus I made Wyatt bald—not really bald, but he shaves his head because he works outside, so he's tanned and bald and buff, which I think makes him incredibly H-O-T. Grace thinks so too.
What scene did you have most fun writing? Why?
I wrote a scene where Wyatt—the love interest—comes home from his first night of divorce recovery therapy, and he and Bo have this tender, and I hope, funny, discussion about Bo calling his mother a bad name. The scene unspooled in my head so naturally, I just wrote it down verbatim.
Who would who cast in the role of hero and heroine if your book was optioned for a movie?
Grace might be played by Jessica Chastain, with John Krasinski as Wyatt.
What are you currently working on? What other releases so you have planned for 2013?
In addition to Ladies' Night, my readers and I both wanted another Weezie and BeBe story, so there will be a Christmas book with them, Christmas Bliss, out in October.
Where can readers get in touch with you?
My website! http://marykayandrews.com/
Thank you for stopping by HJ!
Giveaway:  

A print copy of LADIES' NIGHT
To enter Giveaway: Please complete the Rafflecopter form and post a comment to this
Q: What's the worst thing you ever did out of revenge? Or thought about doing?
About the Book:
The New York Times bestselling author is back with another page-turning beach read about a woman whose life is turned upside down when she discovers her husband cheating on her.
Rising media star and lifestyle blogger Grace Stanton's own life gets torpedoed after she drives her cheating husband's pricey sports car straight into the family swimming pool in a fit of anger. Soon she's locked out of her own palatial home, checking account, and blog, forced to move in with her widowed mother who lives above, and owns, The Sandbar, a rundown beach bar. Attending court-mandated weekly "divorce recovery" therapy sessions with a group of three other women—marital misfits whose only common denominator is betrayal—Grace and the women soon ditch their therapist and move their Wednesday "Ladies' Night" sessions to The Sandbar. They begin to help each other, walking a fine line between revenge and justice, as each one finds closure in ways previously unimagined. Can Grace figure out a new way home and how strong she needs to be to get there? Told with Mary Kay Andrews's unique blend of humor, heart, and unpredictable plot twists,Ladies' Night will have you raising a glass and cheering these characters on.
An Excerpt:
She couldn't say why she awoke so suddenly. Normally, Grace fell asleep the moment her head hit the pillow, and she slept so soundly Ben often reminded her of the time she'd slept through Hurricane Elise, not even stirring when the wind tore the roof totally off the screened porch of their old house in a slightly run-down Bradenton neighborhood.

That night was no exception. She'd retreated to her office after dinner, writing and re-writing her Gracenotes post, and fussing over the photographs, before finally, shortly before eleven, pushing the SEND button and crawling into bed beside her already slumbering husband.

For whatever reason, she sat straight up in bed now. It was after 1 a.m. Her heart was racing, and her mouth was dry. A bad dream? She couldn't say. She glanced over at Ben's side of the bed. Empty.

She rubbed her eyes. Ben was probably downstairs, in the media room, watching a tournament on Golf TV, or maybe he was in the kitchen, looking for a late night snack. Grace yawned and padded downstairs, already planning her own snack.

But the downstairs was dark, the media room deserted. She went out to the kitchen. No sign of him there, either. The kitchen was as spotless as she'd left it three hours earlier, after finishing up the last of the dinner dishes and packing up the faux-Tuscan pottery. Not even a cup or a spoon in the sink.

Grace frowned, and this time she didn't bother to worry about wrinkles. She checked the downstairs powder room, but the door was open and there was no sign of her husband. She ran back upstairs and peeked inside the two guest suites, but they were empty and undisturbed. She walked slowly back to the bedroom, thinking to call Ben's cell phone. But when she saw his cell phone on his dresser, along with his billfold, she relaxed a little. And then she noticed the keys to the Audi were missing, and her heart seemed to miss a beat. She went to the window and peered out, but saw nothing. There was only a quarter moon that night, but it was obscured by a heavy bank of clouds. The backyard was wreathed in darkness. She couldn't even see the garage.

"It's nothing," she told herself, surprised to realize that she was talking out loud. She shrugged out of her nightgown, pulling on a pair of shorts and a T-shirt, slipping her feet into a pair of rubber flip-flops. "He's fine. Maybe he's out by the pool, sneaking a midnight cigar."

The sandals slapped noisily on the marble stairs, the sound echoing in the high-ceilinged stairway. She ditched them by the back door, carefully switching off the burglar alarm before stepping out onto the back patio. She paused, put her hand to her chest and could have sworn it was about to jump out of her body. 10

"Ben?" She kept her voice low. It was pitch black, except for the pale turquoise surface of the pool and the eerie green uplights on the date palm clusters at the back of the garden. Cicadas thrummed, and in the far distance, she heard a truck rumbling down the street. She crept forward, her hands extended, edging past the pair of chaise lounges perched at the edge of the patio, feeling the rough-textured coral rock beneath her feet.

Gradually, her eyes adjusted to the dark. There was no glowing cigar tip anywhere on the patio or the garden. She glanced towards the garage. No lights were on in J'Aimee's upstairs apartment, and the garage doors were closed. Was Ben's car there?

For a moment, a train of scenarios unspooled through her imagination. Ben, passed out, or even dead, at the wheel of his car, an unknown assailant lurking nearby. Should she retreat to the house, find some kind of weapon, even call the police?

"Don't be an idiot," she murmured to herself. "You're a big girl. Just go look in the garage. You live in a gated community, for God's sake. The only crime here is dogs pooping on the grass."

She tiptoed toward the garage, skirting the electronically-controlled metal doors, heading towards the side door, trying to remember whether or not it would be unlocked.

Luckily, it was. The knob turned easily in her hand, and she stepped inside the darkened space, her hand groping the wall for the light switch.

And then she heard . . . heavy breathing. She froze. A man's voice. The words were unintelligible, but the voice was Ben's. Her hand scrabbled the wall for the switch. She found it, and the garage was flooded with light.

A woman squealed.

Grace blinked in the bright lights. She saw Ben, sitting in the driver's seat of the Audi. He was bare-chested, his right hand shielding his eyes from the light. His hair was mussed, and his cheeks were flushed bright red.

"Grace?" He looked wild-eyed.

And that's when she realized he wasn't alone in the car. Her first instinct was to turn and run away, but she was drawn, like a bug to a light-bulb, to the side of that gleaming black sports car. The top was retracted. She looked down and saw that distinctive mane of flame red hair.

J'Aimee, her loyal, invaluable assistant, was cowering, naked, making a valiant effort to disappear into the floorboards of the car.

"What the hell?" Grace's screeched as she yanked open the passenger side door.

"I'm sorry, Grace, I'm so sorry," J'Aimee blurted, her eyes the size of saucers.

J'Aimee's clothes were scattered on the floor of the garage, and come to think of it, that was Ben's shirt—his expensive, pale blue custom-tailored, monogrammed, Egyptian cotton shirt that Grace had given him as a birthday gift, that was flung over the Audi's windshield.

With the passenger side door open, Grace saw, at a glance, that her husband was nearly naked too—if you counted having your jeans puddled down around your ankles as naked.

For a moment, Grace wondered if this was some bad dream she was having. Hadn't she just been asleep a moment earlier? This couldn't be happening. Not Ben. Ben loved her. He would never cheat. She shook her head violently, closed her eyes and reopened them.

But this was no nightmare. And there was no mistaking what she'd just interrupted. Suddenly, she felt a surge of boiling hot rage.