Today it is my pleasure to welcome romance author 

Hope Ramsay

to HJ!

Hi Hope, Welcome to HJ
What would you say are the defining characteristic of your novels?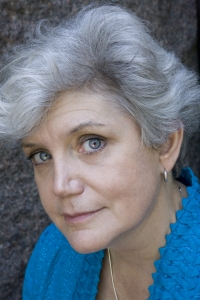 Wow that's always a tough question. I'm not sure I truly know. I often write stories about people who feel as if they don't belong anywhere, and then they come to Last Chance and find a home. I have no idea why stories like that resonate with me, but I do find that particular theme very compelling.
5 things HJ readers should know about you?
Oh my, questions like this are always so embarrassing. I immediately think of every foolish thing I've ever done in my life. Oh, well, I suppose folks should know that I've been married for 36 years to the same guy. I saw my Georgia good ol' boy across a crowded room and knew right then that he was my soulmate. I love to knit, which explains why I gave in to my yarn addition and wrote a book about a yarn shop. I also play guitar and was once a folk singer. But I discovered that I had no real talent for writing lyrics. Is that five, I've lost count…
What is your favorite trope to read, one you will never get tired of?
I read a lot of fantasy and never get tired of stories that feature the young person with some magical talent that he/she has to master. Classic examples: The Earthsea Trilogy by Ursula LeGuin, Harry Potter by J.K Rowling. But, believe me, the shelves of the Fantasy section are chock-a-block with stories like this and I'm a sucker every time.
Let's talk about your newest release: Last Chance Knit & Stitch
If you had to summarize the book for the readers here…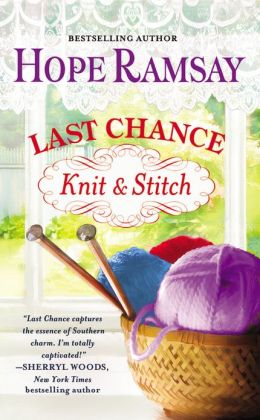 From the back cover blurb:
Molly Canaday wishes she could repair her life as easily as she fixes cars. She was all set to open her own body shop in Last Chance when her mother ran off and left her to manage the family yarn shop instead. Now guided by the unsolicited-though well-intended-advice of the weekly knitting club, Molly works to untangle this mess. But her plan unravels when the new landlord turns out to be difficult-as well as tall, dark, and handsome.
Simon Wolfe returns to quickly settle his father's estate and then leave Last Chance for good. Still wounded by a broken heart, Simon is surprised when the town's charming streets and gentle spirit bring back good memories. Soon the beautiful, strong-willed Molly sparks a powerful attraction that tempts him to break his iron-clad no-commitment rule. Can Simon and Molly find a way to share work space-and build a future together in Last Chance?
Please tell us about the characters in your book
My heroine is Molly Canaday, a walking contradiction of a woman. She has a gift for restoring old cars, and she wants to make it in a man's world. She also happens to be a "yarn whisperer"—someone with a gift for untangling knitting projects. She's dealing with the tension between what she wants in her life, and what her parents expect her to be.
My hero is dealing with a lot of the same stuff, but he's much older than Molly. Like Molly, he wanted to follow a dream of becoming a professional artist that neither of his parents understood. Unfortunately, that lack of understanding resulted in a family rift that has festered for 18 years. In the story he's come back only after his father has passed away. And now he's faced with settling the estate and taking care of his aging mother, who suffers from Alzheimer's.
I spent a lot of time in this book exploring family expectations and relationships. Both of my main characters are forced to disappoint their parents in order to fully realize themselves as human beings.
What scene did you have the most fun writing? Why?
Well, I guess this may be something of a spoiler for fans. But my favorite scene is the one leading up to the birth of Clay and Jane Rhodes' baby. (Readers have been waiting for this baby for more than nine months, so it's about time the kid arrived.) I loved writing this moment, because it required Clay's old girlfriend, Ricki, to run from the yarn shop to the café in order to get help for Clay's wife who is about to give birth right on the yarn shop's floor. Call me sadistic, but I did love putting Ricki through the emotional ringer. She's still got a thing for Clay and the arrival of this bundle of joy makes her realize what she lost when she dumped him all those years ago.
Here's a snippet:
Ricki Wilson opened the door and cried, "Someone, come quick, Jane's having her baby at the Knit & Stitch."
Molly turned in time to see Ricki, wearing a short skirt in a leopard print, a really tight tank top, and a pair of high-heeled boots that had probably stayed in the back of her closet when she'd been a waitress. She was dancing from one high heel to another, and she was hyperventilating.
And so was the tiny, shivering dog in her arms.
"Oh God, Molly, you have to come. She's screaming in pain."
"Did you call nine-one-one, or Doc Cooper?"
Ricki just stood there with a deer-in-the-headlights kind of expression.
"Jeez louise. Ricki, go run down to the hardware store and tell Clay."
Ricki crumbled. "I can't do that," she sobbed.
Molly jumped up and headed out the door. She got five steps down the sidewalk before she realized Simon was following her.
"Are you some kind of ambulance chaser or something? I don't think Jane needs some strange man with her right at this moment."
He didn't give her the benefit of a reply as they raced down the sidewalk to the Knit & Stitch. Molly pushed through the door and found Jane on the floor making funny, squeaky noises and breathing hard.
Before Molly could do or say anything, Simon was down on his knees beside Jane talking to her in a low, quiet, calm voice. He held her hand and touched her baby bump like he knew what he was doing.
What scene was the hardest to write? Why?
There is a point in the book where Molly has to tell her father that he's being a complete idiot and jerk. Her father disapproves of Simon because Simon has given up being a doctor to become an artist. Molly's dad thinks that's a less than manly occupation. And the situation is made worse by the fact that Simon's assistant is obviously gay. So Molly's dad, who is the football coach and a man's man, has jumped to a bunch of very nasty and bigoted conclusions. This was hard to write because I like Molly's dad. He's a good man. But at this point in the book he was acting like a complete bully and a jerk. It was hard to make him be so mean. Here's a snippet:
Coach turned and looked up at her. His eyes were puffy and bloodshot.
"Why's your hair wet?" he asked.
Molly decided not to lie. "I was swimming off the public pier with Simon Wolfe."
"You went swimming with that old queer?"
Rage tickled her backbone, and she could practically feel it snap upright. Any sympathy she'd been feeling for her father evaporated. "Coach, you should know better than to use a word like that. It's demeaning. Don't they teach you sensitivity or something down at the high school? And besides, Simon is not gay."
"Ha! Shows how much you know. You're infatuated with a queer, who isn't really interested in you. You're making a big mistake. Les is the guy for you."
"Daddy, just use the word 'gay' or 'homosexual,' okay?"
"Okay, why the hell were you swimming with a homosexual?"
"Because he dared me to take my clothes off." She put her fists on her hips. If Coach wanted to have this fight, well then, bring it on.
"He what?" Coach looked up from his bourbon.
"We went skinny-dipping in the river. And Simon is not gay."
Who would you cast in the role of your characters if your book was optioned for a movie?
Simon is Christian Bale. I had a photo of him attached to my computer as I wrote the book.
I always saw Molly as looking sort of like a Minnie Driver or Andie MacDowel. Both of those actresses are too old for the part, but they have the right hair. Whoever is cast needs to have long, thick, dark, curly hair. Simon is so turned on by Molly's hair it's almost pitiful.
What are you currently working on? What other releases do you have planned for 2013 into 2014?
I'm currently working on the eighth book in the Last Chance series, entitled Last Chance Family. It's the story about the town's veterinarian and the rambler and gambler who wanders into town. And yes, he's a guy who's in need of a home. Last Chance Family won't be in stores until late 2014. The Inn at Last Chance will be in stores next spring. Readers of the series will be interested to know that the Inn at Last Chance is Jenny Carpenter's story. Jenny is one of those minor characters who keep popping up in every book.
Where can readers get in touch with you?
You can find me at www.hoperamsay.com.
On Facebook at: www.facebook.com/hoperamsayauthor.
Fans of the series can also join the Facebook Group, Last Chance Book Club at: https://www.facebook.com/groups/lastchancebookclub/.
Knitters can find me on ravelry.com.
GIVEAWAY:

2 print copies of Last Chance Knit & Stitch
To enter Giveaway: Please complete the Rafflecopter form and post a comment to this Q:

At its core Last Chance Knit & Stitch is a story about two people who have been battling to become themselves in spite of their parents. Both Molly and Simon have to rebel against their parents to fully realize themselves as human beings. This isn't easy for either of them because they love their parents and they don't want to disappoint. So my question for readers is this: Have you ever had to disappoint a parent on purpose, in order to fulfill your own dream or become the person that you know you were meant to be? Tell us about it? Did your parent ever come around to understand why you had to do what you did?