Today it is my pleasure to Welcome author
Marina Adair
to HJ!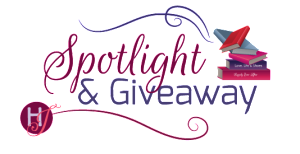 Hi Marina and welcome to HJ! We're so excited to chat with you about your new release, Last Kiss of Summer!

I am so excited to be here today!

Please summarize the book a la Twitter style for the readers here: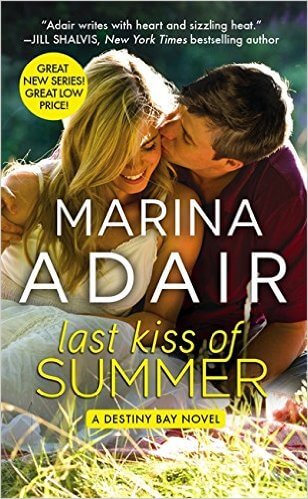 LAST KISS OF SUMMER is a enemies to lovers story that involves a struggling pie shop owner, a sexy and stubborn hard cider brewer, a bunch of meddling grannies, and pie…lots and lots of pie.

Please share the opening lines of this book:
Kennedy Sinclair had taken only two steps toward her new life and already her toes were beginning to pinch.
"I don't think I have what it takes," she admitted, plopping down on the changing room bench to loosen the buckles on her new Comme Il Faut ballroom dance shoes, sighing as the blood rushed back to her feet. The red satin straps were trouble enough—looping tightly around the ankle and pulling across the tops of her toes, pinching off all circulation—but the heels were the real problem. Staggering toothpicks that added enough height to cause light- headedness and excessive teetering. A result, no doubt, from attempting to perform aerobic activity in depleted oxygen zones.
Or her body's preference for practical.
Please share a few Fun facts about this book…
t takes place in Destiny Bay, a fictitious town nestled between the rugged Cascades and the cliffs of the Pacific Ocean.
In researching this book, I had to sample tons and tons of hard ciders (i know, rough life)
I also had to sample lots of apple pie
There is a cockatiel named Lola, who has the feathers of a Vegas show girl, and an affinity for imitating smoke alarms and machine guns while dive-bombing people's heads.
My hero has convinced himself he is allergic to and and all vegetables.
What first attracts your Hero to the Heroine and vice versa?
The first time Luke meets Kennedy she is threatening him a rolling pin, and he he loves a woman with a smart mouth. It takes Kennedy a little longer to warm up to the rugged farmer, but when he comes through on a promise, even when she has given him a million reasons to bail, she starts to see him in a different light.

Using just 5 words, how would you describe Hero and Heroine's love affair?
Heated, witty ,sensual,and tender

The First Kiss…
"We have a problem," she whispered.
His hands pulled her closer. "Yes, we do."
"I want to kiss you."
"But if you did, then you'd be admitting that you were wrong?" he guessed and she could hear him smile.
She lifted her head and met his gaze, and, bam, she was lost. Luke wasn't smiling;, there was nothing easy-going about him now. His gaze was hot, heated, and so damn intense, she could feel a pulse start below her belly button.
"I'm more concerned about you being right," " she teased. "Which would lead to you being smug, and eventually an argument. And I really don't want to argue right now."
She was enjoying this sweet side of him too much.
"Sweetness," he said, but it wasn't in his usual alpha god tone that implied recreational sex with a guaranteed standing O. This time it felt like an endearment. "The last thing I want to do right now is argue with you."
Man of his word, Luke cupped her by the neck and took any possibility of an argument right out of play, when he kissed her. There on her front porch, surrounded by pie and the faint scent of a new beginning, he kissed her as if this was why he'd come here.
Kennedy felt that hopeful beginning bloom into something that had room to grow. Something warm and real, no matter how long it lasted. Because the minute she registered the sensation of his lips on hers, she knew this wasn't a let's-get-to-the-naked-part, prelude-to-sex kind of kiss. It was soft, patient, and controlled, as if it was the main event and he had all night to prove it.
And himself.
Without revealing too much, what is your favorite scene in the book?
Their first meet….
A rustle sounded from the back of the kitchen, scaring the life out of her and causing the sliders to jab her palm, slicing the skin. More immediate than the threat of blood, was the shadow that could easily belong to Thor coming through her back door.
A big and arrogant shadow because, yeah, it was definitely a man creeping into her shop and stomping all over her fresh start. Although he wasn't creeping so much as smugly moseying—as if he owned the place. As if he had every right to help himself to her safe.
Indignant irritation pulsing through her, Kennedy considered saying that she was closed and pointing to the sign on the window, but her burglar obviously knew that since he used the back door. The locked back door.
Plus, he was built like one of those MMA fighters with broad shoulders and double- barreled biceps who went by names like The Undertaker or Tank of Terror. In fact, his only hope of sneaking into or out of any place unseen was if it were pitch black and he had a small planet shielding him.
Kennedy grabbed her phone from her apron pocket to dial 9-1-1, when Tank bypassed the safe all together to grab—
Oh, hell no.
Her last six apple pies. Which had been sold, lovingly boxed, and promised to Fi's favorite granddaughter, Elle.
Nothing pissed Kennedy off more than breaking a promise. Nothing except someone playing her for a fool. That the someone in question was a smug man set on burgling away the good in her week only added to her fury.
Acting on pure instinct, Kennedy grabbed the massive rolling pin off the counter. She might not be a trained ninja, but she'd seen Xena: Warrior Princess enough times to know how to handle herself. Doing some creeping of her own, she walked right up behind Tank and stuck the handle of the rolling pin in his back—hard.
"Hands off my pies, big guy," she said, then realized he wasn't just big. He was massive. And smelled really good. Like fresh- chopped wood, hot summer nights, and really bad decisions.
She half expected Tank to spin around and do some kind of complicated round-house, karate-chop to the throat combination to disarm her. Only, he kept his hands on her pies and looked over his shoulder, his blue eyes twinkling with confidence as he took in her ponytail to her pink toes, and everything in between.
With his dark wavy hair, the perfect amount of scruff, and a smile that was all swagger and charm, the man didn't need brute strength.
She cleared here throat. "I mean it. One wrong move and I shoot."
"Don't shoot, I'm just trying to figure out what the right moves are, so you wouldn't be so offended by the idea of my hands on your pies." He said it with a grin that was all eye -candy and sexy swagger.
It was one of those Sorry, babe, couldn't help myself movements that her mom's boyfriends used every time they got caught with someone else's lipstick on their collar. The same flash of white that Philip gave when he'd come home too tired to tango in the sheets. Only this man knew how to do it right, knew how to do it so that a girl went weak in the knees.
Not that her weak knees had anything to do with him. Or that grin. Nope, they were tingling because he had broken into her shop and touched her pies.
Kennedy jabbed him harder with the rolling pin, distracted when it bounced off his muscles. "The right move would be to set my pies on the counter and put your hands in the air."
"Or what?" He turned around, slowly, until her "gun" was pressing into his chest. His eyes dropped to take in her not-so-lethal rolling pin, and when they made their way back up, he didn't look scared at all. He looked amused. "You going to flour me, sweetness?"
If your book was optioned for a movie, what scene would be absolutely crucial to include?
When Luke decided to circle Kennedy's house on his tractor at the crack of dawn…
"Aren't you afraid you'll wake the neighborhood this early?"
He looked around, his body language all innocence and concern. "You're up. I'm up. No one else around for miles." He took in her bed-head, her puffy eyes, and grinned—not that she could see his face, the sun was behind him, casting a long shadow, but she knew he was grinning at her. She could feel it. "I'm sorry, didn't I mention that today starts the harvest?"
"And it's tradition to kick off every harvest with a crack-of-dawn tractor pull around my house?" she guessed.
"Nah. Just this year. Thought I'd try something new, give you all the bells and whistles that come with living in the country." He stroked the hood of the tractor with reverence. "Impressive, huh? They call her the Porsche of tractors."
"I dated a guy who drove a Porsche once," she said. "He was quick off the line but a little too compact for my taste."
"Well, no need for worry here. I give you my word that Callahan Orchards is in possession of the biggest tractor in the county. Big, range tough, and overflowing with power. Always up for the task, and gets the job done." He winked. "Want to take it for a spin?'
"I'll pass."
"When you change your mind, let me know."
She noticed he said when, not if.
Readers should read this book …
LAST KISS OF SUMMER is a tender and witty romance between two unlikely lovers who are both trying to overcome grief and personal loss, and find a place to call home. Luckily they arrive in Destiny Bay, where second chances and love blooms year round.
What are you currently working on? What other releases do you have planned for 2016?
The most exciting news is that i have a movie coming out. Hallmark optioned the rights to AUTUMN IN THE VINEYARD, part of my St. Helena Vineyards series. The heroine will be played by Rachael Leigh Cook, and the movie airs this October on Hallmark Channel.
In writing news, the first book in my new Eastons series, CHASING I DO, where it takes the best man to catch a run away bride, is finally out! I am really excited about this band of brothers where, family comes first, business moves fast, and life is nothing more than a game of risk. They don't mind breaking the rules or testing the limits, but when it comes to matters of the heart … they play for keeps.
I just typed THE END on book 2 in the Destiny Bay series, FEELS LIKE THE FIRST TIME, which is a friends to loves story between a former NHL god and the town's tough girl. It releases April of 2017.
I also have a new series, Sequoia Lake, which follows a team of bad ass search and rescue men as they each find love in the rugged Sierra Nevada. Book 1, IT STARTED WITH A KISS, releases 1-30-17.
Thanks for blogging at HJ!
Giveaway:

A signed copy of LAST KISS OF SUMMER (Destiny Bay) by Marina Adair
To enter Giveaway: Please complete the Rafflecopter form and Post a comment to this Q:

What is your favorite kind of pie?
Excerpt from Last Kiss of Summer:
When Luke discover's shed shanghaied his crew to help pick her apples…
Luke watched as Kennedy made it up to a higher branch, her bare legs scraping against the leaves as she went. And he couldn't help admiring her effort—or the way the bottom of her shorts crept up her thighs, in one of those inch for an inch kind of situations that had him matching her inch for inch.
Her face was flush with the morning chill, her nose a little pink, and her normal sculpted bun was a scattered mess, windblown and attracting more than a few loose twigs and leaves.
She was a mess. A spectacular mess.
"We're totally screwed, aren't we?" Hawk asked.
And because Luke didn't believe in lying, he said, "Yup," then turned and reached for a piece of pie. Ignoring the whipped cream because he liked his deep dish straight up, he forked off a bite and—
"Hey!" a female voice yelled.
Luke, first bite halfway to his mouth, slowly turned to see Kennedy glaring down at him. She was straddling a branch, her hands gripping the trunk so hard he was sure she was going to go home with splinters.
"That pie is for participants only," she hollered, all that earlier nervousness replaced with indignation.
Even though today was shaping up to be complete crap, Luke found himself smiling as he walked slowly over to the tree. He glanced at every guy on his crew, who wisely took a large step back, then looked up at Kennedy. Who in her current position, directly above him, was giving up a pretty fan-fucking-tastic view. The woman might be petite, but she was all tanned legs and sculpted thighs.
If Luke stepped a little to the left—yup, just like that—he had an even better view up her shirt. Though as always, she'd knotted it good and tight. So tight it caused the bottom buttons to pucker, leaving a perfect-sized gape for him to gape his fill.
White lace today.
Nothing overly sexual, but on her it was the sexiest thing he'd ever seen.
"Why don't I participate by helping you down," he offered, and to take her mind off the fact that she was fifteen feet up—in a tree—Luke took a big, heaping bite of her pie, letting the fork glide out extra slow.
As he'd hoped, her gaze went frosty, then she frowned, becoming pissy and irritated, and looking sexier than any woman covered in twigs and tree sap had the right to look.
"I can't afford your help. Plus first up, last down." She let go of the trunk with one hand to point to the sign taped to the front of the booth that said, FIRST UP, LAST DOWN. COME CHALLENGE THE NEWEST APPLE PICKER IN TOWN, and then she lost her grip.
"Whoa," Luke said, his hands going out to catch her.
Only she caught herself. Her eyes wide and dilated, her hands shook with what Luke knew was adrenaline overload and exhaustion, but she managed to save herself from what could have been a pretty spectacular fall. Something he took to heart.
He softened his voice. "You okay?"
"Yup, strapped in." With extreme caution, she tugged her harness. "Thanks for asking."
Now that he was close enough to notice the little lacerations and scratches marring her silky skin, he wished he had asked earlier. Because it wasn't satisfaction he felt seeing her city girl sass up a tree, plucking apples. It was something a whole hell of a lot deeper.
In the short time that he'd known Kennedy, she'd challenged him, frustrated him, annoyed him, turned him on even. Only now she had him concerned—for her.
Luke had enough people to worry about in his life. It was why he always kept things light with women. But this wasn't any woman; this woman drove him insane.
Crazy as that sounded, he found himself growing addicted.
"Plus, I only have my guys for another two hours—"
"My guys," he clarified. "And you don't have them that long—"
"Once the pie runs out, they get to leave. That was the deal."
"Hold up." Luke put his hands on his hips, then took his time eyeballing his crew. "Are you telling me that the crew who charges me a small fortune every day is picking your apples for free?"
A lot of grumbling sounded, followed by twenty very smart, very wise pickers, depositing their apples at the table and grabbing their tools.
"Hey, where are you going?" When no one answered, just kept walking, she looked at Luke. "Where are they going? They can't leave. There is still pie on the table."
"If they want their jobs come tomorrow, they can. And they will. Heading back to the north orchard, which is where they were supposed to be before someone sweet-talked them into walking off the job," he said, and she had the decency to look a tad bit ashamed.
"I'm sorry I upset your schedule," she said, but he had a hard time hearing the apology through her smiling. "Finding pickers is hard during harvest. Very competitive."
"So I've been told," he mused. "And even though I'd love to stand here and talk shop, I have a rig coming to pick up some apples. Which are still attached to those trees over there. And since they don't pick themselves, my guys need to go back to work."
"But I still have so many apples left," she said, and something about her tone had him shifting in his boots.
"You still have a few dozen volunteers here who can pick the lower-hanging fruit, free of charge." They had usable hands—and canes to bat at the fruit if necessary. "That should get you through next week."
"Nothing is for free," she said with so much acceptance, Luke's heart rolled over and showed its soft underbelly. Because with that one statement, understanding bloomed in his chest, and it added another emotion to the running list—soul-deep compassion.
In Luke's life, there had been some struggle, and even more opportunity, and throughout it all, he'd been given so many things without expectation of a return: amazing memories, friendship, loyalty, laughter—and love.
Luke got the impression that Kennedy hadn't have much of any of that growing up. Which made her determined outlook all the more impressive.
"They're getting paid in pie," she said proudly.
And damn it, she had every right to feel that.
He'd delivered her an obstacle of epic proportions, yet managed to figure out a solution. On her own terms. In no time flat.
Kennedy wasn't looking for a handout, and she certainly wasn't looking to start a war. She just wanted a chance, and Luke couldn't fault her for that.
He also couldn't stand around watching his guys screw off. Not if he wanted to make today's delivery.
He looked at his watch; it was nine forty. With a deep breath, he did something he'd never done before.
He helped the competition.
"I'll give you my crew until the top of the hour, then my guys go back to work, and you figure out the rest of the apples yourself. From the ground," he added.
Kennedy opened her mouth to argue—or maybe to ask what the catch was—then closed it. She eyed her troops, retreating to join the other side, and the remaining apples, and he could almost see her making mental calculations. "Your whole crew?"
"Yup. For twenty minutes."
No doubt, Hawk was calling him all kinds of pussy. But Luke knew a lot about strong, stubborn women. He'd been raised by two. And Kennedy was going to get her apples, even if it meant being carted away in an ambulance for taking an impact from twenty feet up.
"Deal," she said, reaching for an apple.
"Oh, no," Luke said. "You got to come down and shake on it, sweetness."
With a satisfied smile, she slowly began to make her way down the tree, hugging it for dear life a time or two, and giving him a heart attack when she almost slipped. But sexy and capable, the woman used her small size to her benefit and scooted her way down.
When those blinding tennis shoes finally touched the ground, he released a pent-up breath.
"Your whole crew for twenty minutes?" She stuck her hand out.
"And you retire the harness."
She must have liked what she'd come up with, because she accepted way too fast. "Deal."
Those sparkling blue pools zeroed in on Luke, and she released a smile that left him feeling unsettled—in more ways than one. It was determined, calculating, and a hundred percent trouble.
She shook his hand. And while his head was telling him that he was too busy, his dick was too focused on how soft and elegant her fingers were to protest.
Kennedy slipped the bag off her shoulder, the pink harness he'd taken from his mom's garage off her arms, then made a big deal about unhooking it and sliding it all the way down her body.
Placing a steadying hand on his chest, she glided it off one foot, then the next. Finally, she leaned in to whisper, "Strap in, crew leader, it's a long fall."
Excerpts. © Reprinted by permission. All rights reserved.

Book Info:
He's one bad apple she just can't resist . . .
Kennedy Sinclair never dreamed she'd own a pie shop and an orchard in a small town like Destiny Bay. But nestled between the mountains and the Pacific Ocean, it's the perfect place to cross something off her "Life's short so eat the icing first" list and start her life over from scratch. Her shop, Sweetie Pies, is famous for its hot, flaky apple turnovers and sinfully delicious deep dish pie. For Kennedy though, nothing is more enticing than the tall, strapping slice of temptation who keeps coming back for more.
Luke Callahan is determined to make his hard cider business a success. With his beloved father's cider recipe and the opportunity of a lifetime in his grasp, he'll stop at nothing to get this deal done. There's just one catch: he needs Kennedy's apples. At first, he thinks it'll be as easy as pie to charm those apples right off her trees. But Kennedy isn't falling for his tender charms or his wicked ways. When the negotiations start heating up, so do the feelings they have for each other. And it takes just one kiss to seal the deal . . .
Book Links:


Meet the Author: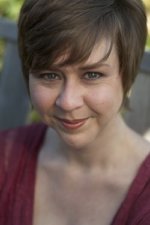 Marina Adair is a #1 National best-selling author of romance novels and holds a Master of Fine arts in creative writing. Along with the St. Helena Vineyard series, she is also the author of the Sugar, Georgia series, the Heroes of St Helena series and the upcoming Destiny Bay series. She currently lives with her husband, daughter, and two neurotic cats in Northern California.
As a writer, Marina is devoted to giving her readers contemporary romance where the towns are small, the personalities large, and the romance explosive. She also loves to interact with readers and you can catch her on Twitter or visit her on Facebook.
Website | Facebook | Twitter |