Today it is my pleasure to Welcome author
Cassandra Chandler
to HJ!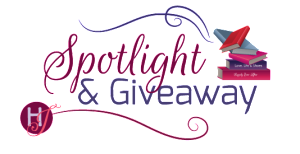 Hi Cassandra and welcome to HJ! We're so excited to chat with you about your new release, Lingering Touch!
Please summarize the book for the readers here: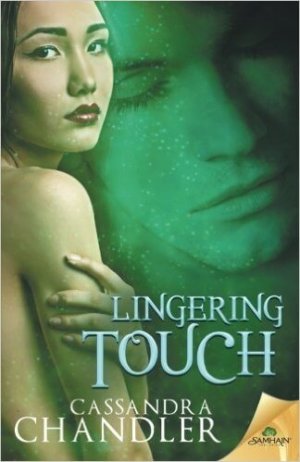 Finn is a private investigator—and a psychic. Through touch, he can read the history surrounding objects, as well as people's thoughts. He uses his abilities while working cases, until they suddenly go haywire. The only thing he knows for sure is that the root of his problem has something to do with the recently deceased serial killer, Michael Angelo.
Information on the killer is hard to come by, especially now that Finn can't rely on his powers. His last hope for a lead is to try to read the space where Michael Angelo displayed his paintings—the walls of the art gallery owned by his ex-girlfriend, Jazz Zhou.
Jazz is less than thrilled to find Finn in her gallery, and even more upset when she learns that Michael is somehow hurting Finn from beyond the grave. She's determined to help Finn, and he's too desperate to turn her away. As the pair work together to unravel the mystery, they find that their feelings for each other never truly went away—and neither did the threat from the killer.
Lingering Touch is the third book in The Summer Park Psychics series and takes place at the same time as the events of the second book, Whispering Hearts. Both titles stand on their own.

Please share the opening lines of this book:
Summer Park—May 2015

Time travel was impossible. There was no such thing.
Please share a few Fun facts about this book…
I drew on the descriptions of the swamp in this book from my own childhood in Florida, playing in areas…I really shouldn't have been playing in. I still remember the feel of sand shifting beneath my feet and fennel brushing against my face.
I had to research the maximum land-speed of alligators for this book. It was slower than I thought, but still unnerving.
Jazz majored in vocal performance, specializing in traditional Chinese music, in a small (fictional) artsy college in Virginia. She helped pay her way through school by performing in local jazz clubs, though, which is part of where she earned her nickname.
Please tell us a little about the characters in your book. As you wrote your protagonist was there anything about them that surprised you?
I think Jazz is the strongest female character in The Summer Park Psychics series and Finn is absolutely a match for her. I knew that they both were incredibly dedicated to the people they love—including each other. They're also both not very good communicators, which is one of the main challenges they face.
There's a huge plot twist with Finn's character toward the end of the book that even I didn't see coming. This is one of the reasons that I try to write as quickly as possible, and to get as much of a series down before all of the books are actually published. I was able to add clues and foreshadowing in the earlier books that will make re-reading the series much more enjoyable for die-hard fans.
If your book was optioned for a movie, what scene would you use for the audition of the main characters and why?
I think I'd use the first scene with Jazz and Finn together. Finn has broken into Jazz's gallery, and is trying to get a psychic reading in one of the darkened display rooms. Jazz is already upset and not thinking too straight, so she accosts the intruder herself, not knowing it's Finn. Here's a snippet:
She twisted his arm a bit further, just like he had taught her, making pain arc through him intense enough to beat out the throbbing in his knee for a moment.
"Ow."
The pressure lessened a miniscule amount. "Finn?"
Dammit. Why was he flattered that she knew it was him from one word? His idiotic heart was doing flips in his chest, as if it didn't remember her stepping on it. Repeatedly.

"Hi, sweetie," he said. "Thought I'd drop by and check out the gallery for old time's sake."
"In the middle of the night."
"I was trying to avoid an awkward encounter."
"How's that working for you?"
What do you want people to take away from reading this book?
Listen to your heart. Follow it to your own version of happiness, whatever form that may take. Don't let fear, or misunderstanding, or pride stand between you and the person you love. And tell the people you love—friends, family, and lovers—how you feel. Clearly. Don't assume they know.
What are you currently working on? What other releases do you have planned for 2016?
I always have several projects I'm working on at once. It keeps the creativity flowing. I'm really excited to start in on the next series arc for The Department of Homeworld Security, which are super-hot Scifi romance novellas. For the rest of 2016, I'll be launching a full-length Scifi romance series in October that's steeped with paranormal and even horror elements. I have a really cool web tie-in planned for that, and am eager to see how it develops. After that, I hope to have a Department of Homeworld Security Christmas Special short story available. Finishing out the year, I plan to release a non-fiction book that collects much of what I've learned along the writing path so far.

Thanks for blogging at HJ!
Giveaway:

3 Digital copies of LINGERING TOUCH (Summer Park Psychics) by Cassandra Chandler (Gifted via InstaFreebie)
To enter Giveaway: Please complete the Rafflecopter form and Post a comment to this Q:

If you could have one of the psychic powers in The Summer Park Psychics series—astral projection/time travel, clairsentience/empathy, or telepathy/psychometry, which would it be and why?
Excerpt from Lingering Touch:
Heat hit her back as the room exploded into fire behind her. Jazz heard the window shatter. The next thing she knew, Finn had pulled her against his chest and was rolling them across the bed to the floor.

"What the hell?" she yelled.
"Molotov cocktail. We need to go out the back."
The curtains were on fire, flames dropping onto the carpet. Some smoldered out. Others caught.
"Shouldn't we try to stop it?"
As she said the words, another projectile flew into the room, landing on the bed. The sheets caught instantly as the accelerant poured over the mattress.

"Shit!"

Finn leapt forward, blocking her body with his, pushing her toward the bathroom.

"Wait."
Jazz ducked under his arm so she could grab her wallet, phone, and keys from the nightstand. He took her hand and pulled her toward the bathroom, both crouching low to stay beneath the smoke. Finn slammed the door shut as soon as they were in the smaller room, then rolled up a towel and tucked it along the crack at the floor.

There was a small window above the sink. She could fit through easily. She wasn't sure about him.

"Finn…"
"It'll be fine."
He jumped up onto the sink, then opened the window and punched out the screen. He scanned the area outside. "I don't think they're back here. They might have taken off to avoid the cops, but we can't assume anything."

"Is it those guys from the bar?"

"Probably," Finn said. "Come on." He helped her up onto the counter. "Be sure to check the SUV before you get into it."

As if he wouldn't be with her.

"You go first," she said.

"Jazz—"

"I will balk. I swear to fucking God, I will kick and scream and fight you on this. I'm not going through that window until I'm sure you can fit through it. You go first."

He stared at her for a moment.
"We're wasting time," she said.
Excerpt. © Reprinted by permission. All rights reserved.

Book Info:
he memory of his touch has never left her heart. . .or her body.
The Summer Park Psychics, Book 3
Finn Connelly can see the past by touching objects, even read people's thoughts. This power allows him to be the best private investigator in Summer Park. Until his abilities spiral out of control, leaving his thoughts and emotions inextricably entangled with those of others.
The only one who can help him regain control is the last person he trusts. Jazz Zhou, the woman who broke his heart.
Jazz is still reeling from nearly losing her closest friends to a serial killer-a man she brought into their lives. When she learns Finn is psychically bound to the ghost of one of the killer's victims, she grabs the chance to atone for past mistakes.
As their investigation takes them to the killer's hometown, they realize the threat to Jazz's friends isn't over-and neither is their relationship. But the more Finn uses his powers, the more he loses himself. And soon even Jazz's touch might not be enough to help him claw his way out of a murderer's memories.
Warning: Contains a heroine with a take-no-prisoners attitude and a hunky private eye with a touch that will leave you begging for more. And alligators. Lots of alligators.
Book Links:


Meet the Author: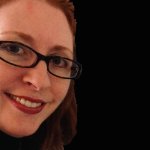 Cassandra Chandler has studied folklore and mythology for her entire life and been accused of taking fairy tales a bit too seriously. Her romances range from sweet to scorching, set in extraordinary worlds and driven by characters searching for a deep and lasting love. She sees the starry sky as a destination rather than a matte painting, though her primary residence is on Earth.
You can follow her thoughts on writing, life, and mostly writing at www.cassandra-chandler.com or see her real-time ramblings on Twitter (@casschandler).
Website | Facebook | Twitter |