Today it is my pleasure to Welcome author
Sarah M. Anderson
to HJ!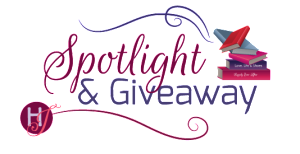 Hi Sarah M. and welcome to HJ! We're so excited to chat with you about your new release, Little Secrets: Claiming His Pregnant Bride!

Hey everyone! Hope you're staying cool!

Please summarize the book for the readers here: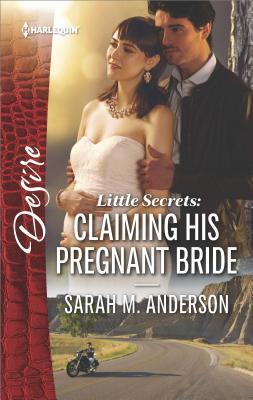 A pregnant runaway bride runs into a hot biker dude. Sparks fly! No one experiences morning sickness!
That's the super-short version. There's actually a whole lot more to the plot than that. She's a realtor, he runs a motorcycle business, there's shopping for houses and a *lot* of sexual tension!

What's your favorite line(s) from the book?:
In the beginning, our hero Seth finds a bride who's bolted from her wedding. She's wearing one of those HUGE ballgown style dresses and he's riding a chopper. But he can't just leave her on the side of the road–she's kind of in shock about her choice to bail on the wedding. I like this exchange between them about how she's going to get on the bike without being blown right back off of it.
"I'm… I'm wearing a corset. I can't bend at the waist very well. And the skirt is tied on behind." She sounded unsure about the whole thing.

Seth mentally snorted to himself. Because if there was one thing a groom enjoyed on his wedding night, it was fighting through complicated layers of women's clothing. Petticoats and corsets—what was this, the 1800s? "How did you get into it?"
When you sat down to start this book, what was the biggest challenge you faced? What were you most excited about?
There were two things that were a challenge. The first is trying to find ways to make pregnancy sexy. I was miserably pregnant and even when I think I've really downplayed the physical side effects of pregnancy, my editor always tells me to pull back even more. I think that's part of the fantasy that people like about these books–they get the joy of being pregnant and all those exciting feelings without the morning sickness, back pain and heartburn (I was three for three there.)
The other challenge is that this book is a pick-up of the Bolton Brothers, which was published five years ago with Desire. In Bringing Home the Bachelor, Billy Bolton falls for Jenny Wawasuck–who has a snot-nosed teen boy, Seth. I knew I wanted to make Seth a hero–but I also needed him not to be a teenager! So about eleven years has passed in the book, even though only five years passed in the real world. I had to go back and really dig into the Bolton Brothers books and remind myself what those stories were about and how I wanted Seth to fit into their world as a grown up, not just a kid. And Billy became a father to him in Billy's story–so I wanted to make the whole book hinge on the concept of what fatherhood is, even when you're a father to a kid who isn't yours. So in that regard, having Seth fall for a pregnant runaway bride make perfect sense.
At least I hope it did!!
Please tell us a little about the characters in your book. As you wrote your protagonist was there anything about them that surprised you?
Seth I knew pretty well. He'd been growing up in my head for a long time. Kate, on the other hand…I knew she was pregnant, a bride, and running away from a wedding. That was kind of it. And I stole the opening (borrowed! BORROWED!) of being lost and confused and sitting at a scenic overlook and having a biker roll up and shoot the breeze about life from a friend of mine (who was not pregnant or a bride, but dealing with a family funeral). So I had the setup and the hero and the basic requirements for the bride but after that? Man I had to figure out Kate and fast! So her motivation became that she was willing to marry the wrong guy because it was expected and what she thought she deserved–but when she realized she was pregnant, she knew she couldn't raise her child the way she'd been raised. So she ran. Right into Seth Bolton!
What have you learned about your own writing process/you as an author while writing this book?
Well, I definitely learned it's an…experience to go back and read things you wrote five years ago! I still love those books, but reading Bringing Home the Bachelor was a clear indicator of how much I've grown as an author. Of course, there's also those things that I do that are *exactly* the same so that was interesting to see as well. 🙂

The First kiss…
So Kate is a real estate agent and Seth feels that heroic manly urge to protect her so he's using her to buy a bunch of property to give her the commission and help her get on her feet. But no woman wants to feel like she's nothing more than a problem to be solved, which is how we get here:
The color drained out of her face, which was not the reaction he'd been hoping to get. "Seth," she said softly, sounding even sadder—which had not been his goal. "You can't just snap your fingers and solve all of my problems. I got myself into my own mess and I am going to get myself out of it, too." She swallowed, her eyes huge. "I don't need you to save me."

"That's not what this is." But even as he said it, he wasn't entirely sure that was the truth. He didn't think about it in terms of saving her. He thought about it in terms of helping. Of course, why he felt this compulsion to help her was another question he didn't want to investigate too deeply right now.

"Then tell me what this is about. The truth, Seth."

The truth? Hell. The truth was he was worried about her. He couldn't stop fantasizing about her. He was glad she hadn't married Roger. He knew how hard single mothers had it and he didn't want it to be that hard for her. It shouldn't be that hard for anyone, but especially not for her.

He didn't say any of that. Instead, he closed the distance between them and cupped her face in his hands. "This," he said, lowering his lips to hers, "is the truth."

Then he kissed her.
Did any scene have you crying or laughing (or blushing) while writing it?
Whew, yeah! Remember that snippet about corsets and petticoats earlier? He does manage to get the petticoat off of her, but it's something!
"Now what?" he asked as the waistband sagged down around her hips.

She didn't answer for a moment. "I had to step into it and they pulled it up because…" She swallowed. "Because it's so structured, it won't fall on its own. So I guess you'll have to push it down and I'll step out of it." Her voice shook.

Just for the ride, Seth repeated as he grabbed the waistband of the petticoat and worked it over her hips. Structured must mean able to stand upright on its own, because the damned fabric had no give in it at all. What kind of fresh hell was this, anyway?

The petticoat slipped over her skin and he had to bite back his groan. He barely knew this woman and he wasn't even sure he liked her. But as he revealed the frilly lace of the white thong and the bare cheeks of her bottom, liking had nothing to do with it. His mouth went dry and his hands started to shake.

His instincts—they were pushing him past protective and into raw lust. He was strong, but how strong did one man have to be? Because he wasn't sure he could handle the way that thong left her bottom completely exposed.

Then it only got worse as he wrestled the petticoat down and revealed inch by creamy inch of her legs and bare skin. Why couldn't she be wearing those supportive bike shorts that some women wore instead of this scrap of lace? Why couldn't she be wearing a simpler outfit? Why couldn't she be someone who didn't inspire this reaction in him?

It only got worse when he hit the top of her thigh-high stockings and the blue garter on her right leg. Of course it matched the blue trim on her corset.
Roger, Seth concluded, was an idiot to let this woman go. Because Seth was pretty sure that he was going to have fantasies about this moment for the rest of his natural life.

He struggled not to touch her skin—but his hands shook even harder with the effort of it. Although he had to fight all that "structure" for every damned inch, he managed to get the petticoat pushed down to the ground, which meant that he was at eye level with her bottom.
And it was perhaps one of the nicer bottoms he had ever seen. Firm and rounded and begging to be touched.

Except it wasn't. This was not a seduction. This was an action born of necessity. He would not touch her. She'd already had a bad day, and being groped by a biker wouldn't make anything better.

"Now what?" His voice cracked with the strain of trying to sound normal. "Do you just step out?" That was when he realized she didn't have on shoes. They were standing on gravel. Had she been missing her shoes the entire time?

"I…I don't want to lose my balance," she said in a strangled-sounding voice. Before Seth could process what she meant by that, she turned. Which was good due to the fact that he was no longer staring at her ass.

But now he was staring at her front. The thin lace of her virginal white thong covered the vee of her sex and everything about Seth came to a screeching halt. His blood, his breath—nothing worked. He couldn't even blink as he stared at her body.
If your book was optioned for a movie, what scene would you use for the audition of the main characters?
Oh, the scene where he offers to be her no-strings-attached rebound would definitely be the scene!
Yet here Seth sat, looking at her as if she were the ice cream and he couldn't wait to start licking. Her body felt warm and liquid, like she could melt right into him. "You're not looking for long term. You don't want to be hurt again and you've got a baby on the way to think about. But it might do you good…" His voice trailed off as his gaze caressed her face.

"What might do me good?" She was powerless to do anything but ask that question, because it appeared that all common sense had abandoned her in the face of one hot, protective biker dude.
He didn't answer her for the longest second and Kate thought she just might die on the spot.
"Rebounds can be fun. Something short and sweet, no strings attached—something to help you get past those years lost to Roger. I think you deserve a little fun, Kate."

God, it sounded so good. So right. Because really—one conversation with Seth that didn't even involve touching, much less kissing, and she was already more turned on than she could remember being in years. Seth would be amazing. Simply amazing. Maybe the best she'd ever had, in her limited experience. And who knew what would happen after the baby came. She would be struggling to get through the long nights alone. Romance would be the last thing on her mind.

What if Seth were her last shot at romance—or even just good sex—for a long time? Years, even?

Was she willing to let go of that part of herself?

She wasn't, and she almost, almost said yes right then and there. Her mouth opened and the word was right on the tip of her tongue. Yes.

But she couldn't get it out because she wasn't the kind of person to willingly enter a sexual relationship just for the fun of it. Casual sex had never been casual. Not for her.
Still… "And you're fun?"

That smile—oh, she was not going to be strong enough. "I can take care of you, Kate. Even for a little while." His eyes darkened. "Just something to consider."

And the thing was, he seemed sincere about it. He wasn't boxing her in. He was focused on her, yes—but not intimidatingly so. "You're serious, are you?"

Please, let him be serious.

He nodded, the tip of his tongue touching his top lip. Jesus, she'd never seen anything so seductive. "You don't have to decide anything now. My offer's on the table. But promise me you'll think about?"
Readers should read this book….
Well, hot yet sensitive bikers are really all the reason you need, aren't they? (Hint: yes, they are!)
Readers should also read this book despite the cover. I asked for someone like Michael Hudson, a Native American model (he's on my pinterest page for this book at <https://www.pinterest.com/sarahm_anderson/seth-bolton/> You'll also see lots of pictures of Kate Middleton, who was the model for Kate in the book) but instead of a Native American model, I got…someone who's been photoshoped to be orange-ish. So please keep in Mr. Hudson in mind while picturing Seth Bolton and remember–traditionally published authors like I am don't actually get final say on their covers. (You may have picked up on the fact that I don't love it.)

What are you currently working on? What are your up-coming releases?
I have a Billionaires and Babies out from Desire this November called Twins for the Billionaire! It's got a great cover and I really love it. *cough*
I also just finished the book that will be out next April, which kicks off a brand-new series called The First Family of Rodeo and features two brothers–one a CEO, the other a bucking bronco rider–and their sister, a rodeo cowgirl. I'm really excited about this new series!
And finally, starting this fall, I'm going to be re-releasing the Men of the White Sandy series with new titles, new covers and a BRAND NEW BOOK! So look for those stories–The Medicine Man, The Rancher, The Shadow, The Medic, and The Sheriff!
Thanks for blogging at HJ!
Giveaway:

I'm giving away one print set of the Bolton Brothers books (Straddling the Line, Bringing Home the Bachelor, Expecting a Bolton Baby and Claiming His Pregnant Bride) to one winner (USA only!) and 2 ebook copies of Claiming His Pregnant Bride (open international). Good luck!
To enter Giveaway: Please complete the Rafflecopter form and Post a comment to this Q:

Since this book begins–and ends!–with a wedding, what was the most memorable thing about your wedding day? Or, if you haven't had a wedding for yourself, the most memorable thing about a wedding you've attended?

I didn't have anything too wild. A coworker of my husband's offered to play his violin at the wedding for us and he forgot to turn off his cell, so we all laughed about that, which probably saved me from sobbing up there! And then, at the reception, my sister dared one of my husband's younger cousins, "I bet you can't slide across the floor on your knees!" Well, he did and he took out two floral displays doing so! He really slid! We still laugh about that.
Excerpt from Little Secrets: Claiming His Pregnant Bride:
The bride looked a little bit like an overdone cupcake, with sparkles and sprinkles. The skirt was huge, with tiers and layers of ruffles and lace. How had she even fit behind the wheel in that monstrosity?

Her golden-brown hair was swept up into some elaborate confection that matched the dress, but at some point it had tilted off its bearings and now listed dangerously to the left. Pearls dripped off her ears and around her neck, but her ring finger was bare.

What did she look like when she wasn't dressed up like a bride? All he could see of her was her face and her bare shoulders. And her cleavage, which was kind of amazing—not that he was looking. His body tightened with awareness even as he tried to focus on her eyes. It didn't help, staring down into her face. Everything tugged him toward her with an instinctive pull that wasn't something he'd planned on, much less could control.

His first instinct had been right—she was gorgeous, he realized as she lifted her gaze to his. A sweetheart face, wide-set eyes that were the deepest shade of green he'd ever seen. The kind of eyes a man could get lost in, if he weren't careful.

Seth was careful. Always.

He knew exactly what happened when a man lost his head around a woman. So it was final—no losing himself in her eyes. Or any other of her body parts. She might be a goddess, but she was obviously having a very bad day and he wasn't about to do a single damn thing that would make it worse.

So he locked down this intense awareness of her.

She wasn't for him. All he could—and should—do was offer her a helping hand.

"Hi." He launched another smile, one that had broken a few hearts, in her direction. "I'm Seth," he repeated because he honestly wasn't sure if she'd processed it the first time.

"Kate," she replied in a shaky voice. She hadn't pulled her hand away from his yet. Seth took an experimental step back—away from the limo—and was pleased when she followed. "I… I'm not sure what my last name is right now. I don't think I got married. I'm pretty sure I left before that part."

In his time, Seth had seen people involved in accidents still walking and talking and functioning almost normally because they were in a complete state of shock. Big dudes thrown from choppers and yet walking around and cracking jokes with one of their arms hanging out of the socket. Later, when the adrenaline had worn off, they'd felt the pain. But not at first.

Was this what this was? Had she been hurt? He looked her over as surreptitiously as he could, but he didn't see any injuries—so this was just a mental shock, then.

"Kate," he said, his voice warm and friendly. "That's a pretty name. What would you like your last name to be?

"Burroughs," she said firmly. "I don't want to be Kate Caputo. I can't be."

Seth let out a careful breath. That answered that question.

He had found Roger's runaway bride.
Excerpts. © Reprinted by permission. All rights reserved.

Book Info:
Has this runaway bride found the man of her dreams?
Restless—that's businessman and biker Seth Bolton. But when he rescues runaway bride Kate Burroughs, he wants more than he should with the lush mom-to-be. He's never been one to settle down, and he already has plans to leave. The best he can offer Kate is a no-strings fling…
And in spite of her better judgment, Kate says yes to Seth. She needs what he can give her, for however long it lasts. But soon they'll both have choices to make. She left the wrong man at the altar… Will Seth turn out to be the right one?
Meet the Author: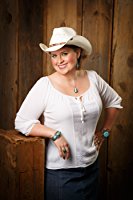 Sarah M. Anderson is an award-winning author who writes contemporary snarky and sensual romances featuring cowboys and bull riders as well as billionaires with and without babies. She won RT Reviewer's Choice 2012 Desire of the Year for A Man of Privilege. The Nanny Plan was a 2016 RITA® winner for Contemporary Romance: Short.
Sarah spends her days having conversations with imaginary cowboys and billionaires. Find out more at www.sarahmanderson.com and sign up for the new-release newsletter at http://bit.ly/sarahalerts.
Website | Facebook | Twitter |