Today, HJ is pleased to share with you Christina Lauren's new release: 

Love and Other Words

Love, loss, friendship, and the betrayals of the past all collide in this first women's fiction novel from New York Times and #1 international bestselling author Christina Lauren.
The story of the heart can never be unwritten.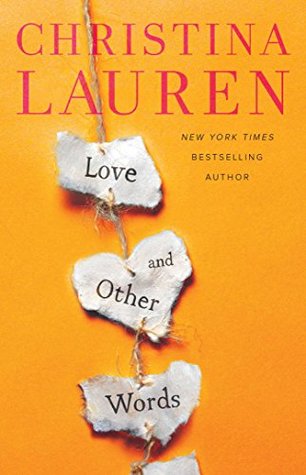 Macy Sorensen is settling into an ambitious if emotionally tepid routine: work hard as a new pediatrics resident, plan her wedding to an older, financially secure man, keep her head down and heart tucked away.

But when she runs into Elliot Petropoulos—the first and only love of her life—the careful bubble she's constructed begins to dissolve. Once upon a time, Elliot was Macy's entire world—growing from her gangly bookish friend into the man who coaxed her heart open again after the loss of her mother…only to break it on the very night he declared his love for her.

Told in alternating timelines between Then and Now, teenage Elliot and Macy grow from friends to much more—spending weekends and lazy summers together in a house outside of San Francisco devouring books, sharing favorite words, and talking through their growing pains and triumphs. As adults, they have become strangers to one another until their chance reunion.

Although their memories are obscured by the agony of what happened that night so many years ago, Elliot will come to understand the truth behind Macy's decade-long silence, and will have to overcome the past and himself to revive her faith in the possibility of an all-consuming love.

Enjoy an exclusive excerpt from Love and Other Words:
I stand outside the entrance to Nopalito on Ninth, and without
having to look too deeply inside, I know Elliot is already
in there. I know this because it's ten minutes past eight. We
agreed to meet at eight, and Elliot never runs behind schedule.
Something tells me that hasn't changed.
Pushing inside, I spot him immediately. His napkin slides
to the floor and his thighs awkwardly collide with the table in
his rush to stand. I notice two things: one, he's wearing a
dress jacket, nice jeans, and a pair of black dress shoes that
look newly polished. Two, he got a haircut.
It's still longish on top, but cut very short at the sides. It
makes him somehow a little less highbrow literary hipster
and more . . . skater hot. It's amazing that a look he would
never have even attempted in adolescence is one he can absolutely
rock at twenty-nine. That said, I'm sure he has only
his stylist to thank. The boy I grew up with would give more
thought to which type of pen he used to write a grocery list
than what he looked like on any given day.
Fondness clutches me.
I make my way to him, trying to breathe through the hum
of electricity surging in my bloodstream. Maybe it's the benefit
of having had time to get ready tonight—and that I'm not
in my scrubs—but this time, I feel the way his eyes move
from my hair to my shoes and back up.
He's visibly shaken when I step closer and stretch to give
him a quick hug. "Hi."
Swallowing, he lets out a strangled "Hi" and then pulls
my chair out for me. "Your hair is . . . you look . . . beautiful."
"Thanks. Happy birthday, Elliot."
Friends. Not a date, I repeat, like a prayer. I'm just here to
make up for breakfast, and to clear the air.
I attempt to brand it into my brain and my heart.
"Thank you." Elliot clears his throat, smiling without
teeth, eyes tight. And really: where to start?
The waiter pours water into my glass and slides my napkin
onto my lap for me. The entire time, Elliot is staring
down at me as if I've come back from the grave. Is that
what it feels like for him? At what point would he have
given up on getting in touch with me, or would the answer
be never?
"How was work today?" he asks, starting somewhere safe.
"It was busy."
He nods, sipping his water and then putting it down, letting
his fingers trace drops of condensation as they flow from
the lip to the base. "You're in pediatrics."
"Yes."
"And did you know as soon as you started med school
that you wanted to work in that?"
I shrug. "Pretty much."
An exasperated smile quirks his mouth. "Give a little,
Mace."
This makes me laugh. "I'm sorry. I'm not trying to be
weird." After a deep inhale and long, shaking exhale, I admit,
"I guess I'm nervous."
Not that it's a date.
I mean, of course it isn't.
Excerpt. ©Christina Lauren. Posted by arrangement with the publisher. All rights reserved.
Giveaway:

Print copy of Love and Other Words by Christina Lauren
To enter Giveaway: Please complete the Rafflecopter form and post a comment to this Q:

What did you think of the excerpt spotlighted here? Leave a comment with your thoughts on the book…
Meet the Author: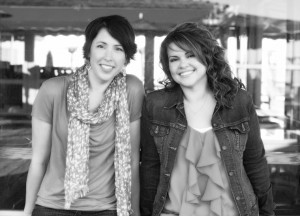 Christina Lauren is the combined pen name of longtime writing partners/besties/soulmates and brain-twins Christina Hobbs and Lauren Billings, the New York Times, USA TODAY, and #1 international bestselling authors of the Beautiful and Wild Seasons series, Dating You / Hating You, Roomies, Sublime, The House, and Autoboyography. You can find them online at ChristinaLaurenBooks.com, Facebook.com/ChristinaLaurenBooks, or @ChristinaLauren on Twitter.