Today it is my pleasure to Welcome author
Amy Sandas
to HJ!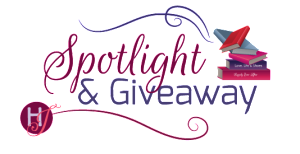 Hi Amy and welcome to HJ! We're so excited to chat with you about your new release, Luck Is No Lady!
Tell us about the book with this fun little challenge using the word "Luck":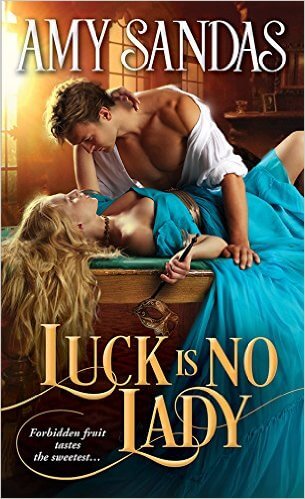 L is for Lies – The lies Emma tells about her identity to protect her reputation and her sisters from scandal.
U is for Ultimatum – The ultimatum Emma receives regarding repayment of a loan that pushes her to take drastic measures.
C is for Club – The gambling club owned by Roderick where Emma works as bookkeeper.
K is for Kin – As in Emma's sisters, for whom she would risk anything.

Please share your favorite quote from the book:
It was not in her nature to be intentionally challenging, but anonymity bred courage it would seem, and a smart tongue.
Please share a few Fun facts about this book…
The Chadwick sisters (Emma, Lily, and Portia) were originally named Polyxena, Galatea, and Eurynome. In an early version, their father was a Greek scholar.
The Countess of Chelmsworth is named after my sister, Angelique.
The story grew from the idea of an encounter behind a darkened curtain.
If your book was optioned for a movie, what scene would you use for the audition of the main characters and why?
I would use the scene where Emma is applying for the position as the club's bookkeeper. There is a lot going on below the surface of that scene for both Emma and Roderick. Although their discussion is about the job and its requirements, they are both thinking about something else entirely…their first meeting.
I would need to see how the actors portrayed the layers of tension between the two main characters in that scene.
A snippet:
"I am Roderick Bentley, owner and proprietor of this club. Have you any references, Mrs. Adams?"
"No, sir," she answered.
"Any record of your past employment?"
"No."
One slashing brow arced just a bit over his steady gaze. "Have you had any past employment?"
Emma resisted a frown. He certainly got to the point, didn't he? The trepidation that danced down her spine spread across her shoulders, making them ache with discomfort. She had hoped to have an opportunity to prove her abilities before hashing over these unfortunate details. "No, sir, I have not."
He paused for a moment before asking, "What exactly qualifies you for this position?"
Though his expression remained emotionless and quite businesslike, Emma detected a note of amusement in his voice. She felt herself getting defensive.
If you could have given your characters one piece of advice before the opening pages of the book, what – would it be and why?
To believe that they deserve more. Though she doesn't see it that way, Emma practically martyrs herself for her sisters' futures, forgetting that she also deserves happiness and excitement. And the stigma of Roderick's birth has him believing that Emma is beyond his reach no matter how badly he wants her.
What are you currently working on? What other releases do you have planned for 2016?
I am currently working on a story set in the American West in the 1880s about a proper young lady from the east and a cold-eyed gunslinger. I have been in the world of the English Regency for so long it has been a lot of fun traveling to the Wild West, which has always been one of my favorite settings for romance.
Book 2 if the Fallen Ladies series is expected to release in 2016, and I believe Book 3 will be coming out in 2017. I am so excited to share Lily and Portia's stories!

Thanks for blogging at HJ!
Giveaway:

Print copy of LUCK IS NO LADY (Fallen Ladies) by Amy Sandas
To enter Giveaway: Please complete the Rafflecopter form and Post a comment to this Q:

Emma and Roderick's first encounter is anonymous, allowing them to speak freely in way they wouldn't be able to otherwise. Who would you most like to encounter anonymously behind a darkened curtain? If there were no repercussions, what would you say?
Book Info:
"You should not have kissed me," she replied breathlessly.
"I do a lot of things I shouldn't. It does not mean I won't do them again."
Gently bred Emma Chadwick always assumed she'd live and die the daughter of a gentleman. But when her father's death reveals a world of staggering debt and dangerous moneylenders, she must risk her good name and put her talent for mathematics to use, taking a position as bookkeeper at London's most notorious gambling hell. Surrounded by vice and corruption on all sides, it is imperative no one discovers Emma's shameful secret or her reputation—and her life—will be ruined.
But Roderick Bentley, the hell's sinfully wealthy owner, awakens a hunger Emma cannot deny. Drawn deep into an underworld of high stakes gambling and reckless overindulgence, she soon discovers that in order to win the love of a ruthless scoundrel, she will have to play the game…and give in to the pleasure of falling from grace.
Buy Links:
Amazon: http://amzn.to/1Mj21xb
Apple: http://apple.co/22gCCgI
BAM: http://bit.ly/1M3180W
B&N: http://bit.ly/22feMpi
Chapters: http://bit.ly/22gEzKc
Indiebound: http://bit.ly/1Ln4zzz
Kobo: http://bit.ly/1YSMKuk


Meet the Author: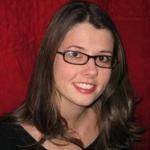 Amy Sandas's love of romance began one summer when she stumbled across one of her mother's Barbara Cartland books. Her affinity for writing began with sappy pre-teen poems and led to a Bachelor's degree with an emphasis on Creative Writing from the University of Minnesota-Twin Cities. She lives with her husband and children near Milwaukee.