Today it is my pleasure to Welcome author
Lisa Kessler
to HJ!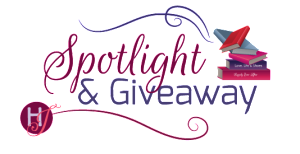 Hi Lisa and welcome to HJ! We're so excited to chat with you about your new release, Magnolia Mystic!
Please summarize the book for the readers here: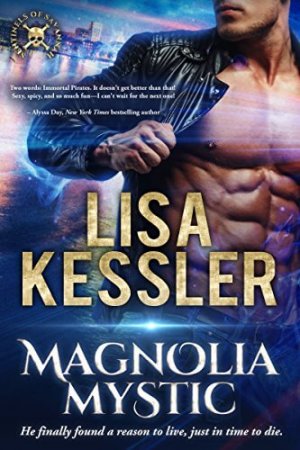 M – is for the Magnolia Mystic psychic shop
A – is for Agent Bale from Department 13
G – is for the greed of Captain Ian Flynn
N – is for nomming on One-Eyed Bob's fried shrimp and hushpuppies
O – is for one prophecy of a woman with violet eyes
L – is for Love worth dying for
I – is for Immortal Pirates
A – is for angst

M – Moonlight strolls on the deck of the Sea Dog
Y – is for Y is the Grail gone?
S – is for Savannah, Georgia
T – Tarot Cards
I – Immortality
C – is for Colton our hunky Quartermaster of the Sea Dog Crew.

Please share the opening lines of this book:
"Pirates, or privateers as they sometimes called themselves, were actually very democratic. Everyone got a cut and the entire crew elected their Captain and Quartermaster…"

The tour guide's voice faded as Skye Olson made her way toward the stern of the ship. She didn't come onboard to listen to pirate stories.
Please share a few Fun facts about this book…
My grandmother grew up in Darien, GA right outside of Savannah in the 20's and 30's. She's 96 now and she's super excited about this series! I love that she reads all my books. I'm very lucky! 😊
The Sea Dog's cook, one-eyed Bob was inspired by my grandfather, Bob Webb. He had a bout of double vision and I ran him to the ER where they fitted him with an eye patch. We decided he was pirate Bob and the character evolved from there.
I'm also a tarot card reader like, Skye in the book. When I decided she'd read pirate tarot cards, I found a deck and all the readings in the book are actual readings from the real deck. Fun times!
Was there a scene in this book that was harder to write than others?  
This scene ended up being a blast, but I'm not a sailor and not familiar with the names of different parts of the ship so man the research slowed me down quite a bit, but it was all worth it in the end for the fun scene on the Sea Dog Spanish galleon.
He took her hand. "Want to see what you missed at the stern?"

She laced her fingers with his and smiled. "Yeah."

He walked her toward the rear of the ship, pointing out the different sails and the crow's nest at the top of the mast. He waited for her eyes to glaze over, or her attention to drift, but she seemed to enjoy his pride in his ship. Seemed she could make his heart both pound and ache for something he'd never had in all his years.

"What are the rope nets for?"

"Ratlines." He grinned. "We climb them up to the riggings to take in the topsails and for the lookouts to take their posts."

Her eyes sparkled with mischief, and he raised a brow. "You already knew that."

She shrugged. "I might have watched you climbing up them yesterday after I got off the boat."

"Then why ask?"

She glanced at the ratlines and back to me. "I thought you might show me how."

The billows of fog could have knocked him over. "You want to climb the ropes?"

"Why not?" She straightened her back, lifting her chin. "Think I can't?"

He put his hands up in mock surrender. "Just surprised, that's all."

***

Colton lifted her like she weighed nothing. "Got a grip yet?"

She grabbed the ropes with iron fists, and then slid her feet into the squares. It was like a vertical net, a wobbly rope ladder, and a childhood dream she'd never shared with another soul. Okay, there may have been some clues. Instead of tea parties in a treehouse, she'd named hers the Scalleywag, and spent countless afternoons in search of buried treasure.

And in truth, she'd owned the pirate outfit before she ever decided it might be good for business.

"Hold tight," Colton called before climbing up beside her.

He moved so fast on the ratlines, they all jumped and swayed under his weight. She squeaked, losing her grip with one hand.
He caught her flailing arm by the wrist and put her hand back on the ropes. "Are you all right?"

She nodded, incapable of wiping the smile off her face. "Yeah. I wasn't ready for them to move so much."

"Imagine when we had six men running up to the rigging on an angry sea. Your grip was your life."

She scanned his face. "You say that like you've lived it."

He broke eye contact, staring up at the crow's nest lookout perch. "I have a crew. We still take the Sea Dog out a few times a year." He glanced her way. "You go first. I'll be right behind you in case you slip."

It took a couple of tries, but she finally found a slow, clumsy rhythm climbing up the ropes. The rungs or squares or whatever they were called were definitely tied for taller pirates than her. The stretching and pulling her body weight up was a struggle, better than any workout she'd ever done on an elliptical machine.

Up near the top, her foot missed the rope. Before she could falter, he caught her tennis shoe in his hand and put it back in place. She started to look back at him and stopped. "Holy shit, we're high."

His laughter calmed the fear swelling in her belly. "First rule of a pirate's mate, keep yer eye on yer destination, not yer doom."

She focused on the platform of the crow's nest. From the deck it seemed tiny, but now that she was closer, she realized the railing was also made for a taller pirate. "How do you get in that thing?"

"I'll climb past and get in. Then I'll pull you up."

Don't look down, don't look down. He crawled past her, the ropes groaning and bouncing. She clung so tight her knuckles ached. When Colton pushed off the ratlines to reach for the crow's nest, the ropes twisted and swayed, throwing her around like a rag doll. "Oh shit!"

He caught her wrist. "No worries, love. I've got you."

She clung to the ropes. "I should go back. This was a stupid idea."

"Wait until you see Savannah from up here." He clasped her other wrist, too. "Let go, Skye. I won't let you fall."

She looked up into his eyes. "Putting my life in your hands is more trust than I intended on a first date."

His lips twitched into a tentative smile. "Didn't know we were on a date."
Excerpt. © Reprinted by permission. All rights reserved.

What do you want people to take away from reading this book?
I want them to enjoy the adventures and the love with the pirate crew. I hope they fall into the story deep enough that immortal pirates seem real… 😊
Thanks for blogging at HJ!
Giveaway:

1 eBook copy of MOONLIGHT & 1 eBook copy of LURE OF OBSESSION
To enter Giveaway: Please complete the Rafflecopter form and Post a comment to this Q:

What attracts you to a paranormal romance series?
Book Info:
Two words: Immortal Pirates. It doesn't get better than that! Sexy, spicy, and so much fun–I can't wait for the next one! – Alyssa Day, NY Times bestselling author
Skye Olson is a psychic like her mother, and her grandmother before her, but a bad break up with the man she thought was her soulmate has left her confidence in her abilities shaken. While she's in crisis, a real estate tycoon from Atlanta swoops in with his eyes on her shop.
Colton Hayes spent his mortal life plundering royal ships with his pirate crew, but one holy relic changed everything. Now he and the rest of the crew protect the port of Savannah from their captain who traded his cutlass for a fountain pen.
When Colton discovers the captain wants to build a hotel in the heart of historic Savannah, he sets out to stop him, but nothing could prepare him for the sexy smile and violet eyes of the Magnolia Mystic.
Magnolia Mystic was previously a part of the Magnolias & Moonshine collection.


Meet the Author:
Lisa Kessler is a Best Selling author of dark paranormal fiction. She's a two-time San Diego Book Award winner for Best Published Fantasy-Sci-fi-Horror and Best Published Romance. Her books have also won the PRISM award, the Award of Excellence, the National Excellence in Romantic Fiction Award, the Award of Merit from the Holt Medallion, and an International Digital Award for Best Paranormal.
Her short stories have been published in print anthologies and magazines, and her vampire story, Immortal Beloved, was a finalist for a Bram Stoker award.
When she's not writing, Lisa is a professional vocalist, and has performed with San Diego Opera as well as other musical theater companies in San Diego.
You can learn more at http://Lisa-Kessler.com. 
Stay up-to-date on new releases and giveaways by subscribing to Lisa's newsletter here: https://goo.gl/56lDla