Today it is my pleasure to Welcome author
Janie Crouch
to HJ!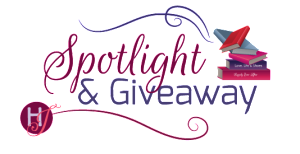 Hi Janie and welcome to HJ! We're so excited to chat with you about your new release, Major Crimes!

So thrilled to be back on HJ again!

Please summarize the book a la Twitter style for the readers here: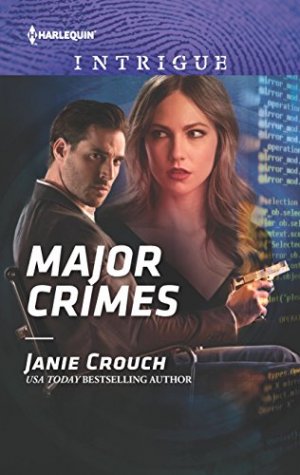 If he wanted her help catching a killer, he probably shouldn't have seduced her then thrown her in prison.

Please share the opening lines of this book:
Omega Sector agent Cain Bennett sat in the back row of a Georgia courthouse waiting for the judge to come in and sentence the woman Cain had loved since he was sixteen years old.

Hayley Green, the woman Cain had arrested.
Please share a few Fun facts about this book…
This book is my FAVORITE storyline ever (and believe me, I don't always love my stories :-). I've read some books where the hero arrested the heroine and the charges ended up being false. That led me to the thought: what if the hero arrested the woman he loved and she was actually GUILTY of the crime? And then from there it was some heartbreaking stuff that made for a gripping tale.
The character Hayley is named after my best friend from middle school, when I lived in Wales, UK.
The idea from this story first came from an article I read about women in prison.
Fulton Country, where Hayley is initially sentenced to prison, is the county I went to high school in. Just north of Atlanta.
This book is part of the six-book OMEGA SECTOR: UNDER SIEGE series. It was the only book in the series where both the hero and heroine hadn't shown up in previous books.
What first attracts your Hero to the Heroine and vice versa?
The hero and heroine have perhaps the most complicated past two people could have. But what I think attracts them to each other as adults is the same thing that attracted them to each other as teenagers: each other's strength, focus, and compassion.

Using just 5 words, how would you describe Hero and Heroine's love affair?
The strongest fall the hardest.

The First Kiss…
She tried to sit up, but their limbs were so tangled she couldn't quite manage.

"Are you going to let me go?"

Cain tucked an arm under his head. "I haven't decided."

His fingers splayed more widely on her hip and almost of their own accord began rubbing gentle circles.

She eased her weight back down on top of him. "What are you doing?"

"Do you remember this couch?"

Oh, the trouble they had gotten into on this couch in high school.

"I remember always having to keep an ear out for the front door opening," she said. He could hear the smile in her voice. "And very quickly rearranging clothing."

His parents had come home more than once at an inopportune moment. "Yeah, they had impeccable timing, didn't they?"

Hayley lifted her head up to make some comment, but he kissed her before she could. It was almost like he couldn't control his own body.

Their kisses had always been wildly passionate and engulfing. This was no different. As soon as his lips touched hers, he used his arm around her hips to pull her more fully up against him. His other hand wrapped around the back of her neck.

He kissed the side of her mouth, running his tongue over her lower lip, then drew back just a fraction of an inch before plunging back deep inside her hot, wet mouth. He felt her hands tangle into his hair, keeping him as close as he was keeping her.
Without revealing too much, what is your favorite scene in the book?
I don't want to spoil anything, so here's a scene from the first chapter at Hayley's sentencing…
"Hayley Green, you have pleaded nolo contendere to a charge of first-degree computer crimes, which is a class B felony, with a sentence of up to twenty years in prison. This court hereby sentences you to ten years at the Georgia Women's Correctional Institution, Minimum Security Campus, eligible for parole not before four years."

Cain saw Hayley's body jerk as the gavel came down against the sound block on the judge's bench. The judge said a few more things and then court was dismissed.

Cain couldn't believe what he'd just heard. Feeling like all the oxygen had been sucked from the room, he stared at Hayley, still standing stiffly at the table as her lawyer murmured something in her ear. Hayley's cousin Ariel, the only family present, was crying softly in the row behind her.

Four years. Hayley would spend at least four years in prison.

And Cain had sent her there.

People began filing out around him, but Cain couldn't force himself to move. Couldn't stop looking at Hayley. Couldn't figure out how to make this right.

Things would never be right again.

An officer came over to her and asked her to move to the other side of the table so he could handcuff her. She did, moving slowly, like she was in shock. Which she had to be.

Four years.

As the officer turned her so he could cuff her, Hayley's eyes met Cain's. He took a step toward her, unable to help himself.

He expected tears, or terror, or even hatred to light her eyes as she looked at him, skin across her cheekbones pale and drawn.

But her eyes were dead, emotionless. She looked at him as though he were a stranger.

Then she turned from him completely and was led away.
If your book was optioned for a movie, what scene would be absolutely crucial to include?
A page or so from when they first meet again…
"Why are you here, Cain?"

Cain could feel a muscle tightening in his jaw. "I'm here on business."

He could see her visibly tense. "I haven't done anything that violates my parole. Haven't broken any laws."

Of course that was why she would think he was here. Why wouldn't she? "No. When I said I was here on business I didn't mean to arrest you or anything like that. You're not in any trouble."

She still didn't relax. "Fine. Then what did you need to talk to me about? I need to get back to work, Cain. Some of us get paid by the hour."

"And how many hours a week do you have to work here to make ends meet? You look tired." He touched her hand lying on the table before he could think better of it.

She snatched it away as if she'd been burned.

"No." Her voice was hoarse. "You don't get to be concerned about me. Ever. You gave up that right four years ago."

"When I had you arrested? You were guilty, Hayley. Guilty of using your computer skills for hacking."

She laughed, but the sound held no amusement whatsoever. "You know what? I've had a long time to think about this. To categorize and figure out exactly how I felt about everything that happened with my arrest and incarceration. You were a federal agent, I was a criminal. It was your job to catch me—I've never blamed you for that."

She slid to the edge of the booth. "When those cops barged into my apartment to arrest me, I wasn't surprised. I think I'd always known I would eventually get caught."

Cain wanted to feel relief that she didn't blame him. That she understood he'd been doing his job. But he knew there was more.

She stared at him. He almost wished it was with fury rather than the exhaustion that seemed to blanket both her body and spirit. "Then I saw you. Realized you were the one in charge of the investigation. Realized you had deliberately used the feelings we had for each other, the connection we'd always had, to get close to me."

He started to interrupt, but she held out a hand to stop whatever he might say.

"You seduced me in order to arrest me, Cain. And it nearly cost me everything." Hayley stood. "So whatever business it is you want to talk to me about? Forget it. We have nothing to say to each other."
Readers should read this book …
because it doesn't waste your precious reading time!
What are you currently working on? What other releases do you have planned?
There are five other stand-alones in the Omega Sector: Under Siege series. If you like Hayley and Cain, you'll love all of those.
I'm currently working on my next Harlequin Intrigue book which will release in 2019!
Thanks for blogging at HJ!
Giveaway:

Reader's choice of any of the earlier books in the Omega Sector: Under Siege series (Daddy Defender, Protector's Instinct or Cease Fire). USA – paperback or ebook. International – ebook only.
To enter Giveaway: Please complete the Rafflecopter form and Post a comment to this Q:

Which of these three is your favorite type of romance stories: second-chance, enemies-to-lovers or best-friend's-little-sister?
Excerpt from Major Crimes:
Cain approached Hayley slowly, both arms outstretched. Not unlike how he had approached traumatized victims in the past.

Because that's exactly how Hayley looked: traumatized. Hell, she hadn't looked this drained even in court four years ago.

Now her brown eyes had shadows under them, outlining an obvious exhaustion. She looked like she could gain another ten pounds and still be a little underweight.

And she was staring at him with something akin to terror in her eyes.

Cain hadn't expected her to be happy to see him, but neither had he expected her to look like she was carrying the world's weight on her shoulders. A sort of panic itched at his gut.

He took a step closer. She took a step back.

"Hayley, what the heck happened?" The manager rushed out from the back. "Get something to clean that up."

The man turned and faced Cain. "We're so sorry about this. I'll get you another— Cain? Cain Bennett?"

Cain dragged his eyes away from Hayley to look at ‪the man‬ who knew his name. "Yes?" ‬‬‬‬‬‬‬‬‬‬‬‬‬‬‬‬

"It's Timothy Smittle. We went to high school together, remember, man?"

"I'll go get a mop," Hayley murmured before turning and almost running into the kitchen.

Timothy hooked a thumb toward Hayley's retreating form. "And of course, you remember Hayley Green, right? You guys were all hot and heavy back in the day."

"Of course." Cain slowly sat back down in the booth, eyes fixed on the door Hayley had exited through.

Timothy slid into the booth across from Cain and lowered his voice even though there was no one else around. "And I guess you heard about the law trouble Hayley got into a few years back. That was after you had already left. She did some time at the Georgia Women's Correctional."

Cain just nodded.

"When she came back around here begging for her old job, I figured it was the least we could do. You know, since we all went to high school together." Timothy sounded very pleased with himself. Like he was collecting bonus points or something.

Cain's eyes left the door and moved to Timothy. "She helped you with your bookkeeping in high school, right? Is that what she's doing now?"

Timothy smirked. "Are you kidding? We couldn't let her near anything having to do with money."

Cain's lips pressed together although he knew he really couldn't blame Timothy. "So she's what, waiting tables?"

The thought of someone with Hayley's intelligence and skills waiting tables was difficult for Cain to swallow, but he guessed he shouldn't be surprised. Right now her job options were probably limited.

Timothy shifted a little uncomfortably in the booth across from Cain. "Um, well, that also involves money, so no. Mostly she's, you know, helping out doing other things."

Before Cain could press about exactly what those "other things" were, Hayley came back out with a broom and mop and began cleaning up the glass and water she'd spilled.

"I can help." Cain slid to the edge of the booth ready to stand.

Timothy laughed out loud. "No, Cain. You sit down. It's Hayley's job."

Hayley didn't look up from what she was doing, but Cain could see the flush spread across her cheeks. She quickly swept up the glass and mopped up the water.

"So, how have you been, man?" Timothy asked, as if they'd been best buddies in high school. Cain barely recalled talking to the other guy at all. "You went on to play ball in college, right? After leading us to the state championships?"

"Yeah, for a couple of years. Then I blew out my knee. Nothing to stop normal life, but effectively ended my football career."

Hayley had finished cleaning up and Cain could tell she was hesitating about whether to stay nearby or to leave. Timothy noticed it, too.

Timothy waved a dismissive hand in Hayley's direction. "You can go do your work in the back. I'll take Cain's order and get him what he needs."

Hayley still wasn't looking at Cain, but he didn't want her to leave. "Actually, I'm here to talk to Hayley."

Timothy stiffened. "Oh. Actually Hayley just took a break with Ariel and the kid, so she doesn't have another break for a few hours."

Cain looked around, noticing that Hayley became even more tense with Timothy's words. It was three o'clock in the afternoon and the place was nearly empty.

"It doesn't look like you really need her right at this second. I just need to borrow her for a few minutes."

Timothy turned to glare at Hayley as if she had planned this. "Actually, during the downtime is when Hayley does most of the dishes and cleaning in the back. Then she helps out in front during the rushes."

Hayley was the damned dishwasher?
Excerpts. © Reprinted by permission. All rights reserved.


Book Info:
If he wanted her help catching a killer… he probably shouldn't have seduced her then thrown her in prison.
Hayley Green never wanted to see Omega special agent Cain Bennett again. Ever. He seduced her, then sent her to prison for hacking, and Hayley's only just started piecing her life back together. Except now Cain needs Hayley's help to catch a murderer. Their past is colliding with their still-smoldering attraction…and the only thing more dangerous than the killer is the secrets Hayley's been keeping.
Book Links: Amazon | B&N | iTunes | Goodreads |


Meet the Author: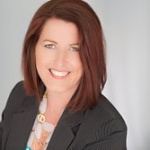 USA TODAY bestselling author Janie Crouch writes what she loves to read: passionate romantic suspense. She is a winner and/or finalist of multiple romance literary awards including the Golden Quill Award for Best Romantic Suspense, the National Reader's Choice Award, and the coveted RITA© Award by the Romance Writers of America.
Janie recently relocated with her husband and their four teenagers to Germany (due to her husband's job as support for the U.S. Military), after living in Virginia for nearly 20 years. When she's not listening to the voices in her head—and even when she is—she enjoys engaging in all sorts of crazy adventures (200-mile relay races; Ironman Triathlons, treks to Mt. Everest Base Camp) traveling, and movies of all kinds.
Website | Facebook | Twitter | | Instagram |