Today it is my pleasure to Welcome romance author
Anna Clifton
to HJ!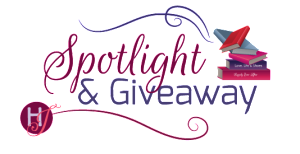 Hi Anna and welcome to HJ! We're so excited to chat with you about your new release, Making Ends Meet!

Hi everyone, and thanks Sara for inviting me back to HJ once again

Please summarize the book for the readers here: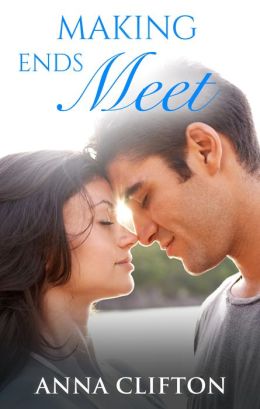 The last thing high profile artist and single dad Harry Halligan wants is a twenty-three year old nanny involved in his messed up, out of control life. What he really wants – what he's vowed to do – is to bring his ex-wife home to his children, for good. But his brother and best-girlfriend have other plans for him, and Somer Sullivan's on her way to sort out his home life, whether he likes it or not.
Somer Sullivan is determined not to become 'the rock' in yet another broken family. Instead she'll help Harry rebuild his troubled home so that she can get the hell out of there as soon as possible. But Harry and his two kids are nothing if not compelling, and her resolve to keep her distance from them is soon crumbling around her. Never more so than when Harry turns that pesky spotlight on her own past, and the reasons she gave up on love long ago without even knowing it.

Please share the opening lines of this book:
Electric blue eyes appraised Somer with all the gentleness of a Paris Fashion Week judge. One by one, each item of her clothing and apparel was assessed and condemned: the demure black wool skirt, the sensible white blouse buttoned up to her throat, the curly hair bursting forth from its tenuous captivity within two silver clips, the heavy-rimmed glasses sliding progressively further down her wet nose.

Somer didn't normally get around in outfits like that. But today was different.
Please share a few Fun facts about this book…
My publisher asked me to come up with a new title for this release and for three full days I sweated over it. When Making Ends Meet finally popped into my head I couldn't believe how perfect it was for Harry and Somer's story of heartbreaking endings, healing and hope.
Music inspires me to write, and two songs feature in Harry and Somer's story. The first is Samuel Barber's stunningly evocative Adagio as Harry watches Somer sing and finally takes stock of himself as a newly minted divorcee and single dad. The second is The Cure's wildly upbeat pop song, Inbetween Days, as Harry hits the city nightclubs in search of the girl he's discovered holds the key to his future.
I visited Paris and its Seine River when I was writing this book. As I strolled across the Lovelock Bridge with my son and husband I decided that Paris – and that bridge – would have to feature somehow in Harry and Somer's story.
If your book was optioned for a movie, what scene would you use for the audition of the main characters and why?
That's easy! It's the scene when Harry, acutely conscious of the ten-year age gap between himself and Somer, pushes her into going out with a guy her own age: super confident med student, Tim McDonald.
To say that there's a lot going on in this scene is an understatement!
Somer's bewildered and furious with Harry for manipulating her into going out with Tim. Harry's daughter, Rosie, is furious and bewildered with her father for undermining her plans to take her new nanny out for lunch. Harry's gobsmacked by his out-of-nowhere feelings for Somer. And Tim just wants Harry out of Somer's day – and her life – as soon as possible. But it's also the scene when nothing short of an explosion of male ego finally jump-starts Harry's life, and his heart, in a direction he would ever have predicted.

'But, Daddy!' Rosie protested, grabbing Harry's wrist with both of her hands.

'No arguments, Rosie. It's Somer's day off and she needs to get going. We shouldn't keep her. Good to meet you, Tim. Somer, thank you for organising this. We'll see you at home tomorrow morning.'

Determined not to look at Somer's flushed cheeks bleaching out to paper white, Harry grabbed Rosie's hand and hobbled away. That was when he heard Tim's words as clearly as if he'd been standing right next to him: 'How old is Old Father Time exactly?'

Harry kept walking, the hold on his cane setting to concrete as he absorbed Tim's razor sharp articulation of the shell of a man he'd allowed himself to become over the last twelve months.
What do you want people to take away from reading this book?
Are you mad? You want to write a love story centered on a marriage breakdown, with children involved and the ex still on the scene!!!
They were the thoughts that ran through my head as I jotted down early plot notes for Making Ends Meet. Perhaps I was mad, but I'm also a romantic at heart. Marriage breakdown, particularly where one party has little to no control over the decision to end things, has touched the lives of so many people I care about. Incredibly, their heartbreaking journeys have brought home to me, like nothing else, the healing power of love and forgiveness, the miracle of optimism and second chances, and the truth that the end of a marriage does not have to spell 'the end of love' – far from it. That's what I wanted to capture within the pages of Making Ends Meet. I hope my readers enjoy Harry and Somer's story.
What are you currently working on? What other releases do you have planned for 2015?
I'm currently working on a contemporary romance. It features a homicide detective and the estranged wife of a crime boss, a thug that my detective desperately wants to see back behind bars. My cop can be brash and laddish, but is committed to doing his job right. She's feisty and fiercely independent, but at times, endearingly vulnerable. He's convinced she holds the secrets to her husband's criminal life. What he doesn't realize is that unlocking her secrets will not only unlock the simmering chemistry between them, but expose her and those she loves most to the greatest peril imaginable.

Thanks for blogging at HJ!
Giveaway:

Amazon e-copies of my third release, New Year's Promise, and my most recent release, Making Ends Meet.
To enter Giveaway: Please complete the Rafflecopter form and Post a comment to this Q:

What do you think are the pros and cons of a ten-year age gap in a relationship?
Excerpt from Making Ends Meet:
'I'm calling the police and I'm holding a cricket bat! If you don't tell me what you're doing here I'm going to use it on you. And believe me, I know how!'

Harry swung away from the drawer in which he'd been hunting for his last tax statement. Somer was poised behind him, flourishing Nelson's wooden cricket bat and her mobile phone.

'Somer! What the hell are you doing?' he spluttered, instinctively taking two steps sideways.

Somer's mouth dropped open. 'Harry?'

'Yes, it's me. Do you mind putting the bat down?'

Somer glanced sidelong at the bat as though surprised to see it resting across her shoulder in readiness to be swung across kitchen air space. She let it drop to her side and placed her mobile on the table.

'Are you sure it's you? You're not one of your brothers playing a trick on me?'

Harry laughed. 'I don't even understand the question, but yes, I'm sure it's me.'

'I don't believe it,' she breathed with a radiant smile of wonder, propping the bat against the cupboard and walking a full circle around him. 'You look completely different!'

'In a good way?' he prompted with a grin, trying not to let on that she was making him nervous by delaying her verdict on his new clean-shaven look.

'I'm absolutely staggered!' she declared with a spontaneous laugh of disbelief. 'You're transformed! For a start, you look about five years younger and kind of … I don't know … preppy. If Tim could see you now he'd die of shock!'

'Okay then, happy with that outcome,' Harry purred in satisfaction, leaning back against the sideboard and folding his arms across his chest.

'And I don't know how to say this without sounding awful,' she gushed helplessly, 'but I thought that Guy was the drop-dead gorgeous Halligan brother—except for your eyes; no man alive can compete with your eyes. But damn it, Harry, you are hot—real hot!' she added in a Texan drawl for emphasis.

'Thank you, I think.' Harry grinned again, unable to deny the insane buzz of having a gorgeous twenty-three-year-old find him hot. Better still, the shock he'd just given her appeared to have distracted her from her mission to avoid his eyes and measure her words out on teaspoons as she'd done throughout breakfast that morning.

'You have a fabulous smile that I haven't seen properly until now,' she bubbled away in wonderment. 'My God! Girls must have been totally falling all over you before you were married!'

Harry didn't answer. He was trying not to dwell on what Sara had told him in the salon about the Somer factor. The problem was that the Somer factor was now in full flight right in front of him. To live under the same roof with a woman who said exactly what she was thinking was a seismic shock he was having a hard time coming to grips with after years of living in a blind fog with Freya.

'Sara sorted me out at the salon,' he explained.

'She sure did. And your walking stick, that's gone too, isn't it?'

'It's back in my physio's equipment room where it belongs. What are you up to now?'

'I was studying, until I saw an intruder working his way through your kitchen drawers.'

'Can the books spare you for a few hours? There's something I'd like to do with you.'

She looked uncertain all of a sudden, glancing towards the window as if she wished she were a thousand miles away. 'Harry …' she began but then stopped, her eyes remaining averted and her words heading back onto those teaspoons again.

'I thought you might take me for a ride up to Palm Beach on the bike.'

She swallowed hard.

She didn't want to go.

Her raw reluctance left his breathing ratcheted.

'You're busy,' he muttered, feeling as embarrassed as a nervous teenager asking a pretty girl out on a date. 'Maybe some other time.'

'No, I …' she stopped again, her fingertips momentarily resting against her lips as though she was trying to trap words inside. 'Yes, okay, let's go,' she went on with an air of grim resignation, dropping her hand to her side. 'It will give us a chance to talk about Rosie and some things she said to me last night.'

Harry nodded. He didn't care that she was reluctant to spend time with him. She'd agreed to come. Strangely, that was all he could think about right now.
Excerpt. © Reprinted by permission. All rights reserved.

Book Info:
From Anna Clifton comes a sweet, emotional, beautiful romance about a man whose life has been derailed and the unexpected woman who can help him get it back on track.
'It's for other reasons that I won't need a nanny beyond a month.'
Twenty-three year old nanny Somer Sullivan has never had a job quite like this one: fix the messed-up, out-of-control life of high-profile artist and thirty-something dad Harry Halligan. But Somer is organised, efficient and not afraid of a challenge. She will do everything Harry needs her to do, including bringing his ex-wife home for good.
'One month, Harry, and I'll be out of here.'
Harry Halligan doesn't want a nanny, but he needs one—he needs Somer. She's the only one who can reach his troubled daughter, who can bring some measure of peace to his home. But as Somer advances her mission to fix his life, a few things become clear: his ex-wife might not be the answer, and Somer just might be. But Somer is running like hell from something in her own life and hiding in his.
Only one thing is for sure. Harry now has less than a month to make the hardest decision he'll ever have to make—a decision that will change all of their lives forever.
Book Links:


Meet the Author: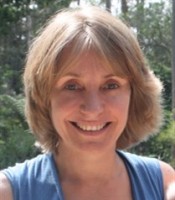 Anna Clifton was a lawyer in her past life but now writes warm hearted contemporary romance novels with a special focus on legal eagles and the modern urban family. Her fourth novel, Making Ends Meet, is out now through Escape Publishing.
Website | Facebook |