Today it is my pleasure to Welcome author
Jenni Fletcher
to HJ!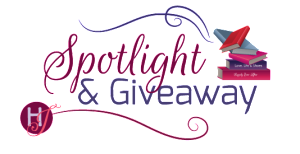 Hi Jenni and welcome to HJ! We're so excited to chat with you about your new release, Married to Her Enemy!

Hi, it's lovely to be here. Thanks for having me.

Please summarize the book for the readers here: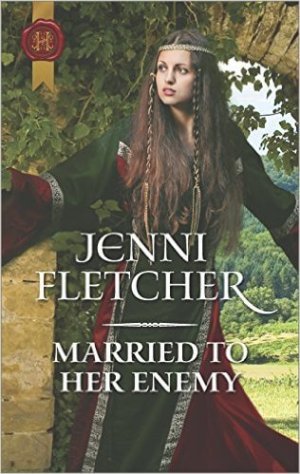 It's about enemies becoming lovers in the aftermath of the Norman Conquest – also involving a case of mistaken identity, a secret baby, a medieval road-trip, and a forced marriage.
When Norman invaders arrive at her village, my Saxon heroine Aediva is determined to do whatever she has to to protect her pregnant sister Cille, even if it means taking on her identity. Meanwhile, my Swedish Knight Svend is determined to follow his orders in capturing Cille so that he can win a reward from the King and rebuild his life in exile. When he finally uncovers Aediva's deception, it places them both in more danger than either anticipated – and the only way out is marriage…

Please share the opening lines of this book:
Aediva shoved the full weight of her body against the heavy wooden gate, skidding in the mud as she finally dropped the iron locking bar.
Then she turned and ran. Back up the hill, back past the abandoned houses and scattered belongings dropped in the desperate rush to escape, back towards the Thane's hall that stood, circular-shaped and slightly raised on a mound in the centre.
Please share a few Fun facts about this book…
I almost named the men in my story after Frozen characters. I have a daughter so I've seen the film way too many times, but I still wrote a whole draft involving Sven, Olaf and Hans before I spotted the connection.
The first scene, where my heroine's sister Cille is giving birth, is also one of the few things I kept from my very first attempt at writing a Harlequin novel a few years ago. I like to get straight into the action, and you can't run away from Norman invaders when you're dealing with a woman in labour!
Please tell us a little about the characters in your book. As you wrote your protagonist was there anything about them that surprised you?
Everything about them is a constant surprise to me! I'm a pantser so I have no idea how any of my stories are going to end until they do (which can wreak havoc with word counts). It's a cliche, but characters really do take on lives of their own – although I think my heroine was even more violent than I expected as she keeps on attacking the hero.
If your book was optioned for a movie, what scene would you use for the audition of the main characters and why?
I'd like to use the scene where Svend discovers that Aediva has been lying to him, but I also don't want to give too much away, so I'll choose another from early on where he's explaining why he's come to find her (or who he thinks she is). They've been arguing and he's holding her arm, so I'd really like the actors to convey the simmering attraction and tension between them –
The answer sprang to his lips, but the obvious fear in her voice made him hesitate. With his hand gripping her arm he felt suddenly, irrationally, protective. It wasn't his place to tell her the earl's plans, but she was watching him, no longer defiant but frightened, asking him a question. He felt a stirring in his chest – something he hadn't felt in a long time – as if something were shifting inside of him. Damn it all, how could such a small woman have such a powerful effect on his senses?
"He intends for you to marry again," he said softly, surprising himself.
"Marry a Norman?"
She staggered backwards, the colour draining from her face, and he dropped her wrist instantly, the protective urge evaporating.
What do you want people to take away from reading this book?
I really just hope that people enjoy the story – that's the main thing!
I also think we sometimes forget that British history doesn't start with William the Conqueror (Norman propaganda has a lot to answer for) so I hope my book gives some sense of the effect of the Conquest upon the Saxon world – and in this case, how love can help to heal some of the rifts.
What are you currently working on? What other releases do you have planned for 2017?
I have another book coming out in June – 'The Convenient Felstone Marriage' – which is a Victorian story set in Whitby, and I'm planning to write a gothic spin-off set on the Yorkshire Moors next.
I'm also just finishing a book set during the Anarchy in 1147, where my heroine Juliana (who supports King Stephen) is in a Castle under siege from the forces of the Empress Matilda, led by my hero, Lothar.

Thanks for blogging at HJ!
Giveaway:

Print copy of MARRIED TO HER ENEMY by Jenni Fletcher
To enter Giveaway: Please complete the Rafflecopter form and Post a comment to this Q:

I'd like to ask if there are any historical periods readers think are underrepresented? I like to mix it up historically so if there's anyone's longing for a story about the Restoration, for example, I'd love to hear about it…
Excerpt from Married to Her Enemy:
In this scene Svend and Aediva have just stopped for a rest during their journey. She realises that she doesn't quite think of him as her enemy anymore, but he still thinks she's someone else –
"She slid down into his arms, her cheeks still red with embarrassment. His gambeson gaped open at the neck and her eyes fell upon a jagged scar between his chest and his shoulder. She hadn't noticed it before, but the collarbone protruded outwards beneath, as if it had been broken and reset badly. She stared at it distractedly. He seemed vulnerable suddenly, less like a Norman and more like any other man.
"What's this?" Without thinking, she pushed the leather aside, tracing the line of the scar with her fingertips.
"An old injury."
"What happened?" Her fingers stroked the length of the bone. She was surprised by the soft texture of the skin. She would have expected a warrior to be rough and callused, but he felt silky smooth.
"I fell out of a hayloft when I was ten."
"That's not very heroic. You should say it's a battle scar at least."
His hands were still clasping her waist, but she didn't pull away. No one could see them. They were surrounded by trees, and his destrier made a surprisingly effective screen. Slowly her fingers traced their way back to the point of the bone. It must have hurt when it happened. Somehow she wanted to make it better. Instinctively she leaned forward, pressing her lips against the scar.
"Cille…"
He groaned and she jerked her head back guiltily.
"Did I hurt you?"
His eyes fell on hers with a look that was part desire, part amusement. His eyes were so clearly, blindingly blue that they seemed to mirror the lake beside them. Her stomach lurched, filled with a thousand fluttering butterflies. No, she hadn't hurt him…
Excerpt. © Reprinted by permission. All rights reserved.

Book Info:
Lady Aediva of Etton will do anything to protect her sister, Cille. So when enemies storm her family's keep, Aediva assumes Cille's identity… taking her place as prisoner of Sir Svend du Denmark.
Svend's sole aim is to fulfil his service to William the Conqueror and rebuild the life a woman's betrayal one lost him. So when he receives his new orders to quash the Saxon rebellion, he is stunned. To do his duty, he must vow to take the beautiful yet provoking Aediva as his wife!
Book Links:

Meet the Author: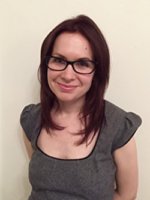 Originally from the North East of Scotland, Jenni Fletcher now lives in Yorkshire with her husband and two children. She wanted to be a writer as a child, but got distracted by reading instead, finally writing down her first paragraph thirty years later. She's had more jobs than she can remember, but has finally found one she loves! She also likes rain, boxsets and mountain-biking.
Website | Facebook | Twitter | Instagram | GoodReads |