Today it is my pleasure to Welcome author
Carolyn Brown
to HJ!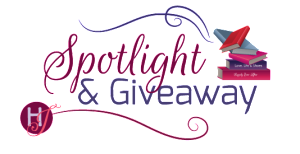 Hi Carolyn and welcome to HJ! We're so excited to chat with you about your new release, Merry Cowboy Christmas!

Thank you so much for inviting me back to HJ to talk about my newest book, Merry Cowboy Christmas!

Please summarize the book for the readers here: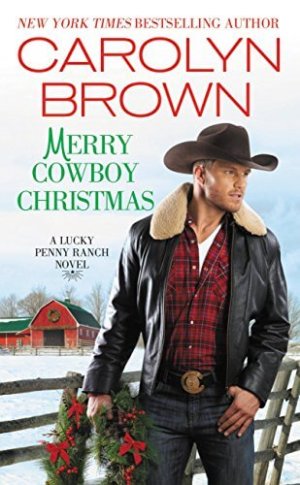 Fiona has two choices: she can go home to Dry Creek, Texas or she can live on the streets. There's love, food, family and a warm place to lay her head at home so that's the choice she makes.
Jud Dawson joined his two cousins and invested his money in a run down old ranch with a reputation of bad luck even though its name is the Lucky Penny. But by the time Jud joins Blake and Toby on the ranch it's already turning that luck around. However, he is not going to follow in their footsteps when it comes to women and marriage.
Fiona has wings. Jud has roots. Never the twain shall meet. Right? But Christmas has a way of producing magic and miracles, especially when the two of them get involved with the official Scrooge of Throckmorton County, Texas.

What's your favorite line(s) from the book?:
. "Lord, honey, I hate it when Truman gives the final prayer, but I suppose Preacher Lyle was trying to get him to see that he's been a horse's ass the past year."

No one wanted the Lucky Penny, what with its reputation for being so unlucky for anyone who buys it. But Truman wanted it real bad, only he's tighter with his money than a bull's butt in fly season…

Well, if I've got to love Truman and Dora June after the way they've acted, then I guess y'all had best pack my casket full of sunblock because I'm bound for hell…
When you sat down to start this book, what was the biggest challenge you faced? What were you most excited about?
Finding something fresh and new that my readers would love. When I realized that a "Scrooge" Christmas story was right there with Truman O'Dell hating the holidays, I got really excited about writing Jud and Fiona's story. The miracle of Christmas can change people, no matter what their age and past is.
Please tell us a little about the characters in your book. As you wrote your protagonist was there anything about them that surprised you?
Fiona has always had wings and wanted to live in the big city. She doesn't feel like she fits in anywhere like both her sisters do. Jud has roots and wants to settle down right there in the tiny little town of Dry Creek. It surprised me when Fiona finally realized that what she was looking for was love and that was the only thing that watered and fed the roots she wanted so badly. That it was someone caring about her that grounded her enough to clip her wings. It surprised me to find that Jud had a really soft heart down deep inside that tough cowboy exterior. Sometimes characters come along that become so real that it's hard to let them go…that was Fiona and Jud for me!
What have you learned about your own writing process/you as an author while writing this book?
That I drag a bit at the end of a book because I don't want to tell my characters goodbye. This was one of those books. I got up to the last two chapters and didn't want to write them. Then I realized that I still had a book, Wicked Cowboy Charm, to write in the series and I could visit with Fiona and Jud in that story.

The First kiss…
The bristle of Jud's beard tickled Fiona's face as his lips moved over hers. She'd never been an impulsive person, so why in the devil was she kissing Jud so passionately? Using both hands, Jud brushed her hair back, kissed her on the forehead, then the tip of her nose and moved back to her lips.
His tongue eased its way into her mouth, igniting fires that she thought she might never feel again. Her insides went all oozy, begging for more than a touch, more than a series of hot perfect kisses.
She covered his hands with hers and gently pulled them away from her face. "Enough," she whispered hoarsely.
"Depends on who's calling the shots." His sexy drawl had deepened to a rasp.
"Let's not start something we can't finish," she whispered, and then gasped when she heard the turn of a doorknob across the landing.
Did any scene have you crying or laughing (or blushing) while writing it?
Dora June and Truman have lost their home to fire. This is the scene where she and Irene, the grandmother with dementia is helping decorate the Christmas tree. I could feel both of their emotions in this scene:
Dora June, darlin', will you unpack the ornaments and line them up on the coffee table so that they'll be ready when the time comes?"
Dora June clapped her hands. "I love looking at the pretty ornaments and it's a special year when me and Irene can put them on the tree together."
When she turned around to pick up the box that had been marked ORNAMENTS, Fiona noticed that she wiped a tear from her eyes.
Fiona felt a sting of sadness for Dora June. She'd never had a big family around her as she decorated her tree. Even with Truman sitting in the background enjoying her cookies, it had to be lonely. Then another shot filled her heart as she watched Irene struggling to hold on to everything she held dear. Two old ladies: one with family that she didn't even know some of the time, the other who wished she had family.
If your book was optioned for a movie, what scene would you use for the audition of the main characters?
This is the first scene where Jud and Fiona meet each other. It shows their personalities so well that it would be an excellent scene (and when the movie hits the big screen, I'll be the one with the big grin and diamonds in my hair as I walk up the red carpet):
Jud Dawson tapped the brakes and slid a few feet before his big black truck came to a stop. The rusted out old bucket of bolts he'd been following on the slick road wasn't quite so lucky. It kept going right through a barbed wire fence, taking out two steel posts before it finally came to a halt, kissing a big scrub oak tree about fifteen feet from the fence line.
Jud had barely scrambled from the cab of his truck to see if the driver was unhurt when a redheaded woman dressed in tight jeans, boots, and a sweater hopped out of the truck, kicked the shit out of her blown-out tire, and tangled both her fists in her hair in anger.
"Are you okay?" he yelled as he ran toward her, phone in hand ready to call 911 if he needed to.
"Hell no! My truck is a wreck. I'm going to be late to dinner and I'm so mad I could spit tacks." She shook her fist at the gray skies. "Damn tires only needed to run for another half a mile. Since when does this part of Texas get snow in November? I should thank you, but I'm too mad to be polite right this second."
"I can take you wherever you need to go," Jud offered.
She stopped ranting and shivered. "Do you know where Audrey's Place is?"
He nodded. "Yes, ma'am, that's actually where I was headed. You must be…"
He hesitated, trying to remember her name. Faith. Fancy. Something that started with an F, or was it a V? If she was headed to Audrey's, then she had to be the youngest Logan sister, the married one from Houston who everyone said was giving Midas a run when it came to money. So what the hell was she doing driving a ratty old truck?
"I'm Fiona Logan, and I do thank you for stopping and for offering. Let me just get my stuff. The suitcase and box can wait," she said.
Evidently she'd decided he wasn't an ax murderer or a crazy ex-con because she smiled. "Just so you know"—she opened the passenger door of the truck and fished around in the glove compartment—"I do carry a weapon and I have a concealed permit and I can take the eyes out of a rattlesnake at twenty yards."
Damn, but she was cute with that curly red hair, a faint sprinkling of freckles across a pert little nose and all those curves. "Pleased to meet you, Fiona Logan. Good thing I'm not a rattlesnake." Jud grinned. "I'm Jud Dawson, co-owner of the Lucky Penny."
"You're Blake and Toby's cousin?" she asked as she shook his hand.
"Yup, and turns out I'm staying at Audrey's. Your mama didn't want me to live in the travel trailer with winter coming on."
Jud removed an expensive monogrammed suitcase from the passenger seat. It looked as out of place in that old vehicle as a cowboy at an opera.
She nodded toward the fence. "Sorry about the damage to your property."
"I'm just glad you're safe. And I'm sure your family will be eager to see you," he said as he hefted her suitcase into his truck. "What did you pack in this thing? Rocks?"
"Everything I could. What wouldn't fit in there is in the box."
"Lot to bring home for a four-day holiday," he said.
She ignored his remark with a shrug and a shiver.
Readers should read this book….
because it will make them believe in the miracle of Christmas again. If Truman O'Dell can change, anyone can. And it will put them in the mood for the holidays.

What are you currently working on? Do you have any are up-coming releases?
Today I'm working on the second story in the Happy, Texas series. It's another Christmas book and I get to write it in the fall and winter instead of the hot summer time. Folks won't think I'm crazy for listening to Christmas carols and eating sugar cookies in the middle of July! Upcoming releases are: A Heap of Texas Trouble (a reissue of The Red Hot Chili Cook Off), arriving on Dec. 6; The Barefoot Summer (Jan. 3), a romantic women's fiction; Wicked Cowboy Charm (Jan. 31), the final book in the Lucky Penny series; The Lilac Bouquet (April) a romantic women's fiction; Lucky in Love (a reissue of my first cowboy book by the same title) May 1; The Toughest Cowboy in Texas (May 31), the first book in the Happy, Texas trilogy; The Strawberry Heart's Diner (July) a romantic women's fiction. But don't put your boots away because there's more in the works for the fall and winter.
Thanks for blogging at HJ!
Giveaway:

I will give away two e-books of Merry Cowboy Christmas, Nook or Kindle, your choice.
To enter Giveaway: Please complete the Rafflecopter form and Post a comment to this Q:

What is your favorite family Christmas tradition?
Excerpt from Merry Cowboy Christmas:
That night, Fiona slipped downstairs right after her shower for another piece of pumpkin pie. Standing in front of a full refrigerator loaded with Thanksgiving leftovers was right up there next to having the pearly gates swing open for her to enter heaven. She removed a whole pie and set it on the countertop along with a container of whipped cream, but she held the door open with a toe. Next she took out the pitcher of sweet tea and the plastic container with the turkey leftovers.
Light flashed bright in her eyes and startled her so badly that she almost dropped the tea.
"Mama," she gasped. "You scared the hell out of me."
Katy sat down at the table. "Then you're an angel now, right?"
Fiona smiled and then laughed. "It'd take more than that much of a fright to make an angel out of me. Couldn't you sleep, either?"
"I heard someone out here. Didn't know if it was you or Jud, but since I wasn't asleep, I came out to talk," she answered. "Sit down and tell me the whole story. You've lost at least ten pounds from when we saw you at the homecoming in July."
Fiona fished a fork from the drawer and set the pie in front of her mother. "I love your pumpkin pie. Sometimes I craved it so bad, especially when they made pumpkin lattes at the coffee shop and the aroma filled the whole place."
"You brought one suitcase and one box home. Where are the rest of your things?" Katy asked.
"That's all I have left. I was serious when I said I'd taken them to a consignment shop. I didn't need them and I did need money. I'm glad my room is still the same and I have a closet full of clothing up there. Some of it is a little loose but believe me with this kind of food, I'll put the weight back on," Fiona said.
"Did you go hungry?"
Fiona carried her pie to the table. "Let's just say I ate a lot of ramen noodles. It's amazing what you can do with those things."
"I could kick your butt for not calling me. Not wanting to come back to Dry Creek was one thing. Doing without necessities is another," Katy said.
"Pride." Fiona said one word and then shoveled a forkful of pie into her mouth.
"That's a dangerous thing."
"But it's stuck in my heart with something stronger than superglue."
Katy nodded. "Comes from your grandmother and the Miller side of the family."
"Finally I reached the end of my rope and came home."
"Well, thank God for the end of the rope. What caused the divorce?"
Fiona nodded. "He wanted to climb the ladder to the top. I wanted to stay home and cuddle a few nights a week." Fiona shoveled more pie into her mouth. "I hated all the dinners and parties. I think once Kyle saw Dry Creek after we were engaged, he realized I didn't have the 'breeding' of a high-society corporate wife."
"That son of a bitch," Katy said.
"I know. I could feel him slipping away and knew deep down we were probably heading for divorce."
"What was the final straw?"
"His old girlfriend came home from Philadelphia to join the firm. Sparks were relit. We were already fighting more than loving, and then he came home one night with his arm around her and told me he was divorcing me. He handed me the prenup, which I'd signed without even reading. After all"—Fiona pushed out of her chair and poured two glasses of sweet tea—"we were in love and the vows said until death parted us."
"And?" Katy asked.
"And it said that I could take out of the house what I'd brought into it, which amounted to my clothes and personal things. My car was in my name, so that was mine for a little while. And I got a ten-thousand-dollar check. The end." She sighed and sipped at the tea. "I started a checking account, paid for some therapy lessons, rented a cheap apartment, finally found a minimum wage job, and you know the rest."
Katy wiped a tear from her eyes. "You went through all that alone. Fiona, I was here. Your sisters were here and we would have done anything for you."
"I know, Mama, but…" Fiona paused.
"That independent streak that you got from your granny is a mile wide." Katy picked up a paper napkin and wiped at more tears. "Now you've made me cry and I don't cry, so I still may kick your butt."
Excerpts. © Reprinted by permission. All rights reserved.

Book Info:
THIS CHRISTMAS, SANTA'S WEARING A STETSON
'Tis the night before Christmas and all through the house is the presence of one wickedly hot cowboy who's come to stay for the holiday. Fiona Logan is downright shocked to return to her childhood home and find that the tall blond stranger who came to her rescue on an icy road will be sleeping just across the hall from her bedroom. Talk about temptation . . .
Jud Dawson never believed the Lucky Penny Ranch would live up to its name until now. Fiona is gorgeous, smart, funny, and everything he thought he'd never find. Now all he has to do is convince her to stick around town instead of hightailing it back to Houston. But with wild weather, nosy neighbors, and a new baby in the family, getting her to admit that she's falling in love might just take a Christmas miracle.
Meet the Author: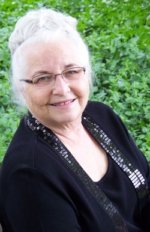 Carolyn Brown is a New York Times, USA Today and Wall Street Journal bestselling author and a RITA finalist. She's won the National Reader's Choice Award three times, the Bookseller's Best Award and was award the diamond award from Montlake for selling over a million books. Her books include romantic women's fiction, historical, contemporary, cowboys and country music mass market paperbacks. She and her husband live in Davis, Oklahoma that only has one traffic light. They have three grown children and enough grandchildren to keep them young. When she's not writing she likes to sit in her gorgeous back yard with her two tom cats, Chester Fat Boy and Boots Randolph Terminator Outlaw and watch them protect the yard from all kinds of wicked varmints like crickets, locusts and spiders.
Website | Facebook | Twitter |