Today it is my pleasure to Welcome romance author
Sue MacKay
to HJ!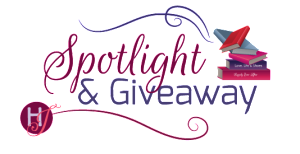 Hi Sue and welcome to HJ! We're so excited to chat with you about your new release, Midwife…to Mum!

Hi Reader, I'm excited about this book being one of the Midwives On-Call series. I hope you are too.

Please summarize the book for the readers here: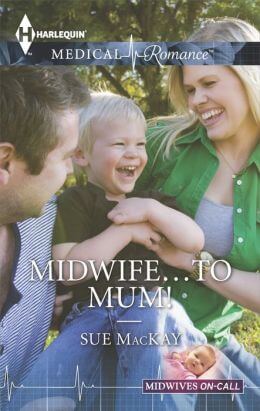 Ally Parker is always on the move, never stopping in one place for very long, which is why being a locum midwife for the Melbourne Midwifery Unit is the perfect job. As a former foster kid she's never known what it's like to live in the same home with the same family for very long at all. When she meets her temporary boss, Dr Flynn Reynolds on Phillip Island the attraction is instant, and so she figures a fling for the four weeks of her tenure is the answer.
Flynn is so busy raising his son on his own and working as a GP on the island he hasn't got time for anyone else in his life, but he can't deny Ally is stirring his blood. He takes her out for dinner and their affair starts that night on the beach.
But the more time they spend together the more both of them want, and not just sex. Ally knows she's leaving and that there's nothing Flynn can offer that will make her stay. She's damaged goods, no one wanted her as a child, foster parents kept sending her on to the next family and the next, even after promises of loving her.
Flynn knows any time he has spare from his work must be spent with Adam and to get involved with Ally is not fair on his son.
Adam adores Ally and wants her for his mum. His mother died two years back.
At the end of her month on the island Ally packs up and heads back to Melbourne to wait for her next assignment, but she's heartbroken. She's fallen in love with Flynn yet knows she can't trust herself to settle in one place forever and that's what Flynn and Adam need.
Flynn and Adam aren't going to be shoved aside though and turn up at her apartment to tell her they love her and want her to come home, that they'll be happy to let her go away for work as long as she always returns to them between jobs.
Ally can't deny them, she loves them so much, and is soon on the road back to Phillip Island with her first ever family.

Please share the opening lines of this book:
Alyssa Parker dropped her bags in the middle of the lounge and stared around what would be her next temporary living quarters. She could pretty much see it all from where she stood. Dusting and vacuuming weren't going to take up her spare time.
Please share a few Fun facts about this book…
Sheba is a huge dog and just loves charging into people on the beach, which how Ally first met Flynn and Adam, lying on her back in the wet sand and held down by a large paw.
Phillip Island has a large penguin population so naturally my characters have to pay them a visit.
Babies – Ally is a midwife after all.
The Italian restaurant they go to more than once. I love Italian food, even more now that I've visited Italy, and find I'm often adding something Italian to my books, and what better than the food.
Ally has two silver statues of Springer spaniels. These are her family, and she takes them everywhere. If she ever settles down in one place she'd love to have real live Springer spaniels, but to own dogs now would be cruel as she's always on the move.
If your book was optioned for a movie, what scene would you use for the audition of the main characters and why?
A ball came straight for Ally and she lined it up, kicked it back hard, aiming for the boys running after it. One of them swung a foot at it and missed, much to his mates' mirth at a girl kicking it better.

'Girls can do anything better.' She grinned and continued walking a few metres above the water's edge, feeling happier by the minute. How could she remain gloomy out here? The beach was beautiful, the air fresh, and she had a new job in the morning. What else could she possibly need?

The sun began dropping fast and Ally stopped to watch the amazing reds and yellows spreading, blending the sky and water into one molten colour block, like a young child's painting. Her throat ached with the beauty of it.

Thud. Something solid slammed into her. For a moment, as she teetered on her feet, she thought she'd keep her balance. But another shove and she toppled into an ungainly heap on the sand with the heavy weight on top of her. A moving, panting, licking heavy weight. A dog of no mean proportions with gross doggy breath sprawled across her.

'Hey, get off me.' She squirmed between paws and tried to push upright onto her backside.

One paw shoved her back down, and the dark, furry head blocked out all vision of the sunset. The rear end of the animal was wriggling back and forth as its tail whipped through the air.

'Sheba, come here.' A male voice came from somewhere above them. 'Get off now.'

Sheba—if that was the name of her assailant—gave Ally's chin a final lick and leapt sideways, avoiding an outstretched hand that must've been aiming for her collar.

'Phew.'

Her relief was premature. The dog lay down beside her as close as possible, and furthest away from the man trying to catch her. One paw banged down on her stomach, forcing all the air out of her lungs.

Somewhere behind her a young child started laughing. 'Sheba, you're funny.'

The sweet childish sound of pure enjoyment had Ally carefully pushing the paw aside and sitting up to look round for the source. A cute little boy was leaping up and down, giggling fit to bust.

'Sheba. Sit now.' The man wasn't nearly as thrilled about his dog's behaviour.

Ally stared up at the guy looming above her. 'It's all right. I'm fine, really.' She even smiled to prove her point.

'I'm very sorry Sheba bowled you over. She doesn't understand her own strength.' As he glanced across at the child his annoyance was quickly replaced by something soft she couldn't read. 'Adam, don't encourage her.'

'But it's funny, Dad.' The boy folded in half, still giggling.

Ally clambered to her feet, dusting sand off her jeans, and grinned. 'What is it about kids and giggling? They don't seem to know how to stop.' Just watching the boy made her happy—especially now that the dog had loped across to bunt him in the bottom, which only made the giggles louder. Laughter threatened to bubble up from deep inside her stomach.

The guy was shaking his head, looking bemused. 'Beats me how he keeps going so long.'

Ally winced. Slapping the sand off her left hip just made it sore. Sheba must've bruised her.

'Are you all right?' the man asked, worry darkening his expression. 'Look, I apologise again. I hope you haven't been hurt.'

'Look,' she used his word back at him. 'I'm fine. Seriously. Sheba was being playful and if I hadn't been staring at the sunset I'd have seen her coming.' She stuck her hand out. 'I'm Ally. That's Sheba, and your boy's called Adam. You are?'

'Flynn. We've been visiting friends all day and needed some fresh air before settling down for the night.' He looked at her properly, finally letting go the need to watch his boy and dog. 'What about you?'

'Much the same. The beach is hard to resist when the weather's so balmy.' He didn't need to know she'd only just arrived. Running her hands over the sleeves of her jacket, she smoothed off the remaining sand, trying to refrain from staring at him. But it was impossible to look away.

Despite the sadness in his eyes, or because of it, she was taking more notice of him than a casual meeting on the beach usually entailed. The stubble darkening his chin was downright sexy, while that tousled hair brought heat to her cold cheeks. If she played her cards right, could this be the man she had her next fling with?

She glanced downward, taking in his athletic build, his fitted jeans that defined most many of his muscles. The sun glinted off something on the guy's hand and she had her answer. A band of gold. Said it all, really.

'Can I call you Ally?' Adam bounced up in front of her.

Blink, blink. Refocus on the younger version now that the older one was out of bounds. 'Of course you can.' As if they were going to see each other again. Though they might, she realised, if Flynn brought his son to the beach often. She'd be walking along here most days that she wasn't caught up with delivering babies and talking to pregnant mums.

Hopefully, if they ran into each other again, Flynn would have his wife with him. A wife would certainly dampen the flare of attraction that had snagged her, and which should've evaporated the moment she'd seen that ring. Flings were the way to go, but never, ever with a man already involved with someone else. She didn't do hurting for the sake of it, or for any reason at all, come to think of it.

Guess she'd have to keep looking for someone to warm the other half of that bed. Whoa, Ally, you haven't been here more than an hour. What's the hurry?

The thing was, if she was playing bed games there wouldn't be long, empty nights that had her dreaming of the impossible. She could shove the overpowering sense of unworthiness aside as she and a man made each other happy for a short while, and then bury her face in the pillow while he left. Every parting, even as casual as her relationships were, was touched with a longing for the life she craved, had never known, and was too afraid to try for.
What do you want people to take away from reading this book?
Ally comes from a sad background of always having her needs and wishes denied. No one loved her enough to keep her with them forever. Yet despite, or because of, this she's made a success of her career where she helps mums-to-be at a very emotional time of their lives. She does find her own path and happiness.
I want people who are struggling with some issue in their lives to know that they can overcome the odds and be happy again.
What are you currently working on? What other releases do you have planned for 2015?
I'm busy writing two stories for different HM&B lines.
Another medical, of course. This is a reunion story where Olivia and Zachary once had a very hot and steamy affair and now they're trying to avoid getting hooked up again as the affair was going nowhere but the bedroom. can they move beyond the sex long enough to learn more about each other and fall in love?
The other story is for Harlequin Romance and I've gone to Italy for this one where small town Kiwi girl, Isabella, meets tycoon Nico.

Thanks for blogging at HJ!
Giveaway:

A duet book from the Midwives On-Call series containing: Midwife … to Mum by Sue MacKay + His Best Friend's Baby by Susan Carlisle
To enter Giveaway: Please complete the Rafflecopter form and Post a comment to this Q:

Do you believe in love at first sight? Why? / Why not?
Excerpt from Midwife…to Mum:
SOMEONE SHOULD'VE TOLD the pregnancy gods that Ally had a date and needed at the minimum an hour to get ready. Seems that memo had never gone out.

As she slammed through the front door of the flat at seven forty-five, Ally was cursing fit to turn the air blue. 'Babies, love their wee souls, need to learn right from the get-go to hold off interrupting the well-laid plans of their midwife.'

Baby Hill thought cranking up his mum's blood pressure and making her ankles swell was a fun thing to do a couple of weeks out from his arrival. Pre-eclampsia ran through Vicky Hill's family but she'd been distressed about having to go to hospital for an evaluation, and it had taken a while to calm her down. Jerome had finally talked to his patient and managed to get her on her way with her thankfully calm husband.

Ally suspected some of Vicky's worry was because she was dealing with a new midwife right on the day she needed Kat to be there for her. Ally had no problem with that. Being a midwife had a lot to do with good relationships and they weren't formed easily with her, due to the come-and-go nature of her locum job.

The shower hadn't even fully warmed up when Ally leapt under the water. Goose-bumps rose on her skin. Washing her hair was off the list. A hard brush to remove the kinks from the tie that kept it back all day would suffice. If there was time. She'd make time. After slipping on a black G-string, she snatched up a pair of black, body-hugging jeans to wriggle her way into. The lace push-up bra did wonders for her breasts and gave a great line to the red merino top she tugged over her head.

The doorbell rang as she picked up the mascara wand. Flick, flick. Then a faster-than-planned brush of her hair and she was as ready as she was ever going to be.

She mightn't have had all the time she'd wanted, but by the look on Flynn's face she hadn't done too badly. His Adam's apple bobbed as his gaze cruised the length of her, making her feel happy with the hurried result.

'Let's go,' he croaked.

We could stay here and not bother with dinner. Or we can do both.

She slammed the front door shut behind her and stepped down the path. 'I'm starving.' For food. For man. For fun.

Flynn knew he should look away. Now. But how? His head had locked into place so that he stared at this amazing woman seated opposite him in the small cubicle they'd been shown to by the waiter. He hadn't seen her with her hair down before. Shining light brown hair gleaming in the light from wall sconces beside their table and setting his body on fire. He desperately wanted to run his hands through those silky layers, and over it, and underneath at the back of her neck.

'Excuse me, Dr Reynolds. Would you like to order wine with your meal?'

Caught. Staring at his lady friend. Reluctantly looking up, he saw one of his young patients holding out the wine menu. 'Hello, Jordan. How's the rugby going? Got a game this weekend?' He glanced down the blurred list of wines.

'It's high-school reps this weekend. We're going up to Melbourne on Thursday.'

After checking with Ally about what she preferred, he ordered a bottle of Merlot, and told Jordan what meals they'd chosen. Then he leaned back and returned his attention to Ally, to find her watching him with a little smile curving that inviting mouth.

'How often do you get out like this?' she asked.

'Never. When I go out it's usually with people from work.' Comfortable but not exhilarating.

'Who's looking after Adam tonight? Not Marie?'

'No, she needs her baby sleep. Jerome's daughter came round, bringing her homework with her.' Better than having a boyfriend tag along, like the last girl he'd used when he'd had a meeting to attend. He'd sacked her because of that boyfriend distracting her so she hadn't heard Adam crying.

'So they know at work that you and I are out together?' Her eyes widened with caution.

'There's no point trying to be discreet on Phillip Island. Everyone knows everyone's business all too quickly, even if you try to hide it.'

The tip of her tongue licked the centre point of her top lip. In, out, in, out.

Flynn suppressed a groan and tried to ignore the flare of need unfurling low down. What was it about this woman compared to any of the other hundreds he'd crossed paths with over the last two years that had him wanting her so much? Admit it: for a good part of those years he'd been wound up in grief and guilt so, of course, he hadn't been the slightest bit interested. His libido hadn't been tweaked once. Yet in walks Ally Parker and, slam-bang, he could no longer think straight.

The owner of the café brought their wine over and with a flourish poured a glass for Ally. 'Signorina, welcome to the island. I am Giuseppe and this is my café. I am glad our favourite doctor has brought you here to enjoy our food.'

Ally raised her glass to Giuseppe. 'Thank you for your welcome. Is everyone on Phillip Island as kind as you and the medical-centre staff?'

'Si, everyone. You've come at the right time of year when there are very few tourists. Summer is much busier and no time for the small chat.'

Finally Giuseppe got around to filling Flynn's glass, and gave him a surreptitious wink as he set the bottle on the table. 'Enjoy your evening, Doctor.'

Cheeky old man. Flynn grinned despite himself. 'I intend to.'

Ally watched him walk away, a smile lighting her pretty face. 'I could get to like this.' Then the smile slipped. 'But only for a month. Then I'll have somewhere else nice and friendly to visit while I relieve yet another midwife.'

He wanted to ask what compelled her to only take short-term contracts but as he opened his mouth the thought of possibly spoiling what was potentially going to be a wonderful evening had him shutting up fast. Then their meals arrived and all questions evaporated in the hot scent of garlic and cream and tomatoes wafting between them.

Ally sighed as she gazed at her dish. 'Now, that looks like the perfect carbonara.' This time her tongue slid across first her bottom lip and then the top one. What else could she do with that tongue? Lifting her eyes, she studied his pizza. 'That looks delicious, too.'

'I know it will be.' The best pizzas he'd ever tasted had been made right here. 'One day I'll get to trying a pasta dish but I can't get past the pizzas.'

Sipping her wine, Ally smiled directly at him. 'Thank you for bringing me here.'

'It's the best idea I've had in a long time.' Had he really just said that? Yes, and why not? It was only the truth. Picking up a wedge of pizza, he held it out to her. 'Try that.'

Her teeth were white and perfect. She bit into the wedge and sat back to savour the flavours of tomato and basil that would be exploding in her mouth. As he watched her enjoyment he took a bite. Ally closed her eyes and smiled as she chewed. 'How do you do that?' he asked.

She swallowed and her eyelids lifted. 'Here, you must try this.' She twirled her fork in her pasta and leaned close to place it in his mouth.

The scent of hot food and Ally mingled, teasing him as he took her offering. The tastes of bacon and cream burst across his tongue. 'Divine.' Though he suspected cardboard would taste just as good right now.

They shared another wedge of pizza. Then Ally put her hands around her plate. 'Not sharing any more.'

Moments later she raised her glass to smile over the rim at him and let those sultry eyes study him.

Flynn sneaked his fork onto her plate and helped himself. 'You think you're keeping this to yourself?' Not that his stomach was in the mood for more food while she was looking at him like he was sexy. He felt alive and on top of his game, very different from his usual sad and exhausted state.

Her tongue ran around the edge of her glass, sending desire firing through his body heading straight for his manhood. Pow. 'You're flirting with me, Miss Ally.'

'Yes.' Her tongue lapped at her wine, sending his hormones into overdrive.

He placed the fork, still laden with carbonara, on his plate. 'Come here,' he growled. 'I've wanted to do this for two whole days.'

He placed his fingers on her cheeks to draw her closer. Pressing his mouth to her lips, all he was aware of was this amazing woman and the taste, the feel, the heat of her.

Finally, some time later—minutes or hours?—Flynn led Ally outside, only vaguely aware they'd eaten tiramisu for dessert, and hoped he'd had enough smarts to pay the bill before leaving. No worry, Giuseppe knew where to find him. In one hand he held the wine bottle, still half-full, while his other arm wrapped around Ally's waist as she leaned in close, her head on his shoulder, her arm around him with her hand in his pocket, stroking his hip, stroking, stroking.

Forget the car. He led her across the road and down to the beach. It was cold but he was hot. They didn't talk, and the moment they were out of sight of the few people out on the road Ally turned into him, pressing her body hard against his. Her hands linked at the back of his neck and she tugged his mouth down to hers.

The bottle dropped to the sand as he slid his hands under her top. Her skin was satin, hot satin. Splaying his fingers, he smoothed his hands back and forth, touching more of her, while his mouth tasted her, his tongue dancing around hers. He wanted her. Now.

'Ally?' he managed to groan out between kisses.

Between their crushed-together bodies she slipped a hand to his trousers, tugged his zip down. The breath caught in his throat as her fingers wrapped around him.

'Ally.' This time there was no question in his mind.

She rubbed him, up, down. Up, down.

Reaching for her jeans, he pushed and pulled until he had access to her, trying—and nearly failing—to remain focused on giving her pleasure. She was wet to his touch, moaning as his fingers touched her, and she came almost instantly, crying out as she rocked against his hand. Her hand squeezed him, eased, squeezed again, and his release came quickly.

Too quickly. 'Can we do that again?' he murmured against that soft hair.

Ally had wrapped herself against him, her arms under his jacket, her breaths sharp against his chest. Her head moved up and down. 'Definitely.'

'Come on, we'll go home.'

Her head lifted. 'You've got a babysitter. We could go to the flat.'

His lips traced a kiss across her forehead and down her cheek. 'Are you always so sensible?' He'd fried any brain matter he had. 'Good thinking.'

'What are we waiting for?' Ally spun around and took his hand to drag him back up the beach to his car.

The flat was less than five minutes away. Thank goodness. He didn't know how he'd manage to keep two hands on the steering-wheel for that long, let alone actually function well enough to drive.
Excerpt. © Reprinted by permission. All rights reserved.

Book Info:
A former foster kid, locum midwife, Ally Parker never puts down roots and that suits her just fine. Until she meets her boss, sexy single dad Dr Flynn Reynolds…and his adorable son Adam – who soon have Ally longing to stick around! Can Flynn persuade Ally that she's finally found her forever family?
Book Links:

Meet the Author: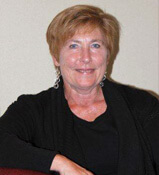 With a background of working in medical laboratories, and a love of the romance genre, it is no surprise Sue MacKay writes Mills and Boon medical romance stories. An avid reader all her life, she wrote her first story at age eight – about a prince, of course. She lives in the beautiful Marlborough Sounds, at the top of New Zealand's South Island, where she indulges her passions for the outdoors, the sea, cycling, walking and sitting on the deck with a glass of wine in one hand a good book in the other.  Website