Today it is my pleasure to Welcome author
Erika Kelly
to HJ!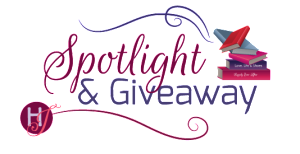 Hi Erika and welcome to HJ! We're so excited to chat with you about your new release, Mine for the Week!

Thank you so much for having me today!

Tell us about the book with this fun little challenge using the title of the book: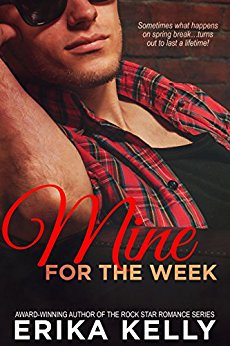 M: Missing a baseball tournament
F : For spring break with his friends
T: Then finding the love of his life
W: When he least expects it
What's your favorite line(s) from the book?:
"Right here, right now. I'm happy. That's why I came back. I just want this time with you." He tipped her chin, giving her a gentle kiss. "Will you be mine for the week?"
Please tell us a little about the characters in your book. What first attracts your Hero to the Heroine and vice versa?
Ryan's a disciplined athlete buoyed by a whole community of supporters. He doesn't want to let them down. But Sophie's fiercely independent, and he admires her strength and indomitable spirit. She guides him into making the right decision for his future.
Sophie's the youngest in her family, and by youngest I mean her parents had 4 kids, and then 8 years later they had Sophie. So it might seem like she's got a big family, but she's been painfully alone most of her life. Ryan's the first person she's ever met who gives her the kind of intimacy she's always craved.
When you sat down to start this book, what was the biggest challenge you faced? What were you most excited about?
I wanted to make an extremely disciplined man completely lose control in the hands of a sexy, vivacious woman. I wanted to rock his world, turning it upside down. Poor Ryan O'Donnell, he didn't know what hit him when he met Sophie Valentine.
That was by far the most fun part of writing this book, watching him lose control.
What, in your mind, makes this book stand out?
This series is about alpha men with zero interest in relationships that wind up falling so hard for their women they don't know what hit them. Of course all romances are sexy, but this series is wildly passionate.
The First Kiss…
Ryan and Sophie meet at a singles resort over spring break. Ryan's just ended a 6-year relationship and he's got a major career decision to make, so the last thing on his mind is getting involved with a woman who lives across the country. But he is powerless over his attraction to the vibrant, spirited Sophie Valentine.
Sophie's family makes Crazy Hearts–a heart-shaped cookie that's the Valentine's Day version of Peeps. When they share a cookie, she jokingly presses her lips to the dusting of confectioner's sugar on it. And then…
"You are so sexy." He leaned in, lips parted, and he stayed right there, so close she could smell the cookie on his breath. Was he asking for permission? She didn't know. All she knew was that one moment her breath was trapped in her throat and the next his tongue swept along her lips. Arousal streaked through her so hot and fast the soles of her feet burned.
"Delicious," he murmured, before tipping her chin. And then he kissed her. The moment their mouths met, he moaned, his arms wrapping even more tightly around her. "You light me up."
His mouth opened hungrily, his tongue sliding in and seeking hers. She couldn't resist. She wrapped her arms around his neck and kissed him right back.
Yes, oh, yes. Sensation spread from her center, a warm, thrilling rush that pulled her under. His hand went to the small of her back, pressing, and his kiss grew hungrier, more carnal.
"Damn." His other hand gripped her thigh, and he shifted her, spreading her legs so she straddled him. And once he had her right there, pressed up tight against him, his hips rocked up.
And, God, the heat of his body, the silky softness of his hair. The urgency of his kiss. She slid her hands under his T-shirt, caressing the smooth skin and hard muscles of his chest. His stomach contracted, his arms tightened around her back, and his kiss turned voracious. She moaned into his mouth because nothing had ever felt so good.
If your book was optioned for a movie, what scene would you use for the audition of the main characters and why?
Ryan's got so much pressure on him–the draft, his ex-girlfriend who won't let go, his coach, his agent–everyone wants a piece of him, and the only thing he really wants is to be with Sophie. At the end of his vacation, all the pressures bear down on him at once, and Sophie's the one who winds up hurt.
She could barely breathe, let alone form a clear thought. Her feet started moving, fear whirling, taking form, whipping into an anger so vicious it shook her whole body.
He looked up before she reached the table, his eyes going wide. He shot up, knees banging into the table. "Sophie."
But she didn't care about him in that moment. She wanted to know which woman he'd left her alone in bed for. And—no surprise—she was gorgeous, big eyes, plump lips. She looked like a…oh, God. A model.
This was Ryan's girlfriend.
She could scarcely breathe, let alone activate her vocal chords.
"Sophie, this is Emma. Emma, Sophie Valentine."
Eyes glassy, the woman gave her the softest, sweetest smile. "Hello."
"I don't understand." She had no words. She literally had so many thoughts jamming into her brain she couldn't read them fast enough to figure out which one to say first.
"She flew in yesterday." She heard exasperation in his tone—or was it desperation? Too much noise in her head for her to evaluate clearly.
This is his secret. "Yesterday?" How could that be? All those hours yesterday she hadn't heard from him. Oh, God, had Emma been part of that party…Wait. The woman who'd spilled the beer on his chest? Had that been Emma? It had all happened so quickly, the way he'd ushered Sophie into the bedroom. Her stomach balled so tightly she thought she might throw up. "Was she in your suite yesterday?"
If your hero had a sexy-times play list, what song(s) would have to be on it?
Sex Type Thing by Stone Temple Pilots
S.E.X. by Nickleback
Blame it on the Boom Boom by Black Stone Cherry
Addicted by Saving Abel
What do you want people to take away from reading this book?
So often we think we're not in the right place to fall in love. We're waiting for the right time–but in both books in this series, the message is: when you find love, grab hold of it. Dylan, the hero in Mine for Now, the first book in the series says it best:
"So what do I do?" Ryan asked. "I have to get back to school. I owe it to my coach and my teammates, but the way I left things with her…I told her I didn't want to keep seeing her. I didn't see how it could work—"
"Because it can't," his dad bellowed. "You live three thousand miles apart."
"I'll make it work. But she's not returning my calls. I don't know what to do."
"You go get her." Everyone's attention whipped to Dylan.
Big Bill looked at him like he was nuts. "Oh, no, you don't. You get back to school and focus on ball. Come on, Ryan, six years with Emma didn't teach you anything? Why the hell would you want to tie yourself to another woman?"
"Because nothing's going to be right until you do." Dylan held Ryan's gaze. "And then you figure out your shit together."
What are you currently working on? What other releases do you have planned for 2017?
Mine for the Week is my last release for 2017, but I'm so excited about my next series coming in 2018. It's The Bad Boyfriend Series, and it's about 4 brawny, super-hot mountain men brothers. The first book is called The World's Worst Boyfriend, and you can check it out on Goodreads to learn more about it!

Thanks for blogging at HJ!
Giveaway:

I'm giving away a digital copy of MINE FOR THE WEEK!
To enter Giveaway: Please complete the Rafflecopter form and Post a comment to this Q:

Ryan and Sophie are at major crossroads in their lives. It takes meeting each other for them to make decisions neither would have made on his/her own. What was a really tough decision you had to make?
Excerpt from Mine for the Week:
"Move over."
"Excuse me?" Sophie said.
Tearing off his sunglasses, Ryan stuck his face into the Jeep, forcing her to lean back. "Move over. I'm getting in."
Struck by all that masculinity, the scent of sun-warmed cotton, soap from his shower, and whatever shampoo he'd used, it took her a moment to answer. He was a formidable presence, and the energy rolling off him overwhelmed her. "You can teach me from the passenger seat."
"I'm not going to teach you. I'm driving you."
"You can't drive me to the other side of the island."
"Wanna bet?"
"Why?"
"Because you're going to get twenty minutes down the road, stall out, and then what? You'll be stuck on the road in the middle of nowhere by yourself."
"Why are you staring at my mouth?" she asked.
His jaw clamped shut. "Because I freaking love your mouth. I can't stop kissing it, remember?"
Heat rushed up her neck, burning her cheeks. "Yes, I remember. That was very rude of you to bring it up."
His arms reached over his head, hands clutching the roll-over bar of the Jeep. "Move over, Soph."
"This isn't a good idea."
"It's happening."
"I'm not coming back until tomorrow."
His nostrils flared, but he remained silent.
"And you don't want to see the volcano."
"Not really."
"I'm not missing the waterfall with magical properties." She gave him a meaningful look.
"No." His lips twitched. "I wouldn't expect you to."
When she didn't budge, he finally looked her right in the eyes and gave her the most searing look she'd ever seen. The heat, the intensity, ignited a flurry of explosions in her chest. Holding her gaze, he said, "I think you know I'm going with you."
She may have been a lot of things, but she wasn't a game player. And she loved the idea that he wanted to be with her. "Okay, but just to put it out there, I don't need you to drive me. If I really can't drive this car, I'll find someone to drive me. The car services might be busy because of the festival, but I'm willing to pay whatever they ask. I don't need to be rescued."
"No, but I do." He sighed. "Are you going to move over or do I have to pick you up and toss you into the passenger seat?"
Why did that idea send a thrill shooting down her spine?
He looked at her. And his restrained expression drew a smile to her lips. "One…two…"
"As hot as it sounds to be manhandled, I'd probably just wind up with a gearshift in my butt, so I'm going to pass. Plus, I just can't see myself coming out looking all that attractive sprawled over the seat." She opened the door, jumped out of the Jeep, and then stood before him. "You know this probably isn't a good idea, right?"
The intensity of his gaze thrilled her. "Buckle up."
Excerpts. © Reprinted by permission. All rights reserved.
Book Info:
From the award-winning author of MINE FOR NOW comes the next sizzling story in her Wild Love series, about a chance meeting that changes the course of two people's lives.
As the top collegiate shortstop in the country, Ryan O'Donnell's life is about discipline. But a growing restlessness causes him to bail on his baseball team over spring break to join his buddies at a singles resort. He just needs one week to escape his life, and then he'll get back on track. But moments after arriving he meets HER, and the world as he knows it changes irrevocably. It should only be a hookup—that's what spring break's all about—but one taste of this sexy, vibrant woman isn't enough. He has to have her. Even if it's only for a week.
Sophie Valentine—yes, that Valentine—just found out her siblings want to sell off Crazy Hearts—the Peeps of the Valentine's Day world. Upset, she takes off with her friends on their spring break vacation. She only wanted an escape—she never imagined meeting HIM. But he's about to start a Major League Baseball career, and she's launching a fight for her family legacy. They have no future. It's just…she's never felt this way for anyone before.
Are they really going to walk away from this kind of connection…this passion?
Book Links:

Meet the Author: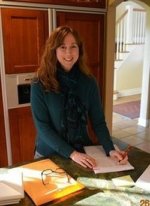 Award-winning author Erika Kelly has been spinning romantic tales all her life—she just didn't know it. Raised on the classics, she didn't discover romantic fiction until later in life. From that moment on, she's been devouring the genre and has found her true voice as an author. Over three decades she's written poems, screenplays, plays, short stories, and all kinds of women's fiction novels. Married to the love of her life and raising four children, she's lived in two countries and seven states, but now makes her home in the northeast.
Website | Facebook | Twitter |