Please join me in welcoming back Harlequin Romance author

Shirley Jump

to HJ!
Shirley welcome, for all of my readers who may not be familiar with your work, could you tell us a bit about yourself and your books?
First, thanks for having me back! I love your blog and visiting here! MISTLETOE KISSES WITH THE BILLIONAIRE is
my 44th book (I think…I lose track sometimes!). There are times when I'm still stunned I've written that many! I write romances for Harlequin and single titles for Berkley, and have my own ebook series called the Sweet and Savory Romances series that has a new Christmas novella out this month (THE BEAUTY CHARMED SANTA). The Sweet and Savory Romances are longer romances, with recipes written by the characters. A little more fun and quirky than my Harlequins, which tend to be more emotional.
Do you usually begin a book with a character or a plot?
I always begin with a what-if situation. What if a woman determined to run away from her past suddenly gets an invitation to return? An invitation she can't refuse?
What's your favorite Romance Novel?
My absolute favorite, and one of the few I've read more than once, is Morning Glory by LaVyrle Spencer. I really love stories about redemption and second chances.
Your idea of a perfect date?
A nice dinner out, then back to the house for some wine by the fireplace and a nice, quiet romantic conversation—without interruptions from kids!
 Let's talk about your new release 'Mistletoe Kisses with the Billionaire'
What sparked the idea for the book 'Mistletoe Kisses with the Billionaire'?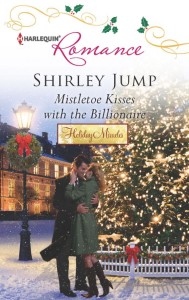 Donna Alward and Fiona Harper and I were at lunch one day, talking about how we were three friends from three different countries, and wouldn't it be cool to do a book series that was based on that. We proposed the idea of a holiday trilogy to Harlequin, and we each picked a sister. I chose the jet-setting wild child, Grace, who has done everything she can to avoid Beckett's Run, but when her beloved grandmother asks her to come home for the holidays, she can't refuse.
If you had to sum up 'Mistletoe Kisses with the Billionaire'? what would you say?
It's a story about finding your true home, and realizing that sometimes a second chance is all anyone needs to find true love and happiness.
 If you had to pick your favorite scene in 'Mistletoe Kisses with the Billionaire'?
It's the sledding scene with Grace, J.C. and his nephew, Henry. I have so many wonderful memories of going sledding with my family when I was a little girl, then taking my kids to find the best and fastest hill when the snow fell.
Who would play Grace McKinnon and J. C. Carson in the movie version of your book? And why?
Hmmm…I never picture movie stars when I'm writing, so that's always hard for me to do! Um, maybe Reese Witherspoon and Josh Lucas. I loved the chemistry between them in "Sweet Home Alabama" and my book has a similar feel, I think.
 What else are you working on? What can we expect from you in the future? 
I'm doing another Christmas continuity, out next year. In the meantime, I have the Christmas novella, THE BEAUTY CHARMED SANTA (out now, as is a holiday bundle of four of my Sweet and Savory Romances) and then a Mother's Day Romance, THE MATCHMAKER'S HAPPY ENDING.
Giveaway: Shirley will be giving away a
three-pack of Shirley's Christmas Romances (MARRY-ME CHRISTMAS, FAMILY CHRISTMAS IN RIVERBEND and MISTLETOE KISSES WITH THE BILLIONAIRE).

to one lucky Winner
To enter giveaway: Complete the Rafflecopter form below and post a comment to this Q:
What's your favorite holiday memory? Did you go sledding as a kid, or make gingerbread men every year? What, to you, says holiday, every year?
An excerpt from 'Mistletoe Kisses with the Billionaire'
Henry tugged on J.C.'s sleeve. "Are we gonna go, Uncle Jace?"

J.C. had invited Grace along so that she would do this, and then he could get back to work. Maybe make a few phone calls while Grace and Henry rode the slopes. He hadn't expected to be part of it himself. As much as he wanted to, he had the details of the merger breathing down his neck, with lawyers, accountants and other suits all waiting on his responses. Carson Investments needed some attention, too, even as the snowy hill and Henry's big blue eyes beckoned. "Sorry, buddy, no can do. Grace here is going to take you down the hill."

Henry pouted. "I want you to go, too."

"That's two votes for J.C. to go," Grace said, then waved at the sled. "You're not chickening out, are  you?"

The challenge in her voice awakened something inside him. Something he hadn't listened to in a long, long time. Something that reminded him of who he used to be…before.

Before the emails and board meetings, the to do lists and the power suits. He could take one ride, and just for a minute, forget all those things. The part of him Grace called the rocker, the part that had pretended for a little while on those hot summer days that his father wasn't waiting lists and chores and extra homework for J.C. to do. For those moments, J.C. could just…be.

The snow began to fall around him, light flakes kissing against his coat, his face. Just…be, it seemed to whisper. Just…be.

"Okay, let's do this." J.C. grinned, then brought the toboggan to the top of the hill, cemented himself on the front, then turned to Henry. "Climb on, buddy."

Henry clambered onto the sled and put his arms around his uncle's waist, sure, trusting. J.C. looked back at Grace. "And now you, milady."

She laughed, and when her gaze met his, he knew she was thinking of another winter, another sledding trip. She'd been sixteen, visiting over Christmas break. Their first kiss, shared on this very hill, after they'd skidded off the path and into a snow bank, ending up in a tangle of arms and legs. He'd looked at her and for the first time, really seen her, as a woman, not as a girl or a friend.

And from that moment on, things had never been the same.

"Are you sure I can trust your steering? Last time we did this, I ended up buried under the snow and," she lowered her voice, "you."

"I remember." Every single second.

"Me too." She smiled, a soft, secret smile that seemed meant only for him.

Henry looked from one to the other. "Are we gonna go?"

J.C. chuckled and ruffled the boy's hair. "Yep. Right now." Then he looked at Grace. "Are you ready?"

"As ready as I'll ever be."
"Trust me, Grace," he said, and wondered if he was still talking about downhill rides. She climbed on behind Henry, propping her legs onto J.C.'s, forming a human sandwich of protection for the little boy. J.C. looked down at those zebra boots, draped over his thighs, making his thoughts veer for a moment from blankets of snow to blankets on a bed, then J.C. drew himself back to the present, took the controls of the sled, shouted back a quick, "let's go," then pushed off.