Today it is my pleasure to Welcome romance author
Jennifer McQuiston
to HJ!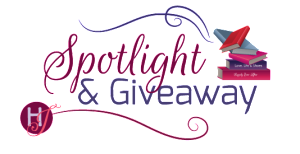 Hi Jennifer, welcome 🙂
If someone wrote a biography about you, what do you think the title of the book should be? Why?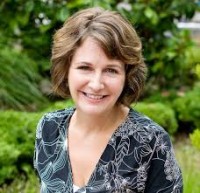 Blame it on Bourbon.
For a start, I've had one under my belt as I answer these questions tonight! For another, it seems like my life ought to be blamed on SOMETHING fun and naughty.
Would you rather…be invisible or be able to read minds? Why?
I would much rather be able to read minds… I find deep Point of View the most interesting part of both writing and reading romance, and this is the real-life equivalent of it! Being invisible and seeing things without that perspective seems like it would get me into a lot of trouble, quite honestly.
Let's talk about your newest release: Moonlight on My Mind
If you had to summarize the book for the readers here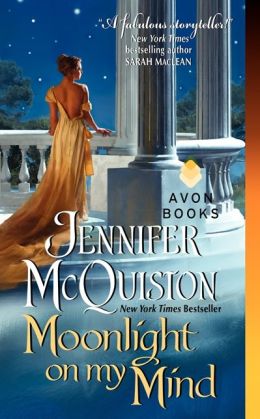 Moonlight on My Mind is a historical romance set in the early Victorian era best summarized as a "Marriage of Inconvenience."
Eleven months ago, Julianne Baxter's statement to the authorities wrongly implicated Patrick Channing in his older brother's death. He's been nursing his grief and hiding from a pending murder charge in the little Scottish town of Moraig ever since. But when Julianne shows up–without a chaperone–bearing news of his father's passing, things go from bad to worse. Not only has he been thrust into the unwelcome role of being the new Earl of Haversham, but Julianne insists he must return and fight the charges, or his family will risk losing everything.
Patrick isn't sure whether to kiss her or strangle her, but one thing's certain: Julianne's already ruined his life once…now turnabout's fair play. Patrick convinces Julianne that the only way to save her now-shredded reputation is a hasty marriage, knowing that once she is his wife, she can't be forced to testify against him. But Julianne is hiding a few secrets of her own. Can this embattled pair find a happily ever after?
Or will their pride destroy them both?
Please tell us about the characters in your book?
Patrick Channing is a character readers were first introduced to in my first book, What Happens in Scotland. Readers were intruded to Miss Julianne Baxter as a secondary character in my second book, Summer is for Lovers.
Patrick serves as the local veterinarian in the little Scottish town of Moraig, where he keeps a low profile and quietly nurses the grief he feels over his brother's recent death. Patrick is a steady, studious, dependable sort of person… unless he's dealing with the feisty Julianne Baxter, a pretty Society darling who makes his blood boil in all the wrong ways. Patrick and Julianne are polar opposites in all the ways that spell disaster for most newly married couples, and their history is only part of the friction between this pair. But if they can keep from killing each other… perhaps a marriage made in haste could bring about the most extraordinary pleasure.
As you wrote your protagonist was there anything about them that surprised you?
Julianne Baxter first appeared in Summer is for Lovers as a spoiled, Society girl who took pleasure in torturing the book's heroine. Some readers may start off with an image of her being imminently unlikable. However, I love the challenge of taking someone people are rooting against and giving them the capacity to be heroic in their own right. In writing Julianne and uncovering the characteristics of her personality that were admirable, I discovered that loyalty–for her family, and for her new husband–is a primary driving force behind her decisions and actions. Even things she has done wrong in the past were based on a sense of loyalty, even if they were mistakenly misguided at the time. I think realizing how loyal she was came as a surprise to me, even as I was writing her.
What scene did you most enjoy writing? Why?
Julianne and Patrick first meet at a Yorkshire house party. She is flirting with him to gain the attention of Patrick's brother. He's got other things in mind. The first taste of banter between them was deliciously fun to write. This history becomes all the more tragic though, once Julianne accuses him of murder.
"I can hold my own in most athletic endeavors." His lips held the promise of a wicked slant should they ever be fully unleashed, but he seemed to keep his expressions on a tight tether. "But I do find my aim improved by a solid night's sleep."

"I thought we were going to leave off with the discussion of rifles and the like."

"Whoever said I was speaking of rifles?"

Julianne knew a moment's gasping surprise. Was Mr. Channing flirting with her? He'd shown little propensity for banter this morning over breakfast, when his tongue had seemed as nondescript as his light brown hair. Only his height had been impressive. She'd been prepared for stilted dialogue and crushed toes in the name of advancing her cause. But this was proving more interesting than she had hoped. His words held a different essence than the topics offered by her usual dance partners. A drier wit, a sharper edge.

Perhaps not so dim after all.

She risked a glance at the couples spinning around them. Channing was nothing like the other men in attendance at this house party. The tedium of the house party sat like a threatened itch beneath her skin, and Channing's words rubbed her in just the right way. He had been up to more interesting things today than archery and a picnic by the lake, of that she had no doubt.

What could he show her, if she gave him half a chance?

As the music began to build toward its conclusion, she sought a way to bring this conversation back around to its rightful direction. "During this evening's dinner where you failed to make an appearance, the other gentlemen professed their intent to join the hunt as well. They do not seem inclined to retire early. Your brother, for one, has placed his name on several young ladies' dance cards."

"But not yet yours, I'd wager. Isn't that why you are dancing with me, Miss Baxter?"

Julianne's feet almost tangled with her knees at Channing's dreadfully correct observation. She pressed her lips together, determined to avoid anything close to a confession, but he was apparently not through.

"There is no need to pretend otherwise. And truly, this is well played. There is no doubt his interest will be snared. Eric enjoys the chase. That you are dancing with me will be a temptation too great for him to ignore."

The music died out on a long, drawn-out C note, and Julianne stumbled to a stunned halt. Good heavens. She had plotted to dance with Channing to pique the interest of his older brother, whom she'd watched for the better part of the past Season. Any woman with an ounce of sense would set her sights on the heir to an earldom, not the requisite but useless spare. But now—to her horror—she realized those thoughts were turning around to fall squarely on the surprise that was proving to be Mr. Channing.

"Truly?" she asked, her heart thumping guiltily. She stared at her partner, scarcely able to believe the man's self-control. "You do not mind?"

He offered her his arm. "Not in the slightest."

A flare of irritation unfurled in her chest, even as she permitted Channing to pull her toward the open doors of the ballroom. Given that she was inarguably the prettiest girl in the room, he really ought to be pleased she had been willing to spend a few strategic minutes in his arms. "Why ever not?" she demanded.

The muscles in his arm tightened beneath her fingers as they stepped into the cooler quiet of the hallway. "Because I enjoy the occasional chase as well."

"Are you chasing me, Mr. Channing?" She tossed a quick look over her shoulder. "And more importantly, is your brother watching you?" She could see little beyond the smear of colorful gowns as the next set started. "I can't see anything in this crush."

He leaned in close. Too close. She could smell the earthy fragrance of horse and sweet hay on his clothing, underlain by the sharper bite of something that smelled medicinal. His breath, where it tickled the edge of her ear, sent her stomach into a swirling state of confusion. "Eric is just there, near the edge of the line. Can you see? He's watching us now. Quite intently."

Julianne's skin thrummed with a curious anticipation. "Then why have we left the dance?" she whispered.

He stepped closer, until his trousers brushed her skirts and she could smell the heated linen of his shirt. "Because I imagine my brother's interest will be captured more fully now that he suspects I am going to kiss you."

Julianne's throat tightened around the thought. The relative indecency of the waltz fell away, forgotten in the face of this tempting new impropriety. She lifted her chin. "Are you going to kiss me, Mr. Channing?"

"Oh, of a certainty."
What scene was the hardest to write? Why?
The first intimate scene between them where there are no lies, no barriers, and no coercion was dreadfully hard for me to write. I'd created a good deal of animosity between these characters, and this was the first scene where they are at rest, comfortable with each other. It is a pivotal scene, an early turning point in their relationship, and I agonized over getting it right.
He extracted his hand from hers. "I hate reliving this. I know the facts are rather damning. I cannot see how you believe me, all things told. You must know I would gladly trade my life for my brother's."

Her palm crept up to press against his chest, and he was quite sure she could feel the rude thump of his heart. Her voice floated toward his ear. "You were in shock, that day in the study. You felt guilty. I suppose, all things considered, it is not surprising you would have acted guilty. But that does not mean you deserve to be charged with murder, Patrick. I believe you when you say it was an accident."

He leaned back into the bench, welcoming the chill seeping through the layers of wool and cotton, even as he welcomed her trust. They floated a quiet minute. Or perhaps it was ten minutes. He lost track of time, focused only her gentle breaths, in and out, and her quiet, unexpected strength. But soon enough, she was moving, and this, finally, was the Julianne he knew, the woman who could not be still. She lifted his hand to her chest and held it there, her heartbeat a dim flutter beneath his palm.

And then she lowered it to her breast.

His world all but shuddered to a stop. He'd just confessed the most terrible piece of his life. He was still racked with emotion, sliced open. He hadn't expected this when she'd followed him here tonight. Hadn't asked for it.

She was offering it anyway.

Her eyes met his, unwavering in the moonlight. She wanted this, and that was a revelation. Always, always he had initiated the contact with Julianne. Always he'd had to convince her of the path, with seduction both his tool and his destination.

But tonight, he was helpless to deny her.

He raised his hand and cupped her cheek, trailing a gentle finger down one side of her jaw, but refusing to grant his fingers access to the buttons they longed for. It was late October, and cold for that. They were out of doors, in a folly designed for beauty over function, open to the night air and the elements. Anyone might see them.

Seemingly unbound by the same caution, she leaned in to kiss him, and oh God, the taste of her seemed to have sharpened into something lethal during the last few days of frustrated celibacy. She was cinnamon and heat, exotic yet familiar, the very definition of something so decadent he should not have it more than once. But he could tell his future with this woman was not going to be simple.

And once was not going to be enough.
Who would you cast in the role of your characters if your book was optioned for a movie?
So, Patrick Channing is actually physically modeled after country music crooner Kip Moore (who has been likened to a contemporary country Bruce Springsteen), but I am not sure of his acting abilities! So, how about I just settle on Eric Bana and we'll agree that he is perfect (because of course, he is!) For Julianne, I am thinking Rachel McAdams… with red hair.
Oh darn. Now I have just recast the main characters from the Time Traveler's wife.
If you could have given your characters one piece of advice before the opening pages of the book, what would it be and why?
Probably, it would be to tell Julianne that there are things far more important in life than worrying about what other people thing of you. If she'd had this piece of motherly advice, she would have never gotten herself into trouble in the first place.
What are you currently working on? What other releases so you have planned for 2014?
Moonlight on My Mind is the last book in my debut 3-book series, but I've been fortunate enough to sign with Avon for 3 more books, so I am starting a brand new series. The first book will be out in early 2015, and is called Diary of an Accidental Wallflower. Think: Mean Girls meets Emily Bronte. Basically, the reigning "it" girl of London sprains her ankle on the evening of the most important ball of her life, and gets a crash course in why wallflowers have more fun.
Thanks for blogging at HJ!
Giveaway:

I will be giving away a complete 3-book set of my debut series, featuring What Happens in Scotland, Summer is for Lovers, and Moonlight on My Mind.

Open to the U.S. and Canada.
To enter Giveaway: Please complete the Rafflecopter form and Post a comment to this Q:

Moonlight on My Mind features a lovely, moonlit scene in an outdoor folly. What is your favorite memory by moonlight?
Excerpt
Chapter 1: Scotland, October 1842

Though it was a thought she should have entertained far earlier, Julianne Baxter wondered if she ought to become a brunette before she sought out a man wanted for murder. A good instinct to have before she arrived in Scotland, but there was no helping it now.

It had been a hellish trip, first by train, then by four-horse coach with stops in Perth and Inverness. Now she was rattling into the little town of Moraig via a poorly sprung two-horse mail coach that was far better suited for hauling parcels than passengers. As the scenery outside her coach window shifted from pine forests to a smear of shop-lined streets, her mind twisted in this new—if belated—direction. Three long days spent sitting in trains and coaches, buttoned to the neck and hiding behind the brim of her bonnet, was enough to make even the kindest of souls cross. Julianne was admittedly not the kindest of souls.

Nor, regrettably, the cleanest.

The pretty green silk of her gown was now closer to a dull gray from the day's accumulated dirt, much of it from the interior of this squalid little coach. She yearned for a bath full of steaming water, and a feather bed on which to collapse in a well-earned stupor. But while Julianne was indeed bordering on a stupor from lack of proper sleep, she doubted a bath was something she would see this side of the next sunrise. She had things to accomplish in this nowhere Scottish town before her toes touched a bath or her head hit a pillow.

But at the moment, the thought of even five more seconds spent in the chokehold of her bonnet was too much.

Julianne eyed the coach's only other occupant, a portly man who had thankfully spent most of the eight-hour trip from Inverness sleeping. When he gave a reassuring snore, she plucked at the ribbons holding her bonnet in place and pulled it from her head, intending to let her scalp breathe. She enjoyed two heavenly minutes of freedom before the man sitting across from her sputtered awake.

He blinked a slow moment, his eyes settling on her hair with predictable tedium. And then he grinned, revealing teeth stained yellow by age and things best left unconsidered.

"Well, there's a pretty sight," he leered with a sleep-filled voice, filling the narrow space inside the coach with breath that suggested one or more of those teeth might be in need of professional care. "I dinna often see hair that bright, bonny color. I see you are traveling alone, lass. I'd be happy to show you around Moraig, personal-like."

Julianne withheld the curt reply hammering against her lips. She was on a clandestine mission, after all, though she had little more than snatched bits of rumor to guide her. She was risking a great deal by coming here and following this lead without first contacting the authorities, but the shocking circumstances of the last week—from Lord Haversham's death and funeral to his family's desperate circumstances, the latter of which she feared could be laid firmly at her own feet—had forced her hand. Still, she did not relish the thought of discovery. No sense giving this stranger a voice by which to recognize her, on top of the copper-colored curls from which he seemed unable to detach his eyes.

When the passenger continued to ogle her, she determinedly settled the hated bit of straw and silk back on her head, this time leaving the ribbons untied. Deprived of his entertainment, the man finally looked away and turned his attention to a newspaper he pulled from a coat pocket. But the implications of his bald interest were not so easily defused. She hadn't given her hair much thought upon setting off on this journey, although, to be fair, she hadn't given any part of this journey a proper degree of forethought. Her father had ordered her home immediately after the earl's funeral, but instead of going on to London as she was meant to do, she'd dismissed her maid—a flighty girl on loan from Summersby's staff—and boarded the opposite train. And here she was. Alone and filthy, trying to avoid detection. She couldn't jolly well depend on a bonnet to keep her safe from recognition for the length of this trip.

But she didn't have to have red hair.

Indeed, for the purposes of this mission, it might be better if she didn't. That the man she sought—truly, the man half of England sought—was rumored to have disappeared into the farthest reaches of Scotland suggested he didn't want to be found. If he was warily watching over his shoulder, determined to avoid the gallows, the sight of her familiar red hair would give him a running head start toward escape.

Which meant her first stop in Moraig really ought to be a chemist's shop.

As the idea firmed up in her mind, Julianne cleared her throat. Her traveling companion looked up from his rumpled newspaper. "Excuse me," she said, remembering almost too late she was trying to avoid recognition. She readjusted her voice to a lower pitch and leaned in conspiratorially. "Perhaps I could use your help after all—"

A piercing blast from the outside horn cut her words short.

A sickening thud soon followed.

The coach lurched sideways, tilting Julianne along with it. Her head knocked against the latch to the door, making her teeth ache with the force of the blow. The vehicle hung in awkward indecision a long, slow moment, and then swung back to center before rolling several more feet to a stop. For a moment there was only the sound of her panicked breathing, but then a quick rap at the window sent both occupants jumping.

"Is anyone injured?" The voice of the coachman pushed through the thin glass.

"All is well." The portly gentleman settled his bulk more squarely on the seat and calmly folded his newspaper, as if this sort of thing happened all the time. "Struck another one, have we, Mr. Jeffers?"

Julianne rubbed her throbbing head, realizing with dismay that her untied bonnet was now lying in a heap on the filthy coach floor. Her eyes reached for it, but her fingers refused to follow. She could not imagine placing it back on her head. It bothered her to even set her boots upon those sticky floorboards.

The coachman opened the door and peered in, his eyes owlish in concern. "Are you injured, lass?"

Julianne's head ached liked the very devil and her stomach felt tossed by gale force winds, but she could feel no pain in her limbs suggesting an injury of grave magnitude. Still, she hesitated. The dust-covered coachman leaned farther in and his eyes lodged somewhere amid the strands of her hair, which, judging by the curls that swung wildly across her field of vision, had lost several hairpins in addition to the bonnet. Predictably, the driver's lips tipped up in empty fascination.

Suddenly, she was not all right. The strain of the three-day journey, her fear of being recognized, and the past few pulse-churning seconds coalesced into a spiraling panic.

No one knew where she was. If she had died here today, her head dashed against the Scottish dirt, her body crushed beneath the wheels of this fetid little coach, her father would have … well … her father would have killed her.

The contents of her stomach—a dubious shepherd's pie from the posting house in Ullapool—clawed for a foothold up her throat. She shoved past the driver, not even caring that she was abandoning all decorum along with her bonnet. She tumbled out into late afternoon sunshine, dodging the boxes that had come loose from the top of the coach. For a moment she swayed, breathing in the fresher air, willing her roiling stomach to settle. All around her, the town moved in an indistinct smear of browns and blues and greens, storefronts and awnings and people swirling in the maelstrom of the moment.

She almost missed it. In the end, it was the lack of movement that pulled her attention back for a second look. A small, still form lay in the street, perhaps thirty feet away. Behind her, strangers were already helping to heft the scattered boxes and trunks back onto the coach. She caught snatches of conversation on street corners, and the sound of clattering dishes and laughter trickling out of the open door of a nearby public house. No one seemed to care the afternoon coach had just mowed down one of their citizens, or that the body lay broken and unclaimed in the street.

The coachman picked that unfortunate moment to approach her. "I'll ask you to step back inside, lass. We're running late."

Julianne glared at the man. Surely he didn't expect her to just climb back on board, leaving the body in the street? "We have had an accident, sir."

The coachman nodded. "Aye. Happens all the time. Poor little thing darted right out under the wheels. Back in you go, now. The posting house is but a few blocks away."

Julianne took two deep breaths, praying for patience and calm—both of which she suspected would require divine intervention. "I am not getting back on that coach," she ground out, "until someone calls for help."

The driver lowered his voice to a more soothing tone, the sort she often heard used on frightened horses and recalcitrant toddlers. "'Tis a sad sight, I know, especially for a lady like yourself. But it's common enough 'round Moraig. Why don't you take yourself back inside the coach so you dinna see it? We'll only be a moment to get the last of these boxes back up."

Her thoughts flew around the driver's words. It. So uncaring as to not even assign the poor victim a gender. This could not be happening. Good heavens … it was her coach. Her hurry. Her fault. Hadn't she asked the driver to cut short their time at the last posting house, going so far as to press a sovereign into the man's palm? She had come to Moraig find a murderer, not to turn into one herself. She gestured fiercely toward the form lying so still on the street. "A body's been struck down beneath your wheels," she hissed, "and you are worried only about the state of the luggage?"

The coachman paled. "I … I can't do anything for it myself, miss."

A new voice rubbed close to Julianne's ear. "Might as well take the coach on to the posting house, Mr. Jeffers. I know your pay is docked for every quarter hour's delay."

Julianne's hand flew up to stifle her gasp of surprise, and she whirled around so fast the earth quite tilted beneath her. She couldn't breathe, could only stare up, and then up some more. An awful sureness settled over her, a sense that someone, somewhere, was having a hearty laugh at her expense. In fact, they probably had a stitch in their side.

Because Julianne had found Patrick Channing—the accused killer she had traveled three days to find—within minutes, not hours. And it was a little too late to find a chemist's shop.

"Very good, sir." The coachman's voice echoed his relief to have the situation turned so squarely over to someone else. "I've a letter for you as well. Would you like to take it now?"

There was a beat of hesitation before Channing shook his head. "No, I'll retrieve it later. After I see to the dog."

Dog? The word bounced about in Julianne's skull for three long seconds before settling into something coherent. She eyed the still form lying in the street again. The body was not human then. Embarrassment washed over her for such a mistake. Behind her she could hear the crack of the driver's reins and the creak of the wheels, but she scarcely registered the fact that her bonnet and bag were rolling away with the coach.

Instead, she suffered an almost painful awareness of the man towering over her.

He didn't much resemble the man she had once waltzed with at a Yorkshire house party. He looked common, she supposed. And thin. She could see the angular edge of his jaw, the wisp of stubble marring the surface of his gaunt cheeks. He was as tall as ever—some things, a body couldn't hide. But his coat hung loosely from his frame, and his sandy hair, once so neatly trimmed as to nearly be flush against his scalp, brushed the lower edge of his neck.

Did they lack barbers in Moraig?

Or was this part of his disguise, a diabolically clever way of hiding in plain sight?

Channing was studying her too, but the inspection felt clinical, imparting none of the wolfish appreciation offered by either her earlier traveling companion or the driver. And when he spoke, it was with a flat, disinterested baritone that made Julianne blink in surprise.

"Are you injured in some manner I cannot see beyond the state of your hair, miss?"

Julianne's hand flew to tuck an unruly curl behind one ear, as surprised by his lack of acknowledgment as the mention that her hair might be in need of intervention. "I … no … I mean, I struck my head. On the coach door."

He peered at her as if she was a specimen for dissection, rather than the woman who had once accused him of murder. "There is no visible blood. Your pupils are dilated, but no more so than might be expected after suffering a fright."

Julianne fought a building impatience. How could he be so … impersonal? Day or night, this man had occupied a central place in her thoughts for eleven long months. He had kissed her senseless and she'd never forgotten, though she'd spent the better part of the last year trying—and failing—to replicate the experience. She wanted to scream at him. Shake him to awareness. Make him look at her as more than just a patient.

Instead, she asked, "Do you not remember me at all?"

His eyes continued their impersonal march across her various and sundry parts before settling back on her face. "Of course," he said, his voice not changing inflection in the slightest. "You always did have a flair for a dramatic entrance, Miss Baxter."

Julianne's heart skidded sideways in her chest. However impassive the acknowledgment, he knew who she was. And yet, he hadn't bolted.

She wasn't quite sure what to make of it.

Without another word of explanation, Channing turned and made his way toward the injured animal. Julianne watched as he shrugged—quite un-diabolically—out of his coat, one blurry shoulder after the other. "He's unconscious but breathing," Channing called out. "But he's lost a good deal of blood. The leg will probably need to come off."

He returned to proper focus with a black and white animal wrapped in his coat and cradled in his arms. "I'll need to take him to my clinic and see what can be done in surgery. You might as well come along with me, Miss Baxter. That is, if you trust me."

It was the closest he had come to acknowledging the odd history that bound them together. "I …" She hesitated, feeling the stares of a few curious Moraig residents on her, even though she couldn't precisely see them. All she could see at this moment was this man towering over her, his arms full of beast and coat, a smear of blood wrapped around one wrist.

A memory snagged on the shards of her uncertainty, a groundswell of guilt and doubt that had begun at the funeral and chased her across all these miles. There had been blood on him the last time she had seen him too. A copious amount of it, vivid scarlet turned to rust. He had stood in his father's study as if hewn from granite, covered in his brother's blood. At the time, she had seen that blood and interpreted it as evidence of his guilt. But with eleven months of second-guessing behind her, she was no longer sure.

Now the old earl was dead, and the question of what came next was on everyone's lips.

She had entertained no plan beyond finding Patrick Channing and convincing him to return home. This journey had been naught but impulse from the moment she'd boarded the wrong train, still shattered by her first close-up look at Patrick's family since the infamous house party. Some of those in attendance had whispered the earl had died of a broken heart, and Julianne had shrunk against the bruised eyes and hollowed cheeks of Channing's mother and small sisters. It was clear they were devastated, and not only because of the Earl of Haversham's sudden death.

They needed Patrick, and they needed him whole.

And it was equally clear—as the inquest into the circumstances of his brother's death lumbered to life in the wake of his father's passing and the crowd's whispers turned to certain conviction—that she was the only one who knew where he was.

"Quickly, please, Miss Baxter. An animal's life may very well be at stake."

Julianne stared at his bloodied sleeve. The facts didn't match. He didn't match. That, more than anything else, cemented her decision, sane or not. "I will come with you."

She lifted her skirts, not even caring that she was probably exposing a good bit of ankle to the gawking townspeople. Perhaps, if she was lucky, that bit of stocking might distract them from the disaster of her hair, and discourage any speculation regarding why she was conversing—without a proper chaperone—with a man believed capable of murder.

"It's a half-mile walk." Channing's gaze roved downward and settled on the exposed heel of one of her boots. "Try not to twist something en route, Miss Baxter. Because I assure you, I'd rather carry the dog."
Book Info:
To ruin a man's life once takes a regrettable mistake.
To do so twice takes a woman like Julianne Baxter.
Eleven months ago, Julianne's statement to the authorities wrongly implicated Patrick, the new Earl of Haversham, in his older brother's death. The chit is as much trouble as her red hair suggests, and just as captivating. Now she has impetuously tracked him to the wilds of Scotland, insisting that he return home to face a murder charge and save his family from ruin. A clandestine wedding may be the only way to save her reputation—and his neck from the hangman's noose.
Julianne has no objection to the match. More and more she's convinced of Patrick's innocence, though when it comes to igniting her passions, the man is all too guilty. And if they can only clear his name, a marriage made in haste could bring about the most extraordinary pleasure…
Book Links:
Author Bio
Jennifer McQuiston is the New York Times and USA Today bestselling author of Victoria-era historical romance, including What Happens in Scotland and Summer is for Lovers. The third book in the series, Moonlight on My Mind, will be released March 25, 2014.
A veterinarian and infectious disease researcher by training, Jennifer has always preferred reading romance to scientific textbooks. She grew up in the Shenandoah Valley of Virginia, but now lives in Atlanta, Georgia with her husband, two daughters (who got a pony out of mom's book deal!), and a house full of pets.
Website | Facebook | Twitter |