Today, HJ is pleased to share with you

Ashlyn Chase's

new release: 

More Than a Phoenix

What do you get when you take Two phoenix shifter brothers Throw in one powerful witch And one…monkey shifter?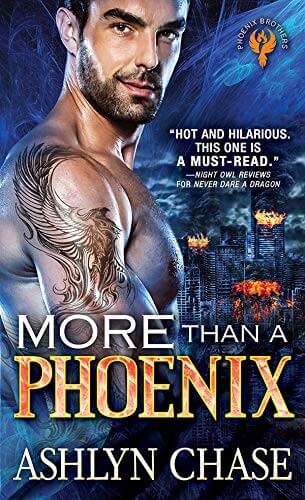 Mallory Summers is losing it. She's discovered she can talk to dead people—and she might be able to shift to monkey form. Firefighter Dante Fierro knows the quirky beauty isn't crazy—just supernatural. But what would she think if she knew his secret?

Hothead Noah Fierro has his own sparks flying with gorgeous ER doctor Kizzy Samuels. While the attraction is mutual, so are the supernatural secrets. With this much sizzle going on, how do you not get burned?

Fighting fires is easy… Finding love is the hard part.
Enjoy an exclusive excerpt from More Than a Phoenix 
Note from Ashlyn: I'm sharing an excerpt that may be controversial, but it's 'a slice of life', and reflects how many in our society view mental illness. Standing up to his brother is one of Dante's first acts of heroism.
Noah shook his head sadly. "I'm sorry, Bro. I know you liked her. It's really hard to watch the good ones fall. Maybe she'll get up again."
Dante left his beer bottle on the coffee table and paced again. He raked his hands through his shaggy dark hair. "There's got to be something I can do."
"You could get a haircut. Get it cut short so it won't stick out like that."
"Shut up. I don't need anything for myself, just a miracle for Mallory."
Noah dropped into the ergonomic lounge chair and put his feet up on the matching ottoman. "Sorry, Bro. I'm fresh out of miracles, and I'd steer clear of her, if I were you. It sounds like she's batshit crazy."
Dante's eyes widened, then he paused as if he'd just thought of something. "Wait a minute. Maybe there is something we can do to help."
"We? Oh no. I'm not getting involved in this. And you shouldn't either."
Dante's eyes narrowed. "Don't tell me what to do, Little Brother."
Noah snorted. "Yeah. I'm your younger brother, but I'm two inches taller than you, so I'm not your little brother and haven't been since tenth grade."
Dante let out an exasperated breath. "Whatever. Look, maybe if it's a chemical imbalance problem, there might be a chemical solution."
"What? Like an antidepressant counteracts the chemical imbalance of depression? Are you thinking she'll be fine with some medication?"
"Yeah. Why not?"
"I have a bad feeling about this. You're as easy to read as a book. Your energy is returning, and you look excited. You have some kind of crazy idea brewing in your head."
Dante smiled. "She might need a good friend right about now."
Noah just laughed and shook his head at his brother. "I always knew you were the incurable optimist of the family, but I didn't think you were completely insane."
"What do you mean by that?"
"Look, Bro. She's not the girl you thought you knew. Obviously. You need to forget about her."
"Why? Just because she's hit a bump in the road?"
"That bump could be a land mine. I'm just looking out for you."
"I don't care what you think. I'm going to the hospital to check on her." Dante grabbed his keys off the counter and strode to the coat closet.
Noah rose and rolled his eyes. "Fine. I'll go with you. Don't be surprised if she's already locked up in the loony bin."
"Hey, will you cut that out?"
"Cut what out?"
"The insults. Loony bin. Batshit crazy."
"Sorry, Bro. I just think you need to hear it the way others will see it. I know you."
"Then you know I won't just desert a friend in need."
Noah picked his coat up off the floor. "Yeah, and neither will I."
Note from Ashlyn: I worked in the mental health field for many years. The patients who did well were the ones who had emotional support from either family or friends. If you know someone struggling with mental illness, be a friend. Listen. Be there for them.

Excerpt. ©Ashlyn Chase. Posted by arrangement with the publisher. All rights reserved.

Giveaway:

Print copy of More Than a Phoenix (Phoenix Brothers) by Ashlyn Chase. (US)
To enter Giveaway: Please complete the Rafflecopter form and post a comment to this Q:

What did you think of the excerpt spotlighted here? Leave a comment with your thoughts on the book…
Meet the Author: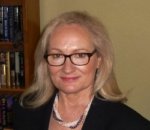 Ashlyn Chase is the award-winning author of many paranormal and erotic romance titles, including the Strange Neighbors series, Immortally Yours, Dear Sexy Lexie, and Demolishing Mr. Perfect. She lives in New Hampshire.
Buy:
Amazon: https://amzn.to/2KKIiAO
B&N: http://bit.ly/2KKwSx8
Apple: https://apple.co/2KOJgw9