Today it is my pleasure to Welcome romance author
Claire McEwen
to HJ!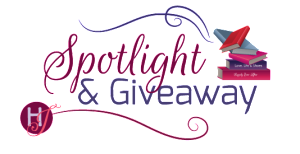 Hi Claire and welcome 🙂
If someone wrote a biography about you, what do you think the title of the book should be? Why?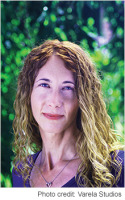 Old Dog, New Tricks! Because I strongly believe that it's never too late to try something new, to launch a new project or career, or to reinvent yourself. I have been so many things… an outdoor education instructor, a retail manager, a school teacher, a school administrator, even a dance teacher! If there's a lesson to be learned from my life, it's that if you want to try something new, go for it!
Which of your prior characters would you most/least likely invite to dinner and why?
I would most likely invite Jack Baron, the hero of my debut novel, A Ranch to Keep, to dinner. Apologies to Samantha, the heroine of that book, and to my lovely husband, but I have a crush on Jack Baron! And many readers let me know that they did too, so maybe I'd invite some of them along! And now I have a new crush, on Sandro, the hero from my new book, so I think he'd have to join us. This dinner is turning into a dinner party, but I think it would be a good one!
Let's talk about your newest release: More Than a Rancher
If you had to summarize the book for the readers here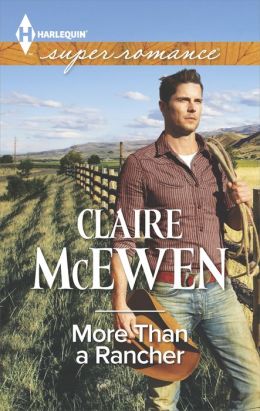 Jenna Stevens has many talents, but auto repair is not one of them. When the ballroom dancer from San Francisco takes a wrong turn on a remote road east of the Sierra Nevada and shreds her tire in a pothole, she has no idea what to do. Eventually she puts on her iPod and practices a few steps of her dance routine, hoping she'll calm down enough to figure out the task at hand.
Rescue comes in the form of Paul, a teenaged boy. Jenna believes that everything happens for a reason, so when Paul announces that he wants to become a ballroom dancer, she feels like fate might be involved in their meeting. That evening, when he unexpectedly shows up at her friend's ranch, Jenna is sure of it. She agrees to dance with him and is amazed by his talent and grace. But Paul came to the ranch with his gorgeous, moody older brother Sandro, who makes it very clear that he does not want Paul dancing.
Sandro Salazar has returned to his hometown to heal and start again. His successful career as one of New York's top chefs imploded from too much partying and way too many women. He's fled the big city to lead a quieter life, helping on his parents' ranch while he makes plans to open a local restaurant. Quirky, vibrant Jenna is a distraction he doesn't need. And he's worried she'll lead his little brother down a path similar to the self-destructive road he traveled.
Jenna knows Sandro is the last man she should want. He's moody and rugged and he has a history of infidelity and addiction, two things she's dealt with way too often in her own life. But once she's seen his hidden layers of kindness and humor, she can't seem to stay away. Slowly she realizes that when fate brought her to his little brother, it wasn't just so Paul could learn to dance. Maybe she and Sandro have dreams that were meant to come true as well.
Please tell us about the characters in your book?
Sandro Salazar is tall, dark, handsome and troubled. He grew up in a traditional ranching family that couldn't accept his true calling, to be a great chef. Their rejection of his dreams drove him to chase them even harder. But without their support, he didn't develop the skills and self-worth he needed to keep them, once they came true. He's trying to be content with a more tepid version of the life he used to have, but meeting Jenna reminds him of everything he wanted and failed to hold on to.
When we meet Jenna, she's just been betrayed by her boyfriend, her family relationships are falling to bits and she feels very alone. But rather than run into the arms of another man, she's decided it's time to accept her loneliness and focus solely on her career. She's a very creative person, and while she struggle with her faith, she actually has a lot of it. She is willing to take a chance on something, or someone, if she feels like it's meant to be. That sense, that the events in her life have a larger meaning, keeps her fighting for Paul and his dancing after other people might have given up.
As you wrote your protagonist was there anything about them that surprised you?
Their personal struggles surprised me. I originally envisioned this book as very light and fluffy. But as I got to know Jenna and Sandro, I realized they were both struggling with some very serious issues. It made me think about how so many of us, who might seem very happy and successful on the outside, are carrying around some real pain on the inside. And how even with that pain, we can still follow our passions, find things to laugh about and know joy.
What scene did you most enjoy writing? Why?
I enjoyed writing so many scenes in this book, but one of my favorites was when Jenna and Sandro end up line dancing together. There was just something really fun about my tortured hero busting some moves! Here's a snippet of that scene.
The music started and Jenna noticed how everyone on the floor began to mark the beat with their bodies, all awaiting the first step. And then the first step came and everyone in the entire room took it except Jenna, who realized that she really was a fish out of water. Eyes glued to Paul's feet, she began to break his moves down into steps she knew, trying not to crash into anyone in the process. A grapevine step, a toe touch, shuffle step sideways for four beats, then back the other way. A half turn with a leg hitch to the outside and back to that grapevine step. The teacher learning from her student.

Pretty soon she was going the same direction as everyone else, much to her relief, and a few moments later she had it. She relaxed into the repetitive motions of the dance and only then glanced over at Sandro, who was dancing beside her. He grinned at her with a quick wink and an expression that was all appreciation.

Jenna couldn't look anywhere else. Sandro imbued each simple step with his own lanky brand of cowboy sexy. Jenna stumbled watching him and he laughed and she figured there was a reason everybody faced the same direction during a line dance. Because the sight of men like Sandro, so at ease in their bodies, cowboy hats tilted just so, long denim-clad legs moving to the music, well, it wasn't really a sight a girl could take in and still manage to remember the choreography.
What scene was the hardest to write? Why?
The scene right after Jenna and Sandro meet was very challenging to write. They almost immediately disagree over Sandro's little brother, Paul, who wants to become a dancer and asks to take classes with Jenna. Sandro has his reasons for saying no, but it was hard to write the scene without bogging down in all of Sandro's backstory. Here's a bit toward the end of their rather heated discussion, where Jenna gives Sandro her business card, in case he changes his mind about letting Paul dance.
Sandro studied the card for a moment. When he looked up, he was half smiling. "There's glitter on your business card."

"It's ballroom dance. We're way into our glitter. And sequins." She tried not to sound defensive.

"Well, thanks, but I won't be calling," he told her, shoving the card into his back pocket, the hint of humor vanishing.

"Why not?" This was all so mysterious. Clearly she wasn't going to win this argument, and she wanted to understand why.

He must have seen it in her face, because the steel in him softened just a little. "Because I can see down the road for Paul and it isn't pretty. I wanted to cook and my family and my friends gave me nonstop grief for being different. I handled it, but it made me a lonely, angry kid. Eventually it made me a runaway. I don't want that for my little brother."

Jenna studied the stern lines of his face, new sympathy filtering through the irritation and frustration. Sandro might be misguided, but his motives were pure—he was protecting the brother he loved.
Who would you cast in the role of your characters if your book was optioned for a movie?
I originally envisioned my hero, Sandro, played by someone like Bradley Cooper. But as I wrote him, I realized he has rougher edges than that. So now I envision someone like Charles Esten who plays Deacon Claybourne on the show Nashville. He's not as pretty as Bradley, but he might better embody the darker character, the disillusionment, that Sandro struggles with.
And Jenna, my heroine, needs someone effervescent, quirky and lively to capture her. A younger Debra Messing or Bernadette Peters? Amy Adams would do a great job as well.
If you could have given your characters one piece of advice before the opening pages of the book, what would it be and why?
I would tell them to trust themselves. That they have enough strength and wisdom inside of them to help them safely reach their dreams. And I would remind Sandro that it's okay to reach out for help if you need it.
What are you currently working on? What other releases so you have planned for 2014?
I am currently revising the third book in my Benson series, Convincing the Rancher. This is Tess's story, for anyone who has read A Ranch to Keep, and it is fun and layered and has been very challenging for me to write. She is a complicated woman! Convincing the Rancher will be released in January 2015. I've been speaking with my editor about three new books, also set in my fictional town of Benson. She seems very enthusiastic about my ideas, so hopefully a couple of those will come out in 2015 as well.
Where can readers get in touch with you?
I am a social media enthusiast, so I can be found on Facebook at CMcEwen.writer and on Twitter @clairemcewen1. I also have contact information on my website, www.clairemcewen.com as well as a place where readers can sign up for my newsletter. I am experimenting with Pinterest, these days, so you can find me procrastinating over there fairly frequently!
Thanks for blogging at HJ!
Giveaway:

Print copy of MORE THAN A RANCHER.
To enter Giveaway: Please complete the Rafflecopter form and Post a comment to this Q:

In More Than a Rancher, Sandro and Jenna both have to become strong enough to pursue their dreams despite their families' opposition. Have you ever been in a situation where you pursued a dream or made a choice against the wishes of the people who loved you?
Excerpt
A blast of cold air preceded Jack into the room as he wrestled with the bags of groceries tucked under his arms. Jenna grabbed a bag stuffed with vegetables right before he dropped it, brought it into the kitchen and set it on the granite countertop.

As she turned away, she came up against a chest. An intriguingly muscular chest. It was wrapped up like a present in a tight white T-shirt. But instead of a bow, there was a belt with a silver buckle. A picture of a cowboy on a bucking horse was etched into the silver and Jenna stared at it for a split second before a tanned, lean arm reached around her and set a bottle of wine on the counter. "Hey." It was a low voice, kind of husky, and she finally looked up.

The owner of the chest, T-shirt, belt buckle and arm took a step back. His skin was olive toned, and his thick black hair curled over his forehead and down to his collar in the back. Dark brown eyes under black brows studied her face. He smiled and his full lips parted to reveal teeth that were white and just a little crooked.

"Hey," she managed to whisper back, and in an attempt not to gape at the tall man who looked as if he'd swaggered straight off the streets of Spain or Italy, she reached out and took the cloth grocery bag from his hand and set it on the counter behind her.

"I'm Sandro," he said quietly.

Of course. Sandro the chef. Couldn't Samantha have warned her that he was absolutely gorgeous? She was probably so in love with Jack that she hadn't even noticed. "Stevens. I'm Jenna. I mean…I'm Jenna Stevens." Her cheeks were on fire and something was wrong with her brain. She stuck out her hand and he took it, wrapping it in his long fingers and giving it a firm shake. "Um, nice to meet you. I'm a friend of Samantha's. Visiting. From San Francisco."

"I see. Well, I hope you're hungry."

"I'm always hungry," Jenna blurted out. "I mean, I try not to eat too much—I'm a dancer… You know, dieting and all." This was ridiculous. Just a scant hour ago she'd given Samantha a speech about how her focus was going to be on her career, and yet now she couldn't even think straight, or talk, just because of one good-looking guy. Where were Samantha and Jack? This was awkward.

A noise at the door made her turn in relief but it wasn't her friends. A boy shouldered in through the kitchen door with a cooler chest clutched in his hands. It looked heavy. "Sandro, you dick! Didn't you know you could park in the back, right by the door?"

"Paul! Manners, bro," the tall man commanded.

Paul? The boy set the cooler down by the door and turned around. The bright smile Jenna recognized from earlier today lit his face.

"Jenna!" He bounded toward her and then stopped, as if not sure what to do next.

Jenna stuck out her hand and he shook it. "Good to see you again, Paul. What are you doing here?"

"Helping my big brother. The master chef. I was hoping I'd see you!"

"How the hell do you two know each other?" Sandro's voice was gruff with suspicion.

"Manners, bro," Paul reminded him, and Jenna saw the sassy teenager in him and couldn't help smiling.
Book Info:
Does he dare follow her lead?
Ballroom dancer Jenna Stevens is done with all things romance. It's so much more satisfying to focus on her career. That is, until she meets Sandro Salazar – a handsome, brooding small-town chef and sometimes rancher. Jenna is drawn to him immediately, but there's no way Sandro could fit into her fast-paced, urban life.
Still, as she gets to know this reformed bad boy, she begins to wonder if maybe their two worlds can merge. One thing's for certain – Jenna will have to take the lead if she has any hope of Sandro seeing what's possible for the two of them… together.
Buy Links
Amazon: http://www.amazon.com/More-Than-Rancher-Harlequin-Superromance/dp/0373608713
B&N: http://www.barnesandnoble.com/w/more-than-a-rancher-claire-mcewen/1118936783?ean=9781460339190
Kobo: http://store.kobobooks.com/en-US/ebook/more-than-a-rancher
iTunes: https://itunes.apple.com/us/book/more-than-a-rancher/id863396380?mt=11
Publisher: http://www.harlequin.com/storeitem.html?iid=53465
Tour wide Rafflecopter Giveaway ( Tour Wide Giveaway for a $10 Amazon Gift Card and 3 Signed copies of MORE THAN A RANCHER)a Rafflecopter giveaway
Author Bio
Claire McEwen lives by the ocean in Northern California with her husband, son and a scruffy, mischievous terrier. When not dreaming up new stories, she can be found digging in her garden with a lot of enthusiasm but, unfortunately, no green thumb. She loves discovering flea-market treasures, walking on the beach, dancing, traveling and reading, of course!
Website: http://www.clairemcewen.com/
Facebook: https://www.facebook.com/CMcEwen.writer
Twitter: https://twitter.com/ClaireMcEwen1
Goodreads: https://www.goodreads.com/author/show/7226137.Claire_McEwen