Today it is my pleasure to Welcome author
Kimberly Lang
to HJ!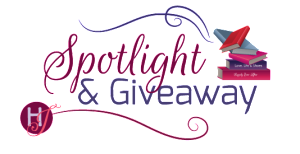 Hi Kimberly and welcome to HJ! We're so excited to chat with you about your new release, More Than Anything!

Thanks so much! I'm thrilled to be here again. You're awesome.

Please summarize the book for the readers here: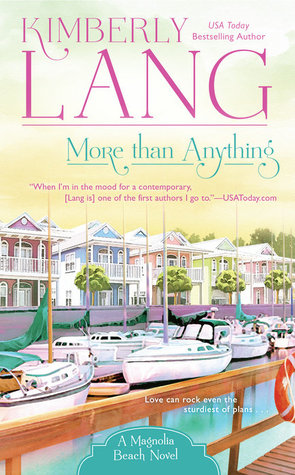 Drifter in need of a place to call home finds love with a small-town tomboy.

What's your favorite line from the book?
It actually comes right after the scene snippet below, as it's Shelby's thought when she sees Declan cleaned up for the first time.
The man had a dimple in his chin, for goodness' sake, and she had a nearly overwhelming urge to stick her pinky in it. Or maybe her tongue.
Please tell us a little about the characters in your book. What first attracts your Hero to the Heroine and vice versa?
Declan is lonely and Shelby is a meddler who can't help but get involved. They're physically attracted to each other, of course, but there's a place inside each of them that needs the other: Shelby needs someone to believe in her, and Declan needs to find a place that feels like home.
Is there certain trait or je ne sais quoi that you find all your heroes have? Why do you think that is?
My heroes tend to be very even-keeled and laid back even while things swirl around them. Why? That's easy. My Darling Geek is very even-keeled and laid back no matter how wild and swirly I am. He's half-Vulcan or something, but that's an amazing quality (at least as far as I'm concerned).
Please tell us a little about the characters in your book. As you wrote your protagonist was there anything about them that surprised you?
The Declan in the book is not the Declan I started out with. That Declan just didn't work with Shelby. Basically I discovered him as I wrote, so everything was a surprise!

The first kiss…
She felt his hand tighten, pulling her a little closer as his thumb edged her chin up a fraction of an inch. Then, with a sound somewhere between a sigh and a groan that was possibly the sexiest thing she'd ever heard, Declan moved his lips toward hers.
Did any scene have you laughing or crying (or blushing) while writing it?
The first time Shelby and Declan are about to make love, Declan ends up quoting poetry to her, specifically John Donne's "Elegy XIX." Now, before you think I'm out of my mind, that poem is sexy. Donne compares his lady love to the newly discovered America and he really wants to explore this new-found land. It made me a little blushy because the poem is clear in its meaning, but it also tickled my English major funny bone that I got to use Donne's poetry in a book!

When Shelby walks into a room, what song is playing? For Declan?
I don't know about what plays when they walk into a room, but both Declan and Shelby have a song — at least a song that echoed in my mind.
Shelby's song for Declan is Owl City's "If My Heart Was A House." I love the imagery of the chorus: "Circle me and the needle moves gracefully back and forth. If my heart was a compass, you'd be north. Risk it all, 'cause I'll catch you if you fall. Wherever you go, if my heart was a house, you'd be home." It rather sums up the book. https://www.youtube.com/watch?v=KfukjynBoyU
Declan's song for Shelby is actually a song from a local songwriter, Chapman James, called "My Soul's In Alabama." The chorus, "My heart's down in Dixie, but my soul's in Alabama," is the truth that Declan has to face. You can hear a sample here: http://www.cdbaby.com/cd/chapmanjames2
If you could have given your characters one piece of advice before the opening pages of the book, what would it be and why?
I'd tell them to get out of their own heads and quit overthinking things. They just need to trust themselves. (But then, if they did, what would I write about?)
What are you currently working on? What other releases do you have planned for 2016?
I've got a couple of things in the works… stay tuned! Sign up for my newsletter and you'll be the first to know when I'm ready to tell (http://www.booksbykimberly.com/contact/).

Thanks for blogging at HJ!
Giveaway:

Print copy of MORE THAN ANYTHING (A Magnolia Beach Novel) by Kimberly Lang
To enter Giveaway: Please complete the Rafflecopter form and Post a comment to this Q:

Now I've got those two songs in my head, and they always paint a picture. What song do you think would inspire a great book?
Excerpt from More Than Anything:
Shelby was lining up her shot when Charlotte let out a low whistle. "Well, hel-lo handsome," she murmured, her voice suddenly half an octave lower and slightly purring.
She looked up to see Charlotte looking a little glazed. "What?"
"A really, really hot guy just walked in."
Here? As if. "Oh, don't tease."
"Honey, he is no joke." She fanned herself. "Hummina."
Shelby took her shot, the balls scattering nicely even though nothing fell in. Straightening up, she said, "Okay, where?"
Charlotte tipped her beer bottle a fraction of an inch in the direction of the bar. "He's talking to Peter. Be casual."
It felt silly, but Shelby casually made her way to Charlotte's side of the pool table where she'd have a good view of the bar and anyone at it. The only person she saw was Jimmy Green, who, while sweet and funny and kind, was not best described as "hummina." "Don't be mean. Jimmy's a good guy." And he'd had a major crush on Charlotte since about second grade.
"Not Jimmy. The guy Jimmy is blocking. Move," she muttered, as if she had telekinetic powers.
"Are you about to ditch me?" Whoever this hunk of burning love was, she had no doubt that Charlotte could land him like a lazy fish — which was fine, except that it would put an end to their evening. "Because if so, I'm not going to order another beer."
"I think I'll just appreciate him from here for now — provided Jimmy will just move."
Jimmy did move at that moment, opening up the view to the man behind him. He was leaning against the bar and had his back to them, so Shelby couldn't tell much beyond the fact he was tall and broad-shouldered and had a cute butt cradled in some very lucky Levi's. His hair was dark and curled against his collar, and as he turned to speak to Peter, something about his profile seemed familiar…
She nearly bobbled her beer.
Charlotte noticed, which turned her attention away from the bar. "Are you okay?"
"That's Declan."
There was a moment of blankness while Charlotte tried to place the name. "The Declan who sent you flowers? The one practically living on your front porch?" At Shelby's nod, Charlotte added, "Oh, honey, I kinda hate you a little right now."
Shelby couldn't be too concerned about that at the moment. Damn, the boy cleaned up nicely. Untamed, his hair had just stuck crazily out around his head, but brushed back and under control, it showcased a high forehead and chiseled cheekbones. It was still a little too long, but that length took the yuppie edge off, giving him a slightly rakish vibe.
And he'd shaved. She hadn't realized how much that one little thing could completely transform a man. Gone was the straggly Yeti look, revealing a strong jaw line and smooth skin.
Have mercy.
Excerpt. © Reprinted by permission. All rights reserved.
Book Info:
The small, waterfront town of Magnolia Beach, Alabama, gets its fair share of tourists breezing in and out, but one handsome visitor might just be tempted to stay…
Running the Bay Breeze marina means Shelby Tanner is used to fielding strange requests from vacationers, but she is still less than amused when she gets a call in the middle of the night to rescue a boat stranded nearby. The clueless sailor is infuriatingly inexperienced—yet also frustratingly attractive.
Architect Declan Hyde only planned on stopping in Alabama briefly on his move from Chicago to Miami, but Magnolia Beach is proving to be more captivating than he imagined. For one thing, there's the sweet, Southern charm. For another, there's the stunning tomboy who rescued him from the bay and keeps invading his thoughts.
As the time draws near for Declan to weigh anchor, he begins to realize that Shelby may have saved more than his boat that night—and leaving Magnolia Beach might set his lonely heart permanently adrift…
Book Links:

Meet the Author: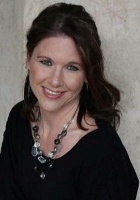 Kimberly Lang is a USA Today bestselling author and a Southern belle with a troublemaking streak. A former ballet dancer and English teacher, she now does yoga and writes the kind of books she always loved to read. She's married to her college sweetheart, is mom to the most amazing child on the planet, and shares her office space with a dog named Cupid.
Find me on Facebook (https://www.facebook.com/kimberly.lang.520 or https://www.facebook.com/AuthorKimberlyLang), on Twitter (@BooksByKimberly) or send me an email at kimberly@bookbykimberly.com. I love to hear from readers!