Today it is my pleasure to Welcome author
Karen Rose Smith
to HJ!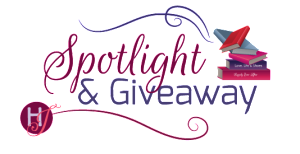 Hi Karen and welcome to HJ! We're so excited to chat with you about your new release, Murder With Cinnamon Scones!

Hi Everyone! It's so good to be here again to spotlight the release of Murder With Cinnamon Scones, the second book in my Daisy's Tea Garden Mysteries.

Please summarize the book a la Twitter style for the readers here: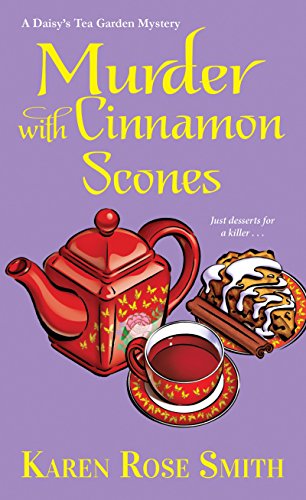 When Reese Masemer, the owner of Revelations Art Gallery, is murdered, his girlfriend Tessa Miller, Daisy's kitchen manager and best friend, is suspect #1.

Please share the opening lines of this book:
The Victorian house with its grey siding and white gingerbread trim loomed in front of Daisy Swanson as she and Tessa Miller approached it. The early January darkness had wrapped around the town of Willow Creek, Pennsylvania, early tonight with a cloudy pewter sky before sunset and the prediction of snow later. Daisy wasn't sure she should have let Tessa talk her into coming here to Revelations Art Gallery with her after hours.
Please share a few Fun facts about this book…
Although I have never quilted, researching Amish quilts for this book make me want to start quilting.
Daisy's barn home was fun to design.
Daisy's friend from childhood is Amish.
The recipe I developed for cinnamon scones is one of my favorites.
Daisy's mom still wants to run her life.
What first attracts your Hero to the Heroine and vice versa?
Daisy is first attracted to Jonas because of his listening ability.

Using just 5 words, how would you describe Hero and Heroine's love affair?
Dramatic, rocky, tension-filled, bonds, vibrant.

The First Kiss…
Jonas's kisses are sweet and meaningful.

Without revealing too much, what is your favorite scene in the book?
Daisy's birthday party:
Carefully she slid her fingers under the pale blue paper and released the ribbon. This box was larger than the others. Inside, she found a teapot and it was decorated with cats. One of them looked like Pepper and another resembled Marjoram. It was from Jonas.
If your book was optioned for a movie, what scene would be absolutely crucial to include?
An intruder to Daisy's friend's Tessa's apartment pushes Daisy down the stairs. Jonas finds her and acts like a white night, even though he and Daisy have recently had a disagreement.
She wasn't sure how long she lay there seeing spots of light that resembled stars. Her chest felt tight and she realized her breath had been knocked out of her. After taking a few deep breaths, she wiggled her feet. No problem there. She carefully straightened her legs. Her shoulder hurt. But it was the bump on her head and the headache throbbing at her temples that made her groan when she pulled herself into a sitting position on the stairs.
The wind blew in the open door, banging it completely open until she saw a shadow there and then a hand on the door. She wanted to scream but the sound stuck in her throat.
Until Jonas peered in the open door and spotted her. "Daisy? Are you all right?"
She tried to get to her feet. She didn't want him seeing her sitting there like that, looking helpless.
She mustn't have done a very good job of it because he rushed to her, put his arm around her waist, and asked, "Are you sure you want to stand?" Without giving her time to answer, he followed up with, "What happened?"
At the same time, overriding his voice, she asked, "Why are you here?"
Readers should read this book …
because it has universal themes. The plot also is wrapped around a murder, a romance, Daisy's daughter Jazzi's relationship with her birth mother and recipes.
What are you currently working on? What other releases do you have planned?
I'm currently working on a pet rescue continuity book for Harlequin Special Edition while editing my third Daisy mystery. Cut To The Chaise, the eighth book in my Caprice De Luca Home Staging Mystery series, will be released in December 2018.
Thanks for blogging at HJ!
Giveaway:

$10 Amazon gift card and a Murder With Cinnamon Scone keychain
To enter Giveaway: Please complete the Rafflecopter form and Post a comment to this Q:

What kind of scone do you like best?
Excerpt from Murder With Cinnamon Scones:
Now Daisy understood where Jonas had been and what he'd come from. He'd lost his father and he'd become a cop. To continue his dad's work? To prove the same thing wouldn't happen to him? However, it had. He'd loved someone he shouldn't have loved. He'd had to absorb the news he was going to be a dad. As he was doing that, he'd lost his lover and a baby all in one night. She could only imagine his pain, despair and grief.
Finally she said, "I know what it's like to have the world crashing down on you when someone you love dies."
She'd been holding his hand, but now he squeezed hers. "I guess you do," he said.
Although she ached for him and for what he'd gone through, she had to know where they stood now. "What do you want from me?"
After a moment, he admitted, "Maybe I want something you can't give."
"Tell me anyway."
He blew out a long breath and studied her. "I want to build the shelves in your storage closet and spend time with you without expectations. If you want to date other guys like Cade or Gavin, I'll have to deal with that."
She wasn't exactly sure what to say to that, but she decided to follow her heart. "I like you, Jonas. If you want to build my shelves, feel free. If I feel the need to have a swinging social life, I'll let you know. I also promise you that I'll be honest with you about everything."
They gazed into each other's eyes for several heartbeats. When he leaned toward her, she leaned toward him. His kiss was tender and sexy and everything she wanted the kiss to be.
Excerpts. © Reprinted by permission. All rights reserved.


Book Info:
Daisy Swanson and her Aunt Iris run a delightful shop in Pennsylvania's Amish country with an emphasis on tasty teas and treats—but murder is not so sweet . . .
As local merchants unite to attract tourists for a much anticipated weekend quilting event, business is sure to spill over into eateries like Daisy's Tea Garden. Gorgeous craftwork is hanging everywhere—but among the quilts, potholders, and placemats, one gallery owner is wrapped up in some dangerous affairs . . .
Reese Masemer had been dating one of Daisy's employees, Tessa, an artist, though their last interaction was as strained as a cup of loose leaf tea. Now Reese has been found dead near a covered bridge where Tessa's been practicing her sketches. She's the obvious suspect, but Daisy's learning that there were some major secrets in Reese's background, and several of his relationships were infused with resentment. To save Tessa, she'll have to find out who's tainted this quaint little town with murder . . .
Book Links: Amazon | B&N | iTunes | Goodreads |


Meet the Author: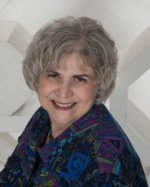 USA TODAY Bestselling Author Karen Rose Smith is an only child who delved into books at an early age. She learned about kindred spirits from Anne of Green Gables, solved mysteries with Nancy Drew and wished she could have been the rider on The Black Stallion. Yet even though she escaped often into story worlds, she had many aunts, uncles and cousins around her on weekends. Her sense of family and relationships began there. Maybe that's why families are a strong theme in her novels, whether mysteries or romances. This award-winning and bestselling author will have her 100th novel released in 2018. At present she is working on two mystery series for Kensington Books–Caprice De Luca Home Staging cozies and Daisy's Tea Garden mysteries. From time to time, she also writes romance for Harlequin Special Edition.
Readers often ask Karen about her pastimes. She has herb, flowers and vegetable gardens that help her relax. In the winter, she cooks and does watercolor paintings rather than gardens. And year round she spends most of her time with her husband, as well as her six rescued cats who are her constant companions. They chase rainbows from sun catchers, reminding her life isn't all about work, awards and bestseller lists. Everyone needs that rainbow to chase.
Website | Facebook | Twitter | Instagram |