Today, HJ is pleased to share with you Tracy Brogan's new release: 

My Kind of You

Wall Street Journal bestselling author Tracy Brogan is back with a sweet, hilarious series about family, forgiveness, and what it means to go back home.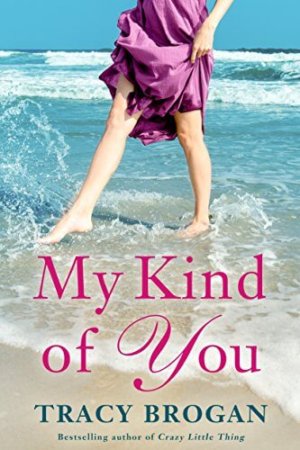 Emily Callaghan never expected to spend another summer on Wenniway Island. Yet here she is, back in her quaint northern Michigan hometown of Trillium Bay, divorced, flat broke, and dragging along her precocious twelve-year-old. It's a simple arrangement: Emily, a house flipper, will renovate one of her grandmother's rental properties in exchange for a much-needed loan. Once a wild child, the reformed Emily also hopes to remodel her reputation and show her family she's all grown up.

But coming home is never simple. Emily's dad is more distant than ever. Her younger sister is dating a much older man, and Emily's worried it's a mistake. The cottage remodel grows increasingly daunting. And then there's handsome out-of-towner Ryan Taggert…

Ryan has his own family drama. A smart, ambitious land developer, he's come to Wenniway to rescue his father from the grips of a new girlfriend and protect their family business. But he's quickly distracted by gorgeous, witty Emily Callaghan.

There's no denying the attraction between Emily and Ryan. But will their conflicting interests destroy any chance at love? Or will Emily finally get the chance to rebuild her life—and repair her heart?

Enjoy an exclusive excerpt from My Kind of You 
"Go on up that ladder." She pointed at the rusty rungs.

"Me first?"

She pointed at her hips. "Dress."

"Damn. There goes my chance to get a little peek."

She might talk a big, wild game, but Emily Chambers still blushed every time he said anything the least bit suggestive. She just wasn't as bad and bold as she seemed to think. He'd dated a few barracudas in his day, and Emily was nothing like them. She was nothing like any of the women he'd ever dated, come to think of it. What that meant he had yet to determine, but he wasn't analyzing or second-guessing. He was just taking a walk with a girl and climbing up to the top of a lighthouse to see whatever he could see.

He got to the top and had to climb under the railing, and then he reached behind him to help Emily do the same, not that she seemed to need it. She popped up next to him and immediately looked into the center of the lighthouse where he imagined a big light used to be. Most of the surrounding windows were now broken, and inside the little room were hundreds of rocks scattered across the floor.

"Wow," she gasped. "Looks like the kids have been busy."

"Meaning what?"

She laughed and the wind caught her hair, whipping it around her head. She lifted her arms to catch it in both of her hands, which made the hemline of that dress lift several more inches up her thigh. A gentleman might not notice such a thing, but it was hard to miss. Those legs of hers went all the way up.

She kept her hair captured in one hand and lowered her other arm. "I'm not sure when the tradition started, but for my generation, if you lost your virginity, you were supposed to throw a rock in the center. Some kids even put their initials on there. Usually the boys. Girls like to be a little more discreet."

Ryan looked down at all the stones again and saw that many of them did indeed have initials. Some even had two sets, indicating the couple, no doubt.

"Wow," he said, nodding with respect and awe. "That is quite the shrine to premarital fornication. Is one of those stones yours?"

"Of course not," she said, but her laughter indicated otherwise, and his urge to kiss her quadrupled. She moved around to the other side where the wind wasn't quite so strong, and the setting sun was nearing the horizon. The sky was full of pinks and blues and even purple. If he'd seen those colors in a painting, he would have thought the artist overdid it, but it seemed to be an almost nightly occurrence here.

They leaned back against the one window that wasn't broken, and a little bit of ledge provided a place to sit. Emily tugged the hemline of her dress down, proving her bad-girl persona was mostly exaggerated. Too bad. Too bad she wasn't the type for a meaningless fling, but then again, the fact that she wasn't the type made her that much more appealing. This was a bit of a problem, but he'd figure that out later. He was at the top of a lighthouse under a magical sky and next to a beautiful woman with a smile that was starting to make his heart ache. Shit. This really was a problem.

He turned his head to look at her, trying to think of ways to plead his case. Some way to dazzle and beguile her and make her glad that it was him she was here with. Something witty and persuasive, but she turned at precisely the same moment he did, with invitation in her eyes, and all he could come up with was, "Damn, I really want to kiss you."

Her hesitation was a mere fraction of a second. "Me too," she whispered.

It was all he needed to hear, and in an instant she was in his arms. He kissed her, hard, with no prelude, no artful negotiations or seductive machinations. Just hungry kisses that sent his mind spinning and his body following. She kissed him back with equal enthusiasm, with one hand on his chest and the other wrapped tightly around the back of his neck, pulling him closer. Her mouth was sweet, as sweet as he'd imagined, with lips so soft he could have fallen over the edge of that lighthouse and thought the sensation was just from her touch.
Excerpt. ©Tracy Brogan. Posted by arrangement with the publisher. All rights reserved.
Giveaway:

Ebook: MY KIND OF YOU (A Trillium Bay Novel) by Tracy Brogan
To enter Giveaway: Please complete the Rafflecopter form and post a comment to this Q:

What did you think of the excerpt spotlighted here? Leave a comment with your thoughts on the book…
Meet the Author: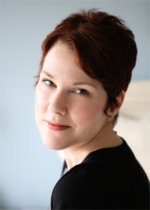 Tracy Brogan is an award-winning, bestselling novelist who writes fun and funny stories about ordinary people finding extraordinary love, and also lush historical romance full of royal intrigue, damsels causing distress, and the occasional man in a kilt. She has been nominated by Romance Writers of America for a prestigious RITA® Award for her debut novel, Crazy Little Thing, and was nominated by RWA for two Golden Heart Awards. She's a Booksellers Best Award recipient, along with two Golden Quill Awards in both contemporary and historical romance. Unapologetically devoted to romance, Tracy lives in Michigan with her often-bemused husband, their gloriously above-average children, and their two intellectually challenged dogs. Tracy loves to hear from readers, so please visit her website at tracybrogan.com.
Social Media Links
Website: http://www. tracybrogan.com/
Facebook: https://www. facebook.com/AuthorTracyBrogan
Twitter: https://twitter.com/ tracybrogan
Goodreads: https://www. goodreads.com/author/show/ 6452601.Tracy_Brogan