Today it is my pleasure to welcome back USA Today best selling author 

Melanie Milburne

to HJ!
Hi Melanie, welcome to HJ!
What would you say are the defining characteristics of your novels?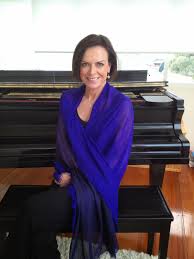 Passionate, sexy, fast paced.
What are you currently working on?
I'm writing an exciting 15,000 word prequel to The Chatsfield Continuity which comes out in 2014. It's an imposter plot and heaps of fun.
What other releases do you have planned for 2014?
I have Book Two of the continuity- Playboy's Lesson and a medical title – Flirting With The Socialite Doc. There is also a two book Argentinian brothers series in the planning!
Where can readers get in touch with you?
Facebook www.facebook.com/melanie.milburne
Twitter- @MelanieMilburn1
Website- www.melaniemilburne.com.au where you can sign up for my newsletter.
Let's talk about your newest release: Never Gamble With A Caffarelli
If you had to summarize Never Gamble With A Caffarelli for the readers here…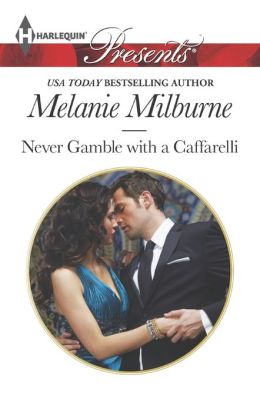 Remy Caffarelli has won Angelique Marchand's ancestral home off her father in a Vegas poker game and she tracks him down in an ultra conservative desert province to demand he give it back. But when she is discovered in his room they are forced to marry so as not to dishonor the region's strict social rules.
Please tell us about the characters in your book…
Remy is the youngest of the Caffarelli brothers. He is a rebel and a playboy. Angelique is a lingerie model who has her own rebellious past she is dearly trying to shake off.
What scene did you most enjoy writing?
I loved writing the scene where Angelique is discovered in his room. Why? I loved that Remy had no idea she was hiding in his wardrobe.
Please share a snippet…
Just as Angelique was about to step out of the wardrobe, she heard a sharp, businesslike knock at the door of the suite. Her heart gave a jerky kick against her breastbone.
Was he expecting someone?
One of his star-struck wannabes, perhaps? Oh God! If she had to listen to him having bed-wrecking sex with some bimbo who had been smuggled into his room…
'Monsieur Caffarelli?' an official sounding voice called out. 'We wish to have a word with you.'
She heard Remy's footsteps as he moved across to open the door. 'Yes?' he said in that charming, "I'm happy to help you" way he had down to a science.
The official cleared his throat as if he found what he was about to say quite difficult. 'We have received some information that you have a young woman in your room.'
'Pardon?'
As you wrote your hero and heroine was there anything about them that surprised you?
Every character I've ever written has surprised me. It's one of the mysteries of writing, even when you think you know what's going to happen the characters have their own take on things. But in this case I think it was the combination of these two wild child personalities. They had much more explosive chemistry on the page than I had envisaged in my head!
What was your hero's biggest secret?
He has always lusted over Angelique.
What does your hero love most about your heroine?
Her spirited nature and the way she stands up for what she believes in.
What does your heroine love most about your hero?
His sensitivity, which he spends most of his time hiding.
If you could have given you heroine one piece of advice before the opening pages of the book, what would it be?
Don't fly to Dharbiri without a chaperone!
Warmest wishes, Melanie Milburne
Thanks for blogging at HJ!
GIVEAWAY:

Signed copies of all three books of the trilogy: Never Say No to a Caffarelli + Never Underestimate a Caffarelli + Never Gamble With A Caffarelli.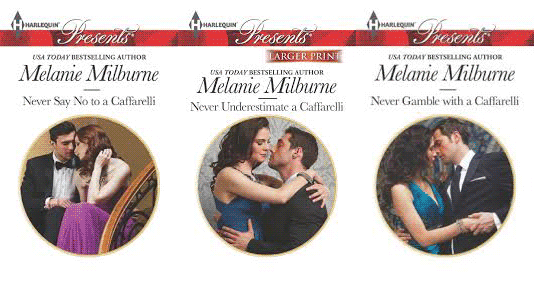 To enter giveaway: Please complete the Rafflecopter form and post a comment to this Q:

Whose hotel room would you like to hide in without being discovered & Why??!!
Excerpt from the wedding scene…
Remy took her hand and led her out to the dance floor for the bridal waltz. 'Loosen up, Angelique. You feel like a shop mannequin in my arms.'
Angelique suppressed a glare. 'Get your hands off my butt.'
He smoothed his hand over her hip and then tugged her against him. 'That better?'
She looked at him with slitted eyes. 'We're supposed to be dancing, not making out.'
'I thought you were great at dancing?'
'I am great at dancing.'
'Then show me your footwork.'
Angelique moved in against him and let him take the lead. The music was romantic with a flowing rhythm so she let her body move in time with it. She started to feel like a princess at a ball, or a star contestant on one of those reality dance shows. They moved in perfect unison around the dance floor. The other couples- and there were hundreds- swarmed backwards to give them more room.
'Nice work,' Remy said once it was over. 'Maybe we should do that again some time.'
'You trod on my toe.'
'Did not.'
'Did so.'
He gave her a grin as he pinched her cheek. 'Smile, ma cherie.'
She smiled through clenched teeth. 'I want to scratch your eyes out.'
Book Info
A ruthless millionaire…who drives a hard bargain
Model and heiress Angelique Marchand is furious. Continental playboy Remy Caffarelli—devastatingly handsome and notoriously arrogant—has won her mother's ancestral home in a card game!
Angelique tracks him down in the Middle East to confront him and reclaim her birthright. But when she is found in his hotel room, the sworn enemies are forced to marry! And surprisingly, rather than annul the bond, Remy wants to exploit their marriage for business…and for pleasure!