Today it is my pleasure to spotlight the release of 

NIGHT'S BLAZE 

by Donna Grant

That one simple kiss slayed him as nothing in his very, very long life had ever done. It physically hurt him to release her and turn his back on everything she offered, but it was for the best.
A KING WHO WALKS IN DARKNESS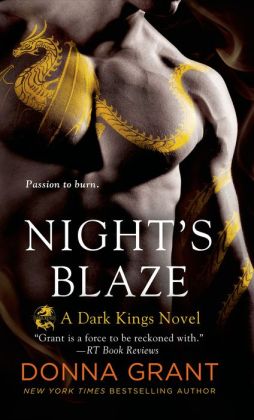 The Rhys who has existed for centuries is gone. Stripped of his ability to shift forms, Rhys can no longer embody the majestic, powerful dragon he was at birth. Cut off from his heritage by one of his own, this Dragon King must remain a man, haunted by demons who torment his every waking moment. The darkness would swallow him whole…except a woman so beautiful and haunted becomes the one beam of light in his world…

A DESIRE THAT WILL NOT BE DENIED

Lily Ross is taking the first step in building a new life for herself. Still reeling from a relationship that nearly broke her spirit, Lily is wary of her attraction to brawny, brooding Rhys. The passion burning so brightly between them is a potent temptation, but any entanglement is destined to end in disaster. Yet when a spectre from Lily's past threatens their growing bond, Rhys is forced to choose with his heart, or lose this woman who has become his one chance at salvation…in Donna Grant's newest Dark Kings novel, Night's Blaze.

Read an Excerpt from Night's Blaze: 
On the lift up to Lily's room, she and Rhys stood in the back while a group piled on with them. Rhys looked down at her while she watched everyone else.
Lily's eyes were so full of…eagerness that Rhys found himself watching her to see the play of emotions on her face. There were times she hid her feelings well, but others where she wore them on her sleeve for the world to see.
Tonight, they were visible, and he was glad. One by one the other occupants reached their floors. When the lift arrived at her floor, Lily glanced at him and walked out when the doors opened. Rhys followed, appreciating the sway of her hips – and thankful for the dress that no longer hid all of her beautiful curves.
It wasn't until the door shut behind him in her suite that she laughed. "Shall we resume our conversation now?"
Rhys wanted to continue his perusal of her – with her clothes off. Desire ran thick and hot in his veins. It was a mistake to think he could be alone with her in her room. He'd nearly taken her last night on the trail. There was no one to interrupt them in her suite, no one to stop him from marking her as his.
"Rhys?" she called his name, a small frown marring her face.
He looked beyond her to the living room and the numerous bags that filled the space. She followed his gaze and groaned aloud.
"I can't imagine what this looks like. I haven't done anything like this in years," she said while shoving aside bags so they could sit on the sofa.
Rhys stopped her and gave her a little push so she sat. He walked to the bar area and claimed a stool. The broader the distance the better if he was going to have to think and carry a conversation. "Forget the clothes. Let's continue where we were below."
"All right." She sat back on the sofa and crossed on leg over the other after she kicked off her heels. "Tell me something about yourself."
"I have enemies."
Her gaze lowered to the half-empty glass of champagne in her hand. "So do I."
Now that wasn't something he expected her to say. "What do you fear?"
"Not finding my courage when I need it."
Once more he was taken aback by her words. "Why would you need courage?"
"My enemy, remember," she said with a wink. But the truth was there in her words. "Your turn."
Rhys wanted to ask her so many more questions, but he'd begun this game. "I fear that I willna gain back part of myself that I've lost."
"Hmm," she said with a nod as she drank. "I can relate. What do you hope for?"
"To vanquish my enemies."
"I want to be free." Her voice was full of wistfulness.
He thought over his next question for a moment, then asked, "If you could be anywhere, where would you be?"
"Here. With you. You?"
He stared into her eyes, his balls tightening with need. "Right here."
"Tell me something you've never told anyone else, a secret we would share between us."
Rhys set aside his warm champagne. He couldn't tell her his biggest secret – that he was really a dragon. But he wished he could. "That I'll fail those who need me most."
"My given name is Lilliana Eleanor Ross, the Earl and Countess of Carlisle's third daughter."
"You're nobility?" he asked in shock. That certainly wasn't something he saw coming. It explained why she wore the clothes as she did, as well as her elegance.
Lily bowed her head of black hair and pushed the length off her shoulder. "I am. The friend I saw today called me Lady Lily. I just knew Denae was going to ask about it, but she didn't."
"That's no' her style."
"No, it's not."
"That is some secret," Rhys said. "I feel my response was quite inadequate."
Lily laughed and finished off her champagne before she set it on the coffee table. "You could tell me more."
"My friends count on me. I…I'm no' as I once was. I'm more focused on vengeance."
"You're still there for your friends. That's what matters."
Rhys glanced away, because he knew that unless he could shift, he was useless in the coming battle. But he shoved those thoughts aside as he remembered who he was with. He thought of her new tattoo and the scar Cassie mentioned seeing. Suddenly, he wanted to see the scar himself. "Show me something no one else has seen."
Lily held his gaze for several seconds as she swallowed nervously. Then rose gracefully and walked to him. She turned her back to him and moved her hair. "Unzip me, please."
Rhys hesitated, his hands shaking at the thought of touching her bare skin. He revisited their kisses every night in his dreams. He couldn't have her this close and not take her, but if Cassie was right and Lily was once abused, he had to let her make the first move.
He grasped the zipper and slowly pulled it down. The neck of her dress gapped and creamy bare skin became visible. Then he saw her red bra. He swallowed, desire riding him hard.
Lily shifted so that the dress fell from her left shoulder. Rhys saw the vertical mark that ran over four inches from her shoulder down her back and about an inch wide. The scar was leathery, indicating it was a burn.
Fury, deep and dark, surged. The longer Rhys stared at the wound, the more he wanted to find the bastard and envelope him in dragon fire. Nothing burned as hot as a dragon's fire.
Rhys ran his hand along the scar. He knew the answer, but he asked, "Who did this to you?"
"Someone I trusted. Someone I gave my love to. A boyfriend I lived with."
Rhys was about to zip up her dress when he spotted something else on her back. He gently moved aside the dress from her right shoulder and saw more scars. They were thin, white, indicating they were older.
His hands shook from the ferocity of his wrath. "He did all of this?"
"Yes."
"With what?"
Lily took a deep breath. "The largest scar was from a fire poker. The others were from whatever was in reach. Sometimes his pocket knife, sometimes his cigarettes."
Rhys finished unzipping her dress and got the full view of her back. It was riddled with scars. Some burns, as she said from the ends of a cigarette, and others cuts.
"Only your back?" he asked around the emotion thickening his throat. He couldn't understand why someone would want to hurt a person as sweet and beautiful as Lily.
Lily stepped away before she faced him. She let the dress drop. "He made sure never to hurt me where others could see."
In all his eons of years, the only time Rhys had ever felt such outrage was when he sent his dragons away. Now, as he looked at Lily's stomach, as scarred as her back, he couldn't comprehend anyone doing something so heinous.
The amount of courage it took her to show him was staggering. When Rhys asked his question, he wasn't sure what he would show her. Now he knew. Now there was no doubt what he would let her see.
Rhys took off his jacket and carefully folded it to lay it across the stool next to him. Then he unbuttoned his shirt and removed it. He didn't take his eyes from Lily's face, so he was able to see her lips part and a look of awe fall over her face.
Lily couldn't stop herself from closing the distance and putting her hands on such an amazing piece of artwork. The dragon, a curious mix of black and red ink, was intricate, the shading masterful.
She was mesmerized by the tattoo, running the pads of her fingers along it. The head of the dragon was on Rhys's right pec. The body of the dragon stretched across Rhys's impressive chest almost as if it were lying down with its wings tucked. The tail however, went over Rhys's left shoulder and then wrapped around his left arm, stopping at his elbow. The planning and drawing of such art must have taken months, not to mention the time it took to get the tattoo.
Lily lifted her gaze to Rhys's blue eyes. "This is…I don't have adequate words. I've never seen such beautifully elegant, and yet fiercely intense work. Still, I can't be the only one to see this."
Though she hated to admit it, Lily knew Rhys bedded other women. They had to have seen the tattoo.
"I doona willingly show this."
"Why?" she asked in disbelief. "It's gorgeous."
Rhys shrugged. "I have my reasons. When I take a woman to my bed, it's either too dark for her to see, or I take her from behind."
Lily returned her gaze to the dragon, but that's not what she saw. She indulged herself on the perfection that was Rhys. Hard sinew, flawless and impeccably shaped, warmed beneath her palms from his thick shoulders to the washboard stomach to his narrow waist.
She slid her hand along the bulging muscles of his arm where the dragon tail was and imagined those arms around her, holding her close. Not so long ago that dream had been reality. It was a fleeting moment in time, but it was branded upon her mind for all eternity.
"If others have seen this, it wasna because I wanted to show it," Rhys said in a low voice.
"This art was meant to be seen. Why would you get this and then hide it?" she asked and tilted her head back to look at him.
Rhys's chest expanded as he drew in a breath. "It's… complicated."
"I show you scars. You show me beauty."
"Those scars are part of you. They tell a story of your courage and strength."
Lily felt her eyes sting with unshed tears. "It took me years to get up the nerve to leave him."
"But leave him you did."
"Yes." If only she'd found someone like Rhys – no, if only she'd found Rhys – instead of Dennis, how different her life would be. "I walked away from my family for him."
"Focus on the part where you left him."
It was good advice, because the last person Lily wanted to think about being so close to Rhys was Dennis. The bastard had no place in her life in any way, shape, or form.
Rhys's gaze intensified as he stared down at her. "It takes a special kind of bravery to do what you've done."
"If I was as strong as you think, I'd take what I really want."
"Which is?"
As soon as the words left his mouth, she rose up and placed her lips on his. Lily wasn't sure where such daring came from. Perhaps it was standing in her bra and panties after allowing him to see the ugliness of her body. Perhaps it was how gently he ran his fingers over her scars, causing her eyes to fill with tears. Because how could anyone look or touch her and feel passion?
Perhaps it was because he showed her his tat.
Regardless, she wanted another kiss, and she wasn't going to let the night end without it.
Lily began to pull away when Rhys wrapped an arm around her, bringing her close. He rested his forehead against her while he let his fingers trail lightly down her arm.
"I've been craving that all night," he whispered.
Chills raced over Lily's skin. She slid her arms around his neck, shivering when his caress traced down her side to her hip around to her buttocks. Her breath was coming rapidly, her body heating from the need coiling within her. She sucked in a breath when he cupped her ass and pulled her against the hardness of his arousal.
Rhys's other hand shifted upward, delving into her hair. "Doona tease, sweet Lily."
Lily realized then that he was letting her take the lead. A man who was always in charge was giving her the reins. She knew it was because of her past, but that didn't matter. The simple fact that he was thinking of her when no one else had made her breath catch.
Rhys was able to reach into her very soul in one instance and repair years of damage Dennis wrought. If there was any doubt in her mind that Rhys wasn't unique and exceptional, it was gone now.
She looked into his eyes. Her heart thumped, her blood hammered in her ears. The desire was no longer hidden in his gaze. It shone bright for all to see. This was her moment, her shining instant where her wish to have Rhys was granted.
Lily lifted her mouth to his, but it wasn't for the chaste kiss from a moment ago. All of her desire, all of her longing…all of her yearning was poured into the kiss.
And Rhys's answering moan was all it took to spur her onward.

Excerpt © Reprinted by permission. All rights reserved.

Giveaway: 

2 Print copies of Night's Blaze by Donna Grant
To enter Giveaway: Please complete the Rafflecopter form and Post a comment to this Q: 

What did you think of the excerpt spotlighted here? Please leave a comment for the author with your thoughts and first impressions… 
Meet the Author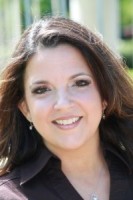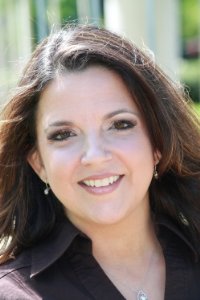 New York Times and USA Today bestselling author Donna Grant has been praised for her "totally addictive" and "unique and sensual" stories. She's written more than thirty novels spanning multiple genres of romance including the bestselling Dark King stories, Dark Craving, Night's Awakening, and Dawn's Desire. Her acclaimed series, Dark Warriors, feature a thrilling combination of Druids, primeval gods, and immortal Highlanders who are dark, dangerous, and irresistible. She lives with her husband, two children, a dog, and four cats in Texas.
Buy Links: Amazon | Barnes & Noble