Today it is my pleasure to Welcome author
Kate Angell
to HJ!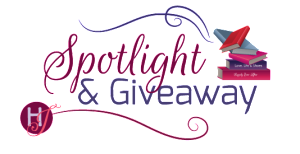 Hi Kate and welcome to HJ! We're so excited to chat with you about your new release, No Breaking My Heart

!


Thank you. I'm so excited to be here!

Please summarize the book for the readers here: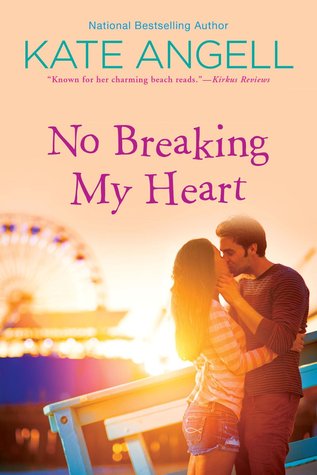 Star right fielder Halo Todd is the team's ultimate ladies' man. When a woman in a chicken costume asks him to pose as her boyfriend on a game show, he's unsure, but intrigued. He participates. Unfortunately, they lose. Halo feels he owes Alyn Jayne 'something', since he caused the loss. He chooses her younger brother as his Richmond Rogues contest winner (a trip to spring training). The entire family heads south to to Barefoot William, Florida. Love has a way of changing a man. It doesn't take long for the ballplayer/playboy to mature into a responsible guy. When he learns of Alyn's dream, to own an antique shop, he offers to be her silent partner. She can't resist his offer…or the Rogue!

Please share the opening lines of this book:
"Be my boyfriend for an hour."
Halo Todd stared at the woman dressed in the chicken costume. At least he assumed she was female.
Please share a few Random facts about this book…
The book starts with Go Big or Go Home, a game show competition. Contestants are costumed.
Heroine catches the hero naked as he's changing into his rooster costume.
Heroine has a handicapped dog named Quigley.
Richmond Rogues (MLB) spring training takes place in Barefoot William, Florida. An East coast Santa Monica, CA.
Beach, boardwalk, romance!
Please tell us a little about the characters in your book. As you wrote your protagonist was there anything about them that surprised you?
Alyn Jayne had hoped to win the game show, big cash prize, so she could follow her dream and open an antique store. Halo Todd participates with her. They lose. He's not used to losing – anything. They strike a bargain as the story progresses. He's a hot, desirable ballplayer in need of a fiancee. In exchange for them being a couple, he'll finance her shop. Alyn is very stable, rational, thinks things through. Halo, more spur of the moment. It surprised me that they came together as an engaged couple. An agreement was finally reached, despite her apprehension.
What, in your mind, distinguishes this book from other books out there in the same genre?
There are many wonderful sports romances available. My baseball books take place during spring training, in Barefoot William. A beach resort. Readers are drawn to the beach and boardwalk. Sunshine and sunbathing. Sandcastle building and sand between your toes. Melting ice cream cones you can't eat fast enough. The rousing polka music from the carousel.
I'm presently writing the second generation of Richmond Rogues.

The First kiss…
Halo and Alyn's first kiss takes place on a Ferris wheel:
Unknowingly, the operator stopped the ride at the very top. Halo had yet to kiss his girl. No one rode the Ferris wheel without sneaking a kiss. It was tradition. His time was now.
Halo rolled his hip on the seat, and his thigh pinned hers. Alyn tilted her head, met his gaze. There was both reservation and need in her eyes. Damn if he didn't hesitate.
"I want to kiss you," he was asking, not taking. A first for him.
"You have one turn of the wheel," she allowed.
He smoothed his mouth over hers. Smiled against her lips. "I'm taking two."
Did any scene have you crying or laughing (or blushing) while writing it?
The scenes I love to write most, and always make me smile, are those on the boardwalk:
I love describing Barefoot William. If it was a real town, I'd live there!
Barefoot William was honky-tonk. Tourists never wore a watch. Casual was the name of the game. Beach attire was permitted in shops, diners, and bars. Pogo-stick jumpers, stilt-walkers, and unicyclists added to the atmosphere. Pedicabs offered rides. Beachside stores opened their multi-colored doors to the salt air and sunshine. Souvenirs were purchased, along with popcorn, ice cream, and penny candy.
Children and adults migrated to the amusements and arcade. A century-old carousel whirled within a waterproof enclosure. The Ferris wheel turned slowly, while the swing ride whipped out and over the glistening Gulf. Laughter rose from the bumper cars. Occasional shrieks came from the roller coaster.
If your book was optioned for a movie, what scene would you use for the audition of the main characters?
Halo and Alyn need to catch the game show hosts attention. So they can be called on stage to participate in the games. The other contestants get up and dance in the aisles. So do Halo and Alyn. They Chicken Dance.
Alyn danced for the host Alex Zander. She imagined the music, went with the beat. She held up her arms in front of her, pinching her fingers and thumbs together, forming beaks. She opened and closed the beaks four times. She then put her thumbs in her armpits and flapped her elbows.
Again to the four-count. Bending her knees, she wiggled her hips four more times, getting her backside as close to the ground as possible. All the while she stretched her arms and hands behind her like tail feathers.
Harold followed her lead, then improvised. Raw and masculine. The man had moves. The crowd loved him. Men clapped and women whistled. He threw back his head and crowed. Deep-throated and sexy. Alyn held her breath, afraid his butt seam would split when he waggled down. The cameras captured the twist of his hips on the televised screen above the stage. Harold had a very tight ass. Fortunately the seam held. Just barely.
Straightening, they next faced each other, and clapped four times. Then joining hands, they skipped around in a circle. Which was no easy feat. They bumped and jarred each other. They reversed their direction once, then ended the dance.
Harold still held her hand, and he raised it high. They both took a bow.
If you could have given your characters one piece of advice before the opening pages of the book, what would it be and why?
Before you fully commit to a person, travel with him/her. My characters went on a road trip!

What are you currently working on? What other releases do you have planned for 2016?
Work in progress: No Time To Explain. Featuring Joe 'Zoo' Zooker, left fielder for the Rogues. Hardass bad boy with a soft spot in his heart for the heroine.
Releases for 2016:
No Breaking My Heart, July 26th
Halloween anthology: The Cottage on Pumpkin and Vine, with authors Sharla Lovelace, Jennifer Dawson, and me. August 30th.
Christmas anthology: That Mistletoe Moment, with authors Cat Johnson and Allyson Charles, and me. September 27th.

Thanks for blogging at HJ!
Giveaway:

A $50.00 Amazon digital gift card.
To enter Giveaway: Please complete the Rafflecopter form and Post a comment to this Q:

Would you participate on a game show? Wear a costume and play for big prizes? Jewelry, money, cars, trips! What costume would you pick & why?
Excerpt from No Breaking My Heart:
The locker room before the game show. Alyn walks in on Halo, as he's changing into his costume:
A row of lockers lined the back wall in the room. He didn't need a locker. He would put on the costume over his clothes. A Henley pullover and jeans. He heel-toed his Nikes, slipped off his socks, then stepped into the white jumpsuit. Jerked it up. Grunted. It was lined and bulky. Cotton didn't stretch. He was six foot two and weighed two-fifteen. The rooster suit was too damn tight. The back zipper gapped several inches. Shit.
Off came the costume, followed by his clothes. He was fully exposed. That's when the door opened, and the chicken called in. "You ready? We only have ten minutes."
He clenched his back teeth. There was no point in her rushing him; he was going as fast as he could. "Almost there," he growled.
"No, you're not." She walked right in, inhaled sharply, but didn't avert her gaze. "You're standing there . . . naked."
That he was. Locker rooms were like home to him. Players frequently walked around in stages of undress. Nudity was as natural to him as breathing. Despite that, the moment turned awkward. His muscles flexed defensively. "The costume's snug," he grated. "I'm down to skin."
He looked good in his skin. Alyn Jayne's breath caught. She couldn't take her eyes off him. He was standing in profile to her. He was huge. Jacked diesel. Muscled shoulders and arms. Thick chest. Tight butt. Athletic legs. Big feet.
He turned slightly, and she saw the tattoo on his abdomen. Nothing small for this man. It read
Caution: Hard and Hot in bold script. An accurate description. His sex was shadowed on his inner thigh. Impressive. He didn't have a shy or modest bone in his body.
She had no idea who he was. She hadn't asked his name or gotten a good look at him on the sidewalk. It was dark and her eye slits were narrow.
She wasn't always good at reading people, but seeing him now, he defined confidence. Arrogance. Heartbreaker. Rule breaker. Badass. She intuitively knew that wherever he went, he would dominate. Own the moment. Belong.
He had a sexy mouth. His lower lip was a little fuller than the upper. Sculpted for kissing. Women would fall fast and land horizontal. Men would envy him.
Excerpts. © Reprinted by permission. All rights reserved.

Book Info:
Relationship Status: Complicated.
Professional baseball player Halo Todd doesn't like failure. In any form. But he can never turn down a challenge. Especially when there's a pretty woman involved. How else would he end up dressed as a rooster, helping a complete stranger compete on a wacky game show?
Alyn is stunned when she learns Halo's identity. He's not a stranger on the street, but a popular, elite athlete. Her younger brother is a big fan. When he whisks her (and her family) off for a dream vacation to the beach, she can't help falling for his charm and generosity. Love heats up beneath the Florida sun.
Meet the Author: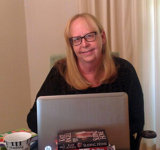 Kate Angell lives in Beautiful Naples on the Gulf of Mexico, Florida. She writes contemporary romances, and is best known for both her Richmond Rogues Series and her Barefoot William Series. She's an avid reader, sports fan (Go, Cubs!), and animal lover. Presently living with six dogs and five cats. The more pets, the merrier!
Website | Facebook |