Today it is my pleasure to Welcome author
Cassie Mae
to HJ!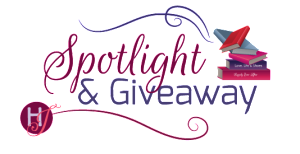 In No Interest in Love, Hollywood's hottest young actor hits the road to chase his big break—and discovers a leading lady where he least expected.
Please summarize the book for the readers here: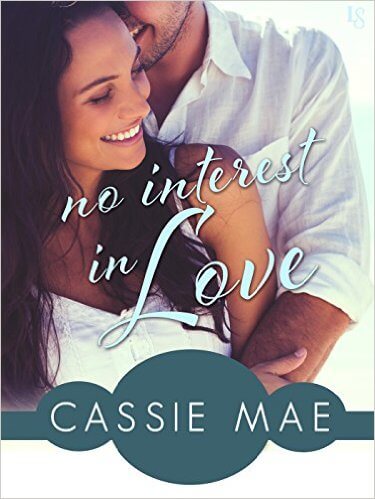 An up and coming actor wants to land a part in a movie playing opposite an actress famous for getting busy with her co-stars. He and his agent road trip to the audition and during an abundance of mishaps, they learn to not only tolerate each other, but to truly have feelings for one another.

Please share the opening lines of this book:
I was fifteen years old when I told myself I wanted to become an actor. I'd just gotten my ass kicked by Sonya Lopez's older brother because I'd stood her up. And, yeah, I probably deserved it.
Please share a few Fun facts about this book…
The train scenes were all written while I was on a train—which is why my MC gets a good case of motion sickness.
The book is written entirely from the male point of view.
It was originally titled, Off Line.
If your book was optioned for a movie, what scene would you use for the audition of the main characters and why?
The two leads have to sneak onto a train, and they end up in close quarters. It calls for fun dialogue and sexual tension, so of course I'd love to see the actors pull that off.
She shoves me into the opposite wall—before I can comment on bathroom logistics—where apparently there's some sort of makeshift closet. Well, it's got a hook for coats and it's sort of tucked away. Enough that I can't see the train hallway anymore. Shay squeezes up against me, and Woody goes, "Hey, a warm body!"
"Um, hello," I say to her invading my space.
"Shh." She pushes closer to me and there's no hiding the horny bastard in my jeans. She jolts a little and meets my eyes with a cute drop of her jaw. I snort and shake my head.
"Dry spell."
"Well, get rid of it."
"How do you suggest I do that?"
She wiggles, trying not to press against it while also staying out of sight, but she's failing.
"That's not helping," I croak.
"How is it even . . . ?" She extends her forefinger so it's pointing straight to the ceiling, and it cracks me up.
"Well . . . you're close. And warm. And he's not picky."
What do you want people to take away from reading this book?
Love is unpredictable and laughter is the best medicine 🙂
What are you currently working on? What other releases do you have planned for 2015?
The final book in the All About Love series, which is scheduled for a June 2016 release. And the beginning of a new series, the first is scheduled for a December 2016.

Thanks for blogging at HJ!
Giveaway:

eBook: NO INTEREST IN LOVE by Cassie Mae (via Amazon)
To enter Giveaway: Please complete the Rafflecopter form and Post a comment to this Q:

Anyone else have a road trip disaster story?
Book Info:
When Jace Carver snags a minor part in his buddy's zombie flick, he suddenly starts getting noticed all over the place. Even Hollywood megastar Carletta Ocean—known for her extensive "research" with her male co-stars—wants Jace for her new rom-com. The role could be a game-changer . . . if Jace nails the audition.
As Jace's agent, Shaylene Kwak is all business, and isn't about to let her favorite client blow this opportunity. Since their college years, Shay has been immune to Jace's charm and rock-hard body. But long hours in close company have a way of wearing down even the best defenses, and when their platonic teasing turns into serious flirting, Jace and Shay are no longer able to resist what's been right in front of them the entire time.
Shay knows Jace's love-'em-and-leave-'em history with women. She's not about to be just another notch in his belt. And it's true, Jace has never wanted more than a one-night stand—until now. But at the end of the line, he's got a choice: sleep with Carletta and seal the deal, or risk his career for a shot at true love with Shay.
Buy link: http://www.penguinrandomhouse.com/books/251699/no-interest-in-love-by-cassie-mae/


Meet the Author: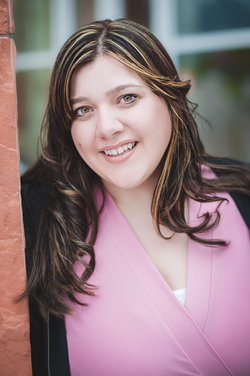 Cassie Mae (who dons the name Becca Ann on occasion) is the author of a few hundred… okay, maybe not that many… books. Some of which became popular for their quirky titles, characters, and stories. She likes writing about nerds, geeks, the awkward, the fluffy, the short, the shy, the loud, the fun.

Since publishing her bestselling debut, Reasons I Fell for the Funny Fat Friend, she has published and sold books to Random House, Swoon Romance, and Spencer Hill Press. She has a favorite of all her babies, but no, she won't tell you what it is. (Mainly because it changes depending on the day.)

Along with writing, Cassie likes to binge watch Teen Wolf and The Big Bang Theory. She can quote Harry Potter lines quick as a whip. And she likes kissing her hubby, but only if his facial hair is trimmed. She also likes cheesecake to a very obsessive degree.
You can stalk, talk, or send pictures of Dylan O'Brien to her on her Facebook page: https://www.facebook.com/cassiemaeauthor
Website: cassiemaeauthor.wordpress.com