Today it is my pleasure to welcome back  NY Times  & USA Today Bestselling Author 

Catherine Bybee

to HJ!
Catherine welcome and thanks for stopping to answer a few questions and to tell us about your newest release
5 things readers should know about you?
I don't take life to seriously. None of us get out alive.
I'm cynical but caring. (It's the nurse in me)
I read romance because if I wanted to be depressed I'd watch the news or go back to work in the ER.
I wanted to be an actress. I was a damn good actress.
I sing show tunes in the shower…Helllooooo! Actress!
What would you say are the defining characteristic of your Novels?
Oh, that's easy. I move my stories with snappy dialogue and not long-winded descriptions or reflection. Someone once told me that when they read my books they feel like they're watching a movie in their head. I think there is a lot of truth to that statement.
5 best things about being a writer?
My commute!
My fans!
My hours!
Meeting new people.
And recently, the money.
What romance book character you most identify with & Why?
In my contemporaries… I'm going to have to say Monica. Who you met in Not Quite Dating, but doesn't get her book until October with Not Quite Enough. And since I just finished her book…I really know I can identify with her.
What are you currently reading?
I finished all my RITA books and I'm now finally digging into Jennifer Probst's books. Thousands of readers can't be wrong!
If you had to summarize Not Quite Mine for the readers here ….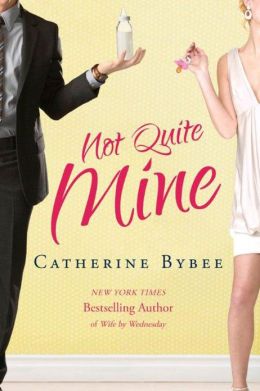 Oh, hard to do without giving away spoilers right from the start… but I'll try. Katie and Dean dated without anyone in their inner circle knowing about it. When Katie learned she couldn't have children, she broke her heart and pushed Dean away so he could live the family life she couldn't give him. Yet when an infant is left on her doorstep, and she's determined to keep the child until she can find the mother, Katie realizes there's more to being a mom than simply having a child. And when Dean starts sniffing around, Katie questions everything.
Please tell us about the characters in your book
When I created Katie Morrison I picture Paris Hilton. Stunning, spoiled…in the spotlight of the American tabloids. At least that was the public persona of Katie. The heart of Katie is much more wholesome. She'd do anything for her father and brother…and now her sister-in-law, Jessie and nephew Danny. What Katie didn't have growing up was a mother. And that hurt.
Dean Prescott is Katie's brother, Jack's, best friend. So obviously, he wouldn't go after his best friends kid sister. At least not openly. Dean's a family guy, sees the whole picket fence with a boatload of kids in his life. When Katie shatters that dream with him, he tries to find his HEA with someone else, only to find himself alone and dreaming about the one who got away.
What scene did you have most fun writing? why? 
Oh… Yeah, can't give you my 'favorite' because of the spoiler alert. But this scene lets my reader know that Dean is still into Katie in every way. *Katie is working with Dean designing a new hotel – Dean runs Prescott construction and is working with her brother Jack*
Dean followed the pattern of awestruck men until he found her.
Bent over a railing on what would be one of the many ground floor suites, Katie's short, cream-colored skirt rode midthigh. The sight of her slammed his breath from his lungs. Her long legs appeared to ride for miles and the four-inch heels extended them even farther.
Her butt flexed as she straightened and looked up to the ceiling. She reached above her head as if measuring the height of the room.
The memory of her stretching in bed, naked, after they'd made love swam in his mind.
Get a grip, Dean, he chided himself. Drowning in those memories would only lead to heartache. And he'd had his share of that, enough to last a lifetime.
"You need to wear a hat," he all but yelled in her direction.
Katie jumped and swiveled in his direction. "Damn it, Dean, you scared me." She brought a hand to her chest as if calming her heart from the shock of him being there.
"If an inspector were here, he'd shut me down if he caught you without a hard hat."
He took two purposeful strides in her direction and thrust the hat in front of him. He avoided her personal space but couldn't keep her floral scent from reaching his nose.
She always smelled like spring.
Dean wiggled the hat in his hand.
She sneered at it as if it were a snake. "Who else has worn that thing?"
"I have no idea."
"I'm not touching it."
He rolled his eyes and let his arm fall. "You wear a hat, or get off my job site."
Her mouth dropped. "You can't fire me."
"I'm not firing you, I'm telling you the rules. And those shoes have to go, too."
She stuck out a hip and rested a hand on it. "Will an inspector shut you down for my shoes?"
He wanted to tell her yes, but he'd be lying. "The ground is uneven and there are nails everywhere. Twisting an ankle and contracting tetanus are the most likely by-product of stilettos on the site."
Katie lifted a leg and examined her own shoe. Her skirt slid farther up her thighs.
Dean groaned.
"I've run from half a dozen paparazzi on the cobblestoned streets of Italy in heels like these. I'll take my chances."
He thrust the hat in her direction a second time and dismissed the footwear argument. "They're your feet. The hat isn't optional."
After sniffing the air and finding it unsavory, Katie glanced at the top of his head. He read her thought before she managed to voice it.
"Has anyone else worn your hat?"
It had his name on it. No one would consider putting it atop his or her head. "No."
A slow Southern smile met her lips. Avoiding a forgotten two-by-four, she shortened the space between them and stared at his hat.
This was not a fight he was going to win. He could insist she wear the hat in his hand, but knew he'd end up tossing her over his shoulder and removing her from the site because she wouldn't wear it. It wasn't that she was a snob, just particular about what touched her skin.
No matter how the hat ordeal played out, the men on his crew would be talking by the end of the day. Carrying her off the site or letting her wear his hat for the day…those were his options.
He mumbled under his breath and removed his hat before plunking it down on her stubborn head.
She stood a little taller and wore a satisfied smile.
"How do I look?"
Good enough to eat, he thought but didn't say. The hard hat should have looked ridiculous on her. It didn't. A completely unwanted sense of pride sparked his ego when he glanced down at his name atop her head. The hat claimed her as his in a completely high school way.
He shook the thoughts from his confused mind and quickly said, "Fine."
Who would who cast in the role of hero and heroine if your book was optioned for a movie?
A sandy blond Ben Affleck for Dean
Gwen Paltrow for Katie
What are you currently working on? What other releases so you have planned for 2013?
I just delivered Not Quite Enough, Monica's story, to my publisher. And I'm very excited about Fiancé by Friday coming in August. Neil is so damn HOT!
Where can readers get in touch with you?
Follow my newsletter for monthly updates. Or check out my website: catherinebybee.com And then there's the usual, twitter, Facebook, Goodreads, etc. You name it, I'm there.
Thank you for stopping by HJ!
Giveaway:
ARC of Not Quite Mine
To enter giveaway, please complete the Rafflecopter form below and post a comment to this Q:
 For my readers who are moms – When was the very moment you knew you were a mom. And I'm not asking when you found out you were pregnant, but that moment when you sat back and when "Holy cow, I'm really a mom!"
Here's mine: It was in the hospital shortly after my oldest was born…there was a speck of something on his cheek and I licked my finger to help get that unidentified speck. I knew at that moment I was a mom. (that speck could have been anything and it didn't matter to me)
For my readers who are not moms – What about being a mother scares you the most?
a Rafflecopter giveaway
Here is a special Video of Catherine reading an excerpt from her book (Please fast forward to the 3:00 min mark )