Today it is my pleasure to Welcome romance author
Laura Drake
to HJ!

Hi Laura, welcome to HJ!
If you were a heroine in a book, your character would be – The girl next door, the damsel in distress, Kick-butt take charge heroine or the aloof ice queen and why?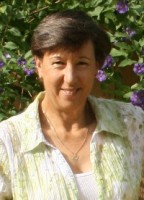 Oh I'd be a kick-butt take charge heroine, for sure. What else would you expect from a biker-chick?
I tend to throw myself in the deep end of the pool first, and then learn to swim.
Not that I'd recommend that method…
Let's talk about your newest release: Nothing Sweeter
If you had to summarize the book for the readers here
From the Publisher's Weekly review: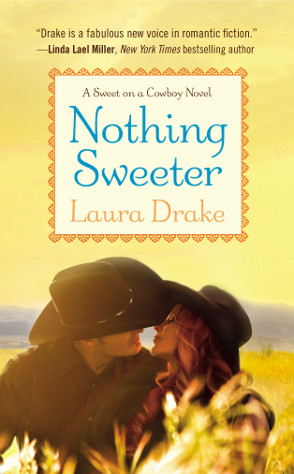 Left with only nightmares and an ugly physical scar, Aubrey Madison is on the road looking for a new life with more freedom. On a whim she answers an ad for a groom on a Colorado ranch. The job gives her plenty of hard work and a quiet place to heal – and it also introduces her to hot, old-school rancher Max Jameson. Max has been raising cattle and breaking horses for all his life, just like his father did before him. Now he's faced with the fact that those skills are not enough to keep the land in the family. Bree has an idea to save the ranch, but can she risk getting attached to the land and the cowboy who comes with it?
Please tell us about the characters in your book?
Aubrey Madison is guilty. But not of the crime she's been pardoned for. She knew it was her responsibility as controller to turn her customs-cheating boss over to the law. It just doesn't seem like her problem until she learns of a much larger scheme–one that has her name all over it. She's still reeling when Federal agents show up to arrest her. Eight months later, reveling in freedom and determined to put shame behind her and start over, Aubrey hits the road with a new last name, a hideous scar on her neck, and bad case of claustrophobia.
Max Jameson has big problems. His father has died and his gay half-brother, Wyatt, has returned to the family cattle ranch outside Steamboat Springs. An old-fashioned cowboy, Max wants only to remain a rancher, but the High Heather is bleeding red ink. His father taught him that a man fixes things, but there's not enough baling wire and duct tape in Colorado to fix this.
Was it love at first sight for your characters? If not what was the pivotal moment of change?
No way! Both of them had trust issues and a truckload of baggage!
For Max, it was when he realized that, though he may not know Bree's past, he does know her. But when he learns her secret, he forgets, and it takes his brother's boot to his stubborn backside before he remembers.
Love snuck up on Aubrey. She only took the job on the ranch for a respite from running. But once she realizes she's in love, she has to tell Max of her past. If she could just find the right moment…
If your characters could go back in time and change one thing what would it be? Why?
For Bree, that's easy. She'd have turned in her customs-cheating boss the minute she found out about his schemes.
What scene did you have the most fun writing? Why?
That's hard to choose! But it was probably when Max rode a bull – er – cow.
Max said, "Okay, men, we're down to the cows. Who's first?"

Silence.

"Oh, come on. You guys were rarin' to go a few minutes ago." He shoved his hands in the pockets of his jeans. The cowboys found important things to catch their attention. Everywhere else.

He made a disgusted sound. "I guess its gonna be me, then." Bree reached for his arm, but then let her hand drop. She might not know everything about cowboy law, but she did know it would belittle Max in front of the men if she tried to stop him.

He settled his hat a bit tighter on his head. "Remember one thing." He hesitated until, one by one he held the men's attention. "If it gets back to town that I rode a cow, somebody's gonna be stringing fence for a month."

"You go, Maxie," Wyatt said under his breath.

Max glared at them all, then stomped to the chute, spurs jingling.

Bree swallowed audibly. "I think I'm going to throw up."

Wyatt laughed and threw his arm around her shoulder. "He's gonna be fine, Bree. Didn't you know Max rode the Colorado circuit back in the day? Used to piss my dad off, too. He said the only reason Max rode bulls was to meet pretty nurses."

She shook her head. "Maybe so, but that was many moons ago, Tonto."

"True, but Max's head is too hard to get hurt. You, of all people, know that."

Yeah, but there are parts of that body I'd like to become fond of.

The men had brought the three and four-year-old cows from the mountain pastures, and they were wild. When Max lowered himself onto a black cow with wicked long horns, she reared, trying to climb out of the tight box. Max backed up in a hurry. Pedro strung a rope through the slats over the cow's neck to keep her from rearing again. Armando pulled the bucking rope taut as Max lowered himself. He shoved his hand into the loop in the rigging, took the tight rope, and wrapped it around his hand, locking his fingers over it with a pound of his fist.

Wyatt leaned on the fence, a twitching muscle in his jaw belying his assurances. Bree sat, elbows on knees, hands covering her eyes, peeking through her fingers. She swallowed again, her queasy stomach churning like a washing machine.
Max nodded. The gate swung.

The cow burst from the chute, grunting and bucking. Saliva flew from the animal's mouth as it spun in a frenzied attempt to rid itself of the weight. Max caught the rhythmic pace perfectly, rocking forward and back to negate the animal's power.

Time slowed for Bree as the image burned in her mind: Max in a red shirt and leather chaps, balanced like a gymnast on the straining animal, his face a mask of concentration. Churned dust shimmered in the air as the hands yelled, cheering their boss on.

Tonio blew a shrill whistle when the eight seconds were up. Nobody explained it to the cow, though; she spun, getting stronger with every rotation. Max wrestled, trying to get his hand out of the rope. As Armando trotted up, Max finally freed himself and was launched. He landed on his feet, but the forward momentum made him stumble. He ran a few steps and fell forward, flat on his face, raising a cloud of dust.

Armando and Smooth cut the cow toward the gate. The minute the animal cleared the corral, Bree and Wyatt were off the fence, running across the arena. The cowboys were faster.

Bree broke into the circle of shouting men to see Max, sitting in the dirt, grinning like a little kid, a smear of green cow poop spread from his hat brim to his waist.

Wyatt burst out laughing and slapped his brother on the back. "That one's a keeper."

Max looked at the men around him, a swagger in his voice. "Okay, you pussies, who's next?"

Bree slapped her hand over her mouth and ran, barely making it out of the corral before upchucking her breakfast in the dirt. Sides heaving, she leaned her hands on her knees and tried to catch her breath.

Max's arm came around her waist. "Bree? What's wrong?" He pulled a clean handkerchief from his back pocket and held it out to her.
She wiped her mouth, then whirled to face him. "You idiot! You could have been killed! I don't care about your stupid cowboy code. I'm never watching you do that again."

His cocky grin pissed her off even more. "Darlin', a bull is like a dancing partner—you have to let him lead."

Her stomach lurched. She pushed him away, being careful where she put her hands.

"Come on. Let me help you."

She sagged against the fence, head between her knees, pictures of what could have happened to him whirling in her mind. She waved her hands at him. "Do me a favor and stand downwind, will you?"
What scene was the hardest to write? Why?
Hardest were the scenes between Max and his gay brother, Wyatt. Max, an old-fashioned cowboy, loves his brother, but is uncomfortable with his lifestyle. I wanted to portray the complex relationship, and show both of them coming to grips with their prejudices to have a strong relationship.
How did your character spend the week just before the story starts?
Aubrey was in Phoenix, at her mother's house after being released from prison. But she couldn't get a But she couldn't get a deep breath there and the suburban ranch house crowded her with its memories and worried eyes.
Max was going about the normal routine of a Colorado rancher with his father. Until, one day, pounding a post hole, his father had a massive heart attack and died.
Who would you cast in the role of your characters if your book was optioned for a movie?
Now, keep in mind, I'm probably not the one to ask, because I don't watch TV (with the exception of bull riding) and the last movie I saw was Mama Mia (Yeah, I know.)
Max would probably be Daniel Craig. He has a craggy, tough guy face, but I still fell in love with him in every movie I've seen him in.
Aubrey? I don't know, Christina Hendricks?
What are you currently working on? What other releases so you have planned for 2013 into 2014?
The third book in my Sweet on a Cowboy series, Sweet on You, is due out in August of 14, and I'll also have another book in my Widow's Grove small town series out from Harlequin's Superromance line. I'm currently working on the third in that series.
Thanks for blogging at HJ!
Giveaway: I'd love to give away

two copies of Nothing Sweeter

to two random commenters.
To enter Giveaway: Please complete the Rafflecopter form and Post a comment to this Q:

What makes you sweet on a cowboy? For me, it's the combination of old-fashioned manners, and Wranglers in chaps!
Except
From Sweet On You:
Katya looked around the restaurant. Surrounded by trees outside, the interior was exposed timber and glass, giving The Wild Side the feel of a hunting lodge in the woods. The fieldstone fireplace with its cheery gas log fire and the trophy animal heads on the wall carried out the theme.

"Well? What do you think?" Cam smiled at her from across the linen-covered table, the dimple in his cheek deepening.

"That gazelle looks pissed. I think he wants his body back." The unblinking stare of the animals on the walls gave her the willies, so she kept her eyes on Cam. Well, maybe that wasn't the only reason. His royal blue Western-cut shirt showed off his washed-blue eyes. The candlelight fractured in them, and she had a hard time looking anywhere else. He'd taken off his hat when he sat down, but it left a mark in his short, hollow-gold hair. She took a sip of her white wine to cool off. God, if he were on the menu, this place would be overrun with women.

He chuckled, and when the waiter walked over with menus, he held up a hand. "Will you trust me to order?" He gave her a one-sided smile, an eyebrow raised in challenge.

"I guess I'll trust you that far." Not much farther though. She had no doubt that smile had separated dozens of women from their panties. Don't forget, you don't belong here. Why did she have to keep reminding herself of that lately?

He ordered something called the Hunter's Feast for Two. When the waiter walked away, Cam turned his attention back to her. "You drive a hard bargain, Ms. Smith. It cost me dearly to get you sitting across the table from me. Are you sure you aren't a horse trader on the side?"
She snorted. "I should have warned you, it's in my blood. My great-great grandfather made enough money trading horses to bring his family to America."

"Literally?"

Might as well get it out in the open. In spite of the modern push to accept "cultural diversity," there was still a lot of prejudice against her kind. "I don't just dress Gypsy, Cam. I am Gypsy."

"No kidding?" The touch of his regard settled on her. "I know so little about you. Where did you grow up?"

Well, he'd answered her questions. No harm in answering a few benign ones of his. "In DC. But my summers I spent with my Gypsy family, in Chicago."

"What was that like?"

"It was heaven. I'm an only child. But in Chicago, my huge extended family took me in every summer and folded me into the clan." She smiled, seeing Grand's apartment in her mind. "It was like stepping into another world. Like I lived two different lives."
"When did you join the army?"

"After nine/eleven. A lot of people joined then."

"I wouldn't have guessed you for a soldier, but once I knew it, lots of things made sense. Did you like it?"

"I loved it. In a way, it was like Chicago. Another kind of family. We rely on each other under hard times and stressful circumstances. It forges a strong bond."

"You miss it."

Once again, his eyes made her nervous, seeing too much. "Something happened over there, didn't it?"

"I miss it."

The waiter brought their salads, breaking the pull of his gaze. That gaze made her want to talk, to spill her dark story all over the pristine tablecloth, staining everything.

She lifted her fork. "Tell me about your family. Where are you from?"

They chatted about safe subjects until their meal arrived; a huge platter of unrecognizable meat, without a vegetable in sight. Unless fried potatoes qualified.

He looked it over. "I'm torn. I'm afraid if I tell you what's here, you won't eat it, and you'd miss out on some great food. But I don't want to ambush you either. So you tell me. Do you want to know?"

She picked up her fork, stabbed a deep-fried Rocky Mountain oyster, and popped it in her mouth.

His eyes got big. "Wait, that's a—"

"Cow testicle, I know." She licked her lips. "I have to say, it's better than sheep, but not as good as camel." She glanced around for the waiter, then back to him. "Do you think they have hot sauce?"

His eyes got bigger. "I think I'm in love," he breathed.
Book Info:
Aubrey Madison is starting over. Leaving Los Angeles and everything behind except the scars of her ruined past, Bree sets out for cowboy country. Now she has a new home, a new job-and a new worry: the ruggedly sexy rancher who makes her long for things she shouldn't . . .
Rough and tumble cattleman Max Jameson has broken wild stallions and faced angry bulls. Yet the redheaded city cupcake who turned up at the High Heather Ranch might be his undoing. Bree has a plan to rescue the ranch from foreclosure that's just crazy enough to work. But will Max gamble his future on a beautiful stranger?
Book Links:
Author Bio
Laura Drake is a city girl who never grew out of her tomboy ways, or a serious cowboy crush. She writes both Women's Fiction and Romance.
Her Sweet on a Cowboy series, romances set in the world of professional bull riding, are published by Grand Central. The Sweet Spot (May 2013), Nothing Sweeter (Jan 2044) and Sweet on You (August 2014).
Her 'biker-chick' novel, Her Road Home, sold to Harlequin's Superromance line (August, 2013), and she recently signed a 3 book deal for three more books, set in the same small town.
Laura resides in Southern California, though she aspires to retirement in Texas. She gave up the corporate CFO gig to write, full time. She's a wife, grandmother, and motorcycle chick in the remaining waking hours.
Website | Facebook | Twitter |