Today it is my pleasure to Welcome author
Kate Hewitt
to HJ!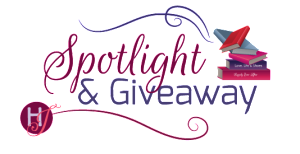 Hi Kate and welcome to HJ! We're so excited to chat with you about your new release, Now and Then Friends!
Please summarize the book for the readers here: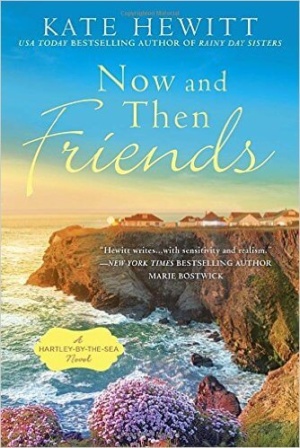 Now and Then Friends in a reunion story, but rather than romance it's a reunion for childhood friends whose lives have gone in completely different directions. I've been wanting to write about the bittersweet complexities of female friendship for a while, and I'm glad I got to do it with this book.

Please share the opening lines of this book:
"My corns are bothering me terribly today."
"Are they?" Rachel Campbell managed to combine a bright smile with a look of sympathy for ninety-three-year old Iris Fairley. "Cup of tea, then?" she suggested, and manoeuvred around the tiny kitchen with its cracked linoleum tile to fill the brass kettle Iris' father had bought in a Turkish bazaar before the First World War.
Please share a few Fun facts about this book…
Hartley-by-the-Sea is based on the village where I lived at the time, so all the places and descriptions are grounded in reality, which makes for interesting chats with your neighbours when they read the book!
Claire and Rachel climb a fell (mountain) in the book—something I managed to avoid in my 4 years of living in the Lake District with its nearly two hundred peaks
While I was writing the book I discovered we were going to have to unexpectedly (and unwillingly) move from the area, which made all the descriptions of the setting quite poignant to write.
Please tell us a little about the characters in your book. As you wrote your protagonist(s) was there anything about them that surprised you?
Rachel and Claire surprised me because while they start out as opposites, they realize their own similarities through the book. Rachel is strong, hard-headed, independent, and bossy, while Claire is quiet, reserved, shy, and uncertain. But throughout the story Rachel learns she needs to depend on people, and Claire finds her inner strength. That wasn't the emotional journey I originally intended to take them on, but it was fun to discover through the writing process.
If your book was optioned for a movie, what scene would you use for the audition of the main characters and why?
I'd use the scene where Claire and Rachel have their first honest conversation, because it really gets to the heart of who they both are. Here is a snippet:
"Anyway, it's my problem," Rachel said. "I realize that. My life is stressful and overwhelming and I've got a chip on my shoulder"—she repeated Andrew's indictment with a burning sensation in her chest—"about all the things that didn't happen for me. And I suppose when you swanned back into the village with your expensive clothes and perfect hair, able to relax for however long you liked, with that huge house all to yourself and so much freedom, well, it got to me." She glanced at Claire, who was staring at her, openmouthed. "So I'm jealous. It's as simple as that."
"Jealous . . ." Claire sounded wondering.
"Does that really surprise you?" Rachel demanded, exasperated. "You're pretty and rich and if you don't want to lift a finger you don't have to. Meanwhile I'm working ten or twelve hours a day cleaning toilets, including yours, just so my sister can go to a school she's telling me she doesn't even want to go to. Is it no wonder I'm jealous?"
The words had exploded out of Rachel and seemed to fall on Claire like hammer blows. She blinked, looking as if she'd just been beaten up.
"I never thought of it like that."
"No? How do you think of it, then?"
"I think how lucky you are to have your own business and be so smart. . . ." Rachel let out an incredulous laugh. "You knew all the answers to the pub quiz."
"I'll go far in life, then, shall I?"
Excerpts. © Reprinted by permission. All rights reserved.

What do you want people to take away from reading this book?
That second chances are always possible if you work at them.
What are you currently working on? What other releases do you have planned for 2016?
I am currently working on a historical novel called The Second Bride, and I just finished the third instalment in the Hartley-by-the-Sea series. For the rest of 2016 I have two romance releases in July and September and a Christmas novella in December.

Thanks for blogging at HJ!
Giveaway:

Print copy of NOW AND THEN FRIENDS (A Hartley-by-the-Sea Novel) by Kate Hewitt
To enter Giveaway: Please complete the Rafflecopter form and Post a comment to this Q:

Do you have a friend you've lost touch with over the years that you'd like to reconnect with? Or have you reconnected with someone from the past? If so, how did it work out?
Book Info:
The USA Today bestselling author of Rainy Day Sisters returns to Hartley-by-the-Sea…
Childhood best friends Rachel Campbell and Claire West have not only grown up, but after fifteen years, they've also grown apart…
After her father left, Rachel had to dedicate her life to managing her household: her two younger sisters, her disabled mother, and her three-year-old nephew. When Rachel's not struggling to look after all of them, she makes her living cleaning the houses of wealthy families—inclulding the Wests, where a surprise now awaits her. . . .
A lifetime of drifting in other people's currents has finally left Claire high and dry. First it was her parents, then the popular crowd in school, and finally her fiancé. Now she's returned to Hartley-by-the-Sea to recover. But running into Rachel brings back memories of past mistakes, and Claire wonders if she now has the courage to make them right.
Soon Claire's brother, Andrew, asks Rachel to keep an eye on Claire, which is the last thing either woman wants. But as their lives threaten to fall apart, both Claire and Rachel begin to realize what they need most is a friend. The kind of friend they once were to each other, and perhaps can be again. . . .
Book Links:

Meet the Author: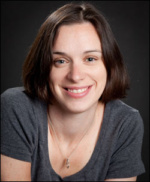 Kate Hewitt is the author of over 50 novels of romance and women's fiction. Whatever the genre, she enjoys telling an emotionally compelling story. After living as a diehard New Yorker for several years, she now makes her home in the English Cotswolds with her husband, five children, and an overly affectionate Golden Retriever.
Website | Facebook | Twitter |