Today it is my pleasure to Welcome author
Kristan Higgins
to HJ!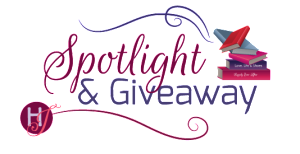 New York Times bestselling author Kristan Higgins welcomes you home in this witty, emotionally charged novel about the complications of life, love and family.
Please summarize the book for the readers here:
Thank you for having me back!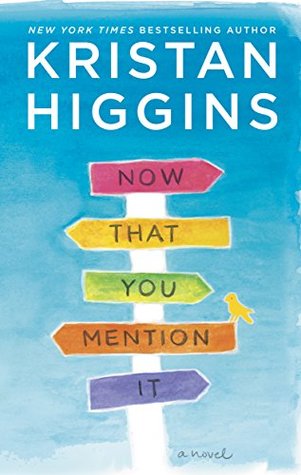 NOW THAT YOU MENTION IT is the story of Nora Stuart, returning to Scupper Island, Maine, her hometown, for the first time in fifteen years. A near-death experience has made her want to reconnect with her mom and currently imprisoned sister and get to know her teenage niece, who's staying on the island for the summer. Nora also wants to face down some of the ghosts of her past—whatever happened to her father? Has anyone forgiven her for that car accident that hurt the Fletcher twins? Turns out there's more to the island's history than she knew… and maybe an unexpected romance in the making as well.

Please share the opening lines of this book:
The first thought I had after I died was: How will my dog cope with this?
The second thought: I hope we can still go with open casket.
Third thought: I have nothing to wear to my funeral.
Fourth: I'll never meet Daniel Radcliffe now.
Fifth: Did Bobby just break up with me?
Please share a few Fun facts about this book…
It's based on Beal's Island, Maine, which I visited for the day with my family a couple summers ago.
There's a wink and a nod to faithful readers with a reference to a character from a previous book; otherwise, the book isn't linked to any others.
The heroine lives on a houseboat.
Please tell us a little about the characters in your book. As you wrote your protagonist was there anything about them that surprised you?
Nora surprised me by being more of a bad-ass as the book goes on. When we first meet her, she's literally knocked off her feet. Life hasn't been going according to her carefully laid plans this past year, and she's at a low point. But going home, back to a place where she isn't exactly welcomed with open arms, brings out her strength and grit. She's always thought of herself as a before and after person–before she left the island for college and med school, and after she left the island. But all along, she's been a better person than she realizes.
If your book was optioned for a movie, what scene would you use for the audition of the main characters and why?
There's a scene when Sullivan (our hero) comes to check on Nora, who's living on a houseboat for the summer. The power's gone out, and he comes to check on her, only to find her armed and dangerous (more to herself than any possible intruder). There's a lot going on under the surface for Nora, and Sullivan has to piece some things together. It's an intimate scene, but not in the sexy time way, so I think it'd be a great audition scene.
What do you want people to take away from reading this book?
You're braver than you think, stronger than you know, and even if life hits you with a solid punch, you can still have a great life. How's that?
What are you currently working on? What other releases do you have planned for 2017?
I have an August release called GOOD LUCK WITH THAT, and I'm working on another book, currently called UNTITLED.

Thanks for blogging at HJ!
Giveaway:

Print copy of NOW THAT YOU MENTION IT by Kristan Higgins
To enter Giveaway: Please complete the Rafflecopter form and Post a comment to this Q:

Nora has redefined herself as a doctor, but once back on Scupper Island, she feels the "old her" more strongly. Can you relate to that, and if so, how was your old self different from the way you are now?
Excerpt from Now That You Mention It:
The first thought I had after I died was: How will my dog cope with this?
The second thought: I hope we can still go with open casket.
Third thought: I have nothing to wear to my funeral.
Fourth: I'll never meet Daniel Radcliffe now.
Fifth: Did Bobby just break up with me?
Let me back up an hour or so.
It was a quiet night at Boston City Hospital—for me. It usually was. While I worked at New England's biggest and busiest hospital, I was a gastroenterologist. Most of our patients were diagnosed in the office before things get too critical—everyone freaks out if they can't eat or poop, after all. So aside from the occasional emergencies—hemorrhages or burst gallbladders—it's a pretty mellow field.
It's also a field with a low mortality rate.
I had just checked the four patients my practice had on the unit—two elderly women, both impacted, sent in by their nursing homes for enemas, basically; one small bowel obstruction, resolving nicely on a clear-liquid diet; and one case of ulcerative colitis which my colleague would operate on tomorrow.
"So more fiber, Mrs. DeStefano, okay? Lay off the pasta and add some greens," I said to one of the impacted patients.
"Honey, I'm Italian. Lay off the pasta, please. I'd rather die."
"Well, eat more greens and a little less pasta." She was ninety-six, after all. "You don't want to get all bound up again, do you? Hospitals are no fun."
"Are you married?" she asked.
"Not yet." My face felt weird, as it always did when I fake-smiled. "But I have a very nice boyfriend."
"Is he Italian?"
"Irish-American."
"Can't win them all," she said. "Come to my house. You're too skinny. I'll cook you pasta fagiole that will make you cry, it's so good."
"Sounds like heaven." I didn't point out that she no longer lived in a house. And that no matter how sweet the little old lady might be, I didn't visit strangers, even strangers who thought I was skinny, bless their hearts. "Get some rest tonight," I said. "I'll check on you tomorrow, okay?"
I left the room, my heels tapping on the shiny tile floors… I always dressed for work, having come to my love of clothes later than most. I adjusted my white doctor's coat, which still gave me a thrill—Nora Stuart, M.D., Department of Gastroenterology stitched over my heart.
Excerpt. © Reprinted by permission. All rights reserved.

Book Info:
One step forward. Two steps back. The Tufts scholarship that put Nora Stuart on the path to becoming a Boston medical specialist was a step forward. Being hit by a car and then overhearing her boyfriend hit on another doctor when she thought she was dying? Two major steps back.
Injured in more ways than one, Nora feels her carefully built life cracking at the edges. There's only one place to land: home. But the tiny Maine community she left fifteen years ago doesn't necessarily want her. At every turn, someone holds the prodigal daughter of Scupper Island responsible for small-town drama and big-time disappointments.
With a tough islander mother who's always been distant, a wild-child sister in jail and a withdrawn teenage niece as eager to ditch the island as Nora once was, Nora has her work cut out for her if she's going to take what might be her last chance to mend the family. Balancing loss and opportunity, dark events from her past with hope for the future, Nora will discover that tackling old pain makes room for promise…and the chance to begin again.
Book Links: Book Links: Amazon | B&N | iTunes | kobo | BAM |


Meet the Author: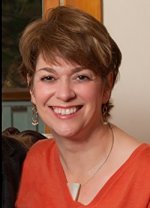 Kristan Higgins is the New York Times, Publishers Weekly and USA TODAY bestselling author whose books have been translated into more than twenty languages. She has received dozens of awards and accolades, including starred reviews from Publishers Weekly, Library Journal, The New York Journal of Books and Kirkus.
Kristan lives in Connecticut with her heroic firefighter husband, two atypically affectionate children, a neurotic rescue mutt and an occasionally friendly cat.
Website | Facebook | Twitter | Instagram | GoodReads |