Today, HJ is pleased to share with you

Nalini Singh's

new release: 

Ocean Light

New York Times bestselling author Nalini Singh dives beneath the surface of her Psy-Changeling world into a story of passionate devotion and selfless love…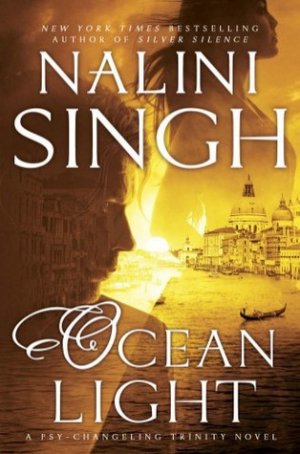 Security specialist Bowen Knight has come back from the dead. But there's a ticking time bomb in his head: a chip implanted to block telepathic interference that could fail at any moment–taking his brain along with it. With no time to waste, he should be back on land helping the Human Alliance. Instead, he's at the bottom of the ocean, consumed with an enigmatic changeling…

Kaia Luna may have traded in science for being a chef, but she won't hide the facts of Bo's condition from him or herself. She's suffered too much loss in her life to fall prey to the dangerous charm of a human who is a dead man walking. And she carries a devastating secret Bo could never imagine…

But when Kaia is taken by those who mean her deadly harm, all bets are off. Bo will do anything to get her back–even if it means striking a devil's bargain and giving up his mind to the enemy…


Enjoy an exclusive excerpt from Ocean Light:
Kaia wasn't prepared for the suddenness with which she found herself alone with a half-naked Bowen Knight who still had a hint of red on his cheekbones. Her fingertips tingled. She wanted to brush them across the red, soothe his discomfort.
Squelching the impulse, she held her breath and slipped the strap attached to the small personal alarm over his head. Her thumbs brushed accidentally through his hair, the soft strands sliding across her skin like a caress. And his eyes, they watched her with a focus that wasn't as ruthless as it should've been.
She withdrew her hands as the flat disk of the alarm settled against his chest. "Squeeze it if you need assistance," she told him, "and the orderly will respond. It's waterproof so you can take it into the shower."
He set his jaw, nodded.
And Kaia knew that despite his intelligence, he had a pride as idiotic as all six of her male cousins. "Wait—I'll be back in three minutes."
She was breathless by the time she returned . . . and he'd managed to swing his legs over the side of the bed in the interim, the hair-rough skin of his lower legs and thighs capturing her gaze. The edge of the blue sheet hovered far too high up those thighs, his hand fisted in it to keep it across his hips.
Skin threatening to burn, Kaia snapped her focus to his face.
He was breathing hard, his other hand braced on the bed and his head slightly lowered. She dared look down, saw that he was flexing his feet back and forth. Already checking his strength, already figuring out his capabilities, already becoming a risk to the station and all the people within it.
Her blood chilled.
"Here." She thrust the cane toward him. "Use it. Even if you only lightly hit your head in a fall, it could ruin the experiment."
Bowen Knight closed the fingers of his free hand over the smooth head of the cane. "What would I do without your tender care?" he said with the faint hint of a smile on his lips.
Narrowing her eyes, Kaia stepped back. He hadn't spoken to her in a biting or harsh or even sarcastic tone. It had been . . . She didn't know what it had been, and—she told herself—she didn't care. "Shower cubicle is there." She pointed out the doorway about ten feet from the bed and to the left. "Any questions?"
The ebony of his hair caught the light as he shook his head, the waves of it far too soft for this hard man.
Fingers curling into her palms, Kaia spun on her heel and headed to the door. She was about to step out when he said, "Kaia?"
She halted but didn't look up, not trusting her body and its stunningly traitorous response when it came to the security chief of the Human Alliance.

Posted by arrangement with Berkley, a member of Penguin Group (USA) LLC, A Penguin Random House Company. Copyright © Nalini Singh, 2018.
Excerpt. ©Nalini Singh. Posted by arrangement with the publisher. All rights reserved.
Giveaway:

Print copy of OCEAN LIGHT (Psy-Changeling Trinity) by Nalini Singh
To enter Giveaway: Please complete the Rafflecopter form and post a comment to this Q:

What did you think of the excerpt spotlighted here? Leave a comment for the author with your thoughts on the book…
Meet the Author: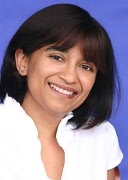 New York Times and USA Today bestselling author Nalini Singh lives and works in beautiful New Zealand, and is passionate about writing. She also loves chatting to readers. You can find her on Twitter (@nalinisingh) and Facebook (facebook.com/authornalinisingh), and via her website: nalinisingh.com
Nalini's Newsletter: Goes out monthly and includes exclusives for subscribers, including free short stories, sneak peeks, deleted scenes and more. To join, just copy and paste this into your address bar and fill in your name and email address: mad.ly/signups/59681/join