Today it is my pleasure to Welcome romance author
Bec McMaster
to HJ!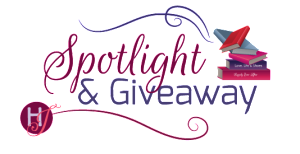 Hi Bec and welcome to HJ! We're so excited to chat with you about your new release, Of Silk and Steam

!


Thanks for having me!

Please summarize the book for the readers here: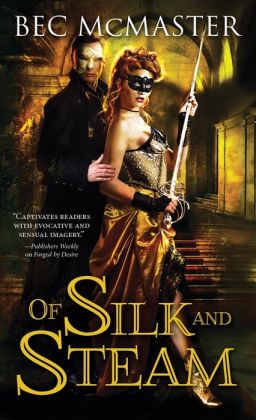 Of Silk And Steam is all about enemies-to-lovers, when Leo Barrons finds himself up against his old nemesis – and the one woman he can't stay away from – Lady Aramina. Mina's an ice princess with a lot of secrets, and Leo is just the man to melt that ice. But when his own secrets are revealed, it turns out the Mina is the only one who can save him – if they can trust each other.

Please share the opening lines of this book:
'The first time Leo Barrons saw her, she'd just run a man through with her sword.

Peter Duvall gave a little gasp. Bluish blood dripped down his chest; the color that gave the blue bloods of the Echelon their name.'
Please share a few Random facts about this book…
Fact One – It's a little bit Romeo & Juliet (only, with a HEA) set in a steampunk-style Victorian era.
Fact Two – I love self-made heroes, and those who have to really fight to get their way in life – I love reading about the struggles a man has, rather than his spoils AKA the duke sitting in his castle, pondering how many pounds are in his bank account, while debutante's jostle at his door, doesn't interest me as much as a man in the middle classes, struggling to create something out of nothing. So while Leo starts out as the heir to a duke, with a great deal of power, let's just say I decided to take everything away from him. EVERYTHING. Mwahaha.
Fact Three – Mina's childhood heroine is Grace O'Malley, the pirate queen.
Please tell us a little about the characters in your book. As you wrote your protagonist was there anything about them that surprised you?
My heroine, Mina, is the Duchess of Casavian, a powerful woman, and a voice on the Council of Duke's who rule my alternate Victorian-era London. A woman in a man's world, she's had to make herself into ice to survive, and the only man who gets under her skin is Leo Barrons, the dashing heir to the duke who killed her father. Let's just say that Leo's not going to have an easy job convincing her to let down her guard, though oh, how much he wants her to. Mina's long been a fascination of his, and being a powerful man himself, he likes a good chase and especially admires a strong woman.
As to surprises, Mina and Leo have been with me from the start of the series – in Kiss of Steel – and I knew exactly how their story was going to go, and who they were. A few surprises for the readers however, as Mina's motivations have been very shady until now. (:
What, in your mind, distinguishes this book from other books out there in the same genre?
The London Steampunk series is a real mash-up of genres – steampunk, paranormal and romance. It's a diamond-bright world where dukes and debutantes swan through ballrooms on the surface, and it's only if you look closely that you can see that the smiles are sharp and dangerous, and no debutante dares to be caught alone. It's a world where the male aristocracy is full of semi-vampiric bluebloods, who use their craving virus as both a weapon, and an exclusive right for certain members of society. It's a world where a rookery gang leader can be a hero, and where those that appear civilised on the surface, are often the true villains.

Do you think there's a common trait or a certain je ne sais quoi that your heroes must have?
I love alphas, but I certainly don't like heroes who treat their heroines meanly, so one of the defining traits of my heroes has definitely been respect for the woman they're courting, and the fact that her very strength is what interests him in the first place. My heroes are the sort to step up for their heroine at every chance, but also be content to mind her reticule while she takes care of her own butt-kicking, if needed.

Did any scene have you crying or laughing (or blushing) while writing it?
Oh, man, there were so many! But I'll share one that isn't leading into spoiler territory. This is the third kiss, where Mina's starting to warm up to Leo, but is still wary, and he's trying to lure her away from the group for certain purposes. I loved writing this scene, because you can really see the transition in their relationship – from enemy to lovers – and there is so much tension between them:
Barrons glanced through the glass, surveying the factory. Galloway's group was farther away now, examining the semi-rigid construction of the pleasure cruiser. Tension etched itself across his broad shoulders. "Perhaps I simply wished to get you alone."

"To warn me about dangerous plots?" Mina's voice held a teasing lightness to it.

Faint humor stirred in his expression, his right brow twitching. "No, duchess. I was thinking something far more interesting than that. Perhaps it's the presence of the dirigible. Reminds me of the other night. Of…debts owed. And paid."

"So you lured me here under false pretenses?" she replied, taking a step to the side when he took one toward her.

Barrons smiled, a lazy stretch of the mouth. "Would you have come if I'd told you I planned on kissing you?"

Yes. No. Her smile froze. "I've decided your kisses are bad for my health."

"Precisely." Another step had her pressing back against the far wall.

"Besides, the other night was different. I owed you a kiss, and a Duvall always pays their debts."

"And last night?" The overwhelming presence of his body was palpable now. A whiff of bay rum came off him, lingering in her nostrils and making her mouth water, just a little.

"Barrons," she warned.

"Last night," he murmured. "You didn't owe me anything."

Mina ducked beneath his arm, bumping into the console. "Last night, I learned some rather interesting facts."

"Have you decided what you're going to do with that information?"

"Not yet," she declared. Make of that what you will.
If your book was optioned for a movie, what scene would you use for the audition of the main characters?
Hmm, I'd probably go with the second kiss, where Mina finally has the information/chance to destroy her enemy the Duke of Caine, by betraying one of Leo's secrets – only Leo turns the tables on her. It would be a great scene to see if the actors have chemistry. Mina's attraction to Leo is definitely heating up and causing her all kinds of consternation, and when she threatens to reveal his secret, Leo tells her:
"If you want the truth, Mina, you have in your hands information that could ruin me. You could cut at the Duke of Caine while you're at it, but you'll never bring your father back. You'll never slake that empty hole inside yourself that you think vengeance will fill." His thumb stroked her jaw. "All you'll do is destroy me. Not him. Me."

Those dark eyes lifted to his, widening in shock—and then uncertainty.

"Your choice," he whispered. "I know you're frightened of what's happening between us, but in this…you have all the power."

"You're a fool," she blurted out. "To tell me of this."

"Maybe." He was a fool. When it came to her, he was the worst kind, and damn him for it, but he couldn't help himself. "Or maybe I think I know you, just a little. Maybe I'm the only one who'll ever risk getting close enough to know all of you. You can either run from that or ruin me so that you feel safe, but I don't think you want to." He brushed that same thumb against her lip, his voice dropping. "But the choice is yours, in this and everything between us. I won't deny that I want you, Mina, but you're the one who's going to have to take that step, and so I choose to trust you with this."
What do you hope readers take away from this reading this book?
Gushing, adoring love for the London Steampunk world? Ha, no, I love writing fast-paced romances, and so my main joy as an author is entertaining a reader for however many hours – taking them away from their lives, and spilling them into a dark, dangerous, passionate world. I want my readers to be entertained, purely and simply.

What are you currently working on? What other releases do you have planned for 2015?
I love this question. I'm working on six other novels at the moment; some for my agent, some to self-publish, and some just because these stories won't leave me alone. They're an odd mix of genres. I tend to write whatever my brain insists must be written, because the best stories are those that hit you over the head and demand to be told, I believe. I'm taking a brief break from London Steampunk for a book or two, because I want to freshen up, and then we're straight back into that world, albeit with a new story arc. I'm hoping to have a couple of these stories available by the end of the year.

Thanks for blogging at HJ!
Giveaway:

Print copy of Of Silk and Steam (London Steampunk Series, #5)
To enter Giveaway: Please complete the Rafflecopter form and Post a comment to this Q:

I'm interested in knowing who your favourite strong heroine is? And why?
Book Info:
ENEMIES. ALLIES. LOVERS.
When her beloved father was assassinated, Lady Aramina swore revenge. The man responsible is well beyond her grasp, but his dangerously seductive heir, Leo Barrons, is fair game. When Mina obtains evidence proving that Leo is illegitimate, she has the means to destroy both the killer and his son, a man who troubles her heart and tempts her body.
A woman of mystery, Mina's long driven Leo crazy with glimpses of a fiery passion that lurks beneath her icy veneer. He knows she's hiding something, and he's determined to unravel her layer by silken layer. He just doesn't expect the beautiful liar to be the key to overthrowing the corrupt prince consort…or to saving his own carefully walled-off heart.
Title: Of Silk and Steam
Author: Bec McMaster
Series: London Steampunk
Publication Date: March 3rd, 2015
ISBN: 9781402291944
Buy Links:Amazon Apple BAM B&N Chapters Indiebound  Kobo
Meet the Author: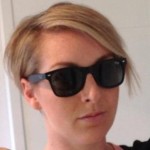 Bec McMaster lives in a small town in Victoria, Australia and grew up with her nose in a book. A member of RWA, RWA (Australia) and RWNZ, she writes sexy, dark paranormals and steampunk romance. When not writing, reading, or poring over travel brochures, she loves spending time with her very own hero or daydreaming about new worlds.

Excerpts. © Reprinted by permission. All rights reserved.