Today it is my pleasure to Welcome author
Samantha Chase
to HJ!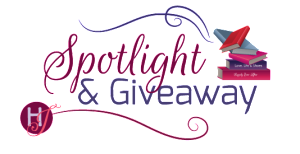 Hi Samantha and welcome to HJ! We're so excited to chat with you about your new release, One More Kiss!
Please summarize the book for the readers here: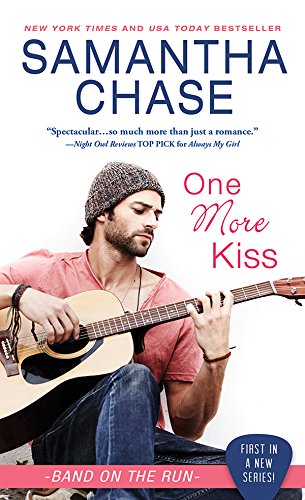 Thank you for having me here today!! I'm super excited to talk to you about ONE MORE KISS!! I was so excited to be able to create a rock band and give each of the members a story! ONE MORE KISS is book one in the Band on the Run series and features guitarist Matt Reed who is in crisis mode. During a hiatus from the band, he embarks on a lead role in a Broadway rock-opera and fails miserably. So miserably that the show closes after only three performances! Now he's nothing but tabloid fodder and goes into hiding at the home of a childhood friend. Only…he's not getting the rest and relaxation he needs because his friend's sister – Vivienne – also lives there! And what Matt doesn't realize is that during his wilder days on tour, he and Vivienne shared one very steamy kiss. So when she's openly hostile toward him, he has no idea why. But he soon figures it out…

Please share a few Fun facts about this book…
My family has always been in the food business, so Vivienne's love of cooking is totally based on personal experience.
Because of my love of cooking, we really don't get invited to people's homes for dinner! True story! So when Vivienne shares that story with Matt, it's also based on personal experience.
I got the inspiration for Aaron's home and Vivienne's home from researching luxury home rentals online
The chicken salad recipe that Vivienne shares in the book is a personal favorite of mine and it's the only way I'll eat chicken salad
I read way too many tabloid magazines and have TMZ bookmarked so I used those to inspire the kind of frenzy Matt was dealing with when the Broadway show failed.
If your book was optioned for a movie, what scene would you use for the audition of the main characters and why?
Vivienne's a foodie and her job is all about cooking and blogging and sharing recipes. In the beginning of their time together, she offers to cook for Matt but as they grow closer – as friends – he wants to do something special for her and decides to cook for her. This scene is a favorite because it's not a typical gift or something Matt would ever do for a woman and figuring out Vivienne's response to it was a lot of fun to write.
Right on cue, there was a knock on the back door and he heard Vivienne call out to him.
"In here," he replied, standing next to his big surprise.
"So I was thinking Chinese would probably be…" She stopped when she spotted him. Matt couldn't help but grin at the look of surprise on her face. "What…what's this?"
"You've been cooking for me for well over a week now and I thought it might be nice if I returned the favor." When she made to speak, he held up a hand to stop her. "Now I'm not saying this meal will be anywhere near as amazing as what you can do, but I do enjoy making steaks on the grill whenever I'm home or on a break from touring. I thought it might be a nice change of pace to let someone else do the work."
He was feeling pretty confident until he noticed the tears in her eyes.
"Oh, shit! Oh…Viv," he began nervously, closing the distance between them, he gently grasped her shoulders. "I…I'm sorry! I didn't mean to upset you. I thought I was doing something nice and…oh God…please don't cry!"
Vivienne let out a small laugh before leaning forward and wrapping her arms around him and hugging him tight.
"Um…Viv?"
"I'm not upset, Matt," she said and then pulled back to look up at him. "I am so incredibly touched you would do this." Reaching up, she wiped her tears away. "No one has ever offered to cook for me. I think I scare people, and they think they have to compete or something. But honestly, no one has ever done something this thoughtful. Thank you."
For a minute, he wasn't sure if she was being serious or not, but after watching the way her smile just lit up the room, he realized she was, and it filled him with pride.
He'd done that.
He – Matt Reed – had made Vivienne Forrester smile.
And it was a beautiful thing.
"Is there anything I can do to help?" she asked, looking around the kitchen.
"Nope," he replied confidently. "No, wait…I'm lying. You can pour yourself a glass of wine and then join me outside while I grill. I know how much you enjoy eating out on the deck and the weather is being cooperative."
"It sounds wonderful." Doing as he asked, she poured herself some wine from the bottle he'd left out to breathe on the counter and then followed him outside. Once seated, she took a long sip and sighed.
And then giggled.
Matt looked over his shoulder at her. "What's so funny?"
"I'm sorry…I just can't believe this is happening." She giggled again.
He looked at her in confusion.
"I can't believe Matty Reed – world famous rock star – is grilling a steak for me!" Another fit of giggles. "It just doesn't feel real!"
After adjusting the flame on the grill, Matt put the platter down beside it and turned to face her. "First of all, that's ridiculous. And second of all, I don't want you to look at this that way."
She instantly sobered. "I…I didn't mean to offend you, Matt."
He walked over to her and braced his arms on her chair, essentially caging her in. "I don't want you looking at this like Matty Reed is doing anything. That's not who I am. That guy? He isn't here, and he hasn't been since I showed up here with Aaron. I'm Matt. I'm the guy you grew up with." His expression was fierce, he knew it, and when Vivienne's eyes widened, he almost regretted his little outburst.
"Okay," she said, her voice a little breathless. "That's good."
"Yeah," he said, his voice a little gruff. His gaze zeroed in on her lips and it took every ounce of strength he had not to close the distance between them and kiss her. "Why?"
She swallowed hard and met his heated gaze. "Because I don't want to be with that guy. I can't say I particularly like Matty Reed. But you – Matt? I like being with you."
Damn. Did she have any idea what her admission was doing to him? Everything in him went hot and he knew it wouldn't be long before she'd notice exactly how her words affected him.
"That's good, Viv," he said. "Because I like being with you. And I want…" He leaned in a little closer. "I need…" His lips were mere inches from hers. A hissing sound came from the grill and Matt cursed. How impressive would it be if he burned dinner? Slowly pushing himself away from her, he walked over to the grill and flipped the steaks over before excusing himself to get their place settings and check on the potatoes.
Once inside the kitchen he had a brief – yet firm – mental talk with himself. So far the night was going exactly as he'd hoped. Vivienne was clearly relaxing around him and she was enjoying his surprise dinner. And if Matt was honest with himself, he'd have to say he was having a lot more fun making this meal than he ever thought possible. Maybe it was because of all the things Vivienne had been teaching him about food, or maybe it was because he knew he was pleasing her. Either way, he never knew dinner – especially one prepared by him – could almost be considered foreplay.
Excerpt. © Reprinted by permission. All rights reserved.

Thanks for blogging at HJ!
Giveaway:

Print copy of One More Kiss (Shaughnessy: Band on the Run) by Samantha Chase
To enter Giveaway: Please complete the Rafflecopter form and Post a comment to this Q:

In One More Kiss, Matt is part of the band Shaughnessy. Who is your favorite band to see in concert?
Book Info:
MATT REED IS HIDING
…from his fans
…from his past
…from a failure too painful to contemplate
Most of all, Matt is hiding from himself.
VIVIENNE FORRESTER IS A WOMAN WHO GIVES HER ALL
…to her friends and family
…to her online food blog
…to the man she loves
Vivienne will try anything and everything to coax Matt out of his self-imposed exile. But for this to work, Matt is going to have to meet her halfway…
Samantha Chase


Meet the Author: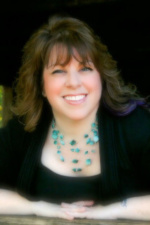 New York Times and USA Today Bestseller/contemporary romance writer Samantha Chase released her debut novel, Jordan's Return, in November 2011. Although she waited until she was in her 40's to publish for the first time, writing has been a lifelong passion. Her motivation to take that step was her students: teaching creative writing to elementary age students all the way up through high school and encouraging those students to follow their writing dreams gave Samantha the confidence to take that step as well.
When she's not working on a new story, she spends her time reading contemporary romances, playing way too many games of Scrabble or Solitaire on Facebook and spending time with her husband of 25 years and their two sons in North Carolina.