Today it is my pleasure to Welcome author
Maisey Yates
to HJ!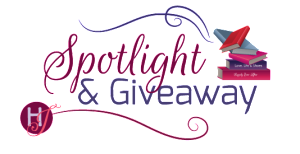 Hi Maisey and welcome to HJ! We're so excited to chat with you about your new release, One Night Charmer!
Please summarize the book for the readers here: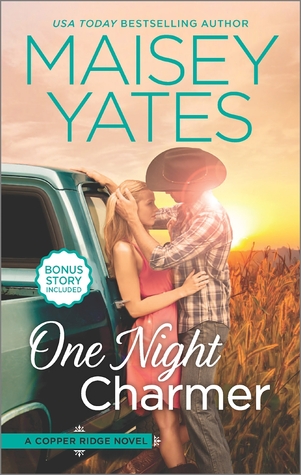 When town rich girl Sierra West's illusions of her perfect family crumble, she strikes out on her own to prove she's more than just her family name. But being a waitress is harder than she thought it would be, and her cranky boss is hotter than any man has a right to be…and when the sparks start to fly, there's no turning back.

Please share the opening lines of this book:
There were two people in Copper Ridge, Oregon who—between them—knew nearly every secret of every person in town. The first was Pastor John Thompson, who heard confessions of sin and listened to people pour out their hearts when they were going through trials and tribulations.
The second was Ace Thompson, owner of the most popular bar in town, son of the pastor, and probably the least likely to attend church on Sunday or any other day.
Please share a few Fun facts about this book…
I never intended for Ace to be a hero. My agent and editor loved him though, and asked me about him more than once…so I thought, why not?
He was originally supposed to be with another heroine. But when I wrote Sierra West into Bad News Cowboy, Ace staked a claim and there was nothing I could do to change it. I know it sounds crazy, but when it's right, it's right. Even for fictional characters.
Ace's brewery is based off of a restaurant in Bandon, Oregon
Please tell us a little about the characters in your book. As you wrote your protagonist was there anything about them that surprised you?
I heard the song Jack Daniels and Jesus by Chase Rice and that was when I decided Ace was the son of the pastor in town. That surprised me!
If your book was optioned for a movie, what scene would you use for the audition of the main characters and why?
I had to go with this scene, since it kind of has It all. The way they banter, the way they go after each other, but also the sexual tension between them:
"You think you're too good for this job," he continued, "you think you're too good for this bar. You've manipulated every boyfriend you've ever had with your good looks and your charm, with that little bit of superiority you feel. You do it without even trying."
His words were rapid-fire, like high-velocity gunfire from an automatic rifle. They hit their marks hard, and they left a lot of damage.
Mostly because he was saying things that she'd been grappling with herself over the past few days. He was drawing back the curtain on the facade of her life. Tearing down pieces of the walls that she wasn't ready to look behind yet. Parts that concerned herself, and not simply the sins of her father.
The little things that were starting to gnaw at her. Innocuous things. Like getting into her truck. Like realizing she'd never apologized before.
She was raw enough, certain enough that what he was saying had truth to it without him actually saying it.
"Oh, congratulations, you read the rich girl stereotype handbook," she returned, infusing her words with as much bite as she could manage. She might suspect that he had the right end of the stick, but she was never going to let him see that. Because he didn't say these things to help her, he said them to hurt her. He didn't deserve validation. Not from her. Maybe this would be the end of her career as a waitress. But as far as she was concerned he could suck it. "Sadly for you, I read the disaffected hipster bartender handbook. You're so over life. Money is so mainstream. And so is Coors Light. But of course, you want your business to be successful, and you actually need money to live. So you don't hate it nearly as much as you pretend."
She took a step toward him, her breathing labored. "You act like you have some big, deep wound that makes you inaccessible to the rest of us mortals, while you remind me and everyone else that we aren't really special. You think you're special, don't you, Ace? You're certainly more special than me." She took another step toward him, and another, and she extended her hand, poking him in the chest. "So complicated and manly. How can a featherheaded little lady like myself ever truly understand you?"
Much to her surprise, he laughed. His lips curving up into a half smile, something dark, dangerous, glinting in his eyes. "Don't be fooled by the flannel, babe. I'm not a hipster. I'm not that complicated either. I work, I eat, I sleep and I fuck. End of story."
What do you want people to take away from reading this book?
That you don't have to 'deserve' love to receive it. It's not something you have to earn. It's being loved, and receiving love that changes you enough so that you WANT to be the best you can be.
What are you currently working on? What other releases do you have planned for 2016?
I just finished up another Copper Ridge novel, which will introduce you to a new family in 2017. In 2016, the rest of the West Family's stories will be released: Tough Luck Hero, June 2016, Last Change Rebel, August 2016 and Hold Me, Cowboy in November. I also have a few Harlequin Presents coming up. The Greek's Nine-Month Redemption in June, Carides' Forgotten Wife in August, The Spaniard's Pregnant Bride in Oct and The Prince's Pregnant Mistress in Dec.

Thanks for blogging at HJ!
Giveaway:

Print copy: One Night Charmer (Copper Ridge Novels) by Maisey Yates.
To enter Giveaway: Please complete the Rafflecopter form and Post a comment to this Q:

Ace and Sierra have a workplace romance (which is one reason he's not thrilled out the attraction between them, since that violates his code of ethics). I have to confess…my husband was my boss when we started dating. So workplace romance is very real for me. Have you ever had a workplace romance?
Excerpt from One Night Charmer:
Sierra looked up at her unlikely, bearded, plaid-clad savior. She knew who it was, of course. Ace Thompson was the owner of the bar, and she bought beer from him at least twice a month when she came out with her friends. They'd exchanged money and drinks across the counter more times than she could recall, but this was more words than she'd ever exchanged with him in her life.
She was angry at herself. For getting drunk. For going out with the biggest jerks in the local rodeo club. For getting on the back of a mechanical bull and opening herself up to their derision—because honestly, when you sat your drunk ass on a fake, bucking animal, you pretty much deserved it. And most of all, for sitting down in the parking lot acting like she was going to cry just because she had been ditched by said jerky friends.
Oh, and being caught at what was most definitely an epic low made it all even worse. Ace had almost certainly seen her inglorious dismount of the mechanical bull, then witnessed everyone leaving without her.
She'd been so sure today couldn't get any worse.
Tequila had proven her wrong.
"I'm fine," she said, and she could have bitten off her own tongue, because she wasn't fine. As much as she wanted to pretend she didn't need his help, she kind of did. Granted, she could call Madison or Colton. But if her sister had to drive all the way down to town from the family ranch she would probably kill Sierra. And if she called Colton's house his fiancée would probably kill Sierra.
Either way, that made for a dead Sierra.
She couldn't exactly call her father, since she wasn't speaking to him. Which, really, was the root of the evil that was today.
"Sure you are. Most girls who end up sitting on their ass at one a.m. in a parking lot are just fine."
She blinked, trying to bring his face into focus. He refused to be anything but a fuzzy blur. "I am."
For some reason, her stubbornness was on full display, and most definitely outweighing her common sense. That was probably related to the alcohol. And the fact that all of her restraint had been torn down hours ago. Sometime early this morning when she had screamed at her father and told him she never wanted to see him again, because she'd found out he was a liar. A cheater.
Right, so that was probably why she was feeling rebellious. Angry in general. But she probably shouldn't direct it at the person who was offering to give her a ride.
In spite of the fact that her brain had rationalized this course of action, her ass was still firmly planted on the ground.
"Don't make me ask you twice, Sierra. It's going to make me get real grumpy, and I don't think you'll like that." Ace shifted his stance, crossing his arms over his broad chest—she was pretty sure it was broad, either that or she was seeing double—and looked down at her.
She got to her wobbly feet, pitching slightly to the side before steadying herself. Her head was spinning, her stomach churning, and she was just mad. Because she felt like crap. Because she knew better than to drink like this, at least when she wasn't in the privacy of her own home.
"Which truck?" she asked, rubbing her forehead.
He jerked his head to the left. "This way."
He turned, not waiting for her, and began to walk across the parking lot. She followed as quickly as she could. Fortunately, the lot was mostly empty so she didn't have to watch much but the back of Ace as they made their way to the vehicle. It wasn't a new, flashy truck. It was old, but it was in good condition. Better than most she'd seen at such an advanced age. But then, as far as she knew Ace wasn't a rancher. He owned a bar, so it wasn't like his truck saw all that much action.
She stood in front of the passenger-side door for a long moment before realizing he was not coming around to open it for her. Her face heated as she jerked open the door for herself and climbed inside.
It had a bench seat. And she found herself clinging to the door, doing her best to keep the expansive seat between them as wide as possible. She was suddenly conscious of the fact that he was a very large man. Tall, broad, muscular. She'd known that, somewhere in the back of her mind she'd known that. But the way he filled up the cab of a truck containing just the two of them was much more significant than the way he filled the space in a vast and crowded bar.
He started the engine, saying nothing as he put the truck in reverse and began to pull out of the lot. She looked straight ahead, clinging to the door handle, desperate to find something to say. The silence was oppressive, heavy around them. It made her feel twitchy, nervous. She always knew what to say. She was in command of every social situation she ever stepped into. People found her charming, and if they didn't, they never said otherwise. Because she was Sierra West, and her family name carried with it the burden of mandatory respect from the people of Copper Ridge.
Her father was one of the most esteemed horse breeders in the entire country, and it wasn't uncommon for his connections to bring people with big money into town, sometimes on a permanent basis. An entire culture of horsemanship had been built up because of her father, because of her sister Madison's dressage training. And in addition to that, her family made donations to the schools, to local charities…
And beneath all of that, what no one else knew was that her father was actually an awful human being.
That's not true. Jack Monaghan knows. His mother knows.
Her friend Kate knew, since she was engaged to Jack and all.
The secret was like a festering wound that had been tightly bandaged for years. But now the bandage was ripped off, and the wound was reopening, the truth of it slowly bleeding out around them, touching more and more people with each passing day.
She took a deep breath, trying to ease the pressure in her chest, trying to remove the weight that was sitting there.
"What's your sign?" Somehow, her fuzzy brain had retrieved that as a conversation starter. The moment the words left her mouth she wanted to stuff them back in and swallow them.
To her surprise, Ace laughed. "Caution."
"What?"
"I'm a caution sign, baby.
Excerpt. © Reprinted by permission. All rights reserved.

Book Info:
Copper Ridge, Oregon's favorite bachelor is about to meet his match
If the devil wore flannel, he'd look like Ace Thompson. He's gruff. Opinionated. Infernally hot. The last person that Sierra West wants to ask for a bartending job—not that she has a choice. Ever since discovering that her "perfect" family is built on a lie, Sierra has been determined to make it on her own. Resisting her new boss should be easy when they're always bickering. Until one night, the squabbling stops…and something far more dangerous takes over.
Ace has a personal policy against messing around with staff—or with spoiled rich girls. But there's a steel backbone beneath Sierra's silver-spoon upbringing. She's tougher than he thought, and so much more tempting. Enough to make him want to break all his rules, even if it means risking his heart…
Buy Link: http://www.maiseyyates.com/books/the-wests/
Book Links:

Meet the Author: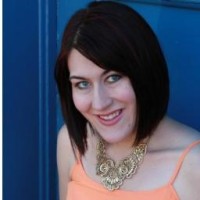 New York Times and USA Today Bestselling author Maisey Yates lives in rural Oregon with her three children and her husband, whose chiseled jaw and arresting features continue to make her swoon. She feels the epic trek she takes several times a day from her office to her coffee maker is a true example of her pioneer spirit.
In 2009, at the age of twenty-three Maisey sold her first book. Since then it's been a whirlwind of sexy alpha males and happily ever afters, and she wouldn't have it any other way. Maisey divides her writing time between dark, passionate category romances  set just about everywhere on earth and light sexy contemporary romances set practically in her back yard. She believes that she clearly has the best job in the world.