Today it is my pleasure to Welcome author
Joanne Rock
to HJ!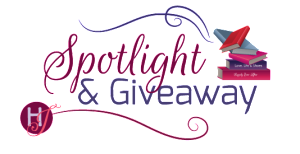 Hi Joanne and welcome to HJ! We're so excited to chat with you about your new release, One Night Scandal!

Hello! So glad to visit with you today! I can't believe I'm at the end of my McNeill Magnates series with this book.

Please summarize the book for the readers here: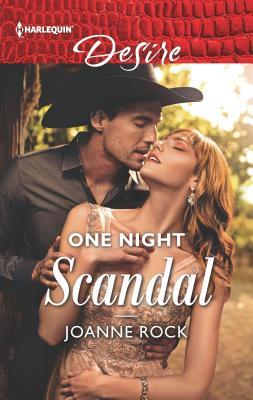 This is the story of a Hollywood actress who takes a job on a movie set in Wyoming in order to take down the director, who hurt her sister. She falls for the rancher hero who owns the property where they are shooting, and at first, she's not sure if he's an ally or an enemy. The hero isn't sure if he can trust her either, especially when someone is blackmailing the McNeills. Things go from bad to worse when he gets amnesia and she isn't sure how much to tell him about their sexy encounter in the past!

Please share your favorite line(s) or quote from this book:
This is one of my favorite exchanges between the hero and heroine:
"Is your truck nearby?" she asked, peering around the barn.
A smile curved that hard mouth of his. "My horse is right this way."
"Horse?" Her belly flipped.
Not because she minded riding a horse. Only because it implied a proximity that…
A shiver stole over her skin. Her nerve endings danced in anticipation of touching him. Something her brain knew was a very, very bad idea.
Please share a few Fun facts about this book…
Hollywood comes to Wyoming in this story as a film shoots on the McNeill ranch.
There is a #MeToo subplot as the heroine tries to get vindication for her sister.
The McNeill family blackmailer is revealed!
What first attracts your Hero to the Heroine and vice versa?
The hero is attracted to the heroine because she's good at her job. He's drawn in by her acting ability, seeing an emotional depth in her that surprises him, and it makes him wonder how she can channel that into a job. The heroine is attracted to the hero because he stands up to a bully.
If your book was optioned for a movie, what scene would you use for the audition of the main characters and why?
The first meet in this book is a fun one because the heroine is in the middle of an acting job, laying on the floor of a barn between a couple of horses. She's uncomfortable and itchy in the hay, and the director has been demanding and obnoxious. But she's trying to get her day over with when the hero arrives:
A horse snorted and tossed his head, a hoof momentarily pinning Hannah's hair to the floor before shifting away again. She couldn't smother her gasp, ruining the take.
But before the director could explode in rage, a tall, broad-shouldered cowboy stepped into view, casting a long shadow onto the floor where Hannah lay.
"Ventura, I need to take my horses," the man demanded, his tone uncompromising as he confronted the despot in charge of the shoot. "Now."
A murmur of collective surprise—quickly stifled—stirred the production team ringing the small barn.
Hannah shifted stretched quietly in the sea of hay, wanting a better look at the cowboy whose arrival had diverted the director's ire away from her. The newcomer blocked the lights, providing a welcome moment of coolness for her itchy skin.
She craned her neck to see around a horse's knee.
And got an eyeful of feminine fantasy material in denim and worn boots. The hard-muscled cowboy stood a head taller than the director, his biceps straining the fabric of a gray cotton T-shirt as he reached to stroke a hand over a horse's nose.
The man's features remained in shadow, thanks to the set of his dark Stetson, but the sharp edge of his jaw and the hint of dark hair curling along the collar of his shirt were enough to make any woman long to see more. For now, Hannah settled on taking in the rest of him, from where his shirt tapered along his back, from his formidable shoulders down to his lean hips.
"You are ruining my shot," Antonio Ventura snapped at the cowboy, his dark eyes narrowing. "Now, thanks to you, I'll need the animals even longer."
The fury brewing under the quiet words made the sweat on Hannah's back turn cold and clammy, worry chilling her.
"Whether you need them or not isn't my concern." The cowboy took the reins of the one closest to him. "They're not professional actors, and they're done for today."
Hannah would have admired anyone unafraid to stand up to a bully like Ventura. But she took a special brand of pleasure in seeing this big, strong guy put the smarmy brute in his place.
"As you can see—" Ventura enunciated each word as if the cowboy was a simpleton "—they are hardly being asked to act. They're standing in the middle of a barn, just the same as they will be when you take them with you. I suggest you consult your boss before you make a choice that will cost you your job."
The dirtbag. How unfair to threaten the man's livelihood. Hannah was already mentally composing a letter to the ranch owner in the cowboy's defense.
"My choice is made." The sexy stranger gathered the other horse's reins in the opposite hand. "And since we're making suggestions, I'm going to advise you to take better care of your actors." The man's gaze fell to where Hannah sprawled in the hay. "Do you need a hand, miss?"
His eyes were blue. Clear sky blue.
Wide-open spaces, Wyoming blue.
Hannah wanted to fall right into them.
Except, she realized, she couldn't afford to thumb her nose at Antonio Ventura before she'd gathered evidence of his criminal behavior. With more than a little regret, she shook her head, a stray piece of hay poking the back of her neck as she moved.
"No. Thank you." She risked a small smile at the horseman, hoping the director was too busy seething to notice.
When she gave her boss a quick glance, he seemed to be pounding out digits on his cell phone as he paced away from the camera equipment.
"You're going to regret this show of stupidity," Ventura threatened between clenched teeth.
Around him, the production team buzzed with new life, sensing they were done shooting for the day as the cowboy guided the animals out of the wide barn door. The night air quickly rushed in.
Hannah watched his retreat, her breath stuck in her chest as she followed his long-legged stride, an easy swagger that made her wish she would have accepted his hand when he'd offered it. What might it have been like to touch him? To keep that blue gaze trained on her a little longer?
Behind her, the wardrobe stylist cleared her throat. "Um…Hannah?"
Readers should read this book….
if they love western settings and ranchers. Or if they love of a story of secrets and scandal! This story has lots of them.
What are you currently working on? What other releases do you have in the works?
Right now, I'm working on a Texas Cattleman's Club story to be released next June. Up next for me is a January 2019 title, The Rancher's Bargain. Then, in the spring, I'll have a new series releasing from Tule about a family of Texas baseball players.

Thanks for blogging at HJ!
Giveaway:

Cowboy books and a pair of Harlequin socks for you! Signed copies of Expecting a Scandal and Second Chance Cowboy by Joanne Rock. Open INTL (see picture)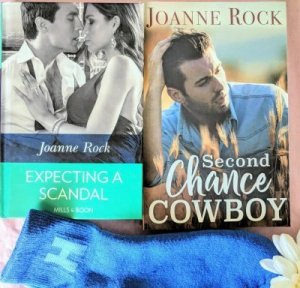 To enter Giveaway: Please complete the Rafflecopter form and Post a comment to this Q:

Do you have a favorite outdoor place to read? What about a favorite indoor place?
Excerpt from One Night Scandal:
"You'll be fine," he assured her, holding a hand out for her while he stood next to a dark horse with a glossy coat. "I'll help you up." He flipped the ring for her foot so it was easier for her to see. "Step into the stirrup and you'll be home in no time."
Her heart pounded a chaotic, fast beat. But stalling wasn't going to get her home any faster. She understood that much. Willing herself to remain calm, she stabbed the toe of her tennis shoe through the foothold.
Brock's hands were quick and efficient as he boosted her up onto the saddle. He didn't linger. But he might as well have been massaging her naked body for how her skin reacted under her clothes. Her thigh tingled. Her waist…
She wanted his hands there again. Before she could gather herself or prepare for more, Brock swung up onto the animal behind her. His chest was against her back. Her hips tucked into the cradle of his lap, his strong thighs bracketing hers.
There was no space. No distance. And it felt so good she couldn't have spoken if she'd tried. The only thing she didn't like about it was that she shouldn't like it so damn much.
But there was no chance to protest now as his arm curled around her waist, his hand bracing her protectively against him while he nudged the animal into motion. Hannah sucked in a gasp at the feel of their bodies moving together. In sync. Rubbing together.
It was the most erotic experience of her life, and she hardly knew the man. Keenly aware of his body, Hannah closed her eyes to try to shut out the feel of him…everywhere. But even that proved dangerous, as her mind vividly supplied even more suggestive details. The scent of him—leather and musky aftershave—drifted around her, the warmth of his body a welcome heat on a summer night that had cooled surprisingly fast after sundown. Searching for a fraction of space, she shifted in the saddle as they galloped through trees. Her movement elicited a sharp intake of breath behind her.
It was the first indication Brock might be feeling some of the wayward attraction, too. She wanted to turn around to face him, to see the expression on his face, but his palm was a firm weight against her belly, his fingers a light graze of warmth along the inside of her hip. The barrier of her leggings didn't begin to dull the intimacy of the sensation.
She didn't know how she'd walk away from him at the end of this ride. For that matter, she didn't know how she'd look him in the eye again after this. It was all so very…
Sensual.
Her heart pounded faster than the horse's hooves. She told herself it was because of the incredible stress she'd been under. The frustrated tension of seeing her sister suffer and not being able to help. The unbearable strain of working with a man she despised in order to find evidence of his misdeeds.
All that anxiety had shoved her to a breaking point, leaving her with zero reserves now, when tempted with the heady pleasure of a generous, honorable man's touch. Brock had strode into her world, putting the bully Ventura in his place, and Hannah had been intrigued. Curious. Attracted.
Now, adding to that attraction, the horseback ride tantalized her with needs she normally shoved to the backburner. These were desires she'd ignored easily enough in the past, only indulging them within committed relationships.
Brock's touch teased her with all the ways she'd gone unfulfilled. Because no man had ever ignited the sort of awareness she felt tonight. As if the slightest increase in pressure from his hands would unleash a tide of passion and desire that would completely sweep her away.
Then, suddenly, her cabin was in sight, the tiny pinprick of light from an upstairs window growing as they neared the small structure. She focused on it like a beacon in a dark sea, telling herself this churn of sensual thought would recede once she arrived there.
When Brock leaned back slightly in the saddle, drawing the horse to a halt, Hannah waited for a break in the seductive spell. But even as Brock swung a leg over the saddle and jumped down to the ground, her nerve endings still danced with awareness. Anticipation.
Glancing at him, she met his gaze for a moment, and that only worsened the heat. He reached up to help her dismount, his hands ready to assist her. And she simply fell into his arms. No thought. No planning. She slid down, her body against his in a way that set her on fire. Then she was reaching for him, wrapping her arms around his neck.
Kissing him.
Excerpt. © Reprinted by permission. All rights reserved.


Book Info:
One night to remember with the perfect cowboy…
Or one step toward the perfect revenge?
Nothing in Hannah Ryder's plot included a hot fling with a drop-dead-sexy cowboy. Especially when her cowboy turns out to be Brock McNeill—a potential enemy with ties to the man Hannah wants to destroy. When an accident claims Brock's memory, Hannah is caught in an intricate web of scandal, falling dangerously for the one man she shouldn't trust…
Book Links: Book Links: Amazon | B&N | iTunes | kobo | Google |


Meet the Author: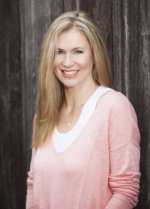 Four-time RITA finalist and USA Today best selling author Joanne Rock has never met a romance sub-genre she didn't like. The author of over eighty books enjoys writing a wide range of stories, most recently focusing on sexy contemporaries and small-town family sagas.
An optimist by nature and perpetual seeker of silver linings, Joanne finds romance fits her life outlook perfectly–love is worth fighting for.
Website | Facebook | Twitter | Instagram | GoodReads |