Today it is my pleasure to Welcome romance author
Rachael Johns
to HJ!
 Hi Rachael, welcome to HJ!
What would you say are the 5 best things about being a writer?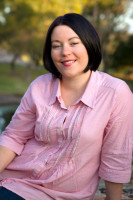 In no particular order – being able to work in bed with my electric blanket on in the winter, having flexible hours to attend things like school assemblies and carnivals, being able to play God with your characters, it's legitimate to look up pictures of hot men on the net (research) and being able to go to romance writers conferences and hang out with the most amazing people in the world!
Let's talk about your newest release: OUTBACK DREAMS
If you had to summarize Outback Dreams for the readers here
OUTBACK DREAMS is the first in my Bunyip Bay series with Harlequin Australia. Set in a small town four hours north of Perth, Western Australia, it is the story of Faith and Monty who have been best friends for as long as they can remember (yep – friends to lovers, one of my favourite romance tropes). The book is about the characters' dreams – how over the course of the story they have to reassess these life long dreams and then embrace the new ones with everything they've got.
It's not ALL about the romance, OUTBACK DREAMS also explores the touchy relationships between Faith, Monty and their respective families and looks at how Autism can affect a family and community, not just one person. Although these latter things may sound heavy, all in all, OUTBACK DREAMS is an easy read with lots of heart and feel-good moments!
Please tell us about the characters in your book?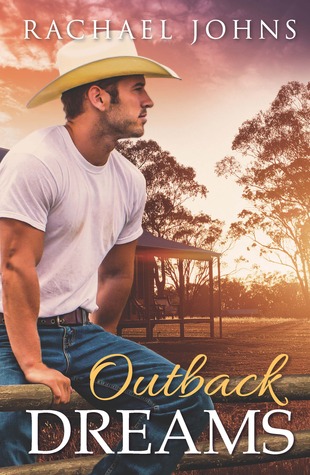 Faith Forrester has always been one of the guys but at thirty years of age, she'd getting sick of this and starting to wish for more than just friends. She wants to find love and settle down and start a family, but to do this she must start standing up for herself with her family and friends. No one is more surprised than she is when she starts looking at the man who has always been her best friend as possible boyfriend material but once she sets her sights on him, nothing is going to get in her way.
Daniel (Monty) Montgomery is a hard working guy who has been determined to buy his own farm since his parents sold the family property when he was a kid. Although he loves his family he keeps his distance because he's harbouring a guilty resentment towards his autistic brother, who was the reason his family sold the farm. HIs closest friend is Faith but even she doesn't know how deeply affected he has been by this. When his dreams of his own farm are finally realised, he suddenly has to face the possibility that maybe a piece of land can't bring him the contentment he so desires.
Was it love at first sight for your characters? If not what was the pivotal moment of change?
No. They've known each other for years!! There are a few small things that lead to the big moment of change, but I'd say that big moment would be when they go on a road trip together, have a little too much to drink and end up sharing their tent in a way they never imagined.
If your characters could go back in time and change one thing what would it be? Why?
Faith would make her mother recover from cancer, because she misses her mother terribly but also because of the disharmony her death caused in the family.
At the beginning of the book, Monty would have said he'd rewrite history so his parents didn't sell their family farm, but in the end, he realises they did it for all the right reasons and that people are more important than property!
What scene did you have the most fun writing? Why?
Probably the first moment Monty sees Faith as someone other than just one of the guys. It was fun playing with his emotions and feelings as he tries to repress them.
The other blokes offered their congratulations and voiced their disappointment that Monty wouldn't be working with them anymore. They settled down to a round of drinks and then Kyle, coming back from his first trip to the men's room, froze. Staring ogle-eyed at the pub entrance he finally let out a wolf-whistle. Everyone swung round to see what, or rather who, had got Kyle's balls in a twist. Monty's mouth was the first to drop open.
Faith.
Her smile filled her whole face as his gaze met hers. His mouth went dry. Ryan came in behind her and they started towards the bar. She strode liked she'd been walking in knee-high eff-me boots her whole damn life. A titillating pink dress fell way above her knees, showcasing legs that usually only wore jeans or denim shorts. And her hair. What had she done with her hair?
It swished around her shoulders as she sashayed toward them. It looked so soft, silky, and golden blonde, a few shades lighter than usual. His fingers twitched around his beer glass as the craziest thought of sliding them through Faith's hair hit him like a sucker punch to the gut.
Before he could digest this thought and work out what the hell to do with it, Ryan and Faith were amongst them.
Adam lifted a hand in greeting and Faith grinned at her audience of open-mouthed men. 'Evening boys.'
The look on his mates' faces reminded Monty his own jaw was still scraping the ugly carpeted floor and he picked it up quick fast. While the guys fell all over each other trying to win the honour of buying Faith's first drink, Monty sidled up beside her.
'Do I know you?'
Typical Faith style, she socked him in the arm.
He rubbed at the spot, pretending she'd bruised him. 'Hey, just saying. You look different tonight.'
'Different, huh? You sure know how to compliment a girl.'
Shaking the shocking thoughts that were really circling his head, he raised his eyebrows. 'All right. You look amazing. Is that better? When did you get your hair done?'
'This morning.' Lifting fingers which were covered in pink nail polish he'd previously thought alien to Faith, she ran them through the ends of her hair. 'You like?'
'Yes.' He grinned, then leaned in close. 'I think every bloke in the pub likes.'
'Good. Then my mission is half-accomplished.'
'What's the rest of the mission?'
She wriggled her eyebrows at him and hissed in his ear, 'To get one of them to ask me back to his place.'
A muscle at the side of his neck twinged as he thought about the prospect of one of the guys taking Faith home. Yes, they were all mates but were any of them good enough for her? Would they respect her, treat her right? Or would they simply take advantage of her current mental state?
'You don't know what to say, do you?' Faith was clearly amused.
That wasn't strictly true. He wanted to tell her to be careful. That the way she looked now made her a danger to herself in a room full of red-blooded males. 'Sure I do. I was just thinking about which of these blokes could actually handle you.'
'Don't you worry your pretty little head.' She waved her index finger in front of his nose. 'I'll be the judge of that.'
With that promise, she turned on her impressive heels and entered the circle of men waiting with drinks.
What scene was the hardest to write? Why?
The hardest scene to write was the Black Moment because I was very worried about how it would make Monty appear to readers. I didn't want to make my hero unheroic or unsympathetic. Unfortunately I can't share a snippet of this scene because it would give the whole story away 🙂
How did your character spend the week just before the story starts?
Monty was fixing up a cottage on his mate Adam's farm. This cottage is a feature throughout all my BUnyip Bay books but becomes a main player in the story of Book three – OUTBACK GHOST.
Faith wasn't doing anything much exciting – she was slowly going insane with the way her dad and brother were treating her as a slave, which is why she went to a school reunion. Normally this kind of event would be her idea of hell but she wanted to DO something. In the end, it was this event that sparked her big change.
Who would you cast in the role of your characters if your book was optioned for a movie?
I'm going to be really boring here and say I have NO idea. I'm not a very visual writer and I also have barely any time to watch TV/movies at the moment (with three kids, writing and a supermarket to look after) so I'm not at all up to date with the latest Hollywood heartthrobs.
What are you currently working on? What other releases so you have planned for 2013 into 2014?
I've just finished editing OUTBACK BLAZE (2nd Bunyip Bay book, which will be out in May 2014 Aus/Nz). This story idea has been with me ever since the supermarket my husband managed burned down in 2009. The whole small town came out to watch in their pjs and slippers and since that day I've wanted to write about how such a fire might affect a small community.
I'm a third of the way into writing OUTBACK GHOST (3rd Bunyip Bay book) and having a lot of fun with it. This book involves a twenty-year mystery, imaginary friends and the cottage Monty renovates in OUTBACK DREAMS.
My next release after OUTBACK DREAMS is THE KISSING SEASON, a novella, which will be out with Harlequin in Dec! This story was so much fun to write and the best news is it will be available all around the globe ::)
Thanks for blogging at HJ!
Giveaway:

Winner's choice of Print or e-copy of 
OUTBACK DREAMS
To enter Giveaway: Please complete the Rafflecopter form and Post a comment to this Q:
We keep hearing down under that American readers don't want to read Australian settings. It's a message coming from editors and publishers, but I'm not sure it reflects the readers. I'm curious… where are you from and is there a setting you would NEVER read in a romance book?
Except
'It was a great night, wasn't it?' Monty stopped just in front of the tent as if unsure about heading inside. Although still holding her, he angled his face and body so he could look into her eyes. Moonlight shone through a gap in the trees beside them and what she saw sent a jolt to her heart.
The moon emphasised his five o'clock shadow, which in turn highlighted the perfection of his strong, sculpted jawline. She swallowed, nodded her head, but couldn't speak.
While she fought the impulse to reach up and touch that jawline, she felt fingers on her face, running down over her cheek, across her lips. His touch was so light she wondered if she were dreaming. Again.
'You were brilliant today. I don't know what I've done to deserve your support but I couldn't get by without it.' He pulled her close and, desperate for his warmth, craving this blissful attention, she was helpless to resist. As their bodies melded together, his thumb paused on her lips, a tantalising pressure. 'Nora and Tim adored you.'
He paused, then added, 'I adore you.'
For a crazy moment she thought, If he adores me so much, why doesn't he kiss me? and suddenly he was doing just that. If logic and sense paid a visit, she ignored them, relishing the feel of his lips against hers. Relishing the culmination of what she'd been imagining all night. She crept her fingers round his back and gripped his shoulders as she kissed him like she'd never kissed anyone before.
Fireworks exploded around her head. Inside her body. Everywhere.
Nothing. Never. No kiss had ever compared to this. She pulled him closer, ran her hands up into his hair, tangling her fingers in the messy locks she'd teased him about so often. She feasted on him like a wild child, scared that if she slowed, this brilliant fantasy would end. That maybe she'd wake up.
Minutes that felt like hours later, they needed air. As Monty gasped in the icy night breeze, she whispered, 'I adore you too, Monty.' Her words were slurred but he didn't seem to notice. Didn't seem to care. Instead he took her hand, looked into her eyes and asked a question, not with words but with one sultry look.
Her smile gave her consent and within seconds they were tumbling backwards, pausing only to tear up the zip on the tent, before collapsing on top of their waiting swags. She couldn't tell who hit the ground first but they both reached for each other, tearing at each other's clothing like hungry beasts. In complete darkness and with no method to their madness they didn't seem to be getting anywhere, so Faith pulled back and took care of her own clothes. Monty did the same and when he reached for her again, she felt his warm, naked flesh against hers.
A moan of approval slipped from her lips.
Damn the dark. She willed her eyes to adjust so she could look her fill at the specimen beside her.
And then he was touching her. He pulled her towards him, tugged a blanket over the top of them and smoothed her hair. 'You okay?'
Okay? Words could not do justice to her level of okay-ness. Why had they never gone here before? 'Yes.'
She kissed him before he could ask any more questions. And it felt oh so right. As if she'd been born to kiss him. As if this action were as old as time. He tasted so good – a delicious mixture of sticky date pudding, beer and the port they'd finished off the evening with.
His lips still devouring hers, he moved his hand lower, trailing his palm over her shoulder, down across her neckline and then…then…he cupped her breast. She gasped as his rough and calloused skin played against her smooth flesh. His fingers twirled around one nipple, pebbling it hard and then he reached across and gave her other breast equal attention.
A voice inside her whispered that she should be touching him back, giving him pleasure. But it seemed her nipples had a direct line to her feminine core, because when he placed his mouth over her breast, teased and sucked, she almost came. But she didn't want this to be over, not yet. Dream or reality, she was having too much fun.
'You're beautiful, Faith. You've always been beautiful.'
'Oh Monty.' There were tears welling but she bit them back. 'Shut up and kiss me again.'
His laugh was music to her ears, his words were like drugs to an addict. 'I can do better than that.'
And then he closed the gap so you couldn't have slid a ruler between their bodies, and the hand that had been bestowing devout attention on her breasts only moments before moved lower.
Book Info:
Faith and Monty are both looking for love…but they're looking in the wrong direction.
Faith Forrester is at a crossroads. Single, thirty and living on a farm in a small Western Australian town, she's sick of being treated like a kitchen slave by her brother and father. Ten years ago, her mother died of breast cancer, and Faith has been treading water ever since. She wants to get her hands dirty on the family farm. She wants to prove to herself that she's done something worthwhile with her life. And she wants to find a man…??
For as long as he can remember, Daniel 'Monty' Montgomery has been Faith's best friend. When he was ten, his parents sold the family property and moved to Perth, and ever since, Monty's dreamed of having his own farm. So for the last ten years, he's been back on the land, working odd jobs and saving every dollar to put toward his dream. Now he finally has the deposit. But there's still something missing…??
So when Faith embarks on a mission to raise money for a charity close to her heart, and Monty's dream property comes on the market, things seem like they are falling into place for them both. Until a drunken night out ends with them sleeping together. Suddenly, the best friends are faced with a new load of challenges…
Monty and Faith are both ready to find a life partner and settle down, but have they both been looking in all the wrong places?
Book Links:
Author Bio
Rachael Johns is an English teacher by trade, a mum 24/7, a supermarket owner by day, a chronic arachnophobic, and a writer by night. She rarely sleeps and never irons. She writes contemporary romance for HQN and Carina Press and lives in rural Western Australia with her hyperactive husband and three mostly-gorgeous heroes-in-training. Rachael loves to hear from readers and can be contacted through her website at www.rachaeljohns.com