Today it is my pleasure to welcome Harlequin romance author Dani Collins to HJ!
Hi Sara, thanks for having me here today.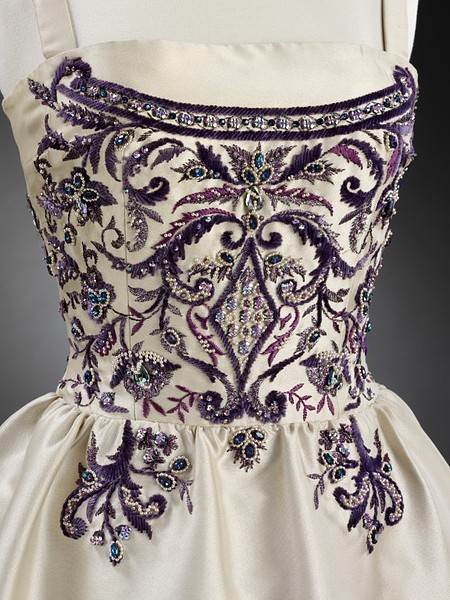 You asked me to describe what inspired me to write Proof Of Their Sin. I've posted elsewhere about adapting some dynamics from the movie Shag,and how my brother in law gave me the idea for the heroine, Lauren, to come from a Maple Syrup estate, rather than the vineyard I'd originally envisioned.
Something else that inspired me was an evening dress made in Paris in 1957, designed by Antonio Castillo for Lanvin. The embroidery is silk with chenille and beads. I originally found it on tumblr. These images are courtesy of Victoria & Albert Museum where the gown resides.
As I was building Lauren's good girl persona, I knew her mother was very repressed and wondered why. I also wanted Lauren to have a reason to go to Milan despite being pregnant and recently widowed. I decided her grandmother had been a catwalk model in the sixties—how fun would that be? She had an affair with a married man and came home to Canada pregnant with Lauren's mother—a stigma Lauren's mother always tried to compensate for.
Lauren was very close to her grandmother. She nursed the woman through her last years and after the old woman is gone, Lauren feels drawn to Milan to discover her grandfather's identity. (Don't worry, he's not related to Paolo!) Before she leaves, Lauren confronts Paolo about her pregnancy at his white tie Christmas Ball. This gives her an excellent excuse to wear this gorgeous vintage gown of her grandmother's.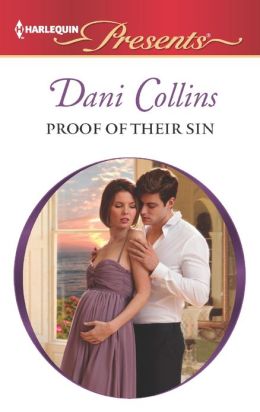 As for Paolo, I wanted him to be someone Lauren couldn't aspire to in her wildest dreams: alpha and larger than life and teeming with adrenaline. He needed to be capable of giving into passion—hello, Italian—but have learned enough discipline that an unplanned pregnancy is a terrible blow to his personal sense of honor. Hmm, what else is Milan known for? Banking.
Making a vital, bursting out of his skin man like Paolo into a staid, international banker was cruel, and I loved it. He struggles constantly to keep his involuntary attraction to his best friend's wife under wraps.
His profession gives him a lot of power and connections, so it's reasonable Lauren would call him when her husband goes missing. She had recently found out her husband was cheating and asked him for a divorce. She fears she caused him to risk his life. Paolo arrives to tell her the worst has happened, she's a widow, and they comfort each other. Neither expects the lovemaking, but they have been fighting this attraction for a crazy long time.
Given their contrasting personalities, a lot of scenes were fun to write, but one of my favorites was this bit of banter. They've come from the ballroom where Lauren told him she's pregnant. She's upset and so tightly laced into her dress, she faints. Paolo revives her by loosening the back.
"It was just a little tight."

"A little?" Appalled, he traced each mark, ensuring they were superficial enough to fade.

Her spine made a subtle arch under his touch. Goose bumps rose across her flexing shoulder blades. Her reaction was so immediate and honest it sent a sexual zing through him, enticing him to slow his stroking into a deliberate caress. He recalled that her skin tasted exactly as smooth and creamy as it looked. The desire to bend and press kisses to her neck and shoulder until she moaned with need nearly overtook him.

He forced himself to stand so he couldn't touch her, mind reeling at how close a call that was. His body was shaking and his blood sizzling. "Why would you wear something so dangerous?" he charged.

"Dangerous?" she repeated with a gurgle of humor. She rolled onto her back, hugging the loose front of the dress to breasts that remained invitingly plump against the amethyst edging. "Since when are gowns deadly?"

Her smile invited him to join her in laughing at absurdity. Part of him wanted to let it happen. When she forgot to be shy, she was quite animated and fun.

And sensual. Her eyes grew languorous as she gazed up at him. Her color was flowing back in a warm glow.

"Shoes are regular serial killers, but dresses are harmless," she teased.
He couldn't help the twitch of humor at the corner of his mouth. "I've seen dresses short enough to take a man down. Whiplash is a common occurrence."

Her smile grew. "I nearly died of embarrassment in a bathing suit once. True story."

"I would say nothing is safe, but that's probably riskiest of all."

He'd taken it too far, his voice lowering to an intimate tone as he pictured her naked. The irrepressible attraction between them rose like a ring of spitting fire, urging him to move closer to her. It took everything in him not to lower onto her and do exactly what he'd done the last time he'd been alone with her. They'd been completely naked, nothing between them, nothing.

And it had been so wrong.
Giveaway: a

signed copy of Proof Of Their Sin

to one lucky commenter.
To enter Giveaway: Please complete the Rafflecopter form and post a comment to this Q:

One of the most iconic things about Harlequin Presents is the glitz and high fashion. Have you ever had an opportunity to wear designer or vintage or haute couture? What's your fantasy red carpet ensemble?
About the book:
A beautiful mistake
Pregnant. Lauren Bradley's heart stops—there's only one man who can be the father and it's not her late husband, the man everyone thinks is a celebrated war hero….
Ravaged with guilt at sleeping with his best friend's wife, Paolo Donatelli closed his heart to Lauren forever. But in nine months' time, the proof of their incredible night together will be there for the world to see.
Marriage is Paolo's answer to avoiding more scandal, but it's Lauren's worst fear—she still bears the scars from the first time she said "I do." Can she trust Paolo enough to reveal the truth?
Buy Links: Amazon | eHarlequin | Nook | Kobo |
About the Author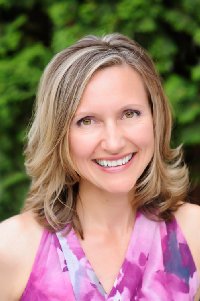 Dani Collins is a debut author with a mission to deliver romance to readers.
Before making her first sale to Harlequin Mills & Boon in 2012, Dani spent two decades writing and submitting to every publisher with a transom while holding down a day job and raising a family with her high school sweet heart. A high energy writer with an addiction to coffee and Smarties, Dani decided to become an overnight success by going to contract on an epic fantasy romance with epublisher Champagne Books five weeks after her sale to Harlequin. For good measure, she chose to indie-publish her contemporary romance, Hustled To The Altar that same year.
Romantic Times readers will recognize Hustled To The Altar from the American Title competition. New readers will quickly realize that while her stories span very different genres, she always delivers intensely alpha-male heroes squaring off with spirited heroines capable of a snappy comeback.
When Dani isn't writing, she attempts to garden. Her success with plants can be summed up by her husband's, "Are you finished extracting information from this thing?" He gave her a whiteboard for her birthday, not flowers. She loves it and is busy plotting her next story upon it.
Sign up for Dani's newsletter through her website at www.danicollins.com or email her at dani@danicollins.com.
You can also follow her on Twitter: https://twitter.com/DaniCollinsBook or join Dani on Facebook at: https://www.facebook.com/DaniCollinsAuthor.