Today it is my pleasure to Welcome author
Boone Brux
to HJ!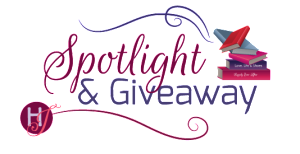 Hi Boone and welcome to HJ! We're so excited to chat with you about your new release, Properly Groomed!
Please summarize the book for the readers here: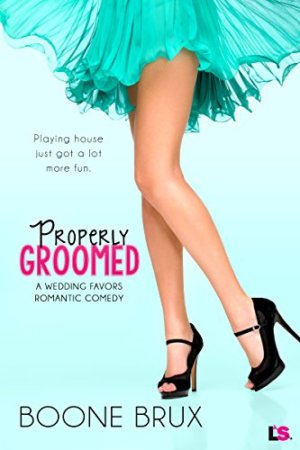 S is for: So not happening. Above all else, Joya Bennett is off limits to Linc because she's his best friend's little sister. Nope, ain't gonna happen…or is it?
I is for – Iguana. Flash is the whole reason Joya is housesitting.
N is for – Not following the rules.
and so on…

Please share the opening lines of this book:
Joya didn't know what was worse: the pounding in her head caused by the Cosmopolitans she'd indulged in last night, or the blinding sunshine streaming through the window, demanding she haul herself out of bed and start her day.
Everything hurt. Even the soft white sheet lying across her waist felt like sandpaper against her sensitive skin.
Please share a few Fun facts about this book…
Properly Groomed was the first title of the series I came up with.
The name Joya is from a friend of mine.
The name Linc was from a friend my brother had in kindergarten.
Bridesmaid Blues was originally named Properly Groomed, but we thought this book fit better with the title.
Chester, Linc's dog, has a quirk of sitting on his foot. I got that from my brother and sister-in-laws dog. He loved when you wiggled your toes. Kind of perverted, therefore the name Chester, as in Chester the molester.
Was there a scene in this book that was harder to write than others? 
Not really, I have to say Properly Groomed was fairly easy to write. If I had to pin it down it would be the epilogue. We added that at the last minute because we felt the reader needed a tad more closure. I can give you a tiny taste but not much or I'll give away the fun.
Chester stood and stretched, his tail giving a couple of sweeping wags.
"Wake Joya up, Chester." Linc reclaimed the tray and moved to the side of the bed. "Go on. Wake her up."
Coaxing the dog to nudge Joya had been something he'd been semi-successful at teaching him. Chester picked his way over the pile of covers and gently placed his nose directly against Joya's cheek before giving a single lick.
Her eyes popped open and she laughed. "Mmm. Morning, Chester." Again he bestowed a single lick on her cheek and then sat next to her. Her gaze slid to Linc, who still stood by the bed, holding the tray. "What's this?" She pushed herself into a sitting position and rested her back against the headboard. "Breakfast in bed?"
"Kind of." He forced an innocent smile. This was it. The moment of truth. "If you like cupcakes for breakfast."
"You know I do."
"I saw this one and had to get it for you." He settled the tray on her lap and claimed one of the cups of coffee.
She glanced at the red frosted dessert and then back at him. "You know me so well." She frowned and her eyes narrowed. "Wait a minute. What's going on? Cupcakes and coffee in bed—what did you do?"
"Nothing…yet."
Excerpt. © Reprinted by permission. All rights reserved.

What do you want people to take away from reading this book?
It's not rocket science, just a fun, feel-good book. No deep meanings or messages, just good fun and romance.
Thanks for blogging at HJ!
Giveaway:

$10 Amazon gift card
To enter Giveaway: Please complete the Rafflecopter form and Post a comment to this Q:

What's the best part about a romantic comedy? The HEA? The quirky circumstances? One-liners?
Book Info:
When Joya Bennett wakes up after her brother's wedding half-naked and lying next to her lifelong crush, she's mortified. OMG, did she try to jump his bones? Worse, did she succeed? Intending to lay low and housesit for her brother until the embarrassment fades, she sneaks away before he wakes up.
What she didn't plan on is having company.
Lincoln Fisher doesn't do relationships, but if he did, his friend's little sister would be the one to tie him down. Good thing Joya had one too many drinks during the reception or he'd have crossed a line. Her brother would kill him if he found out all the places Linc wanted to kiss the sexy, auburn-haired beauty.
And now they're stuck in the same house. For two weeks.
She's off-limits. And he needs to keep it that way, even if the heat building between them is hot enough to blow off the roof…
Buy Links: http://entangledpublishing.com/properly-groomed/


Meet the Author: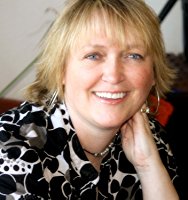 I've been writing fulltime for five years, which isn't long for some, and a lifetime for others, but I've learned a couple of things about myself. I love to spoil my readers. I want them to get lost in my stories, even if it's only during their lunch break. And I want to make them laugh. It might only be a little in one of my medieval fantasies, or a lot from my Grim Reality Series. Humor is a big part of my life, the way I deal with problems, how I celebrate and have a good time, and approach raising my twin teenage daughters (Lord knows I need it when it comes to those two). I hope you become part of my family of readers, and I can help you forget your cares for a while and make you laugh.
Check out the entire series – http://entangledpublishing.com/category/boone-brux/
Author Links:   WEBSITE | FACEBOOK | TWITTER | GOODREADS