Today it is my pleasure to welcome USA Today bestselling romance author
Cari Quinn
to HJ!

Hi Cari, welcome to HJ!
What is your favorite trope to read, one you will never get tired of?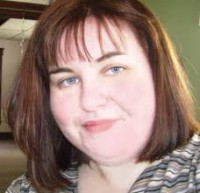 Hmm, that's a tough one, because I love a lot of them! But I'd have to say brother's best friend or best friend's brother, which happens to cover both books 1 and 2 in the Deuces Wild series!
Let's talk about your newest release: Protecting His Assets, Deuces Wild book 1
If you had to summarize the book for the readers here
Protecting His Assets is about Summer and Chase, lifelong friends that have drifted apart after Chase joined the Major Leagues. Summer's very much a hometown girl…or is she? Chase starts to wonder if there's more to her than he ever guessed when he runs into her during his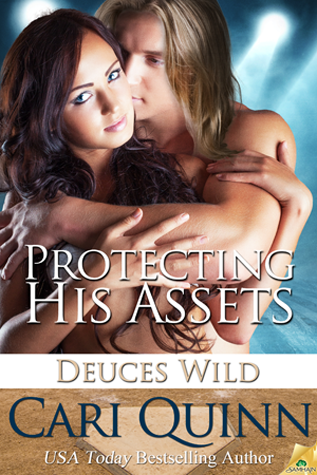 first night working as a bouncer. And she's not just partying at the club–she's the nightly entertainment. All of a sudden he's all too aware of how many men are getting really close to Summer and offers to be her bodyguard, much to her consternation.
Please tell us about the characters in your book?
Chase Dixon is an injured bad boy and former baseball player who decides to open up his own bodyguard agency, Deuces Wild, with his best friend. Summer Maitland is a small town girl with big time ambitions for a singing career, and she's already chasing those dreams full speed. Summer's wilder than Chase ever expected…and he's also a lot more intrigued than he can admit.
Was it love at first sight for your characters? If not what was the pivotal moment of change?
Hmm, great question! I'm not sure it was love at first sight, but definitely lust, especially on Summer's part. Chase was the older boy who lived next door when she got that first shot of hormones as a teenager, and we all know how that goes!
If your characters could go back in time and change one thing what would it be? Why?
I think Chase would go back and change his reaction to his best friend, Jax, getting on a better baseball team than he did when they were both drafter after high school. They drifted apart after that and both really missed the friendship.
What scene did you have the most fun writing? Why?
Oooh, tough one! I probably had the most fun writing Chase and Summer's first love scene, backstage at one of her concerts. Warning: steamy times ahead!
Looking wasn't enough. Chase had to touch. He slipped his hands under the fabric to cup Summer's breasts, to test their weight while her glossy, wet lips parted on a soundless moan. His thumbs circled the tight crests and her pulse visibly beat in her throat as he drew his tongue down the valley between them before slicking beneath one curved swell. He licked upward, seizing a nipple between his teeth, plucking at the other with all of the urgency she inspired and none of the finesse he'd learned over the years. As far as he was concerned, he'd never loved another before this minute, because no one else had ever gazed at him with such overwhelming trust in their eyes.
His fingers grew restless and he swirled his tongue, drawing more of her into his mouth. His stubble roughed a pink path over her flesh and he regretted the flush even as he exalted in it. He liked the look of him on her skin. Would love even more making her his when he pushed his way into her body.
If she heard his thoughts right then, she'd call him a caveman. And she would be right.
What scene was the hardest to write? Why?
I'd have to say the scene where Chase really starts to see how much Summer wants him…and not just his body, but the man he's become. Chase finally starts to let himself be vulnerable, though he doesn't quite know it yet!
"With you and me, it's not that simple. It can't be." Big blue eyes bored into his and made Chase's throat go dry. He couldn't seem to figure out what to say to stop all of this, and worst of all, he wasn't even sure he wanted to. "Yes, there's Cass. We have so much history…"

"Why is that a bad thing? We know each other so well." Summer flung her toes at the vial of white chocolate chips on the coffee table that, now that he'd given up alcohol, served as his most potent vice. Other than her. "I know you don't want anyone to know you love chocolate and hate peas."

His mouth twitched. "I don't care if people know I hate peas. They're vile."

"I also know you've bought into your persona more than anyone else. You've actually convinced yourself you're a boozer who bangs any chick who moves. That's your identity now and you wear that badge of shame with pride."

Chase pressed his knuckles into the cushion beside him, craving that quick, obliterating pain that would shoot up his arm and erase everything else for an instant. For once, it didn't come. "What do you know about pride? You watch my games on TV and you remember what vegetables I hate. That doesn't make you some expert on me."

"I'll tell you what I know about pride. I know it won't keep you company in bed at night. Neither will those women who don't care about how you like your ice cream or how you bob your knee when you're nervous—" she gave his leg a pointed glance until he went still, "—or that you miss your mom the same way I miss mine, even if you'd die before saying it. I know you, and I'm still sitting here. Tell me that doesn't count for something and I'll call you a liar." She studied him with way too knowing eyes. "One more thing you can add to that list of failures you wave around so much."
How did your character spend the week just before the story starts?
Summer spent it singing and writing songs for her next show. Chase probably spent it brooding about his injury and walking away from baseball. He's a bit of a broody, growly sort. 😉
Who would you cast in the role of your characters if your book was optioned for a movie?
Oh, terrific question! My first inspiration for Chase was Justice Joslin (that chest most of all!) and for Summer, I'd have to say Jennifer Lawrence. They both have that fun, irreverent vibe going on.
What are you currently working on? What other releases so you have planned for 2013 into 2014?
Oh my gosh, I have so much going on! Two more books will release in the Deuces Wild series in 2014. Jax's story is up next, Guarding His Heart, in April and is already up for preorder. Then Sterling gets his story this summer. Besides that, I'm launching a new sexy NA MMA series in February with Shadowboxer. February is also the release month for Rocked, the first full book in my co-authored sexy NA rockstar series, Lost in Oblivion, with Taryn Elliott. Plus the fourth book in the Love Required series will release this summer. That's Bryan and Jill's story.
Thanks so much for having me! 🙂
Thanks for blogging at HJ!
Giveaway: Take a coffee break and get away for a while with a signed print copy of Seduced, the first book in the Lost in Oblivion series, and a $10.00 Starbucks gift card!

(US winner only,). 

An

International winner

will win an ebook copy of Seduced and an ARC of Shadowboxer when it's available.
To enter Giveaway: Please complete the Rafflecopter form and Post a comment to this Q:

Do you like reading stories about current or former sports figures? What is your favorite sport to read about? Why?
Except
Excerpt of PROTECTING HIS ASSETS: (warning: more naughty language ahead!)
Slyly, Summer held out the object she'd hidden behind her back. "This, my dear Deuce, is a hammer. One uses it to nail…things."

"I don't mean the hammer. I mean that piece of clothing. Why are you practically naked?"

"I need to take a shower before my show." She inched closer, the hammer still clutched between her perky breasts. And there was that word again. Perky. "You don't want me to stink when I'm on stage, do you?" She lifted her wrist and sniffed. "I reek of—"

"Chocolate and vanilla and everything nice?" Chase barely resisted a snarl.

She smirked. "You seem stressed. Maybe you should sit down and eat your ice cream before you go play with my hammer." As she stroked it, he shifted uncomfortably. If he didn't have sex soon, he'd probably shoot off from the image of those golden fingers wrapping around the wood. Squeezing again and again.

Christ. He needed ice cream or a cold compress or something. Maybe he should stuff his d*ck in the pint of chocolate. Couldn't hurt.

"I'm fine," he gritted out. "Give me the freaking hammer. And go get dressed. We need to leave soon."

"Oh, we have plenty of time." The way she caressed the word plenty made his balls throb. Stupid balls. Stupid celibacy.
Like his pathetic truck trick, he took as long to mess around with her shutters as humanly possible. If they'd actually been loose, it would've helped. They weren't. He still hammered and banged the outside of her house, hoping she'd feel guilty for driving him out into the cold and wind to avoid her numerous blatant sexual overtures.

They had been blatant sexual overtures, right? Sometimes he just wasn't sure. Not that it mattered. His fish couldn't be lured with pink, perky nipp—hooks.

When he came back into the living room, his hands ached from his vigorous needless pounding. Other parts of him ached because they hadn't pounded anything in way too long. Seeing Summer all curled up in the corner of the couch with a spoon in her jar of sauce and his ice cream stuff spread out on the coffee table didn't help with the latter.

"Hey. Thank you. You're so sweet." She leaned forward and her robe gaped almost to the point of indecency. She didn't seem to notice. "Here, let's eat. I'll get showered and ready to go when we're done." She waved her dripping spoon. "I had paperwork to do," she added, all blue-eyed and pink-cheeked innocence.

"Uh huh."

He took the opposite end of the couch and reached for his melting ice cream. Instead of his plastic spoon, she'd given him a fancy dessert one with a long handle. "You didn't need to go to any trouble. I'm not company."

If she noticed his peeved tone, she didn't react. She smiled around her spoon, currently hidden between her luscious pink lips. Then she slid it out, nice and slow. "No, but you are doing a service for me. Protecting my assets and all."
Book Info:
She's the one woman who can get his ball back in play…
Deuces Wild, Book 1
For a while, MLB pitcher Chase "Deuce" Dixon used his bad-boy reputation as a smoke screen to cover up his elbow injury. But plummeting pitching stats don't lie, so now he's a free agent, spending the off-season in surgeons' offices, and considering a post-baseball career in security.
His first night moonlighting as a nightclub bouncer, he's surprised that the singer on stage is his little sister's pure, sweet, spitfire of a best friend. And some drunk guy is getting way too personal.
Summer Maitland doesn't need Chase strong-arming one of the few fans she's managed to accumulate during the career she keeps secret from her family. And despite her body's shimmering reaction to his touch, she certainly doesn't need a self-appointed bodyguard following her around.
Chase has other ideas. If anyone's going to lay a hand on Summer, it's going to be him. Now if only he could keep his tongue out of her mouth long enough to keep her safe. And his hands to himself before he scares her off.
Product Warnings
Contains an ace hurler moonlighting as a bouncer moonlighting as a bodyguard, and an angel-voiced chanteuse who's up for anything he can throw at her—in and out of the bedroom. This one could make you rethink the definition of fastball.
Book Links:
Author Bio
USA TODAY bestselling author Cari Quinn wrote her first story–a bible parable–in 2nd grade, much to the delight of the nuns at her Catholic school. Once she saw the warm reception that first tale garnered, she was hooked. She attempted her first romance in junior high, long before she'd ever read one. Writing what she knew always took a backseat to what she wanted to know, and that still holds true today.
Though she also fires up her computer as a graphic designer, proofreader and editor, she can't resist the lure of disappearing into a world of her own creation. Now she gets to pen sexy romances for a living and routinely counts her lucky stars.
Visit Cari at www.cariquinn.com and sign up for her brand new newsletter – the next issue will be coming out soon and will be chock full of book news, plus an exciting contest! And join the Word Wenches, her super fun FB reader group with Taryn Elliott! https://www.facebook.com/groups/346424552124487/
Website | Facebook | Twitter |