Today it is my pleasure to Welcome author
Katee Robert
to HJ!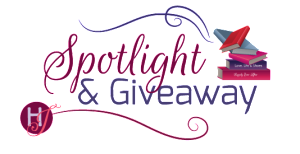 Hi Katee and welcome to HJ! We're so excited to chat with you about your new release, Queen Takes Rose!

Thank you so much for having me!

To start off, can you please tell us a little bit about this book?: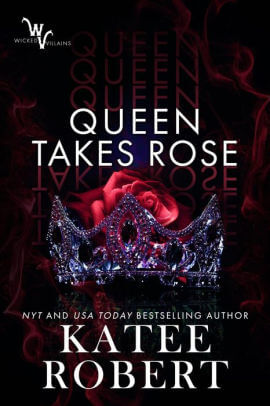 This is the final book of the Wicked Villains series and tells the story of Aurora and Malone. It's a little bit of a Sleeping Beauty retelling (but the second half of the fairy tale). Aurora is a submissive in the Underworld and Malone contracts her services for two weeks. Aurora is in it for revenge, Malone is in it to get Aurora out of her system.

Please share your favorite lines or quote(s) from this book:
My body turns weightless for one heartbeat, and then I crash back down to earth, a comet happily free-falling into its inevitable destruction. I think I scream. I can't be sure. All I can feel is her mouth on me. All I can taste is her name on my lips. "Malone."
What inspired this book?
It was heavily inspired by the Grimm version of the Sleeping Beauty fairy tale, but with my own spin on it. I also wanted an enemies to lovers book where they're actual enemies (even if Malone doesn't quite realize it).
How did you 'get to know' your main characters? Did they ever surprise you?
I've gotten to know Aurora really well over the course of the series, but she definitely surprised me at several turns in this book. I didn't expect her to come out of the gate with "It's time to kill Malone!" LOL.
What was your favorite scene to write?
I really love this scene from their first night together. It's the first sign that Malone is in over her head.
Aurora sleeps the way I imagine a child sleeps. All tangled sheets and trusting abandon. She must have gotten out of bed when I left, because her hair is covered by a silk wrap in a pretty floral print. She's only half beneath the covers, one long leg exposed, leading my gaze up to where her nightshirt has rucked up around her hips. It's just an extra few inches of skin, but it feels like seeing her like this is sharing a secret with me.
A secret I most assuredly do not deserve.
What was the most difficult scene to write?
It was actually the ending. I had set these ladies up with this really intense conflict and figuring out how to navigate them through to their happily ever after was really, really challenging.
Would you say this book showcases your writing style or is it a departure for you?
I would say this book really showcases my style. I've settled into this happy place with my writing in the last year or so and Queen Takes Rose really hits those spots hard. It's sexy as hell and has some interesting character work going on with the romance.
What do you want people to take away from reading this book?
I mostly want to provide people with an escape for a few hours. This year has been really tough for everyone and I hope my book takes them out of reality for a bit.
What are you currently working on? What other releases do you have planned?
I just finished up Abel, which is the first book in a series (Sabine Valley) that spins off of Wicked Villains. It's got hate sex, a "forced" marriage, and is a MMF ménage. It's messy and cathartic and I love it with my whole heart. That will be out in January. There's one more release this year–another Touch of Taboo book–that will be out sometime in December.
Thanks for blogging at HJ!
Giveaway:

$15 Amazon gift card
To enter Giveaway: Please complete the Rafflecopter form and Post a comment to this Q:

Which version of Sleeping Beauty is your favorite?
Excerpt from Queen Takes Rose:
"Make yourself come." Again, a cold command in a disinterested tone.
I'm almost ashamed by how wet I am. That this woman, this enemy manages to turn me on despite the hate burning strong in my chest. I pull my teddy up and stroke my pussy. Malone doesn't even watch. She's looking out the window as if this is a normal car ride and I'm not fingering myself less than a foot from her.
Even in the shadows of the backseat, lit only by the lights of buildings we pass, she's gorgeous enough to steal my breath. Malone is a white woman with the kind of pale skin that makes me think she's never seen the sun. I know she's forty-one from the file Meg keeps on her in the Underworld, but looking at her, she could easily be a decade younger. Her short white-blond hair is styled back from her face as always, and she's wearing one of my favorite outfits of hers. Red-bottom black heels, black cigarette pants with a white blouse that's left unbuttoned halfway down her chest. I have the most unacceptable desire to drag my mouth over that V of exposed skin. To unbutton the shirt farther until I'm kneeling between her thighs.
Will she still act as unaffected once I get my tongue in her pussy?
Part of me hopes so.
There are as many flavors of submissive as there are of Dominants. Everyone has the thing that twists them up in knots in the most delicious way possible. I like a little bit of everything, but this? This disinterest mixed up with lust and my desire for approval? I thrive off attention, and being deprived it is the most delicious of cuts. I have to bite down a moan of sheer lust. I hate how easily she cranks me up while appearing to do absolutely nothing at all. It feels particularly dirty to circle my clit like this in the backseat while her driver is witnessing the whole thing.
For all my kink experience, I haven't played outside the Underworld until now. Or at least not in anything resembling public. Even the few relationships I've had were ones where they came to me. Partly because Allecto is paranoid as hell. Partly because the draw of the Underworld as almost as intense as the draw I provided; something I didn't realize in each of the relationships until far too late. These days, I barely leave the building unless I'm going to visit my mom…
Except I'll never be able to do that again.
The reminder of why I'm here is a bucket of cold water in the face of my desire. I slow my movements, loathing myself for the small part of me that keeps enjoying this moment despite everything the woman beside me has done.
"Is there a problem?" Malone's icy voice sends chills down my spine that are entirely too pleasant.
Yes, but I'm not about to admit the extent of it. I close my eyes and strive to keep my mask in place. How can I want to attack her and also beg for more pleasure? Those two feelings shouldn't exist at the same time. It's wrong for me to want her, isn't it? I've spent so much time believing that there's nothing that happens between consenting adults that should result in shame, but here I am…feeling shame.
I lift my hand from my clit. "I'm not really in the mood to come."
She taps her fingers on her knee. "I see."
She moves so quickly, I barely have a chance to flinch. Malone hooks my leg and yanks. After how she carried me through the parking garage—something I refuse to even think about—I shouldn't be surprised by how strong she is despite her slim frame. She easily flips me onto my stomach and tows me back onto her lap, shifting slightly to ensure I don't ram into the door.
I tense, expecting her to spank me or something harsh, but she just wraps her fingers around my upper thigh, gripping me tightly and holding me in place. Her knuckles are barely an inch away from my pussy, and somehow that distance is just as hot as if she shoved two fingers into me. She smooths her free hand over my ass, pushing my lace teddy up and baring me from the waist down.
"There seems to be some misunderstanding of how this works." She traces a single finger down my spine, stopping at the small of my back. "Your flouncing and bratty attitude will not provoke the response you want. It's best you learn that now. If you don't obey my commands, you will be punished." She taps my spine lightly with her nail. "Punishments are not to be enjoyed, Aurora."
I should keep my mouth shut, but this woman manages to rile me like no other. I squeeze my eyes shut and fist my hands against the leather seat. "Then maybe you shouldn't have contracted a submissive who gets off on being punished, Malone."
Her quiet laugh raises the small hairs on the back of my neck. "I am not like your regular playmates." She lifts her voice. "Sara, I need to make a stop on the way home. I feel like a drink."
"Will do."
The car slows and turns. Malone doesn't release me, doesn't touch me more, just holds me in place with my bare ass on display. Humiliation and shame heat my cheeks. She slapped me down as easily as she would a fly. I hate that it turns me on. This would be so much easier if she didn't affect me, if I could just endure this without wanting to rub against her leg like a horny teenager.
We finally stop, and she gives my ass a light slap. "Up."
This time, I obey without arguing. She nudges me back into my seat and reaches over my chest to pull my seat belt on. The click feels obscenely loud in the quiet of the car. Malone's breath brushes my ear. "Sit here silently and wait for me. Sara will remain in the car with you. Don't try to talk to them; they won't indulge any of your disobedience." She lifts her voice. "Isn't that right, Sara?"
"Yes, boss." Sara sounds amused, but it's hard to tell for sure because I can only see the back of their dark hair on the other side of the headrest.
Malone opens the car door and climbs out. I sit there in shock and watch her walk into the building we're parking in front of. She…left me? I glance at Sara, but they don't seem interested in counteracting the command to not talk to each other. It's just as well. What would I even say? That doesn't stop me from wanting to do it out of spite. "How long am I supposed to wait?"
No answer.
Excerpt. © Reprinted by permission. All rights reserved.


Book Info:
Once upon a time I made a deal with the devil.
It turns out I like playing in the dark.
Over the years, I've become someone I'm proud of, someone dangerous. I'll never be as dangerous as Malone, though. She's one of the most feared leaders in Carver City, and her reputation is more than earned. Years ago, we had a single night together and she's ignored me ever since.
Imagine my surprise to discover she's scheduled me for the final two weeks of my contract. Maybe I should be afraid. Everyone else fears Malone. Instead, all I feel is anticipation. It's time to balance the scales, once and for all.
The villains aren't the only ones in Carver City a person should be wary of crossing.
Sometimes the prettiest flower hides the deadliest poison…
Book Links: Amazon | B&N | iTunes | Kobo |


Meet the Author:
Katee Robert is a New York Times and USA Today bestselling author of contemporary romance and romantic suspense. Entertainment Weekly calls her writing "unspeakably hot." Her books have sold over a million copies. She lives in the Pacific Northwest with her husband, children, a cat who thinks he's a dog, and two Great Danes who think they're lap dogs.
Website | Facebook | Twitter | Instagram | GoodReads |