Today it is my pleasure to Welcome romance author
Karina Halle
to HJ!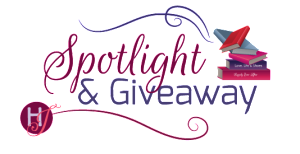 From the USA TODAY bestselling author of Where Sea Meets Sky comes a new adult novel about a young woman who becomes a nanny in Capri and falls for her charges' bad-boy brother.
Please summarize the book for the readers here: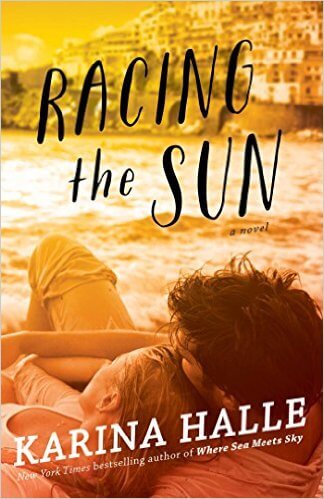 Take the tense dramatics, brooding and mysterious "master" and the crumbling old mansion of Jane Eyre and combine it with the fiery hot setting of Italy's Amalfi Coast, plus some epic sexual tension and steamy scenes and that's pretty much Racing the Sun in a nutshell.

Please share the opening lines of this book:
We've all thought about how we're going to die. My friend Angela Kemp, who I've known since we played in saggy diapers together, is convinced she's going to choke to death on something. Every time we go out to eat, she searches the restaurant for the person most likely to know the Heimlich maneuver and tries to sit by them."
Please share a few Random facts about this book…
I went to Italy's Amalfi coast to research the book. I had my readers vote where the book was going to be set. Italian men really do manage to make Speedos look good.
My assistant and I thought we were going to die on the Capri to Naples ferry because it was so rough; I literally called my husband for the first time during that trip just in case I never got to talk to him again.
The best Caprese Salad we had was not on Capri but the island of Ischia. I thought I would see more lemons.
Please tell us a little about the characters in your book. As you wrote your protagonist was there anything about them that surprised you?
Amber is our MC and she's, in some ways, your typical twenty-something. When I was that age, I was traveling all over the world looking to find myself and that's what she's doing too. When you're doing these kind of travels, backpacking and staying in hostels, you meet so many people who are looking for the same thing. I think Amber really personifies that search for meaning and self that so many people embark on, no matter the age. She surprised me though by being so totally hilarious. I didn't know it at the time, but she's a riot to read. I also have to say the two children in the story surprised me. They grew on me as much as they grew on Amber.
What, in your mind, distinguishes this book from other books out there in the same genre?
The setting, the theme, the characters. This book transports you to Italy. You will completely relate to Amber (she's one of my most favorite heroines EVER). You will find hot sex, yes, but also a lot of soul and reality in this book. It's a lot of fun to read but there's also a serious side to it. You'll feel like you were there with Amber, in this dramatic and hot and foreign setting, loving every minute of it. And the Italian stallion, Desiderio Larosa is in it, so there's that.

The First kiss…
Oh, the first kiss between Amber and Derio is amazeballs (IMO). He's drunk and in a terrible state, locked up in his "forbidden" library, when Amber enters the scene. At this point, tensions in the house – particularly the romantic, sexual kind – were at an all-time high, so when Derio asks to kiss her, just so he can "feel something," well…it would be stupid of her not to comply.

Did any scene have you crying or laughing (or blushing) while writing it?
I think the handjob on the beach scene had me blushing for sure! I think you'll see why when you read on 🙂
"You are good?" he asks me as he settles on his towel. We're both lying on our sides, facing each other. The twins gathered a few water toys and are splashing in the clear shallows near a bunch of other kids. I hope that maybe they'll hit it off and play together.

"I'm good," I tell him. "I can't stop staring at you, though."

He gives me a cocky grin and looks down at his body. He places his hand on his bulge and momentarily rubs it. I immediately get a lady boner from the sight, wishing I were the one rubbing him.

"That's not fair," I whisper.

He does it again and closes his eyes briefly, his lips parted. Holy fucking shit, can he not touch himself in public? I'm going to fucking die.

I look around me. So far no one is paying attention, as most people are succumbing to the heat and lying on the ground like limp noodles.

But Derio, of course, is the opposite of limp. He now has a full-blown hard-on inside that Speedo and it's barely being contained.

"My God, what did I awaken in you?" I say, leaning in closer to him and almost shielding his body in case someone walks by close to us.

"What did I awaken in you?" he asks and reaches over, slipping his fingers down the front of my bikini until they sink between my cleft. "You seem ready to go." He edges closer to me, his finger sinking in deeper. "Bravissimo," he says through a ragged breath.

With the sun searing my shoulders and my body drowsy with heat, his fingers feel impossibly good. I want nothing more than to close my eyes and give in to him. But at any moment, if anyone at all walked past us, they would see something entirely inappropriate. I know Italy is really relaxed and all—there are topless breasts on every beach—but I'm pretty sure public hand jobs are frowned open.

"Relax," he hisses softly. "No one is coming. Except you."
If your book was optioned for a movie, what scene would you use for the audition of the main characters?
Probably this scene because it really shows the dynamic of Amber and Derio, especially as they get to know each other:
We walk along the Via Tragara at my pace, though his long legs could carry him much faster. He's got his shades on and another fashionable outfit—blue untucked dress shirt, knee-length tan cargo shorts, tan Converse shoes. He slips a cigarette in his mouth and lights it.

"Does no one tell the Italians that smoking is bad for you?" I ask.

He smirks at me. "They do. We just don't care. We like all of the bad things." He inhales, his nostrils flaring, then breathes it out. "Smoking, racing, drinking, sex. All bad. All very good."

And is that sex-with-a-woman sex? I want to ask but as I'm staring at him, despite his longer tendencies and his fashionable ways, I'm just not getting that vibe. Sometimes his eyes seem to smolder with something, though it's probably wishful thinking on my behalf.

"Tell me, Amber," he says, playfully pronouncing my name. "What are your bad habits?"

"Bad habits?" I repeat.

"You must have some," he says.

I ponder that and pull my shades out of my bag. The sun is hot and glaring off the sea in the distance. "I guess I eat too much," I tell him honestly. "I try not to, and I'm always worried about it. So I guess that's a bad habit, too. Worry. I worry about a lot of things. I'm really bad with money. I spend recklessly. I'm impulsive with things and don't really think them through. I also make snap judgments with people and I know I shouldn't. I guess I used to think I was entitled but I got over that one pretty fast. I'm stubborn. I think I know more than I do. I tend to look for split ends in my hair and pull them apart. I pick at my nail polish. I don't exercise as much as I should, mainly because I hate exercise. When I have wine, sometimes I have too much. I forget to put on sunscreen. I kiss all the wrong boys." I pause. "I'm pretty sure I'm just a person composed of nothing more than good intentions and bad habits."

"Wow," he says quietly. "That is a lot. I didn't really expect you to be so honest. Most women—most people—are never honest about their faults. But really, it sounds more like you are more human than made of bad habits. Though I don't really understand the last one. You kiss all the wrong boys. How do you know who the right boy is?"

I raise my shoulder. "I don't know. I haven't met him yet."

"Like the story with the princess and the frog."

"Maybe," I say, and suddenly I feel vulnerable for sharing all my worst qualities with him. Vulnerable, but free.
What do you want people to take away from reading this book?
I want people to realize that your life doesn't have to work out exactly as planned in order to be amazing. Go with the flow and the flow will surprise you.

What are you currently working on? What other releases do you have planned for 2015?
I'm currently writing Dirty Promises, the last book in the dark romantic suspense trilogy Dirty Angels (coming out in September). It's hard to switch gears from sunny romance to something bad and twisted, but I'm game. If anything, Dirty Promises will be extra disturbing. Other than that, I've got some other books in the works and hope to have two more books published before the end of the year. One is a spinoff of The Pact and The Offer, called The Play (a contemporary adult romance about a Scottish rugby player and an American girl) and the other I'm not sure yet (I have far too many ideas calling me).

Thanks for blogging at HJ!
Giveaway:

Print copy of RACING THE SUN
To enter Giveaway: Please complete the Rafflecopter form and Post a comment to this Q:

Have you ever found love while traveling/on vacation? Tell all 🙂
Book Info:
It's time for twenty-four-year-old Amber MacLean to face the music. After a frivolous six months of backpacking through New Zealand, Australia, and Southeast Asia, she finds herself broke on the Mediterranean without enough money for a plane ticket home to California. There are worse places to be stuck than the gorgeous coastline of southern Italy, but the only job she manages to secure involves teaching English to two of the brattiest children she's ever met.
It doesn't help that the children are under the care of their brooding older brother, Italian ex-motorcycle racer Desiderio Larosa. Darkly handsome and oh-so-mysterious, Derio tests Amber's patience and will at every turn—not to mention her hormones.
But when her position as teacher turns into one as full-time nanny at the crumbling old villa, Amber finds herself growing closer to the enigmatic recluse and soon has to choose between the safety of her life back in the States and the uncertainty of Derio's closely guarded heart.
Buy: Amazon's Kindle Store | Apple iBookstore | Barnes & Noble| Blio | Books-a-Million | Google ebookstore |


Meet the Author: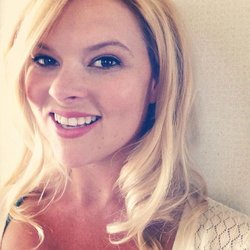 Karina Halle is a former travel writer and music journalist and The New York Times, Wall Street Journal and USA Today Bestselling author of The Pact, Love, in English, The Artists Trilogy, Dirty Angels and over 20 other wild and romantic reads. She lives on an island off the coast of British Columbia with her husband and her rescue pup, where she drinks a lot of wine, hikes a lot of trails and devours a lot of books.
Halle is represented by the Waxman Leavell Agency and is both self-published and published by Simon & Schuster and Hachette in North America and in the UK.
I'm on Facebook: https://www.facebook.com/pages/Karina-Halle/140649372629593
I have a website: www.authorkarinahalle.com
And Twitter: https://twitter.com/MetalBlonde
But I LIVE on Instagram! I'm posting there all day, every day, and it's a pretty fun feed (lots of gorgeous pictures of my travels, plus my designer shoe and handbag addiction): https://instagram.com/authorhalle/